A weekend in Palm Springs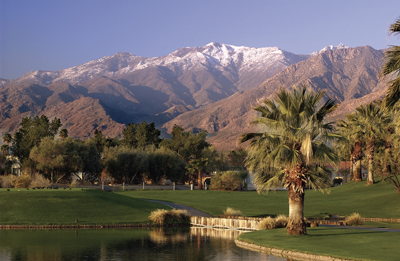 By David Rottenberg
It was once the playground of the stars. Starting in the 1920s, countless movie stars and other celebrities had homes in Palm Springs. Actors under contract to studios often had to abide by the "two hour rule." That is, they had to be on call to reach the studio within two hours. What better location to relax when not working than Palm Springs, a quick ride from Hollywood?
Palm Springs had it all — great weather, particularly during the "season," when sunny daytime temperatures ranged in the 70s. The city was shielded from rain and winds sweeping off the ocean by a ring of mountains that blocked the clouds. The city also sits on a sea of fresh water that permitted oases of green to sprout among the dunes. Soon, grass and gardens filled in space between large homes. Tall palm trees were planted to add to the desert ambiance along with the greenery.
Stars and celebrities like Frank Sinatra, Bob Hope, Liberace, Connie Stevens, and Eddie Fisher lived here. Anne Rice, Herman Wouk and Joseph Wambaugh wrote here. Bill Gates and Lee Iacocca planned industrial growth here. Neighborhoods like "Movie Colony" and "Tennis Club" were occupied by the famous and wealthy of their day. Many streets carry the names of celebrities, to honor their generosity and contributions to the city's development.
People soon followed the celebrities trails and new cities sprouted. Now, one speaks collectively of "desert cities," a continuous community that ribbons between Interstate 10 and Highway 111, between freeway and a four-lane highway that serves as the major traffic corridor stretching from Palm Springs through Indio. This article will discuss only Palm Springs, the Grand Dame of the area, leaving the exploration of the neighboring cities for another time.
The area had its ups and downs in the recent economy – perhaps more downs than ups. A renaissance seemed to begin along with the political climb of Sonny Bono and, later, his widow, Mary Bono. Shops windows along Palm Canyon Boulevard (as Highway 111 is called in the city), which held "for lease" signs now filled with displays of goods and merchandise. Restaurants opened again. The city breathed new life.
Real estate prices, which rose dramatically in the heydays of low down payments and low interest, plummeted to realistic levels. New buyers now are snapping up choice homes and bring new color and excitement. Why not? Palm Springs is a beautiful, relaxing, really pleasant place to visit or live — with lots of attractions, things to do, and restaurants. And, it has sun, sun, sun — something that wintertime visitors from Canada and the Northern U.S. are desperately seeking during cold winters.
Accommodations
Palm Springs has many small hotels and motels that cater to all tastes and budgets. There are even several "clothing optional" hotels for those who "dare to bare." Riviera Resort & Spa (760-327-8311), at the edge of town, just underwent a $70 million renovation and now has an exciting lobby, beautiful rooms and grounds.  Hyatt Regency Suites (760-322-9000) is an all-suites Hyatt-standards hotel, which can make a longer stay more comfortable. Hotel Zoso (760-325-9676), in the middle of town on four acres, is a boutique hotel with innovative, avant garde designs, electronics and comfort. The Parker Palm Springs (760-321-4630), on 13 acres at the far end of town, with four pools and a gorgeous spa, brings new meaning to luxury accommodations. Spa Resort Casino (760-325-1461), in the heart of town, combines great rooms with a famous spa experience. The casino down the block adds the thrills of winning to the joys of a weekend.  Hilton and Wyndham also have large hotel properties in the city.
Things to do
Most visitors have one primary goal — to veg out at poolside, with a good book and a stiff drink. But there's lots more to do. Most major resorts have tennis courts. Some even have tennis shops and pros. The weather can be ideal for tennis, particularly in the mornings.
Many visitors enjoy riding bikes. The area is relatively flat so biking is easy. With a little bit of planning, one can bike to breakfast, ride some more and then stop for lunch. Many major streets have bike lanes for safety. Jogging is also a popular activity.
People who like to ride horses can explore nearby canyons in rugged rides and enjoy local wildlife and fauna. Smoke Tree Stables (760-327-1327) can set them up.
If the hotel's pool isn't enough, kids (and adults) can swim and slide at Knott's Soak City Waterpark (760-327-0499).
Golf is a major attraction. There are over 125 golf courses in the area. Stand By Golf (760-321-2665) can advise on the best courses and arrange discounted tee times. Tahquitz Creek Golf Course (760-328-1005) has two beautiful courses in the heart of the city.
One can find culture at the Palm Springs at exhibits at the Palm Springs Art Museum (760-325-4490). History buffs can examine one of the largest collections of World War II bombers and fighter planes at Palm Springs Air Museum (760-778-6262).
Want to escape the heat, even play in snow? Throw snowballs, build a snowman? Take the Palm Springs Aerial Tramway (760-325-1391)  to the snow capped top of Mt San Jacinto. A short ride takes you from desert sands to tree covered slopes for fun and frolic. Enjoy fine dining and amazing views from the Peaks Restaurant.
There are numerous small boutiques selling clothing and other goods but there is no mall with high fashion stores in town – yet. However, there is amazing shopping where clothing and merchandise of some of the world's best designers can be bought at significant discounts. Just twenty minutes from Palm Springs, along Interstate 10, Desert Hills Premium Outlets (951-849-6641) and Cabazon Outlets (951-922-3000) have dozens of stores where the deals are "real".
One of the really fun evening attractions is the Palm Springs Follies (800-967-9997), two hours of comedy and music from the '40s to the '60s, with ornately costumed leggy high kicking showgirls who are old enough to have lived the music. Performers ages range 56 to 86. You cannot believe the energy and beauty of the dancers. It is enough to make me want to get out and learn the steps. The club scene at Zelda's Nightclub (760-325-2375) is perhaps the best in town.
Restaurants
Restaurants abound for every taste and budget.  Here's a sampling:
Dink's Restaurant (760-327-7676) offers fine, upscale dining in a relaxed atmosphere. "Dink's" is an acronym for "double income, no kids," reflecting the owner's philosophy. The ambiance is very comfortable, with sleek, contemporary decor. The ceiling is high, creating lots of volume. Well spaced tables offer a view of the surrounding mountains. Private booths circle the perimeter of the interior which can be closed for a truly private dining experience. The food is absolutely superb. The Crispy Buffalo Chicken Salad combined cool greens and gorgonzola with "flaming" chicken strips that rotated taste buds between hot and cold. The Boneless Short Rib Sandwich, with a basket of crispy house-made potato chips, was a thing of beauty to look at and to taste. Manager Anthony Fiorentino described the menu as a "fun menu" for people to relax and enjoy. Just watch out for the Garlic Cheese Bread. It is TOO GOOD. Prices are surprisingly moderate.
San Diego visitors who enjoy DZ Akins will love Manhattan in the Desert (760-322-3354), one of the best deli's anywhere. Both restaurants are based on the same model — give customers great food, lots of it! The large menu offers all the deli delights — sandwiches, salads, combinations and entrees, including pizza. Desserts are really special.
For a wonderfully romantic setting and amazing cuisine, try Le Vallauris (760-325-5059). Situated in a small house surrounding a courtyard, where guests dine in the cool outdoor, the setting is guaranteed to rekindle the fires of love. Trees planted in the courtyard when the restaurant opened in 1975 have matured over 34 years to shield diners with their spread interlacing boughs. The cuisine is French California, under the direction of Chef Jean Paul Lairs, who handled the kitchen for more than 25 years. The owners, Paul and Tony Bruggemans, have maintained the highest standards of fine dining, bringing to Palm Springs the traditions established in Los Angeles at the legendary Le Germaine, which they owned. The Foie Gras Ravioli with creamy truffle sauce was perfect, light pasta encasing marvelous foie gras. The Whitefish and the Crispy Duck in a plum sauce reduction were among the best I've tried. Zagat rates the restaurant as "extraordinary to perfection."
For more information, contact the Palm Springs Desert Resort Communities Convention and Visitors Bureau: www.palmspringsusa.com.
David Rottenberg is the editor of Dining San Diego Magazine, a guide to many of the city's favorite restaurants. He is a member of the Southern California Restaurant Writers Association and vice president of the North American Travel Journalists Association. z