The Best of Downtown 92101
You submitted nominations and we thank you!  Our editorial staff, working with your input and a panel of in-the-know Downtown residents and business owners, compiled The Best of Downtown 2009.

It's the ultimate Downtown Insider's Guide … the place to turn to when your dog needs a wash, you crave gelato and you're expecting guests for the weekend. We've rounded up the best Downtown butcher, baker and burrito maker. Warning: this list is guaranteed to make you hungry and wanting all the good things that come with living and working Downtown. So go get 'em and tell them San Diego Metropolitan sent you!
EAT!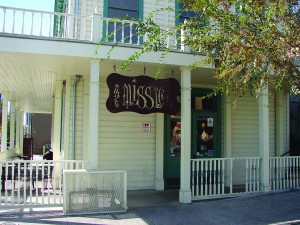 Breakfast –
Baked Apple Pancake — Richard Walker's Pancake House. You'll want to allow the 20 minutes this pancake, using fresh Granny Smith apples and pure Saigon cinnamon glaze, requires. Best to split with a friend.
520 Front St. | (619) 231-7777
French Toast — The Mission. A large portion of French baked cinnamon bread, crispy on the outside, soft inside on a palette of berry puree, accented with fresh fruit. Again, it's time to share.
1250 J St. | (619)232-7662
Power lunch — University Club. Not just anyone can have lunch at the University Club, which is why this makes for a power lunch. You have to be a member to lunch at this exclusive club, and you have to be invited into membership. Then you pay a hefty initiation fee and monthly usage fee, plus the price of your meal. But imagine inviting a guest to lunch where only your menu has prices displayed, where the management and waiters know and greet you by name and where no bill is presented at the end of your scrumptious meal. Now that sends a powerful message. Oh, and did we mention that the view of Downtown, the bay and the ocean beyond from the 34th floor of Symphony Towers is breathtaking?
750 B St. | (619) 234-5200
Steaks — Donovan's Steak and Chop House. This kitchen knows its steaks! Donovan's exclusively serves USDA Prime steaks, Midwestern corn-fed straight from the Chicago stockyards. Fresh, never frozen, of course, and wet-aged for tenderness and superior flavor. The steaks are also flash seared at 1,600 degrees (!) to seal juices, finished to your desired temperature and served piping hot.
Donovan's also offers a brilliant value-added perk: a complimentary executive coach that seats up to 14 will pick up parties at one common spot within a reasonable distance to the Downtown restaurant. It's a perfect choice for celebration diners who prefer not to drive after an evening of libations. (Based on availability at time of request.)
570 K St. | (619) 237-9700
Seafood — Oceanaire Seafood Room. Each day a new menu is printed at Oceanaire as a testament to fine and fresh seafood. Here you'll find "the oyster bar" of offerings, a traditional caviar services, The culinary team is led by Executive Chef Sean Langlais, who was mentored and trained by Japanese sushi chef Azuma San, attended the Scottsdale Culinary Institute and worked for Thomas Keller's empire at Yountville's Bouchon.
400 J St. | (619) 858-2277
Italian — You have to go to Little Italy, of course, where there are plenty of contenders. But we like Trattoria Fantastica's rustic and intimate interior, and menu items that range from wood-fired pizzas to Vitella Marsala (veal sautéed in marsala wine with mushrooms). Plus, you can have dessert right next door at…
1735 India St. | (619) 234-1735
Gelato — Cafe Zucchero. Here's where you can pair authentic Italian gelato with an Italian pastry, all made on the premises. Both Trattoria Fantastica and Cafe Zucchero are part of the Busalacci's Restaurant Group, a San Diego-based family operation that has been in business here since 1986.
1731 India St. | (619) 531-1731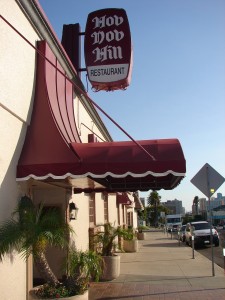 Comfort Food — Hob Nob Hill. You'll find old-fashioned chicken 'n dumplings, and roast Tom turkey on the menu every night. The daily dinner specials are a reason to go every night of the week: like Sunday's roast leg of lamb and Tuesday's braised short ribs of beef. The service is also superb; perfected over the years with the same family ownership since 1944.
2271 First St. | (619) 239-8176
Sushi — Taka Sushi in the Gaslamp.  Taka Sushi, a past winner of the Best of the Gaslamp Quarter Lamplighter Award, is a sushi bar where you should plan on making reservations. It's that good. There's a 15-seat sushi bar, and tables both indoors and outside along the avenue.  Here the freshest ingredients are artfully presented.
555 Fifth Ave. | (619) 338-0555
Mexican — Pokez Mexican and Vegetarian. Great food, lousy service. That's the rap on Pokez, but the food is so tasty, we're willing to let the bare-bones service slide. Here's the place for a Mexican breakfast at 5 in the afternoon, where beans and rice are 100 percent vegetarian. Try a potato rolled taco or a tofu-potato-mushroom burrito. A mahi-mahi enchilada, a shrimp quesadilla. Taco Bell, it's not. Delicious, it is.
947 E St. | (619) 702-7160
Family Dining — Buca di Beppo. Here you can choose from family-size meals in two portions, smalls for up to three and large for an average size country. Well, up to six, says the menu. Yes, there's antipasti, and baked pasta and pasta entrees, but there's also Chianti-braised short ribs and chicken marsala.
705 Sixth Ave. | (619)253-7272
Room with a View — Bertrand at Mr. A's on Bankers Hill is just minutes from Downtown and an eternity from an ordinary dining experience. It's the perfect place for special occasion dining, but its Happy Hour, 2:30 to 6 p.m., offers well drinks at $5, a selection of wines by the glass at $6,  beers at $4, light beers at $3 and a broad selection of $7 appetizers that includes Kobe beef sliders with truffled fries, spring rolls,and fresh swordfish steak sliders.
2550 Fifth Ave. | (619) 239-1377
After the theatre — Extraordinary Desserts is well named. They're beautiful and decadent. But Extraordinary Desserts also has excellent cheese plates, wines and unusual beers from around the world. For some reason, the restaurant doesn't brag about these on its Website, so you'll have to take our word for it. Try them out, but do save room for dessert.
1430 Union St. | (619)294-7001
NIGHTLIFE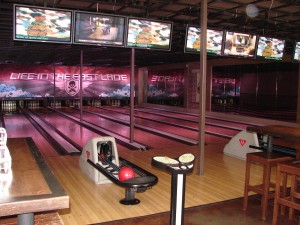 Just plain fun —East Village Tavern and Bowl. Here's the place to say TGIF with some casual fun and food. Strike zone favorites include a tasty Philly cheese steak, big-league burgers and salads to spare. You can also order up a bucket of beer-battered onion rings for $5. Bowling prices go up in the nighttime, but are still a bargain at prime time of $5.75 per person. And it's good to know you won't pay a fortune for parking, with the Park-it-on-Market garage just two blocks away at Seventh Avenue and Market.
930 Market St. | (619)677-BOWL (2695)
Supper Club —Anthology. On the western edge of Little Italy, you'll find an intimate supper club that seats 300 in a hip architectural design encompassing two levels plus a mezzanine. You'll find 30-foot high ceilings, natural wood finishes, an undulating wood ceiling – truly, an upbeat atmosphere, all the better to enjoy the culinary offerings of Eric Bauer and his signature farm-fresh ingredients menu. And taking center stage is an exciting calendar of local and national artists playing jazz, blues, classic rock, R&B, world, Latin and more.  View what's coming up at anthologysd.com.
1337 India St. | (619) 595-0300
Happy Hour — The Ivy Hotel pours "Happier Hour" drinks at just $5 featuring top-shelf liquor in three locations in the hotel: the Ivy Rooftop Bar, the Ivy Ultra Lounge and Wine Bar and the Quarter Kitchen Bar (where Happier Hour food items can be ordered from the bar menu). Happier hours run 5-8 p.m. Sunday -Thursday.
600 F St. | (619) 814-1000
Sustainable Foods — JSix. Chef Christian Graves is devoted to using the best ingredients in his innovative dishes and to creating everything from scratch. His "slow food" approach and commitment to sustainable foods are reshaping San Diego's culinary scene. Chef Graves chooses whole fish and filets them to order and his "boat to pan" seafood selections also adhere to the Monterey Bay Aquarium's seafood watch list. Grass-fed meats, herbs from JSix's burgeoning rooftop garden and organic produce from nearby farms also star in his creatively simple preparations.
616 J St. | 531-8744
Theatre — Broadway San Diego. If you can still catch the Lion King (through Nov. 8.), do it. You must. Or grab a seat for Seinfeld – Jerry Seinfeld that is – coming to the San Diego Civic Theatre Dec. 5.  And don't miss the remainder of Broadway San Diego's 2009-10 Season:  The Ten Tenors from Australia next month, then Riverdance, Jesus Christ Superstar, Legally Blonde and more. In its 33-year history, Broadway San Diego (part of the Nederlander Producing Company of America) has produced well over 300 shows and events here in San Diego.
BroadwaySD.com | (619) 564-3000
DOWNTOWN GOES TO THE DOGS
Pet Boutique — Lucky Dog.  Walk into Lucky Dog and your first thought is that you've come across a children's boutique, with gussy dresses and rugged boys looks displayed on racks by size.  But wait … this is couture for…. Canines? You betcha.  San Diegans love their dogs, and this is the store for discriminating canines and the people who adore them. You'll also find a wide selection of organic, grain free and frozen raw diet foods, designer collars and leashes, toys and treats.
415 Market St. | (619) 696-0364
Mixing and mingling: Canine's 'n Cocktails at Hotel Indigo. Neither humans nor canines pay a cover charge to attend the weekly Tuesday night happy hour from 6:30-8:30 p.m. at Hotel Indigo. There's a doggy menu that includes complimentary dog bones, snacks and bottled water. Humans can enjoy tapas from Phi Bar and Bistro and order specialty cocktails like the signature Blue Indigo "Phi" martini. One dollar of every drink goes to support the San Diego Humane Society. (Tuesdays through Dec. 29.)
509 Ninth Ave. | (619) 727-4000
Boarding house — Camp Diggity Dog This 11,000-square foot facility includes a separate small dog area, over 4,000 square feet of cage-free outdoor space with artificial grass, palm trees, designated bathrooms areas and a swimming pool. Camp Diggity Dog is always cage-free, even for overnight board. Dogs (and their owners) are welcome to tour the facility.
1835 Imperial Ave. | (619) 702-4090
Self-service dog wash — City Dog. Here you'll find unique state-of-the-art dog wash stations designed to take the hassle out of bathing your dog. Each station is squeaky clean and disinfected after each client. A wide selection of gentle shampoos and conditioners, grooming brushes, ear cleanser, coat polish and drying stations start at $12.  Water temperature is kept at a safe 80 degrees.
545 Park Blvd. | (619) 269-0201
Grooming — Camp Diggity Dog scores again with grooming that includes bathing and a haircut and no need to wait days for a reservation. Prices are reasonable, based on the weight of the dog and whether the coat is long or short hair. This is the place to head if you own a short-haired Chihuahua. ($18).
1835 Imperial Ave. | (619) 702-4090
Vet — Market Street Veterinary Clinic. Did you know that preventive care is for dogs and cats, too?  It's one of the specialties offered at the Market Street Vet Clinic, owned by Dr. Raffy Dorian, who received his DVM from UC Davis and went on to get an additional master's in preventative care in veterinary medicine from the university. When animal actors are on location in San Diego, Dorian works with the American Humane Association Film and Television unit on location to ensure their safety and welfare. Lights, camera, BARK!
1051 Market St. | (619) 230-1220
Living in Style
Developer —Bosa.  What would Downtown San Diego be without Bosa?  The Canadian company has invested mightily in San Diego and in each and every project quality has shown through and owners have become evangelists for their company. Now, model homes have been opened at Bayside at the Embarcadero, Bosa's newest Downtown tower, rising 36 stories and containing 232 residences, including 208 tower suites, 12 town homes and 12 penthouses. "Bayside represents the only new product expected to come onto the market in Downtown San Diego for at least the next two years and, likewise, will be the only new product to offer occupancy for at least the next four years," said Nat Bosa, CEO and president of Bosa Development. He said potential buyers would be surprised that they can get a two-bedroom condo with more than 1,450 square feet at Bayside starting from the $600,000s. For a virtual tour, visit www.baysidebybosa.com.
Bosa's other Downtown projects are Horizons in the Marina District; Park Place located on Harbor Drive at Kettner Boulevard; Discovery, located on Cortez Hill; The Grande at Santa Fe Place; and Electra in the Columbia neighborhood. Besides Bayside at the Embarcadero, The Legend at the Ballpark is currently selling.
Bayside at the Embarcadero
1325 Pacific Highway | (800)577-4919 ex. 709
Apartments — Current. In Little Italy, Current combines the lavish amenities of a boutique hotel with the design and comfort of a stylish modern home.  Residents relax at the rooftop pool and outdoor fireplace, kick back in the premier screening lounge with leather chairs and surround sound, catch up with friends via free wifi at the e-lounge with executive conference room, and work out at the premier fitness club with Precor and Magnum equipment. Units range from studios to two-story townhouse rentals.
1551 Union St. | (619) 338-9901
Shopping
Meat — Cowboy Star The walk-in retail space adjoining Cowboy Star restaurant offers top quality products and is the signature source for the meat served in the restaurant. Its cuts are brought in from farms and ranches that adhere to the highest integrity farming practices, including 100 percent grass and cord fed, USDA Prime, 35-day dry-aged beef along with several free range poultry and game options.
630 Tenth St. | (619)450-5880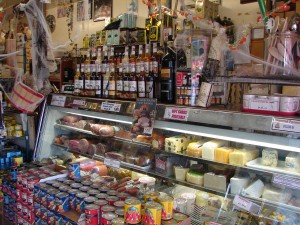 Salami, cheese and bread —  Filippi's Cash 'n Carry Italian Grocers.  In the heart of Little Italy you'll find a true Italian grocery, filled with fresh cheeses, salamis, every type of imaginable pasta, a complete take-out deli and all the best seasonings of Italian cooking. The aisles are tight, the aromas from Filippi's Pizza Grotto in the back of the store waft forward.
1747 India St. | (619) 232-5094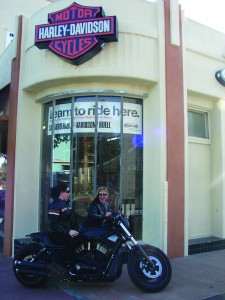 A Hog — Downtown Harley Davidson. The original San Diego Harley Davidson dealership back in 1915 was on Kettner, then it moved to India Street around 1929, and then in 1993 "New York Myke" bought it and moved it to Kearny Mesa, where it still is today.  But New York Myke brought back the Downtown location where you can buy a hog or have it serviced Tuesday-Saturday.
2400 Kettner Blvd. | (619) 233-6677
Apples, oranges, flowers and what not's — Little Italy's Mercato.  This has got to be one of San Diego's top  Farmer's Markets.  So, if it's Saturday, between 9 a.m. – 1:30 p.m. head down to India Street and bring along a couple of canvas grocery bags.  Flowers, produce, breads, coffees, pasta, clothing, sno-cones, Viva pops, organic meats, giant cookies.
Bread – Bread on Market. Stock up on made-on-the-premises artisan's breads, baguettes, foccacia, decadent brownies, and while you're there enjoy a delicious breakfast, lunch of dinner.
730 Market St. | (619) 795-2730
More room. Space San Diego is all about maximizing space, just what those downtown condo owners need. Their wall beds, table beds, sofa-wall beds are definitely not your grandma's Murphy bed – just the beginnings to innovative and elegant design solutions. You can view room transformations at spacesandiego.com.
1531 Pacific Highway | (619) 237-0727
Feeling Good, Looking Good
Dentists — The Art of Dentistry Not only are the facilities and technology at the Art of Dentistry of the highest caliber, you have only to look at the credentials of the dentists to know that your teeth couldn't be in better hands. Dr. Lawrence Addleson has been practicing dentistry with an emphasis on aesthetics in San Diego since graduation from USC's School of Dentistry. He has earned accreditation and the title of Fellow of the American Academy of Cosmetic Dentistry and his is a board examiner for both accreditation and fellowship in the Academy. Dr. R. Douglas Campbell has practiced general and aesthetic dentistry since graduation from the University of Florida in 1988 and was a dentist on active duty with the U.S. Navy for three years in the early 1990s. He is a Fellow in the Academy of General Dentistry, and has extensive training working with Lumineers, Invisalign and Cerec.
2840 Fifth Ave. | (619) 894-8314
Personal Trainer — Joanie Lindley, an ACE certified personal trainer is owner of Sweat Personal Training Studio in East Village, where her personal workouts include kickboxing, boxing, yoga, pilates, ballet and various sports. A trainer for 22 years, Lindley offers individual training and training for groups of two or three. "My clients are not only taught what to do, but why they need to do it."
923 E St. | (619) 955-6190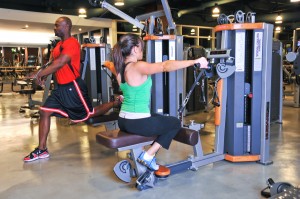 Gym — Fit. Here's the urban country club in the city, where the locals meet and greet, and lounge around after their individual workouts, yoga sessions, Pilates, martial arts or K-Sport group training classes. They'll find plenty of places to kick back at Fit, from the spa-inspired locker rooms with steam rooms and saunas, to the outdoor second story pool deck.
350 Tenth St. Second Floor | (619) 764-5348
Value Powerhouse — YMCA.  At just $38 a month, the Y is hard to beat. It, too, has personal trainers, and a 12-week start up plan that gives new members three free trainer sessions. Plus, Y memberships include the Mission Valley, Kearny Mesa and Hazard Center Y's.  Hazard Center is called the Y's "Mind Body Center" where more than 80 free yoga classes are offered every week.
500 West Broadway | (619) 232-7451
Chiropractor — The Chiropractic Lounge. Just this year, Dr. Margie Smith created a little oasis — a Zen garden, a haven, in the middle of Downtown. Just taking a seat in the living room — make that "waiting room," is a relaxing experience. Smith had been practicing for five years in Chicago but had the good sense to move to San Diego where she's helping San Diegans live well adjusted lives.
655 G St. | (619) 279-7300
Barber — AlphaMale. When is a barber shop not a barber shop? When it's a "barberia" that offers haircuts, beard trims, hot lather shaves, shoe polishing, massages, facials, "hand detailing," brow waxing and door-to-door service. So, men, raise a glass to your success and savor a hand-rolled cigar as you watch the world go by at AlphaMale.
969 First St. | (619) 322-5742
Skin — Simply Skin.After graduating from the renowned Swiss Skin Care Institute in Bellevue, Wash., Lori Legaz, a licensed esthetician, began her esthetics career in 1996.  Her "Simply Skin" salon is nestled in the colorful cottages block off India Street in Little Italy. Here, Legaz offers a holistic approach to skin wellness. Looking for a real pick me up? Try the full body moisture scrub, where a relaxing sea cream infused with the essence of pine is massaged into the skin, its tiny particles removing dead skin cells while its rich ingredients moisturize the skin.
619 ½ Fir St. | (619)224-2949