Gordon R. Carrier, Chairman and Design Principal Carrier Johnson + Culture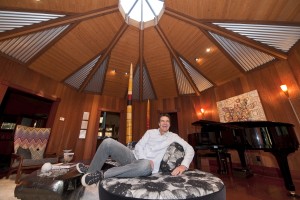 He calls himself "Gordo" as do many of his friends. Yet he is tall, handsome and slender, very unlike the "Gordo" from the classic comic strip. Often self-deprecating, Gordon Carrier finds lots to laugh about and brings a unique sense of humor wherever he goes.
A charismatic and impassioned leader, Carrier is an active participant in the San Diego design, development and civic communities. Through both his architectural practice and a variety of organizational leadership positions, he has played a key role in the revitalization of Downtown San Diego – one of the most significant and sustained urban redevelopment projects in the United States.
TRQ:  What drew you to architecture as a career?
GC:  When I was 8 years old I started seeing the uniqueness in buildings, even in the small town of Mt. Morris, Michigan where I grew up. There was only one architect in town, and I often rode my bike by his big, yellow house, thinking "how cool…how unique."  It was sort of "one off" and slightly progressive.
The light bulb really went off when I attended Hope College in Holland, Michigan where I designed and built theater sets and realized, "This is what architects do!" From that point on I've absolutely loved design and have never looked back.
TRQ:  What is your over-arching personal goal in your work?
GC:  To make every project unique to that user. At Carrier Johnson we strive to create meaningful experiences through space. To do so, we have to think deeply enough to create authenticity for that client. It's less about the building than what that building means to everyone who lives or works in it.
TRQ:  How would you describe your own offices and the culture of Carrier Johnson?
GC:  My partner, Michael Johnson, and I created a "lab" environment, where there are no walls, no real estate owned by any individual. In the office we speak of "talent on wheels" where one can be in one space today and another tomorrow. I call our office "freely accessed," meaning it allows anybody to know anything they might need to know. Thirty percent of our business is an ESOP (Employee Stock Owned Plan) and we are all passionate about helping the staff fully understand how "their" business is run.
Our office is in Downtown San Diego so Downtown is also our laboratory. There is a great deal of experimenting going on in architecture in San Diego from high-rise residential to concrete tilt-up construction.
TRQ:  How do clients find Carrier Johnson + Culture?
GC:  They find us mostly through our reputation. We are known for bringing meaningful solutions to a client's particular need, we bring value beyond pure aesthetics.  Recently Tom Turner, the managing partner at the law firm Procopio, Cory, Hargreaves & Savitch chose us and worked very closely with us on their new offices. When the final design solution was being presented to his staff, Tom took the lead in the presentation because we had managed to create what he felt in his heart was right for the organization. That was the greatest compliment our project designer could ever get…that the client wanted to describe the work to those who will occupy the space.
TRQ:  How would others describe your leadership style?
GC:  Probably three things: high energy, an ability to articulate and allowing staff the freedom to employ their talent.
TRQ:  What would you be doing if you were not an architect?
GC:  I would be a professional musician. I play guitar, drums and piano and I love to sign. Given the opportunity I would sing big band songs all day long.
TRQ:  Most valued possession?
GC:  A Guild D 25 guitar I've had since 1976 when I left road touring.
TRQ:  Family?  Pets?
GC:  My wife, Robin Wilson Carrier, an interior designer, and Kobe, the greatest yellow lab in all the world.
TRQ:  What is the best piece of advice you've received?
GC:  Being honest with oneself is always a winning strategy.
TRQ:  Self indulgence?
GC:  A good Cuban cigar.
TRQ:  What most needs to be created/changed about San Diego in order to realize our old tagline, "America's Finest City?"
GC:  We must understand that no great event occurs without risk.  Vision is a 100-year exercise, not a five-year exercise. If we place vision ahead of barriers, and think in terms of entrepreneurial regional solutions rather than in terms of "this project or that project" we would be the world's finest city. But we have to dream big!
Gail Stoorza-Gill is an independent marketing consultant and serves on the boards of Security Business Bank of San Diego and voiceofsandiego.org. Send your ideas for prospective people to feature at The Right Questions, (619) 223-4815 or at gailstoorza@cox.net