Daily Business Report — Jan. 29, 2010
Cal Western and UCSD Explore Creation of UCSD School of Law Downtown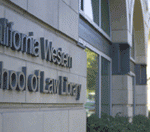 UCSD and California Western School of Law have formed a joint committee made up of faculty and administrators from both institutions to consider an affiliation that may lead to the establishment of a UCSD School of Law in Downtown San Diego. It is envisioned that the law school would be self-supporting and no state or UCSD campus funds would be needed to make the new law school viable. Formation of the committee follows initial consideration of a proposal from California Western to UCSD, according to Paul Drake, UCSD's senior vice chancellor for academic affairs. "We believe the proposal has sufficient merit to explore the possibilities together," Drake said. "A UCSD School of Law would enhance the research, teaching and public service mission of the university." Added California Western Dean Steven R. Smith, "The increasingly robust ties between our two institutions, built over the past three and a half decades of dual and joint degree programs, co-sponsored symposia and cross-institutional teaching, led us to look at the possibility of a combination as the next logical step in our relationship. This could create a public law school for San Diego with no start-up costs — and without creating a new law school, or generating more law school graduates."
The joint committee will explore ways in which a UCSD School of Law might build on existing strengths, enhance other academic disciplines and create unique broad-based areas of exploration in law, science and technology. The joint committee will consider several issues with regard to the proposed affiliation: integrating existing California Western faculty and planning for new hires; attracting students with strong credentials; ensuring that the law school continues to be self-supporting; and charting a smooth transformation into a UCSD School of Law.
"At a challenging time in the university's history," Drake said, "this proposed affiliation would present an opportunity to advance the long-term vision of the University of California system and this campus."
"The San Diego region could benefit from having a law school that helps advance and support its most important science and technology industries, today and tomorrow," said Smith.
If the Joint Committee determines that the proposal should advance, a planning document will be submitted to the UCSD Faculty Senate and administration, and to the California Western faculty and Board of Trustees. If these bodies endorse the committee's recommendation, it will then be sent to the UC Office of the President for a final evaluation and decision. There is no firm timeline for making a determination.
Carlsbad Desalination Project to Receive Federal Bond Money
The California Debt Limitation Allocation Committee voted unanimously to allocate $530 million in bonds to Poseidon Resources' Carlsbad Desalination Project in Carlsbad. The committee is responsible for administering and allocating the state's annual allocation of federal tax-exempt "Private Activity Bonds" or PABS for the financing of certain private development projects that benefit the public. Poseidon said the allocation should lower the project's debt service costs, which in turn would allow Poseidon's public water agency customers to purchase water at a lower rate.
Peter MacLaggan, Poseidon's senior vice president, called the committee's action a major milestone in the financing of the desalination project. "The allocation of Private Activity Bonds clears the way for Poseidon to close project financing and move forward with full-scale construction of the plant," said MacLaggan.
Poseidon has worked in partnership with the city of Carlsbad, Valley Center Municipal Water District, Sweetwater Authority, Santa Fe Irrigation District, the city of Oceanside, Rincon del Diablo Municipal Water District, Olivenhain Municipal Water District, Rainbow Municipal Water District and the Vallecitos Water District to build the desalination plant, which will have the capacity to produce 50-million-gallons-per-day of high-quality drinking water and serve 300,000 residents annually. Phase I of project construction started in November 2009.  During the two and half-year construction and start up, the project will create 2,100 jobs and about $200 million in economic stimulus. The facility is scheduled to be operational in 2012.
Poseidon will solely be at risk to pay the principal and interest on the PABs.  The state of California and the project's public water agency customers bear no financial responsibility for the repayment of the bonds.
Ligand Completes Acquisition of Metabasis Therapeutics
Ligand Pharmaceuticals Inc. announced that it has completed the acquisition of Metabasis Therapeutics Inc. following approval of the transaction by Metabasis stockholders. Ligand said it gains a fully funded partnership with Roche, additional pipeline assets and drug discovery technologies and resources. The transaction was first announced last October. "The acquisition of Metabasis builds on our strategy to cultivate a robust pipeline with a broad array of royalty bearing assets and early stage pipeline programs," said John Higgins, president and CEO of Ligand. In the acquisition, Ligand paid $1.6 million in cash or about $0.046 per Metabasis share to Metabasis' stockholders.
Keltner Installed as First Woman President of AGC
Diane Keltner, president of Synergy Electric Co., was installed last night as the first woman to serve as president of the San Diego chapter of the Associated General Contractors of America. She's the 83rd president in the chapter's history and succeeds Kevin Elliott of Roel Construction. Keltner founded Synergy Electric in 1990. It specializes in industrial, commercial electrical construction, government work and tenant improvement projects. She has been an AGC board member for eight years. Also installed were Mark Filanc of J.R. Filanc Construction Inc., senior vice president; Dave Carlin of Soltek Pacific Construction Co., vice president; and Jeff Turner of Flatiron, secretary/treasurer.
Remaining board members for 2010 are Greg Becker of Cement Cutting Inc.;  Thomas L. Brown of Sierra Pacific West Inc.; Mike Carcioppolo of Hawthorne CAT; Jon Cloud of J. Cloud Inc., John H. Daley Jr. of Daley Corp.; Walt Fegley of Reno Contracting Inc.; Mark Finch of Johnson, Finch & McClure Construction Inc.;  Randy Finch of Marks, Golia & Finch LLP; Bill Haithcock of Casper Co.; Christina Gomez-Holben of St. Thomas Enterprises;  Brian Jordan of Helix Electric Inc.; Tim Penick of T.B. Penick & Sons Inc.; Ted Rossin of Rossin Steel Inc.;  Mike Shaw of Perry & Shaw Inc.; Jon Wald of Sundt Construction Inc.; and Wes Wise of TC Construction Co. Inc.
Barnhart Inc. Receives Contract for Middle School Addition
Barnhart Inc. has been awarded a preconstruction services contract from the Sweetwater Union High School District to begin preparation for the construction of an addition to Montgomery Middle School. The new two-story academic building will have 17 classrooms, a counselor center, library media center, food service kitchen and a covered lunch area. The 57,000-square-foot project requires the demolition of several existing buildings including classrooms, a cafeteria and library. The contract calls for the production of a computer-generated model of the building for review prior to construction and to assist with final design and construction documents. The addition is being funded through a "lease-leaseback" method where school districts lease district land to a builder, which then subleases the land back to the school district. The school district then pays monthly sublease payments to cover the cost of construction. The final cost of the project at the school using the lease-leaseback financing method is under negotiation. The project is being funded by Proposition O, a voter-approved, $644-million bond program. The addition was designed by LPA Architects of Irvine. The district will seek a LEED Platinum rating from the U.S. Green Building Council. The Barnhart team working on the project includes Mike Derouin, vice president; Chuck McArthur, senior project manager; Gordon Stanley, project manager; Matt Wathen, field engineer; and Brian Rasmussen, project superintendent.
Digital Strategy Director Named at NYCA
Gabrielle Windsor has been named director of digital strategy at NYCA, a San Diego-based communications agency. Windsor previously was with Boost Mobile, where she served as head of interactive marketing for three years. She has more than a decade of experience in interactive and social media, working for agencies and clients in luxury marketing and retail. Digital communication accounts for 27 percent of NYCA's business. Currently, 18 percent of the company's staff is dedicated to digital and another 33 percent have significant digital experience. Windsor will attend the Board Retailers Association Surf Expo at the San Diego Convention Center on Feb. 2.  She will be speaking on "Tips for Web Analytics: Tracking Offline Impact of Online Marketing."
Granite Construction Names Riverside/San Diego Manager
Dave Donnelly has been named the area manager for the newly created Western Riverside/San Diego area for Granite Construction Co. He will be responsible for the construction and construction materials operations for the area. Donnelly began his career at Granite in 1989 as a project engineer at the San Jose branch. He progressed up through the Bay Area branch and in 2000 became the manager of the Bay Area branch. During his tenure, Dave helped to establish a materials presence in the Bay Area through acquisitions and partnerships. Most recently he has helped the Bay Area Branch establish large project capabilities that the company said were instrumental in the branch's growth. Donnelly earned his bachelor of science degree in petroleum engineering from West Virginia University. Granite's Southern California region is based in Indio and performs work in Riverside, Imperial, San Bernardino and San Diego counties. Donnelly will be based in Murrieta.
Federal Contract Awards
• Salerno/Livingston Architects, San Diego, won a $153,146.42 federal contract from the U.S. Army Corps of Engineers, Sacramento, for repairs to an administrative building including flooring, windows, heating, ventilation and air-conditioning system under the American Recovery and Reinvestment Act.
• Williams Aerospace & Manufacturing in Spring Valley won a $29,386 federal contract from the Defense Logistics Agency's Defense Supply Center, Richmond, Va., for reveal assemblies.
• Abtech Support in Carlsbad won a $115,900 federal contract from the U.S. Department of Commerce's Patent and Trademark Office, Alexandria, Va., for regular preventative maintenance and on-call servicing of five Avax DLT duplicators. Place of performance will be in Boyers, Pa.
(Source: Targeted News Service)
Business Datebook
Feb. 3
ANNUAL DINNER: The 139th annual dinner of the San Diego Regional Chamber of Commerce, 5-8 p.m., Town and Country Resort & Convention Center, 500 Hotel Circle North, Grand Exhibit Hall. $150 individual registration. Highlights include induction of the 2010 chairman of the board, Tom Wornham of Wells Fargo, and the board of directors, and presentations of the Spirit of San Diego, Courageous Leadership and Regional Unity awards. For more information, call Katie at (619) 544-1370.
Feb. 4
FORUM: San Diego Mayor Jerry Sanders will discuss past, present and future city government reforms that will shape the region in NAIOP San Diego's fourth annual Breakfast with the Mayor program. (Rescheduled from Jan. 19). Marriott San Diego/Del Mar, 11966 El Camino Real, San Diego. Registration at 7:30 a.m., program runs from 8 to 9:15 a.m. $40 for members, $60 for nonmembers. Attendees may pay online at naiopsd.org. NAOP San Diego is a chapter of the Real Estate Development Association. For more information, call Karen Burgess at (858) 509-4110.
EXECUTIVE BRIEFING: Corey Rosen, executive director and founder of the National Center for Employee Ownership, is the featured presenter at a program sponsored by the Beyster Institute at UCSD's Rady School of Management. 5:15 to 6:30 p.m. Free. Registration required; visit rady.ucsd.edu/beyster/events.
Feb. 5
MEET THE LEADERS: Vista Chamber of Commerce host reception and dinner featuring talks by Congressman Darrell Issa, Assemblyman Martin Garrick and county Supervisor Bill Horn. 6:30 to 9:15 p.m., Shadowridge Country Club, 1980 Gateway Drive, Vista. Tickets are $125 per person. Contact the Vista Chamber of Commerce at (760) 726-1122.
Feb. 10
PANEL: The San Diego Press Club presents a panel talk on "WriterPalooza: 50 Tips in 50 Minutesw to Boost Your Writing Business," aimed at professional and aspiring writers and editors. 6 p.m. at KGTV/10, 4600 Air Way, San Diego. Panelists: Dennis Morgigno, Channel 4 San Diego; Kimberly Edwards, formerly of KGTV/10; Lee Swanson, former broadcaster; and Jan Rieger, McLane Rieger Communications. Free for Press Club members, $10 for nonmembers. RSVP to: sdpressclub@cox.net.
SHOWCASE: CleanTECH San Diego and the US Renewables Group present the CleanTECH Showcase, which explores opportunities in the wind-power industry. Keynote presentation by Jim McDermott, managing partner, US Renewables. Registration 4 p.m., keynote 6 p.m., panel 6:40 p.m. La Jolla Marriott. $10 for students, $30 for CleanTECH members, $45 for others. RSVP at: http://ctsd.eventbrite.com.
Feb. 16
CELEBRATION: The Asian Business Association of San Diego holds its 16th annual Lunar New Year Celebration featuring Lucky Lion Dancers, a casino night with prizes and Chinese cuisine. 5:30 to 8:30 p.m., dinner from 6:15 to 7:15 p.m., no-host bar, Fat City Steakhouse/China Camp Restaurant, 2137 Pacific Coast Highway, San Diego. Cost: before Feb. 16, $30 to ABA members, $35 for nonmembers; at the door, $40 members and nonmembers. Register online at abasd.org. For more information, call (858) 277-2822.
Feb. 18
ROUNDTABLE: Hal Varian, chief economist at Google, will speak on "Predicting the Present with Google Trends" at the Economics Roundtable, 7:30 a.m., UCSD Faculty Club. Admission is $50 per person, includes continental breakfast and parking. For more information and registration, call (858) 822-0510.
Feb. 24
DIGITAL FORUM: A forum on social media marketing will feature social media strategist and coach Jason Baer, who will lead a panel discussion on the topic. Sponsored by LEAD San Diego and Bailey Gardiner. 7:30 a.m., continential breakfast and networking; 8 a.m., presentation by Baer; 8:45 a.m., panel discussion. USD's Joan B. Kroc Theatre, San Diego. $20 general admission, $15 for LEAD San Diego members. For more information, call (619) 280-5323.
Feb. 27
WORKSHOP: The San Diego chapter of the American Society of Interior Designers sponsors a "Day with Designers," a public workshop to provide information on practical interior design basics and how to select an interior designer, among other tips. 9 a.m. to 2 p.m. at the Art Institute, 7650 Mission Valley Road, San Diego. Advanced tickets available for $35 by visiting ASIDSanDiego.org. Tickets at the door are $45. For more information, call (858) 646-9896.
The Daily Business Report is produced by REP Publishing Inc., publisher of San Diego Metropolitan magazine and the North Park News. (619) 906-4104.