Daily Business Report — January 15, 2010
Mayor Announces Deal to Save Money on IT Services
Mayor Sanders announced Thursday that the city will begin paying less money — 55 percent less — than what it is now paying for information technology services under a tentative agreement with En Point Technologies, a private company. The deal needs the approval of the City Council. The agreement, said the mayor, is the first phase of his plan to put out to bid all the information technology services currently provided to the city by the San Diego Data Processing Corp.
"The city pays DPC more than $42 million a year for services ranging from maintaining the city's laptops and telephones to providing Web, e-mail and other computer-related operations," said Sanders. "I have long maintained that taxpayers might benefit if the city opened these services up to private competition. We owe it to the taxpayers to see if we can reduce our costs. Seeking private bids was the sensible thing to do – and it's already paying dividends."
According to the mayor, the city is planning to spend $2.7 million this fiscal year for DPC's Help Desk and desk-top support services. En Pointe will provide those same services — and even a few additional services — for $1.19 million a year, he said.  "We selected En Pointe over eight other companies that submitted bids, including DPC," said Sanders
In three additional phases during the next few months, the city will be seeking bids on all the other DPC services.
Plant With Purpose Staffers Safe in Haiti
San Diego-based Plant With Purpose, a nonprofit organization working internationally to reverse poverty and deforestation among the rural poor, reports that most of its 40 staff members in Haiti were unharmed by the earthquake. "This is a tremendous blessing and relief," said Guy Paraison, the Plant With Purpose Haiti program director, who reported via e-mail that the Episcopalian school, the church, and the guest house in the organization's headquarters in the community of Gran Colline are severely damaged. However, the Plant With Purpose office still stands unharmed and the staff members are all OK.
"This is a tremendous blessing and relief," said Plant With Purpose Executive Director Scott Sabin. "We are grateful that our staff is OK, but our prayers go out to our board members and the farmers who are still unaccounted for."
Plant With Purpose has worked in Haiti since 1997 to eradicate poverty through reforestation efforts, soil conservation, and community savings and loan groups. After the devastating hurricanes of 2008, Plant With Purpose was able to reestablish farms for 2,000 Haitian families who lost their homes, crops, and stability. The organization will be intimately involved in the intermediate and long-term recovery efforts of the earthquake as well, and welcomes donations.
"In the days and weeks to come, the impact of the disaster will still be felt and in many ways will be more acute as those who have lost everything attempt to rebuild their lives," said Sabin. "This is when recovery, rehabilitation, and ultimately long-term development will become increasingly important."
Plant With Purpose recommends that immediate relief donations to Haiti should be allocated through an agency with a professional disaster response capability such as our colleagues listed on the InterAction Website.
Plant With Purpose will continue to post updates as soon as they receive them at www.plantwithpurpose.blogspot.com. To make a donation to Plant With Purpose, visit plantwithpurpose.org.
San Diego Chamber Holds Annual Dinner
Tom Wornham of Wells Fargo will be inducted as the chairman of the San Diego Regional Chamber of Commerce during the organization's 139th annual dinner Feb. 3 at the Town and Country Resort & Convention Center in Mission Valley. Vince Mudd of San Diego Office Interiors and the entire 2010 board of directors also will be inducted. The Chamber's "Regional Unity Award" will be presented during the event. It is given to a person or group of people who help bring the people and interests of the region together. New this year will be the "Herb Klein Spirit of San Diego Award" presented to an individual who exemplifies outstanding civic leadership. Sponsors of the dinner are AT&T, Bank of America, Bridgepoint Education, Chevron, Cox Communications, ESET, The Irvine Co., Kaiser Permanente, Life Technologies, The Metropolitan Water District of Southern California, SAIC, Scripps, SeaWorld, Sempra Energy, Sony and Wells Fargo. Admission is $150.
SDSU Professor Receives Accountancy Honor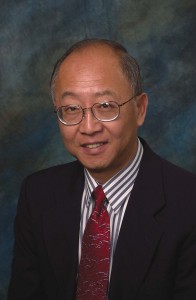 Dr. Chee W. Chow, professor of accountancy at SDSU's Charles W. Lamden School of Accountancy, has been awarded the Lifetime Contribution Award by the American Institute of Certified Public Accountants. The AICPA, in conjunction with the Management Accounting Section of the American Accounting Association, recognized Chow for his many contributions to the field of management accounting. "This award is a culmination of years of outstanding academic research, service to the educational community and mentoring of other faculty members," said Sharon Lightner, the William E. Cole Director of the School of Accountancy. "On behalf of SDSU, we are extremely proud of Dr. Chow's many fine achievements and exceptional contributions." Chow received the honor during the organization's mid-year meeting and luncheon on Jan. 8 in Las Vegas.
DexCom Sells 3.5 Million Shares of Stock
San Diego-based DexCom Inc. announced the sale of 3.5 million shares of its common stock under an underwriting agreement with Canaccord Adams acting as the sole bookrunner. The last reported sale price of common stock as reported by the Nasdaq Global Market on Thursday was $9.22 per share.
The company expects to use the net proceeds from the sale of the shares for working capital and general corporate purposes. Closing of the offering is expected to occur on or about Jan. 21. The company has granted the underwriters a 30-day option to purchase up to an additional 525,000 shares of common stock to cover over-allotments, if any.
Breakfast With The Mayor Rescheduled
NAIOP San Diego has rescheduled its fourth annual Breakfast with the Mayor from Jan. 19 to Friday, Feb. 4, because of scheduling conflicts at Mayor Sanders' office. Those already registered are asked to simply reconfirm their attendance or cancel their reservation for a full refund. During the breakfast, Sanders will discuss past, present and future city government reforms that have and will shape the San Diego region. The event is at the Marriott San Diego/Del Mar, 11966 El Camino Real, San Diego. Registration is at 7:30 a.m. For questions, call Karen Burges at (858) 509-4110.
International Lottery & Totalizator Gets $1.7 Million Contract
International Lottery & Totalizator Systems Inc. in Vista has received a $1.7 million contract from Philippine Gaming Management Corp. for additional Intelimark FLX lottery terminals and associated services. Philippine Gaming Management provides an online lottery system and equipment to the Philippine Charity Sweepstakes Office. Delivery of the terminals will begin in May.
Women's Resource Fair Set for March 6
The 21st annual Women's Resource Fair on March 6 will provide medical, legal and social services to low-income, homeless, recovering and abused women and their children. It will be held from 8:30 a.m. to 4 p.m. in Golden Hall at the Civic Center in Downtown San Diego, 202 C St. It is sponsored by the Lawyers Club of San Diego, San Diego Volunteer Lawyer Program, San Diego County Bar Association and San Diego County Bar Foundation. Resources and services offered at the Fair will include assistance in applying for public benefits such as food stamps and Social Security; medical and dental services for women and children; confidential legal assistance with family law, child support, restraining orders, public benefits programs, immigration, housing, consumer protection and criminal law questions; job skills, education and employment counseling; seminars on job application skills, self-defense, and personal care; mental health services, including spiritual counseling; and shelter referrals.
Littoral Combat Ship to be Commissioned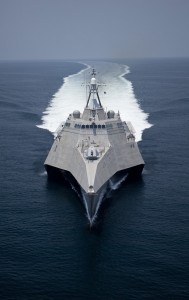 The Navy on Saturday will commission Littoral Combat Ship Independence at Cooper Riverside Park in Mobile, Ala., a ship that will be homeported in San Diego as part of the Pacific Fleet. The ceremony is at 11 a.m. Central Standard Time. Chief of Naval Operations Adm. Gary Roughead will deliver the ceremony's principal address. Doreen Scott, wife of the former Master Chief Petty Officer of the Navy Terry Scott, will serve as ship's sponsor. The Navy officially accepted delivery of the future USS Independence (LCS 2) on Dec. 18, 2009, in Mobile. Independence is the second of two sea frames being produced, and the first LCS of the General Dynamics variant. USS Freedom (LCS 1), the Lockheed Martin variant, was commissioned Nov. 8, 2008. A fast, agile, and high-technology surface combatant, Independence will be a platform for launch and recovery of manned and unmanned vehicles. To meet increased demand for mission-tailored forces packages, its modular design will support interchangeable mission packages, allowing the ship to be reconfigured for antisubmarine warfare, mine warfare, or surface warfare missions.
ViaSat Receives $4.8 Million Contract
ViaSat Inc. in Carlsbad has been awarded an order valued at $4.8 million for Multifunctional Information Distribution System (MIDS) terminals. The award resulted from a competitive procurement for 30 LVT(6) configuration terminals under a Foreign Military Sales program through the Space and Naval Warfare Systems Command (SPAWAR). The order will be for MIDS-LVTs for the F-16 aircraft. The F-16 is the world's most widely flown jet fighter and ViaSat is the leading supplier of MIDS terminals to F-16 fleets worldwide.
ubroadcast inc. to acquire iVu Media Corp.
Internet broadcasting company ubroadcast inc. of San Diego has signed a letter of intent to acquire Alexandria, Va.-based iVu Media Corp., a developer of a state-of-the-art video content management system that works in tandem with high definition playback video technology. iVu Media's clients include Fox Sports, Sony, Ford and Honda. In 2009, iVu Media had revenues of less than $500,000. It has offices in the United States, UK and the Middle East. The parties are to complete negotiations and sign a definitive acquisition agreement during February.
UCSD Receives Record Number of Applicants
UCSD has received 48,073 freshman applications for fall 2010, up 1,101 applicants, or 2.3 percent, from the previous year. The 14,286 transfer student applications continued to show an increase to 3,102 students or 27.7 percent from 2009, reflecting a record number of applications from both transfer and freshman. Applications of both underrepresented freshmen and transfer students increased. Freshman applications of underrepresented students for fall 2010 show a 8.8 percent increase. A total 1,968 African-Americans (up 20.6 percent), 8,269 Latino and Mexican American (up 5.8 percent) and 324 Native Americans (up 25.1 percent), applied for the fall 2010 quarter.
Business Datebook
Jan. 14
REAL ESTATE PANEL: Residential real estate leaders will gather for an annual forecasting event at 5 p.m. at the Del Mar Hilton, 15575 Jimmy Durante Blvd., Del Mar. The program, "Positive Again in 2010," is presented by the Sales & Marketing Council of the San Diego Building Industry Association. Moderated by Pete Reeb of Reeb Development Consulting. Cost is $65 for BIA members and $85 for nonmembers. Dinner, 6 p.m., program, 7 p.m. For more information or to register, call (858) 450-1221, Ext. 101.
WORKSHOP: CONNECT workshop on "Establishing an Effective Bioscience IP Portfolio," held in partnership with Pillsbury Winthrop Pittman Shaw LLP. The workshop will cover basic elements of developing a commercially meaningful intellectual property portfolio for a bioscience company. 8 a.m. to 1:30 p.m., offices of Pillsbury Winthrop Shaw Pittman,
12255 El Camino Real, Suite 300, San Diego. Light breakfast will be provided; optional lunch. $45. For more information, call (858) 964-1312.
PRESENTATION: Jeff Morgan, president and CEO of the National Investor Relations Institute (NIRI), speaks to the San Diego NIRI chapter at Leap Wireless, 5887 Copley Dr., San Diego. Networking reception at 5 p.m. presentation, 5:30 to 7 p.m. Morgan will speak on the NIRI and the state of the industry. Admission is $45 for members and $60 for nonmembers if registration is received before 5 p.m. on Jan. 11. The cost for late or on-site registrations is $55 for members and $70 for nonmembers. Register by e-mail at: rsvp@nirisandiego.org.
Jan. 19
BREAKFAST TALK: Jeff Moorad, vice chairman and CEO of the San Diego Padres, will give a talk on the recent Padres franchise deal at the Jan. 19 meeting of the San Diego chapter of the Association for Corporate Growth. It will be from 7 to 9 a.m. at the Doubletree Hotel Hazard Center, 7450 Hazard Center Drive, San Diego. ACG San Diego members are free; others are $50. To reserve, visit acteva.com/go/acgsd. For more information, call (619) 741-7247.
SEMINAR: The San Diego Direct Marketing Association presents the "2010 Marketing Trends" seminar featuring five speakers talking on marketing trends. Designed for marketing executives, PR directors, sales managers, marketing service providers. 8 a.m. to 1 p.m., Alliant University, 10455 Pomerado Road, San Diego. $79 for members, $99 for nonmembers and $59 for students.
Jan. 20
WORKSHOP: "Unlocking the Secrets: the Power of Strategic Alliances" sponsored by the San Diego Regional Chamber of Commerce. A 90-minute training course to be successful in the chamber's complementary referral program, the Business Alliance. Chamber HQ, 402 West Broadway, Suite 1000, San Diego. No charge. Reservations required. To reserve, e-mail Erin Chapman at echapman@sdchamber.org or call (619) 544-1382.
CONFERENCE: San Diego Society for Human Resource Management's annual Law Day Conference focuses on employment law, compliance and legislative issues facing today's workplace. 7:30 a.m. to 3:30 p.m., Hilton La Jolla Torrey Pines, 10950 North Torrey Pines Road, La Jolla. $129 for members, $189 for nonmembers. To reserve and for more information, visit sdshrm.org or acteva.com/go/sdshrm.
FORUM: "TelCentris: Generating Revenue from a Market Used to 'Free,'" 5 to 8 p.m. Salk Institute, 10010 North Torrey Pines Rd., La Jolla. Sponsored by MIT Enterprise Forum San Diego. For more information, visit sdmitforum.org.
LUNCHEON: San Diego County Taxpayers Association sponsors a luncheon with San Diego City Attorney Jan Goldsmith. Registration 11 a.m. to noon, lunch and program noon to 1:15 p.m., California Ballroom, Town and Country Resort, 500 Hotel Circle, Mission Valley. $35 for members, $45 for nonmembers. Register online at sdcta.org/Events/Event.asp or RSVP with Amy Harris at (619) 234-6423.
Jan. 21
LUNCHEON: Lawyers Club of San Diego monthly luncheon, noon to 1:15 p.m., Bristol Hotel, 1055 First Ave., Downtown San Diego. Doors open at 11:45 a.m. Members $25. Nonmembers $30. Make reservations to rsvp@lawyersclubsandiego.com.
LUNCHEON: Annual installation luncheon of the Downtown San Diego Partnership. 11:30 a.m. check-in, program at noon, Hard Rock Hotel, Downtown San Diego. For information, call Sheri Snead, (619) 234-0201 or e-mail her at ssnead@downtownsandiego.org.
WORKSHOP: Presentation workshop sponsored by BIOCOM, 8:30 a.m. to 5 p.m., at BIOCOM, 4510 Executive Drive Plaza 7, San Diego. Provides opportunity for practice, feedback, videotaping and one-on-one coaching for each participant. Each participant will present three times, be videotaped and receive group and one-on-one feedback. For information, call Kristie Grover, (858) 455-0300.
PANEL TALK: Citizens Coordinate for Century 3 hosts a breakfast dialogue, "Are the Tides Turning on Equity and Environmental Justice in San Diego Planning?" Harborside Room, Holiday Inn Embarcadero, 1355 North Harbor Drive, Downtown San Diego. Registration 7:30 a.m. Program runs from 8 to 9:15 a.m. Cost for the continental breakfast and program is $20 for members and $25 for nonmembers. Cost at the door is $35 for all. Student admission is $10. For reservations, call (619) 232-7196.
Jan. 26
WORKSHOP: "Unlocking the Secrets: The Art of Giving a Presentation," a training course sponsored by the San Diego Regional Chamber of Commerce. 8 to 9:30 a.m., San Diego Regional Chamber of Commerce, 402 West Broadway, Suite 1000, San Diego. Learn how to show off what you do and share what makes your business, product or service unique. For more information, call (619) 544-1382.
Jan. 27
WORKSHOP: The San Diego chapter of the International Association of Business Communicators holds a special workshop/learning session on "The New Rules of Engagement: How Communicators Shape Leaders' Thoughts and Actions." Speaker is Mark Schumann, principal of Towers Perrin and 2008-09 chair of the IABC. 11:30 a.m. to 1 p.m., learning session and lunch; 1 to 2 p.m., roundtable workshop. Doubletree Hotel San Diego/Mission Valley, 7450 Hazard Center Drive, San Diego. Register by Jan. 21 and its $40 for members, $50 for nonmembers. Register afterwards, its $50 and $60, respectively.
Jan. 29
CONFERENCE: The Burnham-Moores Center for Real Estate's 14th annual Real Estate Conference will feature real estate icon Sam Zell. Panels will discuss "The Shape of Things to Come: Capital Markets" and "The Shape of Things to Come: REITS, Retail, Development and Loan Workouts." 7:30 a.m. to noon, Hilton San Diego Bayfront. To register, visit sandiego.edu/bmcevent. For more information, call Diane Gustafson at (619) 260-2379.
Feb. 3
ANNUAL DINNER: The 139th annual dinner of the San Diego Regional Chamber of Commerce, 5-8 p.m., Town and Country Resort & Convention Center, 500 Hotel Circle North, Grand Exhibit Hall. $150 individual registration. Highlights include induction of the 2010 chairman of the board, Tom Wornham of Wells Fargo, and the board of directors, and presentations of the Spirit of San Diego, Courageous Leadership and Regional Unity awards. For more information, call Katie at (619) 544-1370.
Feb. 4
FORUM: San Diego Mayor Jerry Sanders will discuss past, present and future city government reforms that will shape the region in NAIOP San Diego's fourth annual Breakfast with the Mayor program. (Rescheduled from Jan. 19). Marriott San Diego/Del Mar, 11966 El Camino Real, San Diego. Registration at 7:30 a.m., program runs from 8 to 9:15 a.m. $40 for members, $60 for nonmembers. Attendees may pay online at naiopsd.org. NAOP San Diego is a chapter of the Real Estate Development Association.
For more information, call Karen Burgess at (858) 509-4110.
Feb. 5
MEET THE LEADERS: Vista Chamber of Commerce host reception and dinner featuring talks by Congressman Darrell Issa, Assemblyman Martin Garrick and county Supervisor Bill Horn. 6:30 to 9:15 p.m., Shadowridge Country Club, 1980 Gateway Drive, Vista. Tickets are $125 per person. Contact the Vista Chamber of Commerce at (760) 726-1122.
Feb. 16
CELEBRATION: The Asian Business Association of San Diego holds its 16th annual Lunar New Year Celebration featuring Lucky Lion Dancers, a casino night with prizes and Chinese cuisine. 5:30 to 8:30 p.m., dinner from 6:15 to 7:15 p.m., no-host bar, Fat City Steakhouse/China Camp Restaurant, 2137 Pacific Coast Highway, San Diego. Cost: before Feb. 16, $30 to ABA members, $35 for nonmembers; at the door, $40 members and nonmembers. Register online at abasd.org. For more information, call (858) 277-2822.
Feb. 24
DIGITAL FORUM: A forum on social media marketing will feature social media strategist and coach Jason Baer, who will lead a panel discussion on the topic. Sponsored by LEAD San Diego and Bailey Gardiner. 7:30 a.m., continential breakfast and networking; 8 a.m., presentation by Baer; 8:45 a.m., panel discussion. USD's Joan B. Kroc Theatre, San Diego. $20 general admission, $15 for LEAD San Diego members. For more information, call (619) 280-5323.
Feb. 27
WORKSHOP: The San Diego chapter of the American Society of Interior Designers sponsors a "Day with Designers," a public workshop to provide information on practical interior design basics and how to select an interior designer, among other tips. 9 a.m. to 2 p.m. at the Art Institute, 7650 Mission Valley Road, San Diego. Advanced tickets available for $35 by visiting ASIDSanDiego.org. Tickets at the door are $45. For more information, call (858) 646-9896.
The Daily Business Report is produced by REP Publishing Inc., publisher of San Diego Metropolitan magazine and the North Park News. (619) 906-4104.