San Diego Scene 1.10
"The way that light falls on a subject and reflects back has always fascinated me," says photographer Zach Petschek, who took the above photo at sunset at Torrey Pines Beach. "Some of my first memories with a camera are in high school, says Petchek, a San Diego native. "We'd go skateboarding around town and buy a disposable camera to document the day. Skateboarding brought me to so many new places and my camera was always there to record it. After five years of taking photos for fun and the occassional photography class in college, I ended up in Santa Barbara at Brooks Institute of Photography. I learned all of the technical things that my photography was lacking and four years later I received my BA in photography. I have been living back in San Diego ever since." For other images by Petcheck, visit his Website at http://zachpetschek.com.
***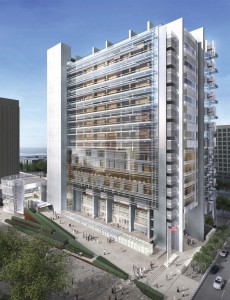 The U.S. General Services Administration has broken ground on construction of the new San Diego Courthouse at 339 Broadway — a 16-story tower that will contain six courtrooms and 12 chambers. The $380 million construction project will integrate new and existing federal buildings with gardens, plaza, a water feature and pedestrian paths. It was designed by Richard Meier & Partners Architects LLP. The building design is based on sustainable strategies that take advantage of natural daylighting throughout the entire building and offer natural ventilation on selected floors. The building is expected to achieve a LEED Silver certification through a number of green-building strategies. In addition to reducing energy use through daylighting, the design calls for water-efficient fixtures and irrigation systems, the use of low-emitting and recycled materials, and high-efficiency mechanical systems.
The architect said the central location of the site guarantees a vital mix of Downtown employees and residents that will use the new civic plaza as a community gathering space. The plaza opens north to Broadway — the city's major street — and south to engage the E Street promenade. Each of the federal buildings will have a front door presence on the vehicle-free landscaped plaza.
***
The San Diego Redevelopment Agency has authorized Centre City Development Corp. (CCDC) to enter into a contract with the firm of Rob Wellington Quigley for architectural and engineering services for the development of the new Bayside Fire Station Downtown. The fire station will be located at the southeast corner of Pacific Highway and Cedar Street, in the Little Italy neighborhood and across from the County Administration Center. When complete, the Bayside station will provide important fire-rescue protection service west of the railroad tracks. The last fire station built Downtown was in 1971. The new station will provide living and working quarters for fire and rescue personnel and will accommodate up to three fire/rescue vehicles. Completion is targeted for early 2013. Total costs are estimated at $21.5 million paid from Downtown redevelopment funds.
***
Daniel J. Tucker, chairman of the Sycuan Band of the Kumeyaay Nation, owner of the Sycuan Casino in El Cajon, has been elected chairman of the California Nations Indian Gaming Association (CNIGA), the largest tribal gaming organization in California. Cody Martinez, treasurer of the Sycuan Band, was elected southern representative, and Steve Stallings, a tribal council member of the Rincon Band of Luiseno Indians, operator of Harrah's Rincon Resort and Casino in Valley Center, was elected treasurer.
Tucker previously served as chairman of CNIGA between 1995 and 2001, during the organization's formative years, which included such significant milestones as the Proposition 5 and 1A campaigns and the original round of compacting with the state in 1999 in which 61 tribes signed agreements. "I look forward to working with all tribes in California to help safeguard the sovereign right of tribes to conduct gaming on our lands," said Tucker.
Tucker succeeds Anthony Miranda, who was chairman of CNIGA for six years. Tucker was elected for a two-year term.
During Tucker's tenure as Sycuan's chairman the tribe has developed the Sycuan resort into a major destination resort, allowing the Sycuan tribe to diversify itstribal economy and social educational programs.
Stallings is currently the senior vice president and director of the Native American Banking Services group for Wells Fargo. Stallings replaces Dennis Hendricks of Tuolumne, who did not seek re-election.
***
McCarthy Building Companies Inc. has been awarded a contract for construction management of the new $92 million, 180,000-square-foot, four-story Math and Science Building at San Diego Mesa College. The project is funded by the $1.55 billion Propositions S and N construction bond program, which is providing for new teaching and learning facilities, major renovations and campus infrastructure projects at Mesa, City and Miramar colleges, and six continuing education campuses. Construction is expected to begin in early September 2010, with completion slated for November 2012. It is the second major project McCarthy has been awarded by the San Diego Community College District at Mesa College. The company also built the new three-story, 50,000-square-foot Allied Health Building, which was completed in August.
The Math and Science Building was designed by Architects | Delawie Wilkes Rodrigues Barker and will house four floors of classrooms, laboratory space and offices for the departments of biology, chemistry, mathematics, and physical sciences. Several faculty/student interaction areas will be incorporated into the building's design. The building is designed to obtain Leadership in Energy and Environmental Design (LEED) certification under guidelines set forth by the U.S. Green Building Council.
Two existing buildings will have to be demolished to make room for the new facility.
According to McCarthy Project Director Robert Betz, the biggest challenge facing the construction team is the project's location on a compact 200,000-square-foot site in the middle of the campus. "We are in the process of devising a plan that will allow us to work within the site constraints while minimizing disruption to ongoing traffic and activities at the campus during the construction period," said Betz. Project team consultants include Hope Engineering for structural engineering and X-nth for mechanical and electrical engineering. Gafcon is the program manager for the Propositions S and N construction program for the San Diego Community College District.
***
Andrew Viterbi, co-founder of Qualcomm Inc. and developer of wireless technologies that became the international standard for third-generation cell phones, has been named the 2010 Medal of Honor recipient from the Institute of Electrical and Electronics Engineers Inc. (IEEE). The Medal of Honor, IEEE's highest award, will be presented June 26, 2010, in Montreal, Quebec, Canada as part of IEEE's annual Honors Ceremony. Viterbi, who received the National Medal of Science in 2008 (administered by the National Science Foundation and presented by the president of the United States), is being recognized for "seminal contributions to communications technology and theory." In the mid-1960s, while a professor at UCLA, he developed the Viterbi Algorithm, a breakthrough in wireless technology that separated information (voice and data) from background noise. All four international standards for third-generation digital cellular communications as well as most digital satellite communications systems use the Viterbi Algorithm. In 1985, Viterbi co-founded Qualcomm with Irwin Jacobs and helped develop Code Division Multiple Access (CDMA) technology, which applied spread spectrum to cellular phones.
Viterbi currently serves as president of the Viterbi Group LLC, San Diego, an equity investment fund he established in 2000. The Viterbi Group advises and invests in early and emerging companies that are pioneering innovative technologies in the areas of wireless communications; network infrastructure; and image, optical and signal processing.
***
Laverne, the Runway Stowaway
Any bird that decides to construct its nest on an international airport's runway is making a strategic biologic error. Nevertheless, this year 139 least tern nests were established at the San Diego International Airport. And the Airport Authority, working in cooperation with the U.S. Fish and Wildlife Service, the Zoological Society of San Diego and the Port of San Diego, is working to protect the endangered least terns as well as other threatened birds, plants and related habitats. San Diego International Airport has unveiled a storybook about an airport-dwelling least tern that gives children a bird's-eye view about how they can protect their community's natural resources. "Laverne, the Runway Stowaway" was donated in December by the airport to hundreds of elementary school and public libraries across the county.
Written and illustrated by airport employees Judy McSweeney and Sharon Gonzales, "Laverne" educates and entertains young audiences by describing the whimsical adventures of an endangered California least tern who nests at the airport. It is the latest in a series of books published as part of the Airport Explorers program. Through the eyes of imaginary airport characters Propeller Pete, SkyKid Sam, Jet the dog and Flygirl Pearl, "Laverne" tells the story of a curious California least tern chick who gets lost and with the help of her new friends tries to find her way home on the airport's runway.
The San Diego International Airport least tern nesting site is one of the most productive in Southern California. The site is located at the southeastern end of the airport's runway and close to the bird's food source in San Diego Bay.
***
Twenty San Diego County businesses have been honored for ethical business practices by the San Diego Better Business Bureau. Seven for‑profit companies and one nonprofit organization were named top winners of a 2009 BBB Torch Award for Marketplace Ethics, while 12 others were named as finalists.
Selected as winners of a 2009 BBB Torch Award were (categories were based on number of employees which appear in parenthesis): ALM Window & Door Inc. of National City (one‑to‑four); Dream Design Builders of Rancho Bernardo (five‑to‑10); Jackson Design and Remodeling of San Diego (11‑to‑24); Action Air Conditioning and Heating of San Marcos (25‑to‑99); Toyota of El Cajon (100-to‑249); Barney & Barney LLC (250‑to‑499); San Diego County Credit Union (500-plus); and, Girl Scouts, San Diego Imperial Council (charity/non‑profit category).
Finalists included RSVP Publications of San Diego and Major League Heating & Air Conditioning Inc. of Oceanside (one-to-four); Pelican Glass Inc. of Carlsbad and United Auto Body & Paint of San Diego (five-to-10); Pure Financial Advisors of Mission Valley and DSD Business Systems of San Diego (11-to-24); ASI Hastings Inc. of Kearny Mesa and The Marine Group LLC of Chula Vista (25-to-99); Coles Fine Flooring of San Diego and Corky's Pest Control Inc. of San Marcos (100-to-249); SGIS of San Diego (500-plus); and Pacific Safety Council (charity/non-profit). There were no finalists in the 250-to-499-employee category.
Companies and organizations were not the only award recipients. Five high school students who wrote essays on the importance of ethics and integrity in the community were presented with cash scholarships. A total of 166 essays from students attending 65 different high schools in San Diego County were evaluated by the judges. Sycuan Casino was the presenting sponsor of this year's BBB scholarship program. The 2009 recipients of a Torch Award scholarship were (amounts awarded appear in parenthesis): Nicole Daneshvar, a senior at University City High School ($500); Logan Gallagher, a senior at San Dieguito Academy High School ($750); Michael Gaulden, a senior at San Diego High School of Business ($1,000); Matthew Plummer, a senior at Grossmont High School ($1,250); and Turner Massey, a senior at Cathedral Catholic High School ($1,500).
***
The county Board of Supervisors has voted to join forces with more than a dozen California counties planning to launch a statewide solar financing district. The aim is to help residents of unincorporated areas more easily afford rooftop solar electric systems and other energy efficiency projects. The goal is to finance installations of rooftop solar electric systems and allow property owners to pay the cost over a period of 20 years on property tax bills. The application process could begin as early as June 2010. The county will spend $25,000 to enroll in what is known as the CaliforniaFIRST program. The effort is offered through California Communities, a joint powers authority sponsored by the League of California Cities and the California State Association of Counties. Renewable Funding LLC and RBC Capital Markets will help administer and finance the program. California Counties will work directly with interested homeowners to process applications, determine eligibility, and provide customer services. To lower costs, the program is seeking Federal Stimulus dollars thought grants from the California Energy Commission.
A handful of local cities have expressed interest in joining the effort. CaliforniaFIRST has determined that the participation of local cities is contingent on the county's participation. To learn more about CaliforniaFIRST, visit
renewfund.com.
***
Linda Brewton, a 20-year veteran of the capital markets industry and published writer, has launched her first book on financial planning aimed specifically at women. In "The Myth of the White Knight: Financial Planning For Women." Brewton encourages and shows women how to take charge of their financial well being instead of relying on a mythical "white knight" to ride in and rescue them. (The book is available online at lulu.com and amazon.com and retails for $18.92.)
"It's been my experience that too many women leave their financial future to chance," Brewton said. "Instead of taking the time to understand their current financial situation, determine where they would like to go and how to get there, many women assume that things will magically work out or that someone else will simply do this for them. Most financial planning books that I've come across are ploddingly written, not very well organized, and just plain boring, even for someone like me who actually finds finance interesting." Brewton used a conversational tone, humor and easy-to-follow examples to guide the reader through the financial planning process.
The book outlines practical, step-by-step advice for a woman, at any stage in her life with any level of mathematical understanding, to get her financial house in order. Brewton emphasizes the seriousness of learning about one's finances without belittling those that may not be as savvy as they should be.
Brewton is a Phi Beta Kappa graduate of San Diego State University where she earned an MBA in Finance and a BA in English.
***
There is currently no cure for Ebola hemorrhagic fever. The virus is spread when people come into contact with the bodily fluids of an infected person or animal. Most die from a combination of dehydration, massive bleeding and shock. There is currently no vaccine or drug therapy for Ebola infection, but the findings of a Scripps Research Institute study may lead to new treatments.
Scripps Research Institute scientists have determined the structure of a critical protein from the Ebola virus, which, though rare, is one of the deadliest viruses on the planet, killing between 50 and 90 percent of those infected. Described in the journal Proceedings of the National Academy of Sciences, the research reveals how a key component of the Ebola virus, called VP35, blocks the human immune system, allowing the virus uncontrolled replication. The structure represents a major step forward in understanding how the deadly virus works, and may be useful in the development of potential treatments for those infected. "After infection, the virus and immune system are in a race," said Erica Ollmann Saphire, associate professor at Scripps Research who led the three-year effort to solve the structure. "If the virus can hide its molecular signatures, it can suppress immune responses and replicate unchecked. This new understanding of the mechanism that Ebola virus uses to evade the immune system opens the door for developing drug therapies."
The article, "Ebolavirus VP35," was authored by Christopher Kimberlin, Zachary Bornholdt, Ian MacRae, and Saphire of the Scripps Research Institute in collaboration with Sheng Li and Virgil Woods Jr. of UCSD. Support for the research was provided by grants from the National Institutes of Health, a Career Award from the Burroughs Wellcome Fund and The Skaggs Institute for Chemical Biology.
***
The California Hotel & Lodging Association has given a Stars of the Industry award to Glorietta Bay Inn in Coronado for having the best guest relations program in California. Glorietta Bay Inn has won the award on a state or national level for the past 10 years. "More than 93 percent of our guests rate Glorietta Bay Inn highly on value for money spent, and guests routinely cite the friendliness of our staff as truly exceptional," said Holly Ansley, the inn's general manager. The in was built in 1908 as the home of John D. Spreckels and features Spreckels' original mansion. Spreckels' original music room is now a parlor.
***
The San Diego Building Owners and Managers Association (BOMA) honored nine local office properties as Office Building of the Year (TOBY) Award winners in an annual ceremony recognizing excellence in commercial real estate. The competition attracted 16 nominees in nine categories. Entries were judged on tenant relations programs, community involvement, emergency evacuation procedures and continuing education for building personnel. The theme for the 2009 competition, "Salute to the Skyline," highlighted prominent properties in San Diego, a city with an expanding skyline.
This year's TOBY Award recipients:
• Waples Research Center, managed by Thomas Felter of BioMed Realty Trust in the Under 100,000 square feet category.
• Nobel Executive Center, managed by Barbara Puccio of CB Richard Ellis in the 100,000 to 249,999 square feet category.
• 550 Corporate Center, managed by Carrie Petro of CB Richard Ellis in the 250,000 to 499,999 square feet category.
• Columbia Center, managed by Carlos Alvarez and Chris Cooper of Sentre Partners, Inc. in the 500,000 to 1,000,000 square feet category.
• 450 B Street, the Bank of America Building, managed by Cathy Houck of Colliers International in the Renovated Building category.
•  Paseo De Mission Hills, managed by Nick DiMeglio of Witt Properties in the Historical Building category.
• BioMed Realty Trust, Inc. Headquarters managed by Peggy Schackne and Thomas Felter of Biomed Realty Trust in the Corporate Facility category.
• Kilroy Centre Del Mar, managed by Kathleen Bristol and Anna Orlando of Kilroy Realty Corporation in the Suburban Office Park – Low-Rise category.
• Kilroy Sabre Springs, managed by Cheryl Castrence of Kilroy Realty Corp. in the Suburban Office Park – High-Rise category.
The TOBY competition is held in conjunction with BOMA International, and winners at the local level have the opportunity to advance to the regional and international levels. BOMA San Diego has had several local winners win International TOBY honors, including Hazard Center, Pacific Ridge Corporate Centre, 225 Broadway, Symphony Towers, Union Bank of California Building and the Jacob Weinberger U.S. Courthouse.
***
Ray Magnussen of Paragon Services in San Diego has been tapped as vice president of the statewide organization BOMA California (Building Owners and Managers Assocation) for 2010. Magnussen has been a member of BOMA San Diego since 2000 and served as president in 2007. Named president of BOMA California was Cindi Langendoen of CB Richard Ellis, a member of BOMA Greater Los Angeles.
***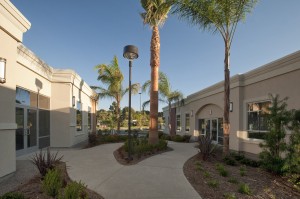 CreekView Medical Park, a 63,000-square-foot, 12-building medical office park at Via Centre Drive in Vista, has been completed. The 10-acre site has buildings ranging in size from 3,765 to 8,496 square feet and designed to accommodate small to mid-sized private practice medical professionals and health care-related businesses. The project was designed by KMA Architecture & Engineering. The KMA team consisted of Don Blair, Alison Warren and Bill Karrasch. KMA also provided electrical engineering services for the project, with structural engineering by Wiseman and Rohy, civil engineering by San Dieguito Engineering and Hunsaker & Associates, and landscape architecture by Teshima Design. The medical office park is located about a mile from Tri-City Medical Center.
The architectural firm said that more than 50 percent of the project's construction was recycled and reused onsite, a bioswale is being utilized for the treatment of storm water, minimizing runoff from the development, and the site elevation has been adjusted to minimize the amount of soil importing or exporting. A dedicated area for the collection and storage of non-hazardous recyclable materials is located onsite, oversized windows will bring natural daylight into the buildings and will allow a visual connection between indoor and outdoor spaces, and each structure is oriented to take advantage of the sun for both light and heat. Bicycle racks are provided to encourage alternative forms of transportation and to take advantage of the connections being made to existing bike and pedestrian trails in the surrounding community. More than four acres, representing over 40 percent of the project, will be dedicated to open space including walking trails, a nature preserve and other native landscaping; all adjacent to the Buena Vista Creek wetlands.
***
All the steel needed for the Port of San Diego's new cruise ship terminal at the Broadway Pier — 2.5 million pounds or 1,250 tons — should be at the site by late January, Port officials said. A crane with a 70-ton capacity will also be on site to set the steel columns for the terminal building in place. Columns for the building's frame will be 44 feet tall and weigh five tons each. The building's roof will be supported by Vierendeel trusses—specially designed to allow louvers to be installed for natural air circulation. The trusses are eight and a half feet high and 75 feet wide. Each truss weighs 8,600 pounds. Erection of the steel for the terminal building is expected to be completed in February. Designed by Bermello Ajamil & Partners and constructed by Janes Corp., the $21.1 million project will be completed in December 2010.
The two-story Broadway Pier cruise ship terminal can accommodate 2,600 passengers. The terminal will include offices for the U.S. Coast Guard and Customs & Border Protection. It will be the Port's first "green" building and is being designed to meet Leadership in Energy and Environmental Design (LEED) certification. Some of the construction elements that will help the project qualify for certification include use of a photovoltaic system that will provide at least 12 percent of the building's energy. The project also may incorporate highly reflective roof paint, low-flow toilets, urinals and faucets that will help keep water and energy costs down. Low-emitting materials such as low voc paints (paints that contain minimal amounts of volatile organic compounds that could be hazardous to a person's health), as well as low voc carpets and sealants may also be incorporated.
The new cruise ship terminal will incorporate public art into its design. New York-based artist Leni Schwendinger was selected by the Port to design an art wall with special lighting that will reflect the motion of the bay onto the terminal's façade. The terminal also will be open to the public for gatherings and events on days when there are no cruise ships in port. A special section for events will be located at the back of the pier, providing views of the water. Another public event area will be on the terminal's second floor.
***
San Pasqual Casino Development Group Inc., the development arm of the
San Pasqual Band of Mission Indians, has become the first tribally-owned corporation to take advantage of President Obama's Build America Bond program. The program makes provisions for tribal governments who have received a Tribal Economic Development Bond allocation to issue taxable bonds for capital projects and to receive reimbursement for a portion of the interest payment. The program is intended to assist state and local governments in financing capital projects at lower borrowing costs and to stimulate the economy and create jobs. The San Pasqual Band, owners of Valley View Casino in Valley Center, had already begun construction of its boutique hotel addition at the time of the bond program announcement.
The Casino Development Group received $35 million in high-yield bond financing for its hotel project. "With the current challenging credit market we modified our hotel construction schedule until we could obtain financing at a reasonable rate," said Jennifer Bryant, chief financial officer and vice president of finance at Valley View Casino. "This program helped make that happen and I am proud to have been part of the team that spearheaded this historic project."
Allen Lawson, chairman of the San Pasqual tribe, said Valley View Casino's hotel project will create 60 new jobs and will also employ an additional 250 throughout the construction process through sub-contractor positions. The hotel is scheduled to open in December 2010.
***
Jane Clough-Riquelme, tribal liaison for the San Diego Association of Governments (SANDAG), has been selected to receive the 2010 National Planning Achievement Award for Advancing Diversity & Social Change by the American Planning Association. The award will be presented at APA's national planning conference on April 12 in New Orleans. It honors a project, group or individual for promoting diversity or demonstrating a sustained social commitment to advocacy within the planning field. Clough-Riquelme's work also will be featured in an upcoming issue of Planning magazine, APA's flagship publication.
"Dr. Clough-Riquelme's diplomacy and keen understanding of and respect for the 17 tribal nations in the San Diego region resulted in a meaningful and productive dialogue between the tribal nations and public agencies in the region." said Marie L. York, APA board director. "She has been vital in engaging individuals in the planning efforts of the region."
There are 17 federally recognized tribal nations in the San Diego region —the most in any county in the United States. In 2004, the Reservation Transportation Authority (RTA), a nonprofit intertribal government agency serving its member tribes in southern California, began working with SANDAG to strengthen tribal involvement in transportation planning.
Clough-Riquelme went out of her way to learn about the political structure, customs and protocols of the 17 tribal nations, insuring that they in turn understood and could participate in the regional planning process, according to the award citation. This included involving the 17 tribes in the regional planning process, particularly in discussion about transportation.
***
Northern Trust has been named global custodian for the University of San Diego's foundation fund. Its services will include consolidated reporting and accounting for a range of assets invested worldwide. Laurie Neu, group head for public entities and institutions at Northern Trust, said a key focus for USD is compliance with recently implemented accounting standards, called FAS 157, which require investors to classify securities according to guidelines and supply information on how prices are derived for the securities.
***
Point Loma Nazarene University is accepting applications for its Kyoto Prize Symposium Journalism Fellowship, a learning program taking place in San Diego on April 19-23 that will include the opportunity to meet the latest Kyoto Prize Laureates and participate in their presentations at San Diego State, UCSD and USD. The application deadline is Jan. 29. The fellowship is available to working journalists or freelance writers based in North America who hope to further their knowledge of technology, science and the arts, through contact with the 2009 Kyoto Prize Laureates. The fellowship covers transportation, accommodations, and per-diem expenses. Applications are available at pointloma.edu/kyoto.
The Kyoto Prize Laureates are:
● In "Advanced Technology" ― Dr. Isamu Akasaki, a semiconductor scientist whose pioneering work on gallium-nitride materials has had epoch-making impact on fields ranging from data storage to lighting, by contributing to the development of blue semiconductor lasers and blue LEDs;
● In "Basic Sciences" ― Drs. Peter and Rosemary Grant, evolutionary biologists whose field research on Darwin's finches in the Galápagos Islands over three decades has demonstrated rapid evolution caused by natural selection in response to environmental change; and
● In "Arts and Philosophy" ― Maestro Pierre Boulez, a musician specializing in serialism and electroacoustic techniques who has consistently established new artistic trends through his composition, conducting, writing and organizational leadership.
The Kyoto Prize is presented annually by Japan's nonprofit Inamori Foundation to individuals and groups worldwide who have demonstrated outstanding contributions to society through technology, science or the arts. The prize consists of academic honors, a gold medal, and a cash gift of 50 million yen (about $500,000) per category, making it Japan's highest private award for global achievement.
***
A community celebration to commemorate the life and legacy of the Rev. Dr. Martin Luther Jr. will be held on Jan. 17 at Christ United Presbyterian Church, 3025 Fir Street (corner of 30th and Fir) in South Park. Using the theme "The MLK Legacy: Educating our Youth," the program will feature special music by the Chancel Choir, a presentation of student essay contest winners and a salute to community members Mildred Neal, Peaches Wynn,
Sharletta Richardson and Robert Countryman for their work with and on behalf of young people. The program will begin at 4 p.m. and will be followed by a reception. There is no charge.  A voluntary offering will be accepted. For information, call (619) 239-2346.
***
New products in San Diego County's high tech and life science industries were the stars of CONNECT's 22nd annual Most Innovative New Product Awards program that attracted more than 800 local executives, entrepreneurs and academics to the Hilton La Jolla Torrey Pines Hotel last month.
The 2009 MIP Award winners:
Action and Sport Technologies: Neptunic Technologies for Neptech Protective Material.
Aerospace and Security Technologies: Intevac Photonics Inc. for Night Port.
Clean Technology: ecoATM for ecoATM.
Hardware and General Technology: Cymer for XLR 600ix.
Life Science – Diagnostics and Research Tools: Naviscan for the Stereo Navigator Breast Biopsy Accessory.
Life Science – Medical Products: SynergEyes for ClearKone.
Software: Verance Corporation for Cinavia.
Communications & IT: Nextivity for Cel-Fi.
Catherine Mackey, a senior vice president of Pfizer Global Research & Development and director of Pfizer's La Jolla laboratories, and Todd Gutschow, chairman of the Classroom of the Future Foundation, were presented Distinguished Contribution Awards for Technology and Life Science Innovation by CONNECT. They were cited for encouraging innovation through business activities and community involvement.
CONNECT also honored General Atomics Aeronautical with its Otterson Award for the company's Predator unmanned aircraft. The award, named after Bill Otterson, CONNECT's founder and first executive director, recognizes technologies or products developed in San Diego that have demonstrated significant or positive impact on quality of life.