The Linkery – Organically yours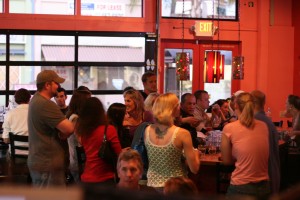 By David Rottenberg
Every restaurant attempts to position itself in the minds of consumers as unique, offering dining experiences that stand out from the large mass of potential choices. Few are as successful doing so as The Linkery, in North Park.
How? The Linkery stands out for serving "hand made" foods with products from small organic farms and small press wineries that are organically based. For example, The Linkery does not serve corn fed beef, only grass fed. "Cattle are ruminants that really can't digest corn well," Jay Porter, Linkery's owner said."As a result, they are not as healthy or healthful as cows fed grass." Almost everything served at The Linkery is made in-house. Even the beef is butchered there. All meats are cured, all bread is baked and all sausages are linked in the small, efficient kitchen.
Porter is such a purist, he rides a bike rather than drive to work. But, for those who do drive to the high density area, there is a parking lot across the street.
The restaurant is located at the corner of the block, with only a small easy-to-miss sign to indicate its presence. One wall consists of glass roll-up garage type doors that are often raised to allow mellow breezes to flow through the interior. A large bar dominates the center of the room. Several television sets and projection tv's allow sports fans to watch games while quaffing down beers and wines from the large, select menu.
Flights are very popular, small tastes of beers or wines. One may choose a flight of 4 beers (5 oz each) or as many wines as desired (2 oz each). Beers are classified as "local", "new world" and "old world". One may also try "cask" beer. This is one of the few locales in San Diego to my knowledge that serve cask beer, which is unpasteurized and unfiltered and has no artificial carbonation, This is a type of beer that is made in a fashion that goes back millennia. Ancient Greeks and Romans drank this type of beer, which has unique flavor elements that are part of The Linkery's dining experience.
Whether drinking beer or wine, the list of selections is quite uncommon but very well chosen for flavor and satisfaction. It is really fun to let your palate do the walking through the lists.
The menu changes daily, reflecting what farmers have delivered. Farmers and artisans are listed on top of the menu. Their initials next to dishes described on the menu indicate which providers were involved. Grilled beans is a good appetizer, in soy sauce, with a warm barbeque-like flavor. The pasteurized chicken tortilla soup, with a chunk of chicken in the center, had a tantalizing slightly spicy flavor.  For a very personal introduction to just how good organically grown produce can taste, try the market salad with heirloom tomato that tastes the way tomato should.
Entrees, available for dinner,  are categorized as "mains" and include a pasta (hand made tagliatelle) seafood (wild local swordfish) and a delicious flat iron steak with organic mashed potato and green beans. Desserts offered include a carrot cake with citrus goat cheese frosting and a mouthwatering mixed berry shortcake with a homemade buttermilk biscuit.
Finally, of course, there are the sausages. The Linkery takes its name from links, ie: sausages tied together. Golf has nothing to do with it. Chefs in the kitchen continually are grinding out (pun intended) sausages with different ingredients, depending on what's available in the kitchen and on the recipe du jour. One can order one link or two, with different accompaniments.  The picnic plate, for example, consists of two links, cole slaw, potato salad, gouda and beer bread. A chicken sausage with gouda was superb. A Mexican chicken sausage with cheddar had a spicier flavor that left my mouth tingling.
With all the focus on organic vegetables, this is obviously an excellent choice for vegetarians.
The Linkery has a no-tipping policy. Instead, a flat 18% service charge is added to the bill. Prices are moderate but the bill can add up with lots of flights and sausages. Whatever the cost, dining at The Linkery is a very different experience from the ordinary, conventional restaurant and should not be missed.
The Linkery is located at 3794 30th Street at North Park Way. Call 619-255-8778 for information and reservations.
David Rottenberg is the editor of Dining San Diego Magazine, a guide to many of the city's favorite restaurants. He is a member of the Southern California Restaurant Writers Association, a member of ASJA and vice president of the North American Travel Journalists Association.