'This could be the Big Island!' No, it's Dolphin Bay Resort & Spa — a lot closer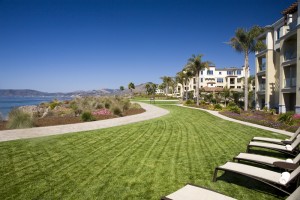 By Ann Figueroa
The only downside of traveling for a living is that you are always in charge of planning family events that involve travel. At least that's what my siblings explain to me each year when it comes time to organize our multi-generational family vacation. Some years, we have nieces in tow, but this summer's sojourn was an all-adult affair focused on relaxation. That, I decided, called for an ocean backdrop.
Hawaii beckoned, as did Mexico, but we rejected these options as too stressful for our 86-year-old dad. Where to find a beach environment that would provide a true getaway with minimal hassle involved in "getting there?"
California's Central Coast sprang to mind, because we could drive there in a day, and conjured up images of laid-back luxury. Once we had selected the region, it wasn't hard to find the right luxury destination: Dolphin Bay Resort & Spa, a delight-filled resort on the stunning coastline just south of San Luis Obispo. A member of Preferred Boutique Hotels, Dolphin Bay opened in 2006. The five-acre property boasts 63 one- and two-bedroom villas as well as select penthouse accommodations.
Our four-night getaway began with a leisurely drive due north on Highway 101.  Recalling childhood road trips punctuated by frequent delays because one traveler or another was always hungry, thirsty or in need of a pit stop, we joked that the three-hour drive from Los Angeles would probably take all day. It nearly did. On this grown-up road trip, concerns about Dad's blood sugar levels provided our excuse for several latte stops and, of course, a hearty lunch at the dollhouse-like dining room of the legendary Pea Soup Anderson's in Buellton.
A short distance north of Pismo Beach, we reached the turnoff for the Dolphin Bay Resort & Spa. Though the resort grounds actually lie quite close to the highway, it felt secluded and a world apart. We drove through the elegant, circular driveway, and walked into the chic, but compact lobby graced by a dramatic wall of glass and spectacular view of the grounds. It was here that we encountered the first of many pleasant surprises about the Dolphin Bay experience. Given the choice of leaving the car with the valet, or driving directly to our two-bedroom villa, we opted for the latter. Convenient parking, steps away from our accommodations, was a refreshing change from most resorts, where parking logistics and expansive lobbies can add half an hour to every offsite excursion. At the Dolphin Bay, each villa comes with its own "private entrance," a particularly handy feature when traveling with children, the elderly or anyone with mobility problems.
Dolphin Bay villas are available in a number of configurations. We chose a 1,600-square foot Ocean View Villa that could accommodate up to six persons. As soon as we stepped through the massive oak door (complete with a doorbell), we knew we had made the right choice. A long entryway led to a large dining room, a living area with travertine flooring, custom-built, oversized furnishings, flat panel TV with a DVD and surround-sound system. The master suite featured a huge walk-in closet; luxurious bed linens; a spacious bath area with an enormous Aire Jet tub; L'Occitane toiletries and plush terry robes.
To our surprise, the villa's beautiful stainless steel and granite kitchen was better-equipped than any of ours at home. In addition to several sets of dishes, there was enough cookware, glass and stemware, and appliances (coffee maker with supplies of coffee, toaster, blender) to operate a restaurant. Additional villa amenities included a separate breakfast nook adjoining the kitchen, a fully-stocked laundry room, complimentary high-speed wireless Internet access and daily housekeeping service. We began to consider whether we might barricade ourselves in the villa and refuse to leave.
The villa's expansive balcony terrace was a particular highlight. We settled in, opened a bottle of wine and kicked back to survey the surroundings from our private vantage point. Down below, an elaborate infinity-edged saline pool and jetted spa enticed us, as did the gentle sound of water from a bronze sculpture fountain depicting frolicking dolphins. Nearby, the resort's signature restaurant, Lido, overlooked a grassy lookout area atop a bluff.  Beyond that, the Pacific sparkled in the late afternoon sun. In the evening, the entire scene transformed into an illuminated light and water show.
It wasn't until the next morning that we ventured beyond the bluff ourselves.  When we did, we were practically speechless. As far as the eye could see, navy blue waves rolled gently against an unspoiled, crescent-shaped coastline edged with massive, craggy cliffs.  It was as spectacular as anything I'd ever seen.
"This could be the Big Island," said my sister, noting that we'd saved ourselves the hassle of an airplane flight to the islands.
Later, clinging fog reminded us more of Maine than Maui. We walked along a cliff-side path to a set of wooden steps leading down to Shell Beach. There, we scampered precariously along huge flattened rocks worn away by the sea. Dotted with indentations, the rocks looked like giant slabs of Swiss cheese. Up close, those indentations became crystal-clear bowls filled with sea life. Red crabs, golden crabs, sea urchins and starfish moved languidly in the glorious tide pools, oblivious to our delighted cries.
As I jumped from the rocks to the secluded sands of Shell Beach, Edna St. Vincent Millay's lyrical "Memory of Cape Cod" came to mind.
"They said: Leave your pebbles on the sand, and your shells, too, and come along…"
Come along we did, watching sandpipers, seagulls and massive pelicans dive into dark kelp shoals. Sea lions appeared so close to the shore that we felt they were talking to us. Bipedal mammals were a scarcer breed, other than a few brave souls surfing in wet suits. A brief toe dip revealed the reason why: the water temperature was much too cold for swimming.
In fact, the weather the entire trip was topsy-turvy. We had exchanged a sweltering Southern California for sweater-cool mid-60-degree temperatures. By contrast, the weather during the winter can often be milder than the inland climes, said General Manager Sean Damery.
Before coming to Dolphin Bay in 2008, Damery worked at the Ojai Valley Inn & Spa and the Four Seasons Resort in Hualalai, Hawaii. His goal is to transform Dolphin Bay into something akin to the great Hawaiian resorts that are destinations in and of themselves. He's developing programs to attract business travelers and conferences, to complement the already brisk demand at the resort by wedding planners and families.
Dolphin Bay boasts a number of indoor and outdoor venues that can accommodate meetings, corporate groups and executive retreats for up to 200 guests. The penthouse can be configured to include a massive conference table, and comes equipped with a full-sized gourmet kitchen, and large garden balcony.
During our stay, the wedding business was flourishing. We watched from our balcony as a couple married at sunset in a canopy overlooking the bluff. The resort's Bonne Vie Spa, with four treatment rooms furnished with modern French decor and private cabanas outside for relaxation, appeals to every type of traveler.
Although our group included only adults, there was no shortage of children at the resort. This past summer, Dolphin Bay introduced a children's program, and a number of family-friendly activities, including complimentary bicycle usage, are always available.
Another popular activity for families with children: congregating at the Fireside Grill, the resort's outdoor barbecue venue open during the summer. Though decidedly casual, the Grill is supervised by Executive Chef Evan Treadwell, and the fare is a cut above typical poolside menus. After noshing on Ahi tuna sandwiches and a wonderful grilled cheese made with aged cheddar and served with homemade potato chips, we were all the more anxious to sample Treadwell's selections at the signature restaurant, Lido.
That evening, a birthday dinner in honor of my brother didn't disappoint. Lido features a stunning cliff-side view, and Treadwell's award-winning "Coastal Wine Country Cuisine."  Treadwell's menus include just-caught seafood, organic produce and locally-raised meats, poultry, artisanal cheeses and more. Among his signature dishes: lobster bisque with Armagnac, chives and chervil; seared Muscovy duck hash with a poached quail egg, cracklings, watercress and stonefruit; and pistachio crusted Cayucos abalone with blood oranges.
Our own favorites of the evening included Morro Bay Black cod with couscous, currants and fennel salad, as well as a Berkshire double-cut pork chop with celery root mash and Windrose Farms glazed apples. A chocolate truffle torte with pepitas and cinnamon creme fraiche made an elegant birthday cake. Paired with excellent service, our evening at the Lido became one of the highlights of the entire trip.
For those interested in a more intimate dining experience, the restaurant can arrange a romantic al fresco dinner for two, bluff-side, or even prepare a gourmet meal for guests en suite. If you don't mind cooking, but dislike grocery shopping (it is a vacation, after all), the Dolphin Bay will even stock your kitchen with your own pre-selected food; you simply fax your grocery list to them.
"We will do whatever it takes to make our guests feel like this is a home away from home," said Damery.
He certainly had us convinced of that pledge, especially with the little touches that went a long way. Each evening, for example, we would head to the concierge desk to search through the DVD collection for some after-dinner viewing.
"Would you like some hot chocolate and popcorn to go with that?" the concierge would ask.
As we neared the end of our stay, we noted one problem with the resort. It is so relaxing that we did not want to leave, even temporarily. We realized we had hardly explored the surrounding area. Somewhat reluctantly, we decided it would be a shame not to take in at least some local sights. Landmarks such as Hearst Castle, historic missions and wineries are not far away. But, we decided to remain close by, exploring Shell Beach's funky surfboard shops, health food cafes and grassy parks overlooking the sea from which paragliders would set sail. More intriguing was Avila Beach, a short drive away through an oak-lined canyon road.  Recently re-opened after an oil spill closed down the beaches, the town now seems a dead-ringer for the mythical "Amity Island" from the movie, "Jaws."  Faux clapboard buildings line the tiny main street, alon with quaint wine-tasting rooms and small cafes set close together on hilly slopes.  The main boardwalk was brimming with families pushing baby strollers. Children played on a small beach and grassy area dotted with colorful new playground equipment. We walked along the town's commercial fishing pier, admiring fat sea lions diving into the water for scraps thrown down by local fishermen. Weather-beaten fishing boats of all sizes bobbed in the surrounding bay in a scene befitting a Steinbeck novel.
Too soon, our Coastal getaway drew to a close. Taking in one last view of the breathtaking coastline, I wondered what the early Spanish explorers must have thought as they reached this rugged coast for the first time. What did it remind them of?
The Atlantic coast of Portugal, I surmised.
And, then I realized that our entire experience at Dolphin Bay had been reminiscent of somewhere else; from Hawaii, to the coast of Maine. That happens when you're a traveler. Every place tends to be evocative.  But Dolphin Bay is special because it's evocative but also unequalled in my opinion, as a relaxing, beautiful and convenient destination.