Daily Business Report — Feb. 16, 2010
Airport Improvements Ready to Start
Beginning in March, travelers to and from San Diego International Airport will notice construction activity in front of Terminal 2 related to The Green Build, the largest project in the airport's history. The Green Build will bring a number of upgrades for passengers traveling in and out of the airport, including 10 new jet gates at Terminal 2, a dual-level roadway at Terminal 2, new and larger dining and shopping options, more comfortable waiting areas at the gates, an increase in the number of security lanes and additional aircraft parking. The improvements are expected to be finished in 2013.

To accommodate construction activity on the dual-level roadway at Terminal 2, some parking will be temporarily relocated and the pedestrian bridges will be removed. Frequentshuttles will transport travelers from relocated parking areas to the terminals.
The Airport Authority has set up several ways to receive timely information about activity that could potentially impact travel time to the airport.  To receive e-mail alerts, visit the Website at san.org. Persons also can follow the airport on Twitter (@SanDiegoAirport) or become a Facebook fan. For more information, call the construction hotline at (619) 400-2288.
President of Federal Reserve Bank of San Francisco to Speak at USD
Janet L. Yellen, president of the Federal Reserve Bank of San Francisco, will speak at the University of San Diego's Burnham-Moores Center for Real Estate Feb. 22 as part of the center's lecture series, Breakfast at the BMC. William Jones, chairman and CEO of CityLink Investment Corp. and a director of the Federal Reserve Bank of San Francisco, will introduce Yellen. The event will take place from 7:30 to 9 a.m. at the Joan B. Kroc Institute for Peace & Justice on the USD campus. Yellen took office as president and CEO in 2004. Yellen is Professor Emeritus at the University of California at Berkeley, where she was the Eugene E. and Catherine M. Trefethen Professor of Business and Professor of Economics and has been a faculty member since 1980. The event is open to the public for a $35 registration fee, which includes breakfast. To reserve a seat, register online at sandiego.edu/breakfast.
Qualcomm to Host Uplinq 2010 Conference
Qualcomm Inc. will host Uplinq 2010, a new conference on June 30-July 1 designed to bring together mobile developers and key players in the wireless industry for the advancement of mobile applications, services and devices. It will be held at the Manchester Grand Hyatt in San Diego. Uplinq will cover the Brew Mobile Platform operating system and distribution opportunities and will benefit wireless developers working on other leading mobile operating systems and application platforms, including Android, Flash, Java and Microsoft's Windows Phone 7 Series. The conference is designed for application developers and publishers, device manufacturers, wireless operators, media and entertainment companies and technology providers and system
SDAR Bestows Realtor of the Year Award
Linda Lee, president of the San Diego chapter of the Women's Council of Realtors, has been honored with the San Diego Association of Realtors' Realtor of the Year award. Lee, a broker with Prudential California Realty, has been an SDAR member since 2002. The award recognizes individuals for outstanding service, ethics, integrity and professional standards. Lee earned a bachelor's degree from UCSD and a master's degree from USC. She has held leadership positions with the SDAR, the California Association of Realtors and the National Association of Realtors.
San Diego to Host Numismatic Association Symposium
The California State Numismatic Association has chosen San Diego to host its 42nd annual  Educational Symposium, a free program open to all collectors.  It will be held at the Holiday Inn Mission Valley/Stadium, 3805 Murphy Canyon Road, on March 20, from 10 a.m. to 4 p.m. Presentations will be on coins and medals of British India, tokens and medals of the Wild West and a panel of coin dealers providing information on the business of selling and auctioning coins. One of our presenters is a past president of the American Numismatic Association. One is a consignment director for a leading numismatic auction house. The third is a popular local coin dealer.  A catered luncheon will be offered for $16.
The Broken Yolk Café Signs 28-Year Lease in San Marcos
Daily Cuisine Inc., dba The Broken Yolk Café, has signed a sublease for 28 years for a 6,283-square-foot restaurant building located at 101 S. Las Posas Road in San Marcos. The former Chili's location was leased from Brinker International, parent to the Chili's restaurant chain. The sublease was valued at $3.5 million. Michael Spilky of Location Matters, Restaurant & Retail Brokerage, represented the tenant in the transaction. Brinker represented itself.
Federal Contract Award
Hamilton Sundstrand Corp. in San Diego won a $170,209 federal contract from the U.S. Air Force Materiel Command, Tinker Air Force Base, Okla., for aircraft components and accessories.
SDSU Ranked High for Fundraising
San Diego State is ranked among the top 10 in California for university fundraising, according to a report by the Council for Aid to Education. SDSU received more than $49 million in philanthropic gifts during the 2008-09 fiscal year. At No. 9, SDSU ranked higher than all other California State University campuses, as well as several University of California campuses. The majority of philanthropic giving in 2008-09 went to fund endowments for faculty positions, scholarships and academic programs.  Among the most notable gifts for the 2008-09 fiscal year were
• $2.8 million from the estate of Patricia McCuen, an SDSU alumna, to support an endowed scholarship in the Department of Economics in the College of Arts & Letters.
• $2.4 million from the J. Willard and Alice S. Marriott Foundation to endow the school's Student Center for Professional Development in the School of Hospitality and Tourism Management.
• $1.5 million to establish the SDSU Institute for the Teaching of Critical Thinking Skills in the College of Education.
SDSU's fundraising efforts continued this year with a university-wide scholarship campaign which has raised $4.4 million since July.  The "Fuel Potential" campaign seeks to increase scholarship and fellowship funding so more students can receive financial support at a time when many are struggling with the cost.
San Diego Pride Festival Exhibitor Applications Available
Applications for this summer's 36th annual San Diego Pride festival in Balboa Park are now available online by visiting the Pride Website at: SanDiegoPride.org. Special rates are available for nonprofit organizations and to those who reserve space by May 6. The festival will be held July 17-18. The online application process allows vendors and exhibitors to fill out applications and pay fees electronically. Applications for the annual Pride parade will be made available in the coming weeks. The festival attracts 40,000 attendees on average each year, plus hundreds of exhibitors and a full lineup of live entertainers and special attractions. The event is preceded by a mile-long Pride parade, scheduled for 11 a.m. on July 17, along University Avenue through the heart of Hillcrest. This year's theme is: "One World, One Heart, One Pride." For more information about festival applications or volunteer opportunities, call (619) 297-7683 or visit the Pride office at at 3620 30th St.
2010 Paso Robles Grand Tasting Tour
Got wine? The Paso Robles Wine Country Alliance brings the winemakers out of the cellar and down to San Diego for its 2010 Grand Tasting Tour. Coming to San Diego Feb. 23-25, the tasting event features three days of festivities that will give wine lovers the opportunity to taste and explore more than 150 wines from California's fastest growing wine region.
• CRAVE – A Paso Robles Wine Country Experience. Feb. 24, 8 to 10 p.m., NTC Promenade, McMillin Event Center. Enjoy five Paso Robles varietal tasting bars, featured and paired with the culinary artistry of ChileCo Catering. Contemporary, lounge-like music in a relaxed atmosphere complete this tasty two-hour tour. $45 in advance; $55 at the door. To purchase tickets, visit pasowine.com.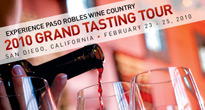 • Paso Robles Wine Country Grand Tasting. Feb. 25, 6 to 8 p.m., Wine Steals, East Village. Be among the first to experience Wine Steals' newest location, located within Petco Park.  Taste more than 150 award-winning wines from over 40 Paso Robles wine producers with cuisine prepared by Wine Steals' newest Gastro Pub concept. Tickets are limited in this intimate immersion into Paso Robles Wine Country. $55 in advance; $65 at the door. To purchase tickets or a complete schedule, visit pasowine.com.
Business Datebook
Feb. 16
CELEBRATION: The Asian Business Association of San Diego holds its 16th annual Lunar New Year Celebration featuring Lucky Lion Dancers, a casino night with prizes and Chinese cuisine. 5:30 to 8:30 p.m., dinner from 6:15 to 7:15 p.m., no-host bar, Fat City Steakhouse/China Camp Restaurant, 2137 Pacific Coast Highway, San Diego. Cost: before Feb. 16, $30 to ABA members, $35 for nonmembers; at the door, $40 members and nonmembers. Register online at abasd.org. For more information, call (858) 277-2822.
Feb. 18
ROUNDTABLE: Hal Varian, chief economist at Google, will speak on "Predicting the Present with Google Trends" at the Economics Roundtable, 7:30 a.m., UCSD Faculty Club. Admission is $50 per person, includes continental breakfast and parking. For more information and registration, call (858) 822-0510.
Feb. 23
LUNCHEON: State Controller to Speak at Asian Business Association Luncheon State Controller John Chiang will be the guest speaker at the Asian Business Association's Rice Club Luncheon at the San Diego Hall of Champions in Balboa Park. Chiang will discuss the financial condition of the state and how it impacts small business. Registration is at 11:45 a.m. followed by networking and buffet from noon to 1 p.m. and the program from 1 to 1:30 p.m. The cost is $25 for ABA members, $30 for nonmembers and $35 at the door. To register online, visit abasd.org.
Feb. 24
DIGITAL FORUM: A forum on social media marketing will feature social media strategist and coach Jason Baer, who will lead a panel discussion on the topic. Sponsored by LEAD San Diego and Bailey Gardiner. 7:30 a.m., continential breakfast and networking; 8 a.m., presentation by Baer; 8:45 a.m., panel discussion. USD's Joan B. Kroc Theatre, San Diego. $20 general admission, $15 for LEAD San Diego members. For more information, call (619) 280-5323.
Feb. 25
PANEL: A panel discussion of the Barrio Logan community plan update — the first in a series — will be held from 7:30 to 9:15 a.m. in the Harborside Room of the Holiday Inn Embarcadero, 1355 North Harbor Drive in Downtown San Diego. Discussion will focus on the planning process and the roles of the city and citizens. Cost for the continental breakfast and program is $20 for members and $30 for nonmembers. Cost at the door is $35 for all. Student admission is $10. For reservations, call (619) 232-7196.
Feb. 27
WORKSHOP: The San Diego chapter of the American Society of Interior Designers sponsors a "Day with Designers," a public workshop to provide information on practical interior design basics and how to select an interior designer, among other tips. 9 a.m. to 2 p.m. at the Art Institute, 7650 Mission Valley Road, San Diego. Advanced tickets available for $35 by visiting ASIDSanDiego.org. Tickets at the door are $45. For more information, call (858) 646-9896.
The Daily Business Report is produced by REP Publishing Inc., publisher of San Diego Metropolitan magazine and the North Park News. (619) 906-4104.