Daily Business Report — Feb. 18, 2010
Al Gore and Steve Forbes to Address Human Resources Conference
Former Vice President Al Gore and Forbes Inc. President and Chief Executive Officer Steve Forbes are to keynote the Society for Human Resource Management's 2010 annual conference and exposition to be held June 27-30 at the San Diego Convention Center. The conference will have more than 150 sessions on employment law, strategic management, international HR and compensation and benefits. Other speakers will include bestselling author and business visionary Marcus Buckingham and Harvard Business Review editor Angelia Herrin, who will lead a panel of HR executives, including Michelle Toth, vice president of human resources and administration at Northrup Grumman Information Systems, and Shannon Deegan, director of people operations at Google Inc. More than 9,000 attendees and 650 exhibitors are expected to attend the conference. Highlights of the 2010 Annual Conference include:
• Concurrent sessions on the most current issues facing HR professionals, including sessions on the unique HR laws in California, social media in the HR
world, privacy rights in the workplace, and rebuilding the workforce post-recession.
• The 2010 voluntourism project "Operation: Support Our Troops" at the Marine Core Air Station Miramar on June 26. Volunteers will participate in several activities, such as assembling care packages with personalized messages for troops overseas.
• Concurrent sessions taught by SHRM staff — Michael P. Aitken, director of government relations and public policy; Shirley A. Davis, director of diversity and inclusion initiatives; Grey Scott, HR content manager for the Human Resource Certification Institute; and Steve Williams, director of e-media business development. To register, members and nonmembers may visit: shrm.org/Conferences/annual/Pages/default.aspx.
2010 Paso Robles Grand Tasting Tour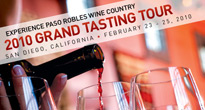 Got wine? The Paso Robles Wine Country Alliance brings the winemakers out of the cellar and down to San Diego for its 2010 Grand Tasting Tour. Coming to San Diego Feb. 23-25, the tasting event features three days of festivities that will give wine lovers the opportunity to taste and explore more than 150 wines from California's fastest growing wine region.
• CRAVE – A Paso Robles Wine Country Experience. Feb. 24, 8 to 10 p.m., NTC Promenade, McMillin Event Center. Enjoy five Paso Robles varietal tasting bars, featured and paired with the culinary artistry of ChileCo Catering. Contemporary, lounge-like music in a relaxed atmosphere complete this tasty two-hour tour. $45 in advance; $55 at the door. To purchase tickets, visit pasowine.com.
• Paso Robles Wine Country Grand Tasting. Feb. 25, 6 to 8 p.m., Wine Steals, East Village. Be among the first to experience Wine Steals' newest location, located within Petco Park.  Taste more than 150 award-winning wines from over 40 Paso Robles wine producers with cuisine prepared by Wine Steals' newest Gastro Pub concept. Tickets are limited in this intimate immersion into Paso Robles Wine Country. $55 in advance; $65 at the door. To purchase tickets or a complete schedule, visit pasowine.com.
Peacemaker Award Goes to Reality Changers Founder
Christopher Yanov, founder of Reality Changers — a nonprofit organization dedicated to helping disadvantaged youth become first-generation college students — has been presented the 2010 Peacemaker Award by the San Diego Downtown Breakfast Rotary Club. The award is given annually to a San Diego community leader who has made a significant difference in promoting tolerance, understanding, conflict resolution and peace in the region.  February is Word Understanding Month as designated by Rotary International. Yanov established Reality Changers in 2001 after doing volunteer work with gang members for five years. His organization provides academic support, scholarships and faith-based leadership training to at-risk teenagers to help many of them become the first members of their family to attend college.  To date, Reality Changers has awarded more than $1 million in scholarships. Yanov graduated from UCSD in less than three years and later completed two master's degree programs in peace and justice and international relations at USD.
UCSD Researchers: Pot Has Some Therapeutic Value
Researchers from UCSD's Center for Medicinal Cannabis Research have found "reasonable evidence that cannabis is a promising treatment" for some specific, pain-related medical conditions. The findings, presented Wednesday to the Legislature and public, are included in a report available on the CMCR Website (cmcr.ucsd.edu).
"We focused on illnesses where current medical treatment does not provide adequate relief or coverage of symptoms," said CMCR director Igor Grant, executive vice chair of the Department of Psychiatry at the UCSD School of Medicine.  "These findings provide a strong, science-based context in which policymakers and the public can begin discussing the place of cannabis in medical care." Researchers have completed five scientific clinical trials, with more in progress.  These studies showed that cannabis can be helpful in easing pain in selected syndromes caused by injury or diseases of the nervous system and possibly for painful muscle spasms due to multiple sclerosis.
"These scientists created an unparalleled program of systematic research, focused on science-based answers rather than political or social beliefs," said state Sen. John Vasconcellos, original author of The Medical Marijuana Research Act of 1999 (SB847), which led to the creation of the CMCR. More study will be necessary to figure out the mechanisms of action and the full therapeutic potential of cannabinoid compounds, according to the UCSD researchers.
The CMCR was created in 2000 to conduct clinical and pre-clinical trials of cannabinoids, including smoked marijuana, to provide evidence, one way or the other, to answer the question "Does marijuana have therapeutic value?"  The program's purpose is to oversee objective, high-quality, medical research that would enhance understanding of the efficacy and adverse effects of marijuana as a pharmacological agent.  Researchers said the project was never to be construed as encouraging or sanctioning the social or recreational use of marijuana.
The Good, The Bad, The Ugly: Golden Watchdog and Golden Fleece
Awards Nominations are Sought by Taxpayers Association
Nominations are now being sought for the 15th annual Golden Watchdog and Golden Fleece Awards sponsored by the San Diego County Taxpayers Association. The awards recognize the very best and worst of local government efficiency, spending and decision-making in 2009. Nominations close on March 5.
The award categories are:
• Golden Watchdog Award honoring good government practices and efficient use of public money.
• Golden Fleece Award for wasteful, inefficient or absurd use of taxpayers dollars.
• Media Watchdog Award recognizing excellence in reporting on behalf of taxpayers.
• Public-Private Partnership Award for cooperation between the public and private sectors, stretching taxpayer dollars.
The awards will be announced on May 20 at the association's annual awards dinner at the Town and Country Resort and Convention Center in Mission Valley.
Nominations can be submitted online at sdcta.org/Events/Nominations.asp. Nomination forms are available by calling (619) 234-6423.
FEDERAL CONTRACTS
(Source: Targeted News Service)
Separations Systems Technology Inc., a San Diego firm, won a $499,997 federal contract from the U.S. Navy's Office of Naval Research, Arlington, Va., for science and technology research and development for the Navy and Marine Corps.
***
L-3 Services Inc. in San Diego won a $56,268 federal contract from the U.S. Naval Supply Systems Command, Mechanicsburg, Pa., for the repair and modification of power supplies.
***
American Innotek Inc. of Escondido won a $38,967.50 federal contract from the Defense Logistics Agency's Defense Supply Center, Philadelphia, for waste kit bags.
Grossmont Transit Center Improvements Scheduled
SANDAG, the San Diego Metropolitan Transit System and the city of La Mesa have begun work on a project to improve pedestrian and ADA access at the Grossmont Transit Center. The work will add elevators and a pedestrian bridge, making it easer for transit customers to move back and forth to Grossmont Center-area businesses, located 40 feet above the center and trolley station. Additional enhancements will include a bridge landing at the mesa, new paving, a colonnade flanking the elevator tower, furniture, landscaping, lighting, and enhanced busway pavement. Bicycle lockers also will be installed near the trolley platform. The project will cost $8 million, $4 million of which are federal stimulus funds. The city of La Mesa contributed $540,000 and the remainder comes from federal and state transportation programs. SANDAG will oversee the construction, being done by Riha Construction. MTS will maintain and operate the facility. Work is expected to be complete in summer of 2011.
NEW LEASES
Retail and office spaces in the Cedros Design District of Solana Beach have been leased to Cowgirl Trading Post and Metaplace Inc., respectively,  in separate transactions. A 1,660-square-foot, street front retail space at 427 South Cedros Ave. has been leased to Cowgirl Trading Post and will be operated as a retail, jewelry and accessories, home furnishings and interior design store. The four-year lease is for $140,000. Geri Savitt of NAI San Diego represented the tenant in the transaction. The landlord, South Cedros LLC, represented itself. A 3,115-square-foot, second story office space at 415 South Cedros Ave. has been leased to Metaplace for general office use. The 26-month lease is for $202,000. Geri Savitt represented the landlord, Arts Industria LLC. The tenant was represented by Craig Knox of Irving Hughes.
***
CorePower Yoga LLC has leased 3,885 square feet of retail space at Mission Valley Square, 980 Camino de la Reina, in San Diego. The 12-year lease is valued at $939,328. Lauren Matricardi and Brad Jones of CB Richard Ellis represented the lessor, Mission Valley Square LP. Daniel Kraft of National Site Selection Service represented CorePower Yoga. The lease brings Mission Valley Square to 100 percent leased with other project tenants including David's Bridal, Mattress Discounters and Verizon Wireless.
***
UBS Financial Services Inc. has signed a seven-year lease renewal for 10,251 square feet of office space in Excel Centre at 17140 Bernardo Center Drive, Suite 350, in San Diego. Financial terms were not disclosed.
The lessee was represented by Stephen A. Rosetta of Cushman & Wakefield. The lessor, Excel Centre Partners LLC, was represented by Marc Posthumus and Christopher P. High, also of Cushman & Wakefield. Excel Centre is a three-story, 82,157-square-foot Class A office building built in 1999. Additional tenants include Excel Realty Holdings' corporate office and Kaiser Foundation Health Plan.
Sequoia Solar Expands Executive Team
Sequoia Solar in Solana Beach has hired Bryan Pruden, David Boylan and Loren Nancarrow to its executive teams. Pruden joined as chief financial officer. He has 16 years of finance and business experience and has held positions at Intel Corp., SAIC and Darden Restaurants. Boylan was named director of marketing and business development. He has 17 years of experience in he field and held posts at HelioPower, Stellar Solar, Borrego Solar, Siliken Solar and Mercury Solar Systems. Nancarrow joins the company in business development. He has been a television reporter and weather forecaster with 20 years of experience. He will act as company spokesman and head up its business development efforts.
Architectural Foundation Takes Part in Haiti Relief Effort
San Diego Architectural Foundation will take part in a "PechaKucha Global Day for Haiti" on Saturday from 5:20 to 9:20 p.m. at the Whistle Stop Bar, 2236 Fern St. in South Park. The foundation, official chapter of the International Pecha Kucha Night organization, is working with the local chapter of Architecture for Humanity, Rebuild San Diego, on the event, and will Webcast a presentation by its managing director, Sandra Plaza. Additional presenters include Josh Higgins of the Haiti Poster Project and Larry Herzog, professor of city planning at SDSU. Live music performances include Chad Farran & Friends and Soul Choro. PechaKucha presentations begin at 8 m. Drink specials will be available and 10 percent of the bar sales will be donated to the earthquake relief cause.  A $20 donation is requested at the door. All proceeds to benefit Architecture for Humanity and will be used solely to build buildings in Haiti. For more information, visit sdarchitecture.org.
BUSINESS DATEBOOK
Feb. 23
LUNCHEON: State Controller to Speak at Asian Business Association Luncheon State Controller John Chiang will be the guest speaker at the Asian Business Association's Rice Club Luncheon at the San Diego Hall of Champions in Balboa Park. Chiang will discuss the financial condition of the state and how it impacts small business. Registration is at 11:45 a.m. followed by networking and buffet from noon to 1 p.m. and the program from 1 to 1:30 p.m. The cost is $25 for ABA members, $30 for nonmembers and $35 at the door. To register online, visit abasd.org.
Feb. 24
DIGITAL FORUM: A forum on social media marketing will feature social media strategist and coach Jason Baer, who will lead a panel discussion on the topic. Sponsored by LEAD San Diego and Bailey Gardiner. 7:30 a.m., continential breakfast and networking; 8 a.m., presentation by Baer; 8:45 a.m., panel discussion. USD's Joan B. Kroc Theatre, San Diego. $20 general admission, $15 for LEAD San Diego members. For more information, call (619) 280-5323.
Feb. 25
PANEL: A panel discussion of the Barrio Logan community plan update — the first in a series — will be held from 7:30 to 9:15 a.m. in the Harborside Room of the Holiday Inn Embarcadero, 1355 North Harbor Drive in Downtown San Diego. Discussion will focus on the planning process and the roles of the city and citizens. Cost for the continental breakfast and program is $20 for members and $30 for nonmembers. Cost at the door is $35 for all. Student admission is $10. For reservations, call (619) 232-7196.
Feb. 27
WORKSHOP: The San Diego chapter of the American Society of Interior Designers sponsors a "Day with Designers," a public workshop to provide information on practical interior design basics and how to select an interior designer, among other tips. 9 a.m. to 2 p.m. at the Art Institute, 7650 Mission Valley Road, San Diego. Advanced tickets available for $35 by visiting ASIDSanDiego.org. Tickets at the door are $45. For more information, call (858) 646-9896.
The Daily Business Report is produced by REP Publishing Inc., publisher of San Diego Metropolitan magazine and the North Park News. (619) 906-4104.