Daily Business Report — Feb. 19, 2010
Affordable Housing Roundtable Session Set for March 4
The San Diego Housing Federation will present the next installment of its Affordable Housing Roundtable series — "The Housing Element as a Tool for Affordable Housing Development — on March 4 from 7:30 to 9:30 a.m. at the NTC Command Center in Point Loma. The session will teach developers how they can use the housing element to identify sites that are the most competitive for funding, including gleaning information that would be useful, such as properties at risk of coming off restriction, and properties that are zoned by right. Panelist will encourage a dialogue between developers, city staff and consultants who help put the elements together. For details and registration visit housingsandiego.org/documents/HousingElementRoundtable.pdf.
2010 Paso Robles Grand Tasting Tour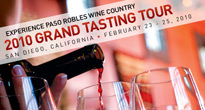 Got wine? The Paso Robles Wine Country Alliance brings the winemakers out of the cellar and down to San Diego for its 2010 Grand Tasting Tour. Coming to San Diego Feb. 23-25, the tasting event features three days of festivities that will give wine lovers the opportunity to taste and explore more than 150 wines from California's fastest growing wine region.
• CRAVE – A Paso Robles Wine Country Experience. Feb. 24, 8 to 10 p.m., NTC Promenade, McMillin Event Center. Enjoy five Paso Robles varietal tasting bars, featured and paired with the culinary artistry of ChileCo Catering. Contemporary, lounge-like music in a relaxed atmosphere complete this tasty two-hour tour. $45 in advance; $55 at the door. To purchase tickets, visit pasowine.com.
• Paso Robles Wine Country Grand Tasting. Feb. 25, 6 to 8 p.m., Wine Steals, East Village. Be among the first to experience Wine Steals' newest location, located within Petco Park.  Taste more than 150 award-winning wines from over 40 Paso Robles wine producers with cuisine prepared by Wine Steals' newest Gastro Pub concept. Tickets are limited in this intimate immersion into Paso Robles Wine Country. $55 in advance; $65 at the door. To purchase tickets or a complete schedule, visit pasowine.com.
Midwest Airlines to Start Milwaukee to San Diego service
Midwest Airlines will launch nonstop seasonal service between Milwaukee and San Diego on April 19 in response to customer requests for better service to the West. Midwest does not currently serve San Diego, but one-stop service is available via Denver on Frontier. Service to San Diego will be provided on 136-seat Airbus A319 aircraft. It features an all-leather seating configuration and four rows of stretch seating with additional legroom at the front of the cabin, buy-onboard meals and snacks and complimentary baked-onboard chocolate chip cookies. Introductory pricing begins at $99 one way.
TriTech Software Acquires Ortivus North American Subsidiaries
TriTech Software Systems, a San Diego-based provider of public safety and pre-hospital care software, has entered into a private agreement to acquire Ortivus North American subsidiaries, Ortivus Inc. U.S. and Ortivus Inc. Canada, from Ortivus AB, a publicly held company. The combined TriTech/Ortivus offering will address all facets of pre-hospital care operations and administration including EMS billing and electronic patient care reporting — two products not previously offered by TriTech. The purchase of Ortivus North America marks TriTech's second acquisition in two years. The agreement requires the approval of Ortivus AB shareholders, expected in two weeks.
Name Change for Hollis-Eden Pharmaceuticals
Hollis-Eden Pharmaceuticals Inc. has changed its name to Harbor BioSciences Inc. to reflect its presence in the San Diego area. The company is currently in clinical trials of Apoptone for the treatment of prostate cancer. The firm's ticker symbol on Nasdaq has been changed from HEPH to HRBR. James Frincke is president and CEO.
Online Marketing Summit Feb. 22-25
BusinessOnLine, a San Diego-based online marketing agency, will sponsor the 2010 Online Marketing Summit Feb. 22-25 at the Paradise Point Resort & Spa, 1404 Vacation Road, in San Diego. Performance labs will take place from 8 a.m. to 5 p.m. on both days in the Garden Room. Lab takeaways will include a free multipoint assessment of your Website's current performance; best practices for utilizing social media to improve SEO rankings; how to leverage social media to build product or service awareness; and transforming site visits into return customers by heightening user experience.  For more information, visit onlinemarketingsummit.com.
Angel Investing Seminar on Tap for May 10
San Diego Tech Coast Angels, in partnership with CONNECT, will sponsor "The Power of Angel Investing" at a May 10 program in the offices of Mintz Levin, 3580 Carmel Mountain Road, Suite 300, in San Diego. The all-day program lasts from 7:30 a.m. to 6 p.m. Costs range from free to $350. The seminar will provide an overview of the angel investing process. Presenters will be a group of angel investors, entrepreneurs and service providers. One of the presenters is John May, chair-emeritus of the Angel Capital Association and a lead instructor for the investing series. For more information, call (858) 964-1300 or visit connect.org
Cushman & Wakefield Promotes 2 Executives
Cushman & Wakefield has promoted Stath Karras to the position of executive managing director of national investment sales. He will be responsible for the operations of the

company's investment sales group as well as the Cushman & Wakefield Resolution Group and its integration into the company's capital markets, client solutions and brokerage operations. Karras has served as executive managing director of Cushman & Wakefield's San Diego County operations for the past two years. He previously was president and CEO of Burnham Real Estate in San Diego until its acquisition by Cushman & Wakefield in 2008. His 19-year tenure at Burnham Real Estate also included serving as executive vice president of its asset management group where his receivership expertise allowed him to serve as trustee for numerous lenders with properties throughout California. Karras' former position will be filled by Steve Rosetta, who has been affiliated with Cushman & Wakefield since 1996. Rosetta has more than 14 years of experience in both management and brokerage roles. He helped spearhead Cushman & Wakefield's acquisition of Burnham Real Estate in early 2008, a strategic move that resulted in the formation of the largest commercial real estate services provider in San Diego.
Real Estate Sales and Leases
• Solatube International Inc. has purchased the 53,269-square-foot corporate headquarters and industrial manufacturing facility at 2210 Oak Ridge Way in Vista for $4.95 million. Solatube International has used the building, built in 1999, as its corporate headquarters and plans to improve the building to consolidate offices from other facilities. The company manufactures and markets tubular daylighting devices. Nick Psyllos of CB Richard Ellis represented the seller, DEXUS Property Group. Tucker Hohenstein of Cushman & Wakefield represented Solatube International.
• Massage Envy has leased 4,300 square feet of retail space at Costa Verde Center, 8650 Genesee Ave. in San Diego. The five-year lease is valued at $868,514. Carrie Bobb of CB Richard Ellis represented Massage Envy. John Still of Flocke & Avoyer represented the lessor, Regency Centers LP.
• Kevin Kautz, dba Last Call Pizza, has leased 1,150 square feet of retail space at College Square, 5131 College Ave. in  San Diego. The three-year lease is valued at $123,164. Reg Kobzi and Matt Shope of CB Richard Ellis represented the lessor, SDSU Research Foundation. Alan Angeles of AE Commercial Real Estate represented Kautz. College Square is a 14,805-square-foot retail center.
BioMed Realty Names V.P. of Real Estate
BioMed Realty Trust Inc. announced the promotion of Matthew G. McDevitt to the newly created position of executive vice president of real estate. He will oversee the company's acquisitions and leasing strategies. McDevitt previously was executive vice president of acquisitions and leasing. He joined the company in 2004.
Job Fair for Military-Connected Individuals Scheduled for March 11
Recruit Military, a military-to-civilian recruiting firm, will present a free employment, entrepreneurship and education event on March 11 for job seekers who have military backgrounds. The RecruitMilitary Opportunity Expo will be from 11 a.m. to 3 p.m. at Qualcomm Stadium. Sponsoring the event will be Virginia College and the Golf Academy of America. The expo will be open to veterans who already have civilian work experience, men and women who are transitioning from active duty to civilian life, members of the National Guard and reserves, military spouses and other military family members.
IABC Franchisee Wins Rookie of the Year Honors
Ron Cummings, owner of the Interstate All Battery Center franchise in San Diego, has been presented the 2009 Rookie of the Year award at IABC's international franchise convention. The award was based on a set of sales and service criteria across the organization's 331 locations serving 50 state, Puerto Rico, the Dominican Republic and Canada. IABC said Cummings increased his sales growth by 59 percent at his location at 9345 Cabot Drive. Cummings attributed his success to to "a hard working team, extreme customer service, outrageous dependability and quality products." He has been with 58-year-old Interstate Batteries since 1977 and became an IABC franchisee in April 2008.
S.D. East County Chamber to Honor Businesses and Individuals
Eight outstanding individuals and seven businesses will be honored at the 98th Annual Inaugural Gala hosted by the San Diego East County Chamber of Commerce on Feb. 26 at the Barona Resort & Casino in Lakeside. The chamber will honor the top large and small businesses from La Mesa, El Cajon and Lemon Grove as well as recognize individuals who make the East County a better place to live and work. "This will be a spectacular multimedia event that marries video presentations with live action and music," said Mike Cully, president and CEO of the chamber.
Museum of Man Celebrates Irish Culture
The San Diego Museum of Man will hold its first "Tower After Hours" program of the year on Feb. 26 with a celebration of Irish culture. After closing, the museum will be transformed into an Irish festival with regional cuisine, Irish coffee and Guinness Beer. Irish musicians and dancers will perform on stage below the 100-foot rotunda in the museum. The celebration lasts from 6 to 8 p.m. Tickets are $10 for members; $15 for military and students; $20 for nonmembers.  The Tower After Hours series was started in 2004 as a way to celebrate the diverse cultures that make up San Diego. The museum coordinates special evenings that feature traditional food, entertainment and exhibits from a specific culture or country.  For more information or to reserve a spot, call the Museum of Man at (619) 239-2001 or visit museumofman.org.
Business Datebook
Feb. 23
LUNCHEON: State Controller to Speak at Asian Business Association Luncheon State Controller John Chiang will be the guest speaker at the Asian Business Association's Rice Club Luncheon at the San Diego Hall of Champions in Balboa Park. Chiang will discuss the financial condition of the state and how it impacts small business. Registration is at 11:45 a.m. followed by networking and buffet from noon to 1 p.m. and the program from 1 to 1:30 p.m. The cost is $25 for ABA members, $30 for nonmembers and $35 at the door. To register online, visit abasd.org.
Feb. 24
DIGITAL FORUM: A forum on social media marketing will feature social media strategist and coach Jason Baer, who will lead a panel discussion on the topic. Sponsored by LEAD San Diego and Bailey Gardiner. 7:30 a.m., continential breakfast and networking; 8 a.m., presentation by Baer; 8:45 a.m., panel discussion. USD's Joan B. Kroc Theatre, San Diego. $20 general admission, $15 for LEAD San Diego members. For more information, call (619) 280-5323.
Feb. 25
PANEL: A panel discussion of the Barrio Logan community plan update — the first in a series — will be held from 7:30 to 9:15 a.m. in the Harborside Room of the Holiday Inn Embarcadero, 1355 North Harbor Drive in Downtown San Diego. Discussion will focus on the planning process and the roles of the city and citizens. Cost for the continental breakfast and program is $20 for members and $30 for nonmembers. Cost at the door is $35 for all. Student admission is $10. For reservations, call (619) 232-7196.
Feb. 27
WORKSHOP: The San Diego chapter of the American Society of Interior Designers sponsors a "Day with Designers," a public workshop to provide information on practical interior design basics and how to select an interior designer, among other tips. 9 a.m. to 2 p.m. at the Art Institute, 7650 Mission Valley Road, San Diego. Advanced tickets available for $35 by visiting ASIDSanDiego.org. Tickets at the door are $45. For more information, call (858) 646-9896.
The Daily Business Report is produced by REP Publishing Inc., publisher of San Diego Metropolitan magazine and the North Park News. (619) 906-4104.