Daily Business Report — Feb. 3, 2010
Report: Biomedical Jobs Critical to Economic Recovery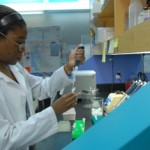 San Diego's biomedical work force grew by 2.5 percent between March 2008 and March 2009 — from 23,545 to 24,123 — one indication that the industry is one of the most recession-resilient sectors in the economy and a critical driver of innovation, job growth and revenue that will help lead the state to economic recovery. That's one of the conclusions reached in a report released Tuesday by the California Healthcare Institute (CHI) and PricewaterhouseCoopers LLP. The report states that most California biomedical companies plan to maintain or add jobs in the next two years.
But, the report also points to signs that the state's biomedical industry is facing unprecedented challenges and that California's biomedical leadership is being tested as other regions compete for biomedical research and manufacturing jobs.
California Healthcare Institute and PricewaterhouseCoopers commissioned a survey of 200 of the state's leading biomedical employers in November 2009 about their outlook for the industry and the key challenges and opportunities it faces. Based on employment trends, the survey found that the sector is holding steady and positioned for future growth, but it remains to be seen how much of that growth will take place in California.
Key findings of the survey are:
• Over the past year, nearly two-thirds (64 percent) of California biomedical companies either maintained or expanded their workforce, while other parts of California's economy saw steep declines and the highest unemployment levels in three-quarters of a century.
• Over the next two years, 81 percent of biomedical companies expect to maintain or increase their workforce in California.
• Two-thirds of biomedical companies also expect to increase their out-of-state manufacturing workforce over the next two years. More than half (58 percent) anticipate expanding their research and development workforce outside of California.
"California is the birthplace of biotechnology, and our state's biomedical innovation delivers not only global advances in health care but the jobs that drive our economy," said David Gollaher, president and CEO of CHI. "While the biomedical industry has weathered the recession, it faces unprecedented challenges — access to capital, the educational funding crisis and uncertainty surrounding healthcare reform. Now more than ever, the sustainability of California's biomedical industry depends on decisions made in Sacramento and Washington."
California is home to the largest concentration of biomedical companies in the world. The state's biomedical industry directly employs 274,000 people, representing one in six of the 1.6 million biomedical jobs in the United States, according to PwC's analysis of Bureau of Labor statistics and company-specific filings with the Securities and Exchange Commission. The industry supports more than 750,000 direct and indirect jobs statewide and is the second largest sector of California's high-tech workforce.
California's biomedical industry also attracts the greatest portion of venture capital (VC) funding of any industry in California and of any other state, receiving 42 percent of all venture capital investments in biotech and medical device companies nationally. As a result, there are currently 869 biopharmaceutical products in development in the state, from pre-clinical and clinical development through registration. Nearly one-third of the pipeline (272 products) focuses on treating cancer, according to 2009 research from IMS Health.
Jobs Holding Steady
After years of rapid expansion, California's biomedical workforce experienced modest growth in 2008, adding nearly 3,000 jobs and increasing 1 percent from nearly 271,000 jobs in 2007. The state's biomedical sectors include medical devices, instruments and diagnostics (111,942 employees), biopharmaceuticals (81,268 employees), academic research (43,038 employees), wholesale trade (31,920 employees) and laboratory services (5,390 employees, according to the report.
As the recession intensified, all of the state's high-tech sectors downsized. The California biomedical industry shed 2,572 jobs or less than 1 percent of its workforce between March 2008 and March 2009, ending the period with 272,181 jobs. During this time of economic upheaval, the biomedical industry tied with aerospace manufacturing for the smallest percentage loss among high tech industries in California.  Biomedical job losses were primarily driven by the decline of 2,955 positions in the medical devices and wholesale trade industries, which were offset by a gain of 428 positions in academic research, biopharmaceuticals and laboratory services.
Even during the economic downturn and despite a slight drop in statewide biomedical employment, all four of the state's leading biomedical clusters — San Diego County, the San Francisco Bay Area, Los Angeles and Orange County — grew from March 2008 to March 2009 according to county-level data.
Access to Capital
According to the PricewaterhouseCoopers/National Venture Capital Association MoneyTree Report with data provided by Thomson Reuters, California life sciences companies attracted $2.6 billion in venture capital funding in 2009, down from $3.5 billion in 2008 but still more than any other high-tech sector in the state. Despite the slowdown in funding, California's life sciences companies continued to expand. Respondents to the CHI-PwC Survey anticipate that the next two years will find them in a holding pattern at best, navigating risks and events that have not been part of the biomedical industry experience.
Barriers to Growth
Survey respondents rated how key issues will impact future growth:
• Asked about the impact of issues on the industry's ability to keep biomedical research, innovation and investment in California, respondents ranked the following as extremely important: corporate taxation (72 percent), tax incentives for innovation (69 percent) and workforce preparedness (62 percent).
• Asked about the greatest threats to the industry's growth in the next five years, respondents rated the following as extremely important: price controls/government intervention (88 percent), a risk-averse U.S. Food and Drug Administration (84 percent), intellectual property protections (56 percent) and access to capital (52 percent).
A full copy of the 2010 California Biomedical Industry Report is available: chi.org or at pwc.com/pharma/2010chireport.
First Business Bank Promotes Pamela Isaacson to CAO
First Business Bank has promoted Pamela Isaacson to executive vice president and chief administrative officer. She will be responsible for management of the bank's operations, compliance and risk management for corporate headquarters and the bank's three offices in Del Mar, Carlsbad and Ramona. Isaacson has been senior vice president of operations at First Business Bank since October 2008. She has spent her entire 25-year banking career in the San Diego marketplace. Before joining First Business Bank she was vice president and cash management department manager with San Diego National Bank from 1998-2008.  She also worked as vice president and branch manager for Home Savings of America, private banking manager for Wells Fargo Bank and branch manager for San Diego Trust & Savings Bank, which was later acquired by First Interstate Bank. Isaacson received her bachelor's degree in business administration from the University of Phoenix.
Bank Executive Gets Padres Council Appointment
Ricardo Macedo, vice president of commercial lending at Security Business Bank, has been appointed to serve on the San Diego Padres' inaugural Hispanic Community Leadership Council. He and 14 other appointees are to give the Padres feedback on the team's marketing outreach to the Hispanic community. A Tijuana native raised in San Diego, Macedo's expertise in cash management tools, investment products and commercial loans makes him an important resource to the Hispanic business community, said Paul Rodeno, president and CEO of Security Business Bank. He is active with the South County Economic Development Council and the Hispanic Chamber of Commerce, and serves as a Hispanic Outreach Volunteer for the City of Hope Hospital. "We pride ourselves on being the Team of the Californias," said Alex Montoya, Padres manager of Latino relations, "and in providing affordable, family entertainment for families in Southern and Baja California. In order to do that the best we can, we are relying on leaders with this expertise."
Trader Joe's to Expand Under New Lease in Escondido
Trader Joe's has signed a 120-month lease renewal and expansion for 12,872 square feet of retail space in Felicita Town Center, 1829 South Centre City Parkway, Suite B1, in Escondido. Financial terms were not disclosed. The lessee represented itself. The lessor, Felicita Holdings LLC, was represented by Rob Ippolito and Aaron Hill of the Cushman & Wakefield. Other tenants at Felicita Town Center include Major Market, Rite Aid, Starbucks and Golden Spoon. The center is located near Interstate 15 by way of Centre City Parkway and Felicita Avenue.
SANDAG Names New Director of Administration
SANDAG has promoted Laura Coté to the position of director of administration, a post that oversees the agency's administrative functions.  Coté, who joined the agency in 2006 as the human resources manager, took over in January. The department of administration supports the day-to-day business operations of SANDAG. As director, Coté oversees a team of more than 35 people organized into four main functional areas: business services, contracts and procurement, creative services, and human resources. Prior to joining SANDAG, Coté was the managing partner of the Coté Group, a human resources consulting agency with offices in Salem, Mass., and San Diego. She holds a bachelor's degree from the UC Riverside, a paralegal certificate from the University of San Diego and several professional distinctions within the psychometrics field. Coté also serves on the board of Walk San Diego.
Hotel Solamar Selects New General Manager
Kimpton's Hotel Solamar announced the promotion of Mark Dibella as general manager of the 253-room boutique hotel in San Diego's Gaslamp Quarter. Dibella is a hotel veteran of 25 years. As general manager, Dibella is responsible for all daily operations of Kimpton Hotels & Restaurants' only San Diego hotel. Dibella most recently held the position of director of sales and marketing since 2008. Dibella's hospitality career began in 1985 in Orange County and has included sales, marketing, catering and convention services tenures with upper up-scale and luxury brands including the Starwood organization, Wyndham International and DoubleTree Hotels.
City College Opens New Health and Athletics Building
San Diego City College will reopen its renovated Health, Exercise Science and Athletics Building on Thursday, a two-story, 24,615-square-foot facility that has a state-of-the-art sports training room, a weight room, locker rooms and classrooms for martial arts, spinning, yoga, kickboxing and more. The building was designed by San Diego-based gkkworks, which was honored with the 2008 "Design Visionary Award" by the American Institute of Architects, and is currently in the application process to receive a Leadership in Energy and Environmental Design (LEED) certification by the United States Green Building Council. The project was funded through the SDCCD's $1.555 billion Propositions S and N construction bond program. The $10.9 million project involved the major renovation of a two-story concrete gymnasium building originally built in 1964. The work included interior and exterior demolition, new interior partitions and curtain wall system, new ceilings and roofing systems, new plumbing systems and fixtures, new mechanical and electrical systems and fixtures and new architectural finishes. The renovation added nearly 4,800 square feet to the facility. Exterior work included parking upgrades and enhanced compliance with the Americans with Disabilities Act. An opening ceremony will be at 10 a.m. at 1313 Park Blvd.
Business Datebook
Feb. 3
ANNUAL DINNER: The 139th annual dinner of the San Diego Regional Chamber of Commerce, 5-8 p.m., Town and Country Resort & Convention Center, 500 Hotel Circle North, Grand Exhibit Hall. $150 individual registration. Highlights include induction of the 2010 chairman of the board, Tom Wornham of Wells Fargo, and the board of directors, and presentations of the Spirit of San Diego, Courageous Leadership and Regional Unity awards. For more information, call Katie at (619) 544-1370.
Feb. 4
FORUM: San Diego Mayor Jerry Sanders will discuss past, present and future city government reforms that will shape the region in NAIOP San Diego's fourth annual Breakfast with the Mayor program. (Rescheduled from Jan. 19). Marriott San Diego/Del Mar, 11966 El Camino Real, San Diego. Registration at 7:30 a.m., program runs from 8 to 9:15 a.m. $40 for members, $60 for nonmembers. Attendees may pay online at naiopsd.org. NAOP San Diego is a chapter of the Real Estate Development Association. For more information, call Karen Burgess at (858) 509-4110.
EXECUTIVE BRIEFING: Corey Rosen, executive director and founder of the National Center for Employee Ownership, is the featured presenter at a program sponsored by the Beyster Institute at UCSD's Rady School of Management. 5:15 to 6:30 p.m. Free. Registration required; visit rady.ucsd.edu/beyster/events.
Feb. 5
MEET THE LEADERS: Vista Chamber of Commerce host reception and dinner featuring talks by Congressman Darrell Issa, Assemblyman Martin Garrick and county Supervisor Bill Horn. 6:30 to 9:15 p.m., Shadowridge Country Club, 1980 Gateway Drive, Vista. Tickets are $125 per person. Contact the Vista Chamber of Commerce at (760) 726-1122.
Feb. 10
PANEL: The San Diego Press Club presents a panel talk on "WriterPalooza: 50 Tips in 50 Minutesw to Boost Your Writing Business," aimed at professional and aspiring writers and editors. 6 p.m. at KGTV/10, 4600 Air Way, San Diego. Panelists: Dennis Morgigno, Channel 4 San Diego; Kimberly Edwards, formerly of KGTV/10; Lee Swanson, former broadcaster; and Jan Rieger, McLane Rieger Communications. Free for Press Club members, $10 for nonmembers. RSVP to: sdpressclub@cox.net.
SHOWCASE: CleanTECH San Diego and the US Renewables Group present the CleanTECH Showcase, which explores opportunities in the wind-power industry. Keynote presentation by Jim McDermott, managing partner, US Renewables. Registration 4 p.m., keynote 6 p.m., panel 6:40 p.m. La Jolla Marriott. $10 for students, $30 for CleanTECH members, $45 for others. RSVP at: http://ctsd.eventbrite.com.
Feb. 16
CELEBRATION: The Asian Business Association of San Diego holds its 16th annual Lunar New Year Celebration featuring Lucky Lion Dancers, a casino night with prizes and Chinese cuisine. 5:30 to 8:30 p.m., dinner from 6:15 to 7:15 p.m., no-host bar, Fat City Steakhouse/China Camp Restaurant, 2137 Pacific Coast Highway, San Diego. Cost: before Feb. 16, $30 to ABA members, $35 for nonmembers; at the door, $40 members and nonmembers. Register online at abasd.org. For more information, call (858) 277-2822.
Feb. 18
ROUNDTABLE: Hal Varian, chief economist at Google, will speak on "Predicting the Present with Google Trends" at the Economics Roundtable, 7:30 a.m., UCSD Faculty Club. Admission is $50 per person, includes continental breakfast and parking. For more information and registration, call (858) 822-0510.
Feb. 24
DIGITAL FORUM: A forum on social media marketing will feature social media strategist and coach Jason Baer, who will lead a panel discussion on the topic. Sponsored by LEAD San Diego and Bailey Gardiner. 7:30 a.m., continential breakfast and networking; 8 a.m., presentation by Baer; 8:45 a.m., panel discussion. USD's Joan B. Kroc Theatre, San Diego. $20 general admission, $15 for LEAD San Diego members. For more information, call (619) 280-5323.
Feb. 27
WORKSHOP: The San Diego chapter of the American Society of Interior Designers sponsors a "Day with Designers," a public workshop to provide information on practical interior design basics and how to select an interior designer, among other tips. 9 a.m. to 2 p.m. at the Art Institute, 7650 Mission Valley Road, San Diego. Advanced tickets available for $35 by visiting ASIDSanDiego.org. Tickets at the door are $45. For more information, call (858) 646-9896.
The Daily Business Report is produced by REP Publishing Inc., publisher of San Diego Metropolitan magazine and the North Park News. (619) 906-4104.