Daily Business Report — Feb. 5, 2010
Luxury Home Sales in La Jolla Buck Statewide Trend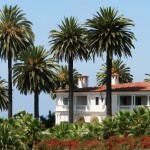 Bucking a statewide trend, the sale of $1 million-plus homes in La Jolla jumped from 246 in 2008 to 259 last year,  according to San Diego-based MDA DataQuick, a real estate information service. The most expensive home sold in La Jolla last year was sold for $18.15 million.
Million-dollar-plus home sales in Del Mar followed the statewide downward trend. Sales there totalled 179 last year, a decline from the 247 sold in 2008. The most expensive sale last year in Del Mar was $3.3 million.
Across the sate, homes that sold for $1 million-plus declined for the fourth consecutive year in 2009, the result of buyer reticence, a difficult mortgage market and several years of price drops that tugged the value of many homes below the million-dollar threshold, according to MDA DataQuick. A total of 18,621 Golden State homes sold for a million dollars or more last year. That was down 23.8 percent from 24,436 in 2008. In 2007 it was 42,506; in 2006 it was 50,010; and in 2005 it peaked at 54,773. Last year was the lowest sales count since 2002, when 15,703 were sold.
Total California home sales — including all price levels — increased 16.9 percent last year, to 460,166 from 393,703 in 2008. One in 25 homes sold for a million dollars or more last year, while the year before it was one in 16, and in 2006 it was one in nine.
"Prestige home sales are a unique sub-category of the real estate market," said John Walsh, DataQuick president. "The buyers and sellers respond to a different set of motivations. In the multi-million-dollar price ranges, decisions are largely discretionary and aren't as dependent upon jobs, prices and interest rates the way they are for most buyers and sellers. Traditional million-dollar markets are holding up relatively well, while expensive markets that emerged four or five years ago are not."
Million-dollar home sales in Riverside County dropped 48.6 percent last year, while they dropped 13.3 percent in Los Angeles County. Statewide, there were 332 sales for more than $5 million last year, 228 sales were in the $4-$5 million range, 590 in the $3 million range, 1,902 sales in the $2 million range, and the rest – 83 percent — between $1 million and $2 million.
The most expensive confirmed purchase last year was a 22,721-square-foot, nine-bedroom, 10-bathroom Bel Air house built in 2008 which went for $26,500,000 in July. It was also the largest million-dollar home sold last year.
Rancho Santa Fe was among five communities where virtually all home sales were in the million-dollar category. The other communities were    Portola Valley and Atherton in San Mateo County, Newport Beach in Orange County and Ross in Marin County.
Gerson Named President of San Diego Receivers Forum
Gordon L. Gerson, president and CEO of the Gerson Law Firm, has been named president of the San Diego Receivers Forum, a nonprofit organization formed to address the needs and concerns of parties involved in the receivership practice. Gerson represents national, regional and local financial institutions in commercial real estate financing, and increasingly in this economic downturn in receiverships, foreclosures and the implementation of other loan recovery strategies. The Receivers Forum's more than 100 members include receivers, lenders, attorneys, accountants, property managers, title companies, asset managers, brokers, and other professionals involved in receivership matters. Gerson founded GLF in 1992. He is a member of the San Diego County Bar Association, American College of Mortgage Attorneys, California Bankruptcy Forum, California Receivership Forum, California State Bar Real Property Section, California Mortgage Bankers Association and Mortgage Bankers Association of America.
Higgs, Fletcher & Mack Partner Appointed to National Conference
Richard A. Shaw, a partner at Higgs, Fletcher & Mack, has been appointed as the representative of the American Bar Association to the National Conference of Attorneys and CPAs. Shaw is a nationally recognized business and tax attorney and has testified before Congress and the I.R.S. on corporate tax reform, tax shelters, tax simplification and ethics. He has served as chair of the 20,000-member national ABA Section of Taxation, president of the American Bar Retirement Association and as chair of the Taxation Task Force for the White House Conference of Small Businesses. Shaw has received the California State Bar's V. Judson Klein Award for outstanding tax service in California and the California State Bar Tax Joanne Garvey Award for outstanding lifetime achievements, contributions to tax law, and recognition for distinguished service to the ABA section of Taxation. He has a master's degree in taxation law from New York University. He earned his law degree from the University of Oregon. Since 1978,  Shaw has lectured as a Distinguished Adjunct Professor in Advanced Business Planning and Advanced Corporate Tax Planning at the University of San Diego Law School Masters in Taxation Program.
CONNECT Promotes Steve Hoey and Linda Wells
Steve Hoey has been promoted to senior program manager and Linda Wells was promoted to program manager at CONNECT, the nonprofit organization supporting San Diego's technology and life sciences industries. Hoey publishes the organization's The CONNECT Innovation Report, which tracks the health of the San Diego innovation economy. He also is a program manager for CONNECT's flagship program Springboard,  a business creation and development program where innovators receive hands-on mentoring by successful executives. He also provides program management support to CONNECT's Venture Roundtable Program where San Diego innovation companies seeking financing are showcased to venture and angel investors. Prior to joining CONNECT in 2007, Hoey served as an engagement manager for Oliver Wyman in New York and Europe.
Wells provides program management for the San Diego Tech Coast Angels, which is coordinated by CONNECT. San Diego TCA is a group of private investors who invest in and assist southern Californian companies. The group acts as the San Diego network for the southern California-based Tech Coast Angels organization. As part of her new role, Wells will also take on management of CONNECT's Frameworks Workshops. Wells joined CONNECT in 2007.  She previously worked in the hospitality industry.
Bop Design Marketing Company Launched in San Diego
Kara Jensen, a 10-year veteran of marketing industry, has launched Bop Design, a marketing communications agency at 2845 Third Ave., No. 3D, in the Bankers Hill area of San Diego. The agency's core clientele are small businesses. The company's philosophy is that good design and strategic Web marketing can and should be accessible and prioritized for small businesses that may have the false perception that they can't afford it or don't need it, according to Jensen. "Clients today are sick of trying the same old tricks and getting no results. They're seeking inventiveness and an unusual spin of creativity that targets their ideal customer without breaking the bank," said Jensen. "They also want an effective strategy for tracking their return on investment. That's where we come in."
Prior to Bop Design, Jensen spent several years as the director of marketing communications at Windsor Capital Corp. developing campaigns, advertisements and Websites. She moved to San Diego from the New York area over five years ago, where she worked with several nonprofits including Grassroots Initiative, the Center for Civic Responsibility and the Girl Scouts of America. She earned a bachelor's degree in marketing from The College of New Jersey.
Kyle King Joins BB&T Insurance Surety Unit
Kyle King has joined the John Burnham division of BB&T Insurance Services of California as surety producer. The surety unit offers client services for construction, development and commercial bond needs. King has more than 10 years of experience in surety services, specializing in construction. Prior to joining BB&T, he was affiliated with Travelers Bond & Financial Products as an account executive with its construction services group. King graduated from San Diego State University with a bachelor of arts degree in economics. His professional affiliations include serving on the board of directors and as treasurer for San Diego Surety Association. He also serves as an affiliate council member with the San Diego chapter of the Association of General Contractors.
Rady School Offers Courses to Help Entrepreneurs
A couple of evening courses designed to help entrepreneurs and aspiring entrepreneurs launch or expand their businesses will be offered between March 2 and July 22 by The Rady School of Management at UCSD. The courses are being offered through the Rady School's Center for Executive Development. "This series allows participants to take advantage of the expertise of a world-class university and veteran entrepreneurs from the San Diego area as they lead their business ideas or young companies toward market success," said Rob Fuller, director of the Entrepreneur Development Program and lead instructor for the Venture Development Series. The series consists of a pair of programs, each meeting for 11 Tuesday or Thursday evening sessions scheduled between March 2 and July 22.
"All too often, someone has specific expertise and great idea, but they don't have the business skills to turn it into a viable company," says Fuller. "New Venture is perfect for scientists, engineers or anyone with a good idea they would like to take to market. Once a business is established, it often outgrows the skills of its owner and becomes stagnant. Growth Venture helps company leaders define the opportunities that will drive the next stage of development."
A free informational session on both courses will be held Feb. 11 at 6 p.m. at the Rady School of Management. To attend, e-mail Lindsay Lackey at llackey@ucsd.edu. To apply, visit rady.ucsd.edu/exec/open/venture-dev/.
Business Datebook
Feb. 5
MEET THE LEADERS: Vista Chamber of Commerce host reception and dinner featuring talks by Congressman Darrell Issa, Assemblyman Martin Garrick and county Supervisor Bill Horn. 6:30 to 9:15 p.m., Shadowridge Country Club, 1980 Gateway Drive, Vista. Tickets are $125 per person. Contact the Vista Chamber of Commerce at (760) 726-1122.
Feb. 10
PANEL: The San Diego Press Club presents a panel talk on "WriterPalooza: 50 Tips in 50 Minutesw to Boost Your Writing Business," aimed at professional and aspiring writers and editors. 6 p.m. at KGTV/10, 4600 Air Way, San Diego. Panelists: Dennis Morgigno, Channel 4 San Diego; Kimberly Edwards, formerly of KGTV/10; Lee Swanson, former broadcaster; and Jan Rieger, McLane Rieger Communications. Free for Press Club members, $10 for nonmembers. RSVP to: sdpressclub@cox.net.
SHOWCASE: CleanTECH San Diego and the US Renewables Group present the CleanTECH Showcase, which explores opportunities in the wind-power industry. Keynote presentation by Jim McDermott, managing partner, US Renewables. Registration 4 p.m., keynote 6 p.m., panel 6:40 p.m. La Jolla Marriott. $10 for students, $30 for CleanTECH members, $45 for others. RSVP at: http://ctsd.eventbrite.com.
Feb. 16
CELEBRATION: The Asian Business Association of San Diego holds its 16th annual Lunar New Year Celebration featuring Lucky Lion Dancers, a casino night with prizes and Chinese cuisine. 5:30 to 8:30 p.m., dinner from 6:15 to 7:15 p.m., no-host bar, Fat City Steakhouse/China Camp Restaurant, 2137 Pacific Coast Highway, San Diego. Cost: before Feb. 16, $30 to ABA members, $35 for nonmembers; at the door, $40 members and nonmembers. Register online at abasd.org. For more information, call (858) 277-2822.
Feb. 18
ROUNDTABLE: Hal Varian, chief economist at Google, will speak on "Predicting the Present with Google Trends" at the Economics Roundtable, 7:30 a.m., UCSD Faculty Club. Admission is $50 per person, includes continental breakfast and parking. For more information and registration, call (858) 822-0510.
Feb. 24
DIGITAL FORUM: A forum on social media marketing will feature social media strategist and coach Jason Baer, who will lead a panel discussion on the topic. Sponsored by LEAD San Diego and Bailey Gardiner. 7:30 a.m., continential breakfast and networking; 8 a.m., presentation by Baer; 8:45 a.m., panel discussion. USD's Joan B. Kroc Theatre, San Diego. $20 general admission, $15 for LEAD San Diego members. For more information, call (619) 280-5323.
Feb. 27
WORKSHOP: The San Diego chapter of the American Society of Interior Designers sponsors a "Day with Designers," a public workshop to provide information on practical interior design basics and how to select an interior designer, among other tips. 9 a.m. to 2 p.m. at the Art Institute, 7650 Mission Valley Road, San Diego. Advanced tickets available for $35 by visiting ASIDSanDiego.org. Tickets at the door are $45. For more information, call (858) 646-9896.
The Daily Business Report is produced by REP Publishing Inc., publisher of San Diego Metropolitan magazine and the North Park News. (619) 906-4104.