Daily Business Report — Feb. 9, 2010
Disabilities Conference to be Staged in San Diego
The International Technology & Persons with Disabilities Conference, billed as the world's largest technology event of its kind, will be held March 22-27 in San Diego. The conference will take place at the Manchester Grand Hyatt Hotel. Thousands of people from around the world, from entrepreneurs and tech industry executives to academics and persons with disabilities, will gather to explore new ways technology can help those with disabilities. The conference will examine all aspects of technology and disability and feature a faculty of internationally recognized speakers, two days of pre-conference workshops more than 300 general session workshops and more than 140 exhibitors displaying the latest in assistive technology. Capt. Ivan Castro, one of only three blind officers serving on active duty in the Army and the only blind officer serving in the U.S. Army Special Forces, will give the conference's keynote address at 5:30 p.m. on March 23. In addition to the conference celebrating its 25th anniversary, the U.S. Department of Defense's Computer/Electronic Accommodations Program will be marking its 20th anniversary of providing free services to federal employees with disabilities and wounded service members with a special event following the keynote address. For more information about the conference or how to register, visit csunconference.org.
J. Craig Venter to be Honored as Scientist of the Year
J. Craig Venter, a scientist in genomic research, will be honored by the San Diego chapter of the ARCS Foundation as the 2010 Scientist of the Year on April 23 at the Hilton San Diego Spa & Resort in Mission Bay. The event is at 6 p.m. This year marks the 25th  anniversary of the ARCS Foundation in San Diego, and the 51st year nationally for the organization, which provides Scholar awards to U.S. citizen undergraduate and graduate students in science and medicine. All money donated to the ARCS Foundation goes to the student Scholars. This year, the San Diego chapter has provided $317,500 to 42 Scholars at UCSD, SDSU, The Scripps Research Institute and USD.
Venter will present a talk titled "From Reading to Writing the Genetic Code" during the event. Venter is founder, chairman and president of the J. Craig Venter Institute, a nonprofit profit research organization dedicated to human microbial, plant and environmental research, the exploration of social and ethical issues in genomics and to seeking alternative energy solutions through genomics.Venter founded the Institute for Genomic Research, a nonprofit research institute, where in 1995 he and his team decoded the genome of the first free-living organism, the bacterium Haemophilus influenzae, using his new whole genome shotgun technique. In 1998, Venter founded Celera Genomics to sequence the human genome using new tools and techniques he and his team developed. This research culminated with the February 2001 publication of the human genome in the journal Science. He and his team at Celera also sequenced the fruit fly, mouse and rat genomes.
The ARCS Scientist of the Year dinner is open to the public. Reservations are $80 each and may be made by contacting Lois Thompson at sandiego@arcsfoundation.org.
State of the County Address Set for Wednesday
Pam Slater-Price, chairwoman of the San Diego County Board of Supervisors, will deliver her State of the County Address at 6 p.m. on Wednesday at the Irwin M. Jacobs Qualcomm Hall, 5775 Morehouse Drive, in San Diego.
Philanthropist Donates $2.5 Million to the Rady School
Philanthropist and business owner Pauline Foster has given The Rady School of Management at UCSD a $2.5 million gift to endow MBA student fellowships. The gift to provide fellowships (graduate level scholarships) to MBA students is part of "Invent the Future: The UC San Diego Student Support Campaign." Foster's gift kicks off the Rady School's "Fellowships for the Future" initiative, a program intended to encourage others to provide funding for student fellowships. Fellowships provide support to MBAs who would otherwise not be able to attend the Rady School because of financial circumstances. Foster is a longtime supporter of the Rady School. Her $2.5 million gift will serve as a challenge gift for the school's ongoing student support fundraising efforts. Foster has donated to the Rady School in the past, including the establishment of the $5 million Stanley and Pauline Foster Endowed Chair to support the dean's initiatives and the creation of the Stanley Foster Symposium. "Invent the Future: The UC San Diego Student Support Campaign" is a three-year, $50 million fundraising effort launched by the campus in September 2009.
Colliers International Team Selected for Carlsbad Business Park
A team from Colliers International has been selected to handle the leasing, sales and property management of nearly 359,000 square feet and 8.52 acres of land in the Carlsbad Raceway Business Park. The team was selected by Wachovia Bank and Bank of the West. Opus West Corp. was the original developer of the project. Melrose Point is a 103,547-square-foot Class A corporate headquarters building at 3115 Melrose Drive. The Collection at Lionshead is five free-standing office buildings containing nine condo units ranging from 3,806 square feet to 12,176 square feet available for sale. Raceway Point is six R&D/flex buildings from 16,532 square feet to 64,327 square feet for sale.  Additionally, two vacant lots totaling 8.52 acres are available for development of corporate headquarters, R&D or manufacturing facilities.
The team for Melrose Point and The Collection is comprised of Gary Williams, Dan Tate and Chris Williams while the team of Chuck and Erik McNary are handling the Raceway Point and available lots. Property management responsibilities are being handled by Gina St. Aubin and Phil Covington.
Julie Meier Wright Named Expert Resource for MWD
Julie Meier Wright, president and CEO of San Diego Regional Economic Development Corp., has been appointed as an expert resource for the Metropolitan Water District's 2060 Blue Ribbon Committee. The committee was established by MWD to develop new strategies for Southern California to adapt for future demands in the distribution of water. Issues impacting water distribution include ensuring an adequate supply, managing energy consumption, attracting a qualified workforce for the MWD and communicating effectively with the public. The San Diego County Water Authority is the largest purchaser of water from the MWD. Wright is to provide insight into the economic and policy changes that the Southern California service area will encounter in the coming years and assist the MWD in developing a new business model and strategies for the future.
Federal Contract Awards
(Source: Targeted News Service)
•  Grounds Maintenance Service in  La Mesa won a $12,597,180 federal contract from the U.S. Air Mobility Command, MacDill Air Force Base, Fla., for grounds maintenance services. Place of performance will be in Tampa, Fla.
• Axsys Technologies Inc. in San Diego won a $34,090 federal contract from the Defense Logistics Agency's Defense Supply Center, Columbus, Ohio, for control transformer syncros.
Grand Tasting Tour Comes to San Diego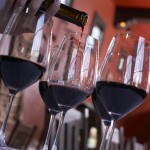 The Paso Robles Wine Country Alliance will bring the 2010 Grand Tasting Tour to San Diego on Feb. 23-25 — its only Southern California stop. Events will be at the McMillan Event Center at NTC Promenade in Point Loma and Wine Steals in Downtown San Diego's East Village. More than 40 winemakers will converge to showcase their award-winning wines to Southern California wine enthusiasts. Winemaker dinners, trade and retail tastings and consumer tastings will take place at restaurants and venues throughout San Diego. Wine lovers will have the opportunity to taste and explore more than 150 wines from California's fastest growing wine region. For a complete schedule or to purchase tickets, visit pasowine.com. One of the events will be a wine-tasting program from 8-10 p.m. at the McMillan Event Center. Admission is $45 per person in advance, $55 at the door.  Call (800) 549-9463 to purchase tickets. Another wine-tasting event will be Feb. 25 at Wine Steals, 793 J St., featuring more than 150 wines. Wineries will showcase a sample of their portfolio that best exemplifies the over 40 varietals (and blends thereof) from Paso Robles Wine Country.  Appetizers to be provided by Wine Steals Gastropub.  Admission is $55 per person in advance, $65 at the door.
Business Datebook
Feb. 10
PANEL: The San Diego Press Club presents a panel talk on "WriterPalooza: 50 Tips in 50 Minutesw to Boost Your Writing Business," aimed at professional and aspiring writers and editors. 6 p.m. at KGTV/10, 4600 Air Way, San Diego. Panelists: Dennis Morgigno, Channel 4 San Diego; Kimberly Edwards, formerly of KGTV/10; Lee Swanson, former broadcaster; and Jan Rieger, McLane Rieger Communications. Free for Press Club members, $10 for nonmembers. RSVP to: sdpressclub@cox.net.
SHOWCASE: CleanTECH San Diego and the US Renewables Group present the CleanTECH Showcase, which explores opportunities in the wind-power industry. Keynote presentation by Jim McDermott, managing partner, US Renewables. Registration 4 p.m., keynote 6 p.m., panel 6:40 p.m. La Jolla Marriott. $10 for students, $30 for CleanTECH members, $45 for others. RSVP at: http://ctsd.eventbrite.com.
Feb. 16
CELEBRATION: The Asian Business Association of San Diego holds its 16th annual Lunar New Year Celebration featuring Lucky Lion Dancers, a casino night with prizes and Chinese cuisine. 5:30 to 8:30 p.m., dinner from 6:15 to 7:15 p.m., no-host bar, Fat City Steakhouse/China Camp Restaurant, 2137 Pacific Coast Highway, San Diego. Cost: before Feb. 16, $30 to ABA members, $35 for nonmembers; at the door, $40 members and nonmembers. Register online at abasd.org. For more information, call (858) 277-2822.
Feb. 18
ROUNDTABLE: Hal Varian, chief economist at Google, will speak on "Predicting the Present with Google Trends" at the Economics Roundtable, 7:30 a.m., UCSD Faculty Club. Admission is $50 per person, includes continental breakfast and parking. For more information and registration, call (858) 822-0510.
Feb. 23
LUNCHEON: State Controller to Speak at Asian Business Association Luncheon State Controller John Chiang will be the guest speaker at the Asian Business Association's Rice Club Luncheon at the San Diego Hall of Champions in Balboa Park. Chiang will discuss the financial condition of the state and how it impacts small business. Registration is at 11:45 a.m. followed by networking and buffet from noon to 1 p.m. and the program from 1 to 1:30 p.m. The cost is $25 for ABA members, $30 for nonmembers and $35 at the door. To register online, visit abasd.org.
Feb. 24
DIGITAL FORUM: A forum on social media marketing will feature social media strategist and coach Jason Baer, who will lead a panel discussion on the topic. Sponsored by LEAD San Diego and Bailey Gardiner. 7:30 a.m., continential breakfast and networking; 8 a.m., presentation by Baer; 8:45 a.m., panel discussion. USD's Joan B. Kroc Theatre, San Diego. $20 general admission, $15 for LEAD San Diego members. For more information, call (619) 280-5323.
Feb. 27
WORKSHOP: The San Diego chapter of the American Society of Interior Designers sponsors a "Day with Designers," a public workshop to provide information on practical interior design basics and how to select an interior designer, among other tips. 9 a.m. to 2 p.m. at the Art Institute, 7650 Mission Valley Road, San Diego. Advanced tickets available for $35 by visiting ASIDSanDiego.org. Tickets at the door are $45. For more information, call (858) 646-9896.
The Daily Business Report is produced by REP Publishing Inc., publisher of San Diego Metropolitan magazine and the North Park News. (619) 906-4104.