The Boulevard's Lafayette Hotel to get $4 million renovation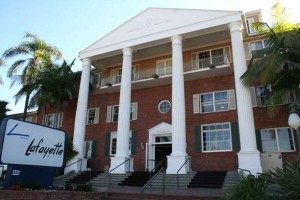 By Manny Cruz
The owner of the historic, 64-year-old Lafayette Hotel, an icon on El Cajon Boulevard since 1946, has been granted a $2.44 million loan by the city of San Diego Redevelopment Agency to help pay for a major rehabilitation of the property.
The loan funds will be used to renovate the historic main building of the hotel and its swimming pool. The owners of the hotel, an investment group known as Hampstead Lafayette Hotel LLC led by Jay Wentz, is expected to commit additional funds for improvements to the pool-side "lanai" rooms, pool-side furniture, equipment, spa and spa equipment. The total estimated cost of all the improvements has been pegged at $4,031,620. Rehabilitation work is expected to start this year.
"Although the existing historic structure and amenities have been maintained, the hotel is suffering the effects of age and in need of renovations," said a report by the Redevelopment Agency. "If not rehabilitated, over time the hotel could become a detriment to the neighborhood."
The San Diego City Council approved the agency's loan on Jan. 12.
The hotel, officially called the Lafayette Hotel & Suites San Diego and located at 2223 El Cajon Boulevard, sits on a 2.36-acre site and includes 103 rooms, 28 pool-side rooms, two restaurants, two bars, a gym, spa, a business center, ballroom and meeting space and an Olympic-size swimming pool. It was built by playboy home builder Larry Imig and originally dubbed "Imig Manor."
In earlier years, several prominent local figures were permanent residents of the hotel, according to the hotel Website (lafayettehotelsd.com). These included clothier Bill Solof, restaurateur Ray Lubach and Lefty O'Doul and Bucky Harris, managers of the San Diego Padres. The terrazzo tile swimming pool was designed by Johnny Weissmuller, the Romanian-born swimmer who won five Olympic gold medals and numerous world and 52 national swimming titles and starred in multiple "Tarzan" and "Jungle Jim" motion pictures.
The hotel owner had planned to develop condominiums on the rear portion of the property and use the proceeds to rehabilitate the facility, according to the Redevelopment Agency Report. But it postponed the condo plans because of rising construction costs and the downturn in the housing market, and instead decided to move forward with the rehabilitation.
The North Park Redevelopment Project Area Committee endorsed the rehabilitation in 2008 and it has subsequently received the support of numerous groups, including the El Cajon Boulevard Business Association, North Park Community Association, the North Park Planning Group and the Historic Highway 80 Committee.
"There is a strong sense of civic pride in North Park, and for this reason the community is actively involved in redevelopment projects in an effort to ensure high-quality design and construction," said Jason Walton, a spokesman for Ventana Hotels and Resorts, the management company for the hotel.