A Road By Any Other Name…
By George W. Brewster Jr.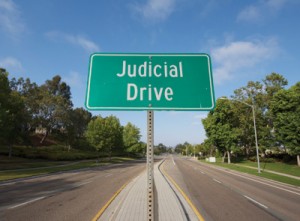 I know it is not the norm, but we named our youngest child after our street: Ashley Place.  (Or as we now call it, Ashley's Place).  So I'm a little sensitive to street names in general—like Pershing, or McArthur.
There is a Law Street (three, in fact—two in the City of San Diego and one in San Marcos).  I'll leave the bad puns to your own fertile imaginations.  There is a Judicial Drive in the La Jolla/UTC area, but no Judicial Way.  There is no Court Court; no developer was that brave (or silly).
There is no Litigation Lane or Plaintiff Alley, but there is a Defender Court in Solana Beach.  (Either lots of neighborhood disputes or maybe basketball hoops).  And no Law Court, or Juvenile Court or even Small Claims Court (low rent).
As for prominent lawyers and judges, we have a few remembered among our thousands of streets, highways and byways.
We should start first with Witherby Street in the Mission Hills/Old Town area of the City of San Diego, named after the first San Diego District Judge, Oliver S. Witherby. Over time, the street has been segmented by development and the I-5 freeway, with its western terminus at the Marine Corps Recruit Depo.  According to the Union-Tribune "Just Fix It" column, Witherby Street wins the prize for the street most complained about.
An oil portrait of Witherby used to hang in the old (pre-1959) courthouse in Department 1, and now hangs in the replica first courthouse in Old Town. The painter, William A. Winder, was a physician who at one time had an office in the Whaley House, the location of the second San Diego courthouse after the first one burned down.  Winder Street (Mission Hills) is named for him.
If you wind down Winder, you'll cross Torrance Street and Puterbaugh Street.  Both were judges of the growing Superior Court bench in the 1890s.  Judge Torrance oversaw the case of Consolidated National Bank v. O. S. Witherby, which was the end result of a massive bank/real estate crash (sound familiar?) that swept away Witherby's wealth.  Apparently Witherby had secretly set aside $100,000 for the benefit of the developing City Park (now known as Balboa Park), much of which was lost in the scandal.
Judge George Puterbaugh (later city attorney in 1907) was an early advocate of a large water irrigation plan for the City (along with U.S. Grant, Jr.), which was defeated by local politics. Some irony, I suppose, that his street (and all others in the city) is now under water rationing. Judge Puterbaugh also oversaw the robbery/murder trial of Jose Gabriel, known locally as Indian Joe. The judge imposed the death penalty, making Indian Joe the first prisoner executed in San Quentin (in 1893).
Finally, a little Luce talk.  Torrance was an associate at Luce, Sloane and Luce, as was Roger Ruffin.  Ruffin Road is named after Roger (a real property attorney, later Superior Court Judge).  Steiner Street in Chula Vista is named for Lt. Col. Fred Steiner, a prominent local attorney in the 1930s who died in WWII (Normandy); his son, Robert, remains one of the legal legends in town, and at his firm, Luce.
Sloane Canyon Road out in East County is named for William Sloan, who was a Superior Court Judge, on the Supreme Court of California and the first presiding judge to the Fourth District Court of Appeal.  In his lawyer days he was a partner at Luch, Sloane and Luce, and Bob Steiner recalls picnics at the Sloane Ranch, at the end of Sloane Canyon Road
Now you are street smart.  If you found this difficult reading, I can only say that no one promised it would be Easy Street, although there are two (Chollas View in the city of San Diego, and in San Marcos area).
George Brewster Jr. (sandbrews@aol.com) is a senior deputy county counsel for the county of San Diego.
Reprinted with permission from the July/Aug 2009 edition of San Diego Lawyer, The Journal of the San Diego County Bar Association.