Daily Business Report — March 5, 2010
Broadway Pier Cruise Ship Terminal Shaping Up
The new Broadway Pier cruise ship terminal for the Port District is taking shape. The framework for the terminal has been finished and the next steps will include completing the steel trim components and constructing the roof and second floor decking. After that crews will begin working on the exterior, wall siding, roofing and doors and windows. Work on the interior plumbing, electrical, HVAC and stairway systems also will begin. Some 2.5 million pounds of steel fabricated in Santa Ana was used for the frame of the two-story, 52,000-square-foot terminal, which is scheduled for completion in December. The terminal, designed by Bermello Ajamil & Partners, is being built by Jaynes Corp.
Career Workshop Scheduled for Monday
Congresswoman Susan Davis (D-San Diego) will host a Career Workshop on Monday  for unemployed San Diegans looking for work and desiring information on how to find the job best for them. It will be held from 2 to 4 p.m. at the San Diego Workforce Partnership, 3910 University Ave., in San Diego. Speakers will include Gary Moss and Ann Vallez of the San Diego Workforce Partnership; Samuel Garcia of Metro Career Center; Trevor Blair of Manpower; Jennifer Lewis from Cuyamaca College; and June Porter from the California Employment Development Department. The panel will discuss what jobs are in demand now and in the future, employment training opportunities and what organizations are providing help in finding work. For additional information, call (619) 280-5353.
Social Media Workshop March 12
Public relations firm Nuffer, Smith, Tucker and SDSU's College of Extended Studies will present a March 12 workshop on "Social Media in the Workplace, " designed to explore the opportunities social media provides for companies and brands. It will be held from 8:30 to 10:30 a.m. at SDSU Extended Studies/Gateway Centers, 5500 Campanile Drive. Using case studies, speakers will help human resources and business leaders better understand how to effectively embrace social media trends. Seminar leaders will include Bill Trumpfheller, president of Nuffer, Smith, Tucker; Teresa Siles, account supervisor and director of social media for Nuffer, Smith, Tucker; and Rebecca Coates-Nee, of the  SDSU School of Journalism & Media Studies. Admission is $35. To register, visit http://bit.ly/bc5U9E.
Chassis Plans Leases Larger Quarters for $1.22 Million
Chassis Plans, The Original Industrial Computer Source, has signed a five-year, $1,222,572 lease for 22,976 square feet in Scripps Ranch Business Center at 10123 Carroll Canyon Road  in the Scripps Ranch area of San Diego.The lease represents a relocation and expansion by Chassis Plans within the H.G. Fenton Co. industrial portfolio that nearly quadruples its overall space and gives it nearly five times the manufacturing area it had before. Chassis Plans was represented by Craig Knox of Irving Hughes. H.G. Fenton Co. was represented by Bill Dolan of CB Richard Ellis.
Crunch Holdings Signs $1.1 Million Lease
Crunch Holdings LLC has signed a 60-month, $1,149,788 lease for 12,132 square feet of office space in Palomar Crest Corporate Center at 2701 Loker Ave. West, Suite 230, in Carlsbad. The lessee was represented by John Hoffmann of Cushman & Wakefield and Dan Tate of Colliers International. The lessor, Gateway Colorado Properties, was represented by Matty Sundberg, Mark Avilla and Kent Moore of Cassidy Turley. The fitness company moved into its new headquarters in February.
Qualcomm Names New Head of Firethorn Holdings
Financial industry veteran Rocco Fabiano has been appointed to lead Qualcomm Inc.'s mobile commerce subsidiary, Firethorn Holdings LLC, as president. Fabiano is to move Firethorn's expansion into new markets. He succeeds Firethorn founder Tripp Rackley, who will have a new role on Firethorn's advisory board. Fabiano has more than 25 years of experience in the financial services industry. He served as head of a $12 billion retail bank and spent five years as a group executive for Household International. Fabiano founded four businesses, taking two public and selling two others. In 1997, he was honored as an Ernst & Young/NASDAQ Entrepreneur of the Year.
Enigma Diagnostics Opens San Diego Office
England-based Enigma Diagnostics Limited, a molecular diagnostics company, has opened a new regional office on Nancy Ridge Drive in Sorrento Valley and has appointed Joel Centeno as vice president, regulatory and quality. He will be responsible for obtaining appropriate regulatory approval for Enigma's rapid diagnostic instrument systems and products. Before joining the Enigma, Centeno served as a director at Hologic Inc. He received his bachelor's degree in materials engineering and metallurgy from the University of Florida.
Federal Contract Awards
(Source: Targeted News Service)
• Koam Engineering Systems Inc. of San Diego was awarded a $51,146,913 federal contract by the U.S. Space and Naval Warfare Systems Center Pacific, San Diego, for tactical data link systems supporting the Navy, Marine Corps, Army, Air Force and foreign military sales programs.
• Computer Sciences Corp. in San Diego was awarded a $46,911,088 federal contract by the U.S. Space and Naval Warfare Systems Center Pacific, San Diego, for tactical data link systems supporting the Navy, Marine Corps, Army, Air Force and foreign military sales programs.
• Hamilton Sundstrand Corp. in San Diego won a $170,209 federal contract from the U.S. Air Force Materiel Command, Tinker Air Force Base, Okla., for aircraft components and accessories.
• Mastercraft Inc. in Santee won a $29,251.25 federal contract from the Defense Logistics Agency's Defense Supply Center, Columbus, Ohio, for vehicular seats.
• Battery Emporium & Technology in Carlsbad won a $3,517.02 federal contract modification from the U.S. Department of Commerce's National Oceanic and Atmospheric Administration, Seattle, Wash., for Powersonic PS-12400 12VDC 40AH batteries under the American Recovery and Reinvestment Act.
Padres Honored by Navy Public Affairs Alumni Assn.
The U.S. Navy Public Affairs Alumni Association honored the San Diego Padres with its Distinguished Service Award at its reunion in San Diego in February. The association, whose members are active duty, reserve, civilian and retired Navy public affairs professionals, presented the award to retired Navy Capt. Jack Ensch, the Padres' military liaison officer, on behalf of the team. The sssociation presents the award to individuals or organizations for distinguished service. It selected the Padres because of the club's sustained support to the military of San Diego County for over 13 years.
Chicano Park Day Celebrates 40th Anniversary
The 40th annual Chicano Park Day will be held on April 24 from 10 a.m. to 5 p.m. in historic Chicano Park, located in the Barrio Logan community, south of Downtown San Diego. The family event is free and open to the public. Established by Chicano activists on April 22, 1970, Chicano Park has received international recognition as a major public art site for its commanding mural paintings of the past and present struggle of Mexican and Chicano history. This year's keynote speaker will be Nita Gonzales, president and CEO of Escuela Tlatelolco, a Chicano, Mexicano and Indigenous private school in Denver. Among the traditional dance troupes  performing are Ballet Folklorico Yaqui, Ballet Folklorico del Centro Cultural de la Raza and Ballet Folklorico Sabor Latino de Denver. Musical artists performing include Quinazo, The Ledesma Brothers, Storm, Pachuco Jose, 2012, Los Romanticos and Los Alacranes, featuring Chunky Sanchez. For information, call (619) 563-4661.
Solana Beach Company Launches Elliptical Bicycle
Solana Beach-based ElliptiGO, a company formed by former Ironman triathletes Bryan Pate and Brent Teal, has launched its first product — the world's first elliptical bicycle. It's called the ElliptiGo 8S, a two-wheel device that resembles a bicycle but has no seat and is meant to be ridden standing up. The vehicle performs and handles like a bicycle while using the elliptical trainer motion for propulsion. Pate said the result is a low-impact, high-output cross-training device for anyone wanting to improve their cardiovascular fitness without damaging their body.
"The ElliptiGO is particularly well suited for runners who want to enjoy a running-like experience outdoors while giving their knees and joints a break from the wear and tear caused by running," according to the two partners.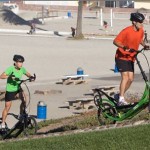 "Every runner that experiences the common pains and ailments from a consistent training regimen knows running takes its toll on the body," said Pate. "The ElliptiGO 8S not only provides the ideal cross-training experience for a runner looking to extend his running life, but it also enables fitness enthusiasts to enjoy outdoor exercise that's as easy and effective as what they get at the gym."
Pate began running for fitness while in high school and relied on it for years as his primary means of staying fit. The constant pounding ultimately took its toll on his knees and hips, and by the age of 32 he could no longer run for fitness.  Faced with the dilemma of how to stay in shape without running, Pate consulted with friend Teal and they set out to create a fitness device that would provide the experience and cardiovascular workout of running outdoors without the wear and tear on the body. "Thepounding of running causes a lot of injuries," said Teal. "By eliminating the impact, the ElliptiGO provides the most comfortable and effective outdoor workout experience available today – one that anyone can do day in and day out without damaging their body."
The ElliptiGO 8S currently retails for $2,199. For more information, visit elliptigo.com.
Business Datebook
March 6
FORUM: "Doing Business in a Difficult Time," a forum presented by the Southeastern Economic Development Corp. for small businesses. 9 a.m. to noon, SEDC offices, 4393 Imperial Ave., San Diego. Will include information on enterprise zone tax advantages, storefront improvement program, loan programs and marketing. $10 cost includes breakfast. For reservations, call (619) 527-7345.
March 11
PANEL TALK: Social media strategies to increase sales and raise brand awareness will be discussed during the Sales & Marketing Council's "Social Media 101" event. 7:15 to 9 a.m., Building Industry Association offices, 9201 Spectrum Center Blvd., San Diego. $30 for BIA members. $60 for nonmembers. To register, call (858) 450-1221, Ext. 101. Panelists: Harley Orion of Orion Social; Jan Percival of Scribe Communications; Maria Swanson of Weston Mason Marketing.
March 17
BREAKFAST MEETING: Influenza experts will discuss lessons learned from the swine flu pandemic at BIOCOM's monthly breakfast meeting, 7 to 9 a.m., Hyatt Regency La Jolla, 3777 La Jolla Village Drive, San Diego. Speakers: Brian Plew, head of public health, Life Technologies; Larry R. Smith, v.p., vaccine research, Vical Inc.; John D. Tamerius, senior v.p., clinical and regulatory affairs, Quidel Corp. For information, call Valerie Sanderson (858) 455-0300, Ext. 112.
MEETING: The March meeting of the National Association of Women Business Owners (NAWBO) San Diego will feature Jo Dee Jacob presenting "Building and Nurturing a Winning Team." 11:30 a.m. to 1:30 p.m. at the Sheraton La Jolla, 3299 Holiday Court, La Jolla. Jacob is CEO of The San Diego-Imperial Council of Girl Scouts. $35 for members, $45 for nonmembers. For more information, visit nawbo-sd.org.
LUNCHEON: "Retrofitting Buildings Green" is topic for presenters Sarah Friedman, Southern California sustainability director for Jones Lang LaSalle, and Dawn McFadyen, associate partner with Syska Hennessey Group, at Urban Land Institute luncheon. 11:30 a.m. to 1 p.m., 10300 Campus Point Drive, first floor conference room. Members $20, nonmembers $40. To register, call (800) 321-5011 or visit ulisd.org.
March 18
MEETING: Web content strategist Shelly Bowen, principal of Pybop LLC, will speak on "Virtual Story Telling: How to Grow Your Business with Social Media," at the meeting of the San Diego Professional Editors Network (SD/PEN), 6:30 p.m., Joyce Beers Community Center, Uptown Shopping Center, Hillcrest. Free and open to nonmembers. For more information, call (619) 281-6951 or visit sdpen.com. $45 for BIOCOM members, $90 for nonmembers.
The Daily Business Report is produced by REP Publishing Inc., publisher of San Diego Metropolitan Magazine, the North Park News, Kensington News and the West Coast Craftsman. (619) 906-4104.