Fashion Careers College helps students sew their way to success Graduates find work in a crowded job market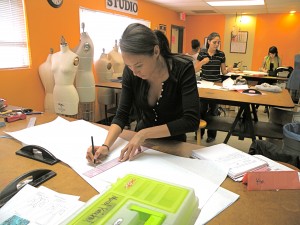 By Cecilia Buckner
"We've had a pretty good year," says Patricia O'Connor, CEO of Fashion Careers College and a resident of North Park. "When people can't get a job, guess what they do? — they go back to school."
Prospective students flocking public college admissions offices in cash-strapped California are getting turned away because of enrollment caps and  private colleges are picking up some of that slack.
Bordering the beach community, beneath the shadow of SeaWorld's Sky Tower, student admissions at FCC, with its "fashion only" curriculum, have been steady.
FCC opened its doors in 1979 with just seven students and  now averages more than 100 students each semester in its compact, but efficient space on Morena Boulevard.
Carmen Aldrete, in her fourth week of an advanced pattern-making class, says the size of the school and classes makes the experience more enjoyable.  "You feel like you're family because it's a small group," she says.
O'Connor,  the school's founder, is a career educator and sister-in-law of former mayor Maureen O'Connor.
A low student to teacher ratio is a value that contributes to the school's long-term success and the staff's ability to provide a quality education, O'Connor says. "We're not the biggest school. We're not the school that makes the most money, but I really think that we are the best in fashion."
"I've always been the type of person, since I was a little kid, that if I was going to do something, I wanted to be the best," says O'Connor. " If I learned to play marbles, I was going to be the marble champion. So, when I started this school, I thought … it's going to be the best."
FCC has associate degree and certificate programs with curriculum that focuses both on the business aspect of fashion and fashion design. The average tuition for a program at FCC is about $19,000 per year.  Financial aid and grants are available for those who are eligible and career placement is open to all students.
That's the key — getting these students jobs. "Even now, when no one is getting a job and everybody's getting laid off, we have a fabulous placement rate," says O'Connor. More than 80 percent of FCC's graduates obtain work in the field by the time they graduate, according to the CEO.
"If a store or company is going to hire someone, rather than putting an ad in the paper or going with Craigslist, they call our school. So, we are sort of like where everybody goes to get people that are specialized in this area," O'Connor says.
Jesus Estrada, 21,  graduated from FCC last year and began 2010 as a contestant on season seven of "Project Runway."  He was picked from more than 10,000 contestants.
Estrada was born in Mazatlan, Mexico and raised in San Diego. He loved fashion as a kid and made outfits for Barbies and sewed and mended clothes for his family. But he did not  know how to use a sewing machine. "I was scared to use the sewing machine," he says.
Estrada learned the basic skills at FCC and that gave him the confidence he needed.  "I am a designer," he boasts.
"I didn't come from a rich family and they really didn't have the money to put me through school," adds Estrada. He received a Pell grant that paid for a year of his schooling. He wants other youths to know they can do it too.  "They can pursue their dreams," he says. "I did it.  I was scared, but I did it."
Estrada is putting the finishing touches on his fall line, which will have made its debut at the Music Box in Los Angeles by the time this article is published.
Jennifer Wilouellette, who is gearing up for finals week at FCC, got hired on as a fashion merchandiser for a company in the Scripps Ranch area six months ago. "They let me pick the fall colors for 2010," she says.
Ensuring that the students walk away from the school with employable skills in the field of fashion is important to O'Connor.  But, she also wants her students to become involved with the community and includes projects in the school's programs that require this.
FCC has been a contributor to the Make-a-Wish Foundation for the past 24 years through its annual Golden Hanger Awards Gala, has produced an annual fashion design competition at the Timken Museum of Art in Balboa Park, and initiated a program that assists seamstresses in Africa.
"It's not just getting that first job and money, it's also about giving back to the community and giving back to the world," says O'Connor. "We like to get involved with these kinds of things. I really feel like that's what I'm here for — to make a difference in young people's lives."
Ninety percent of the students at FCC know the direction they want to go in, O'Connor says. They have specific goals in mind — to be a designer, a buyer, to open up their own store or  be a stylist on a television show. And sometimes, all they know is they want to be in fashion.
FCC's grads work for the opera and the Old Globe, and are Hollywood stylists.
"That's what I'm most proud of …when they graduate … they really do have a great education. They've got all the skills to be able to go into really whatever field they decide to go into," says O'Connor.
For more information on Fashion Careers College, call (619) 275-4700, or visit the college at 1923 Morena Blvd. , San Diego. The Website is: fashioncareerscollege.com.