BICE is back!
The Gaslamp Quarter welcomes back an old favorite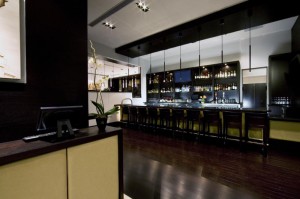 By David Rottenberg
It may seem like yesterday but it was in 1994 when BICE  Ristorante (pronounced "bee-chay") opened on the top floor of the Paladion building in the Gaslamp.
BICE is a world-class and worldwide restaurant chain that sprang forth from humble beginnings. In 1926, some 84 years ago, Beatrice Ruggeri founded a small trattoria in Milan. Her small location grew so popular, her dishes so well received, that she was encouraged to expand.
Over the years, branches have opened in New York, Chicago, Dallas and other American cities as well as in foreign locations such as Montreal, Buenos Aires and Abu Dabai. Wherever they opened, the locations were quickly recognized for sophisticated ambiance and excellent cuisine. The business is still family run.
In San Diego, the Paladion was built to serve as a design center. World famous designers opened boutiques. World famous restaurants like BICE opened venues. Rinaldo Colantoni, an experienced manager who had run some of the finest eateries in Los Angeles before joining BICE, was picked to open the San Diego location.
Unfortunately, a bad economy intervened (yes, history repeats itself) and the entire Paladion building shut down in two years, forcing BICE to vacate as well. The good thing that emerged from the experience — Colantoni fell in love with San Diego and was determined to return one day.
Now, some 16 years later, BICE is back! After working in numerous locations for the company, the experienced and affable Colantoni got his wish to return to this city, opening BICE in a new location in the Gaslamp. He collaborated with Trevor Sacco, a North County resident who once served as chief operating officer for BICE Restaurant Group USA and who now is the general partner of the operation. Sacco also has vast restaurant experience, having once also built the nation's largest chain of Greek-themed restaurants.
The new location opened a few months ago to critical acclaim. The entrance and interior are stunning. A room for private parties veers off the entrance before one steps up into the main dining room. One is struck immediately by the sheer volume of the room, with very high ceilings and stylish lighting that drops down in the form of glass tubes, glowing softly over tables. A far wall is clear glass, behind which shelves hold hundreds of bottles of excellent wines. The wine list, in fact, runs many pages, practically an enologist tour guide through the world of wines.
Chef Mario Cassineri runs the kitchen. He worked in Milan and at Lago de Maggiore and collaborated with several of the most famous chefs in Italy. He later joined BICE, working and opening restaurants in Beirut, Miami, Bethesda and more. Here, he is supported in the kitchen by Francesca Penoncelli, sous chef and pastry chef for BICE San Diego. Penoncelli makes fabulous desserts and is responsible for the unique cheese bar at BICE.
The cheese bar seats about half a dozen diners and is a relaxing place to dine or wait for a table. Or, one may order off the cheese menu at the table. Cheese is a novel and innovative way to start a meal. Both the cheese menu and the dinner menu are heavily described in Italian, lending to the atmosphere, but dishes are interpreted clearly below. "Prosciutto de Parma Invecchiato con Burrcotto" becomes the very tasty 24-month aged Parma ham with burricotto cheese. A lengthy list of cheeses can be selected in order of three, five or seven pieces with recommended pairings of honey, marmalade or olives. My favorite pairing — a nice glass of wine to sip as one enjoys the full flavor of the cheese.
The menu is divided into the traditional antipasti, primi and secondi. Purists can begin with a "tartare  plate of ahi with avocado, salmon with chives and sea bass — a real treat. Buffalo Mozzarella came with cherry tomatoes from the nearby Chino Farms. Calamari was presented in broth over toast.
BICE is well known for its pasta dishes. Traditional oven-baked lasagna with veal, beef and pork Bolognese sauce is superb — one of my personal favorites.  Beef tortellini in aged parmesan cheese sauce with proscuito was very tasty.
Seafood entrees (secondi) include Chilean Sea Bass, a tender and tasty fish, with French string beans. The veal chop is served Milanese style, thinly pounded.  A seven-ounce beef tenderloin was beautifully presented on mashed potato.
At BICE, the focus is on flavor and sophistication. Service is attentive and superb. One can readily understand why luminaries, celebrities and dignitaries enjoy the dining experience and become repeat customers. Some of the richest and most powerful people in the world have dined at BICE at its many locations.
Prices are moderate to high but not outrageous, given the high quality of the food and ambiance. A daily happy hour features drinks and food at reduced prices. But, whatever the cost, it is well worth it. BICE is to be enjoyed. San Diego is lucky to have it back.
BICE Ristorante is located at 425 Island St. in the Gaslamp Quarter. Call (619) 239. BICE (2423) for reservations and information.
Readers can see restaurant updates, menus and make reservations at the  BICE  Ristorante website.
David Rottenberg is the editor of Dining San Diego Magazine, a guide to many of the city's favorite restaurants. He is a member of the Southern California Restaurant Writers Association, a member of ASJA and vice president of the North American Travel Journalists Association.