Daily Business Report — May 12, 2010
40 Under 40 Nominations
Nominations are now open for San Diego Metropolitan Magazine's 11th annual 40 Under 40 awards. The nomination period ends May 31. The honorees will be feted at our annual luncheon on Sept. 9 at the San Diego Convention Center and profiled in the September issue of the magazine. Visit http://sandiegometro.com/40under40/ for a nomination form.
Festival of the Arts to Liven North Park in Grand Fashion
Visitors to the 14th annual North Park Festival of the Arts on Sunday will find plenty of activities to occupy their time during the all-day event — bicycle valets, a craft beer block where beer, wine and locally prepared food can be sampled, art demonstrations, live musical entertainment and dozens of vendors offering everything from crafts to jewelry to clothing.
North Park Main Street, the sponsor of the 10 a.m. to 6 p.m. festival, has added new features that far surpass what has been offered in the past and has made a concerted effort to ease parking and traffic problems. The event attracts upwards of 35,000 attendees each year.
To accommodate the festival, University Avenue between 30th and 32nd streets will be closed to traffic as well as the side streets in-between. Free parking will be available in the North Park Parking Structure and visitors will be encouraged to ride their bicycles to the event.
The San Diego Bicycle Coalition will provide valets who will take visitors' bicycles and secure them in hundreds of bike racks set up on Iowa Street. There is no charge for the service. The service is sponsored by Velo Cult Bike Shop.
For the thirsty and hungry crowd (21 and older), the festival will offer a Craft Beer Block on Ohio Street. For $25 in advance or $30 day of, a patron can sample eight beer and wine products from local establishments and nibble on food samples from local restaurants. The beer is provided by microbreweres from around the county and a few from Petaluma and Northern California.
On 31st Street, regular beer portions can be purchased at the Drowsy Maggie's Stage and Beer Garden. Folk and Celtic music is the entertainment for the 21-and-older generation.
Three different forms of art demonstrations — metals, plein air and pastels — will be demonstrated by artists on Ray Street during the festival. Festival-goers will be invited to show their chalk art artistry on paper-covered portions of the street.
Six stages will offer up a variety of musical entertainment — bands and solo performers — and dance troupes.
The nonprofit North Park Main Street (NPMS) has acquired $4,000 from county Supervisor Ron Roberts and $6,000 from the San Diego Commission for Arts and Culture to help fund the festival. Proceeds benefit NPMS, which oversees the North Park Business Improvement District.
Public Affairs Firms Form Alliance
San Diego-based public affairs firm Southwest Strategies has formed an alliance with Los Angeles-based Englander, Knabe & Allen to work together on select clients. "Our new alliance with Englander, Knabe & Allen is a great move for Southwest Strategies," said Alan Ziegaus, CEO of Southwest Strategies. "The clients of both firms will benefit from access to a diverse and talented group of public affairs veterans who have the experience and credibility to navigate the complex and challenging maze of local government."
Second Chance Celebrates Grand Reopening
Second Chance, a nonprofit agency that assists the jobless, homeless, substance abusers and ex-prisoners in starting new lives, will celebrate its headquarters grand reopening on Friday at 10:30 a.m. and then will present its Community Job & Resource Fair from 1 to 4 p.m. The morning program will include the graduation of one of the agency's classes. The activities will be conducted at 6145 Imperial Ave. in San Diego. Attending the grand opening ceremony will be Mayor Jerry Sanders, San Diego Councilman Tony Young, Brian Maienschein, a United Way commissioner, and Scott Silverman, Second Chance founder and president, among others.
Employers at the Second Chance Community Job & Resource Fair include Allied Barton, Aerotek, California Army National Guard, the city of San Diego, Clean & Safe Program, Employment Development Department, Harrah's Rincon, Hilton Bayfront, Job Options, Loew's Coronado Bay Resort, MTS, Pat & Oscars, San Diego Community College District, SeaWorld, Sedona Staffing, Southern California Laborers Apprenticeship Program, Staples, St. Vincent de Paul, TriStaff, UCSD Temporary Employment Service, the United States Navy and UPS.
Hybrid Vehicle Demonstration Program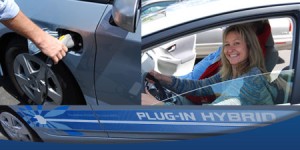 The Center for Sustainable Energy in San Diego (CCSE) is to partner in the Toyota Motor Sales USA Prius plug-in hybrid vehicle demonstration program to assess vehicle performance and real-world driver experiences with three cars scheduled for delivery in June, according to Mike Ferry, transportation programs manager for CCSE, The announcement was made Tuesday at the Alternative Fuels and Vehicles National Conference at the Rio Hotel in Las Vegas. The cars will be in daily use as personal vehicles by CCSE engineers and staff members.
"The plug-in Prius is an evolutionary step forward in Toyota's development of hybrid-electric technology, but it is a revolutionary leap forward in the automotive industry," Ferry said. "The center is honored to partner with Toyota on this exciting demonstration program that is leading us toward a future of cleaner vehicles."
During the 18-month demonstration program, CCSE also plans to partner with Juice Technologies of Columbus, Ohio, on advanced smart charging capabilities for plug-in electric vehicles. Marketed under the brand Plug Smart, the technology will allow consumers to control when and how much their vehicles will charge when connected to a standard electrical outlet. For instance, consumers can program their cars to charge only when the price of electricity is least expensive. When paired with a smart meter or using an internet connection, the Plug Smart technology also provides utilities with the ability to communicate with the charger, allowing safe and efficient integration of vehicle charging with the electricity grid.
When the Prius PHV arrives at Toyota dealerships in 2012, the cars will qualify for the California Clean Vehicle Rebate Project that CCSE administers statewide, however, the rebate amount has yet to be determined, according to Ferry.
"Someday soon, Californians will have the choice to drive past the gas pump and high gas prices to choose something better," Ferry said. "The Prius PHV is a major step in getting us there."
Just like a standard 2010 Toyota Prius, the Prius PHV combines a 98-horsepower, 1.8-liter gasoline engine with an electric motor that produces the equivalent of 80 hp. The difference is that the PHV can operate in electric-only mode, powering itself on batteries alone for approximately 13 miles (20 km) up to speeds of 62 mph (100 km/h). The PHV has lithium-ion battery packs that can be recharged from an ordinary 110-volt electrical outlet in about three hours.
Online Marketing Agency Names New Search Director
Online marketing agency BusinessOnLine has named Ryan Adami as its new search director. The company said Adami is a renowned expert in search engine optimization. He has more than 10 years of experience in online advertising. His experience includes leading search marketing teams in large agency environments. Previously, Adami was the director of online marketing at Bank of Internet USA. Before that he was director of search marketing at Interactivate Inc.
Fish & Richardson to Receive Summer Help
Two recipients of Fish & Richardson's 1L Diversity Fellowship program will get paid positions at the firm's San Diego office this summer. Robert Yeh, who has a Ph.D. in chemistry from UC Berkeley,, an A.B. in chemistry from Princeton University, is a student at the UC Berkeley School of Law. Andrew Cardes, has a master's degree and bachelor's degree in mechanical engineering from UC Berkeley and is a student at the University of California Hastings School of Law. Each selected student will receive a $5,000 academic scholarship, mentoring by a principal of the firm and a paid 2010 summer associate position in the Fish office of the student's choice.
Datebook
May 12
SMART GROWTH AWARDS: The San Diego/Tijuana district council of the Urban Land Institute presents its 2010 Smarth Growth Awards to honor pioneers, entrepreneurs, trendsetters and fans of sustainable development in the region. 6 to 8 p.m., McMillin Event Center, 2875 Dewey Road, San Diego 92106. San Diego Architectural Foundation will also presents its Community Vision Award for 2010. $45 for members and nonmembers, $25 for Young Leader members and $15 for student members. To purchase tickets, visit ulisd.org/events/221.
May 13
GREEN PROGRAM: The Green Chamber of Commerce sponsors presentations by John Stein, CEO of Kirei USA, and Remy Meraz, area sales manager of ClearEdge Power, on "Marketing Green — Lessons from the Trenches." 7:30 to 9 a.m., Sheraton Carlsbad, 5480 Grand Pacific Drive, Carlsbad. Speakers will discuss their experiences marketing green versus conventional products. Admission $10 if registered by May 12, $15 at the event. For more information, visit greenchambersd.com/events.
May 14
SEMINAR: The National Association of Women Business Owners San Diego hosts a talk by Joon Han, founder of Better San Diego, speaking on "Get Ahead by Giving Back." Noon to 1 p.m., Brandman University, 7460 Mission Valley Road, San Diego. Han will share strategies to help entrepreneurs accelerate their businesses. NAWBO members free, $25 for nonmembers. Box lunches to be provided. Online registration and more information available at nawbo-sd.org.
May 19
WORKSHOP: San Diego Press Club sponsors "Life After Journalism," a program presented by Joe Ames, former editor of the Orange County Register. Ames spent 30 years as a reporter and editor in radio, TV and newspapers and will discuss career options after journalism. 6 to 8 p.m., KGTV Studio, 4600 Air Way, San Diego. Free to Press Club members, $10 for nonmembers. To reserve, call Terry Williams, executive director, at (619) 231-4340 or visit sdpressclub.org.
May 20
CLEANTECH PANEL: CONNECT presents a panel talk on "Cleantech & Renewable Energy Financing: From the Public to the Private and Beyond," 9 to 11 a.m., AMN Healthcare, 12400 High Bluff Drive, No. 100, San Diego 92130. Panelists will discuss federal and state programs and incentives for the renewable and cleantech industry as well as the private marketplace. Panelists: Nick Leibham, of counsel, Dirk Michels, partner, Sue Hodges, administrative partner and Greg Brucia, senior associate, all of K&L Gates LLP; and Andrew McAllister, program director, California Center for Sustainable Energy. Cost is $45 for CONNECT members, $65 for nonmembers. For more information, call Bethany Kraynack at (858) 964-1312. Register at connect.org.
May 27
WORKSHOP: San Diego Metropolitan Credit Union will present an identity protection workshop, 11:30 a.m. to 12:30 p.m., credit union offices at 9212 Balboa Ave., San Diego 92123. Free admission. For more information or reserve a seat, call (619) 278-5724 or send e-mail to: workshops@sdmcu.org
June 15
PRESENTATION: Michael Bergthold of Odyssey Strategic Advisory Services and J. Barrett Marum of San Diego Sheppard Mullin will cover legal issues faced by buyers and sellers of distressed businesses or assets; cover Section 363 bankruptcy purchases and sales; and buying and selling out-of-state and federal receiverships in a program sponsored by the Association for Corporate Growth San Diego. Doubletree Hotel Hazard Center, 7450 Hazard Center Drive, San Diego 92108. 7 a.m. registration. 7:40 to 9 a.m., breakfast and program. Free for ACG members, $50 for nonmembers. Make reservations at acteva.com/go/acgsd or acgsd@acgsd.org.
The Daily Business Report is produced by REP Publishing Inc., publisher of San Diego Metropolitan Magazine, the North Park News, Kensington News and the West Coast Craftsman. (619) 906-4104.