Scene 5.2010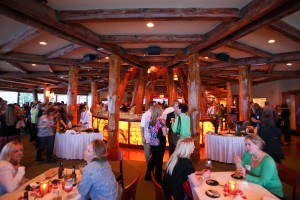 The popular family-owned Bali Hai Restaurant on Shelter Island unveiled a new Polynesian look, a new chef and Pacific Rim menu at grand opening festivities last month. The renovation, designed by Graham Downes architect, includes completely refurbished dining areas, including the South Pacific Room downstairs, and several new additions: the Bamboo Lounge, an expanded bar area adjacent to the main dining room; the Tiki Room, a private upstairs dining room; an outdoor dining deck with prime views of the bay; bayside patio with lounge seating; a landscaped patio for weddings and special events, which will include a reconstructed lava rock wall, decorative tiki torches, benches and eight new king palm trees. Newly-appointed chef Chris Powell, formerly of Rancho Valencia, has created a Pacific Rim menu with a Hawaiian flair. Trained at the Western Culinary Institute, Powell is a California native who has worked in the kitchens of some of the top fusion restaurants in San Diego. "We've entertained three generations of diners who come for the fabulous food, spectacular views and, of course, our world-famous Mai Tais," said owner Susie Baumann.
The structure, originally built with more than 15 types of wood, some very rare, has been restored to its natural, original sheen. The new lounge features a honey onyx bar and classic-style Hawaiian light fixtures. The interior design and décor includes Bali Hai's collection of more than 100 Polynesian artifacts — including tiki figures, antique tapa cloths, wood weapons, ocean charts, maps and native pictures — creating a museum-like space for guests to explore. Local artist Miki Iwasaki created a redwood art screen for the building's exterior, abstractly inspired by antique Polynesian stick charts and maps — cherished artifacts in the Bali Hai collection — and high and low shifts in coastal tides. Phase I of the renovations included the outdoor Hawaiian Village special events pavilion that was completed in 2009 and a new dock, completed in 2006.
The Bali Hai was opened in 1955 by San Diego restaurateur Tom Ham (about five years after Shelter Island was created). It was the island's first "tiki temple," named after the song popularized by the musical "South Pacific." Polynesian floor shows followed, along with the creation of two famous tiki icons: Mr. Bali Hai, a large wood sculpture at the front entrance greeting guests, and
"The Goof," a playful and mysterious remnant that has stood guard on the roof of the restaurant for over five decades. Baumann, Ham's daughter, and her husband, Larry, and their sons Grant and Andy Baumann, run the restaurant.
***
Major League ballplayers Adrian Gonzalez of the Padres and his brother, Edgar Gonzalez of the Yomiuri Giants in the Japanese Baseball League, have leased space in the Salt Creek Industrial Center in the Eastlake area of Chula Vista to open a sports community center to benefit area youth and families. The brothers signed a five-year, $792,732 lease for 28,754 square feet of industrial space in the center, located at 2390 Boswell Road, Suite 400, for their Gonzalez Sports Academy, set to open this month.
TAP Automotive Holdings, dba Explorer Pro Comp, renewed its lease in the center in a five-year, $1.92 million deal for 78,350 square feet of space. The San Diego office of Cushman & Wakefield along with San Diego-based Heritage Real Estate Advisors announced two leases. In each of the transactions, Charlie Adolphe and Bryan Teel of Cushman & Wakefield and Travis Jaedtke of Heritage Real Estate Advisors represented the owner/landlord, Adaya Asset Boswell East and West.
***
What to do when the founders of a family-owned business want to retire is the focus of a May 18 program sponsored by the San Diego Association for Corporate Growth. "Deal Making for the Family-Owned Business — Transition or Sale? A Live Family Case Study" will be held at the Doubletree Hotel Hazard Center, 7450 Hazard Center Drive, Mission Valley. Registration is at 7 a.m. Breakfast and the program follow. The program will show how a multi-generational family can transition its business from parents to new owners and how family dynamics are affected and managed. The program is free for association members and $50 for nonmembers. Make reservations at acteva.com or acgsd@acgsd.org. For more information, call (619) 741-7247.
***
The 17th annual Sicilian Festival comes to Little Italy on May 23, offering music, dance, culture and cuisine from 10 a.m. to 6 p.m. A highlight of the free event will be the World Cup
Soccer Fan Zone presented by Soccer Fanatic and PUMA at the corner of Beech and India streets, a local version of a European-style soccer village. The festival  will occupy India Street from Beech to Date Streets and offer four stages with Sicilian and Italian entertainment and a noontime parade of dozens of costumed dancers, musicians and representatives of the Italian organizations in San Diego. The Soccer Fan Zone will offer official Azzuri World Cup merchandise and a big screen re-broadcast of the exciting World Cup Final that landed the 2006 championship for Italy's Azzuri team. Festival visitors will also be able to relax at a wine and beer garden or shop among the many booths offering Italian-themed artifacts and services. A Sicilian cultural tent will feature photo and cultural displays by local authors and artisans that reflect the Sicilian American heritage in San Diego. The area will also feature displays of such Sicilian traditions as fish net repair, embroidery, produce and fish markets, chalk art, and more, organized by the ConVivio Society of San Diego.
Barona Tribal Government Building
The U.S. Green Building Council has awarded LEED Silver certification to the Barona Band of Mission Indians' new, 35,412-square-foot, two-story tribal government building, a structure designed by Atlanta-based Baker Barrios Architects Inc. and built by Swinerton Builders of San Diego.
For its certification, Barona received points in sustainable sites, water efficiency, energy and atmosphere, materials and resources, indoor environmental quality and innovation and design. The building reduces energy by about 14 percent by using a centralized mechanical plant, air-cooled chiller, computerized controls for heating and air conditioning in 48 separate locations and motion-sensor lights that adjust to natural lighting.
John Boggs, senior associate with Baker Barrios, says the bulding also reduces water use by 40 to 50 percent with its low-flow fixtures and drought-resistant plants, drip irrigation and minimal planting areas. Construction waste was reduced by 75 percent by reusing and recycling construction materials. Barona's environmental sustainability program on the Barona Indian Reservation includes the Barona Resort & Casino and Barona Creek Golf Club.
***
Henry DeVries, assistant dean at UCSD Extension and the jobs and careers editor for San Diego News Network, will speak on "Closing America's Job Gap: Innovation and Job Creation" at 8 a.m. on May 6 at the Hong Kong Association of Southern California and the International Trade Advisory Board quarterly joint breakfast meeting at National University, Spectrum Business Park campus, 9388 Lightwave Ave., San Diego. Admission is $5 for nonmembers and payable at the door. DeVries says the job gap is the disparity between the good jobs being created by innovation in the U.S. and the lack of American workers with the skills to fill these good jobs. He is co-author of a book to be published in the fall titled "Closing America's Job Gap" that asserts the American workforce is out of alignment with technological advances because the U.S. is not retraining like other nations in Europe and Asia. "Closing America's Job Gap" is about how to create and keep good jobs in America by supporting innovative small companies and retraining people to be qualified for new technologies. It was co-authored by UCSD Extension Dean Mary Walshok and Silicon Valley innovation economist Tapan Munroe. DeVries is a 1979 graduate of UCSD who earned his MBA from SDSU in 1998. The book will be published in September by W Business Books.
***
Brittany Herrin and Wil Ferrel model new sustainable caps and gowns.
If the future careers of the 2010 graduates of San Diego State aren't sustainable, their caps and gowns will be. More than 10,000 students will debut the new sustainable caps and gowns at graduation ceremonies May 21-23 at Viejas Arena. The fabric in the graduation regalia, from Jostens new Elements Collection, is developed using 100 percent acetate material that is supposed to decompose in soil within one year. The Eco-Zip coil zipper tape and teeth are made from 100 percent recycled PET and the earth-friendly packaging contains ECM BioFilms material that facilitates the decomposition process of the cap and gown bag. SDSU's graduates will be among the first in the nation to wear the new caps and gowns.
***
The public agency that owns and operates Lindbergh Field says it will be hiring as many small construction businesses as possible for the $1 billion upgrade taking place at the airport's Terminal 2. To provide tips to contractors on how to bid for work on the project, the San Diego County Regional Airport Authority has scheduled five informational sessions around the county:
• May 11, 3:30-5:30 p.m., La Mesa Community Center, 4975 Memorial Drive, La Mesa 91942.
• May 12,  2-4:30 p.m., Marina Gateway, 700 Bay Marina Drive, National City, 91950.
• May 13, 9-11 a.m., Sheraton Carlsbad Resort & Spa, 5480 Grand Pacific Drive, Carlsbad, 92008.
• May 19, 4-6 p.m. Market Creek Plaza, 404 Euclid Ave, San Diego 92114.
• June 3, 3:30-5:30 p.m., Santee Civic Center, 10601 Magnolia Ave., Santee, 92071.
"We're strongly committed to bringing as many small businesses as possible into The Green Build and help them get the invaluable experience that comes from working on such a high-profile project," said Bob Silvas, the Authority's director of small business development. The Green Build is a three-year, $1 billion construction project that will bring major upgrades to San Diego International Airport. When work is completed in 2013, the airport will have 10 new gates, additional shopping and dining and a dual-level roadway to reduce curb congestion by providing separate areas for arriving and departing passengers. Silvas said The Green Build team also is developing a grassroots and media campaign designed to reach the small business community and give them the information they need to bid on the available construction jobs. Contractors will be contacted through e-mail, direct mail, local print media and industry organizations.
***
Jeannette Lee Carrico, owner and CEO of The Exit Light Co. in Vista, is the Small Business Administration's Small Business Person of the Year for San Diego County for 2010 and will be honored June 2 along with other small business owners and advocates. The awards luncheon at the Town and Country Resort & Convention Center in Mission Valley is being held in conjunction with the San Diego Regional Chamber of Commerce. As the local winner, Carrico will be in competition for the National Small Business Person of the Year to be named May 23-29 in Washington, D.C., during Small Business Week.
Other business owners to be honored in the San Diego region are:
• Thomas M. McGowan, president and founder of McGowan Enterprises in San Diego, Veteran-Owned Business of the Year.
• Rachel Welland, owner and coordinator, Bliss Events in San Diego, Woman-Owned Business of the Year.
• La Sonja I. Boulware, president of Bizness Variety of San Diego, Minority Small Business Champion of the Year.
• Cheryl A. Protzeller, president of P2 Solutions Inc. in Vista, Women in Business Champion of the Year.
Winners of the 2010 George P. Chandler Jr. Award, SBA Lender Awards and the 2010 SBA Community Service Award will be announced at the Mission Valley luncheon. In addition, the San Diego Chamber will recognize 10 outstanding San Diego area businesses; area government procuring agencies will recognize their Contractors of the Year; prime contractors will recognize their small business Subcontractors of the Year; and the San Diego Business Improvement District Council will recognize its BID Business of the Year.
***
From left, David Schultz,Quantum Design; Nancy Nicholson,WTCSD; Shawn Covell, Qualcomm; James Panknin, San Diego County Regional Airport Authority; Steven Kondor, Gen Probe; Bella Heule;WTCSD; Julia Meier Wright, SDREDC; Irene Stillings, California Center for Sustainable Energy; Woo-Jin Shim from San Diego County Supervisor Ron Roberts' office.  Photograph by Don Kohlbauer.
The World Trade Center San Diego has launched the International Relations Office to attract visiting delegates and promote San Diego as an ideal location for business. The IRO offers a comprehensive approach to hosting international delegations and dignitaries, according to Bella Heule, president and CEO of the World Trade Center. "We want their visit to San Diego to be so impressive and productive that they will want to come back again and again for business and pleasure," said Heule. "This is a great way for San Diego to set itself apart in this highly competitive environment." Formed as an inter-agency clearinghouse, the IRO is to streamline processes among regional organizations and businesses to create a world-class experience for visitors and a positive image of doing business in the region. "The International Relations Office will welcome visitors from around the world with a great first impression of San Diego," said San Diego Mayor Jerry Sanders. "We'll rely on them to help convey the importance of international trade to our region." The IRO is jointly sponsored by: San Diego International Airport, Qualcomm Inc., Gen-Probe, California Center for Sustainable Energy and San Diego Regional Economic Development Corp.
***
Rendering of Marine Corps Infantry Training Center.
Construction has begun on a new $10 million Marine Corps Infantry Training Center at Camp Pendleton. Developers of the project, designed by KMA in partnership with Straub Construction Inc., are seeking LEED certification from the U.S. Green Building Council. Construction is to be completed in the fall. "Because LEED-certified buildings are relatively new to Camp Pendleton, the addition of these sustainable buildings is an exciting project for KMA to take on," said Don Blair, president of KMA. The two-story project will incorporate eco-friendly features including photovoltaic panels on roofs to offset building energy costs by an estimated 12.5 percent and water efficient landscaping with drought-tolerant native plant species to reduce irrigation requirements by 50 percent. Overall water-use reduction will be achieved with low-flow plumbing fixtures.

The design also will include energy-efficient skylights and low-e insulated glass for exterior windows to bring natural daylight into the building. Parking for low-emission and fuel-efficient vehicles is included in the design as part of the plan to achieve LEED certification. A construction waste management plan will be implemented to recycle or divert 75 percent of construction waste from disposal. KMA project team is comprised of Don Blair, John Hilgeman, Alison Warren and Rey Zumarraga. Berg Engineering is the civil engineer, DS Engineering is the mechanical engineer, MPE Consulting is the electrical engineer, and SMR Consulting Group is the structural engineer. K. Killman Design is the interior designer and Crescere Design is the landscape architect.
***
Outdoor garden.
The inaugural Stylish Spaces Interior Design & Outdoor Living Expo debuts May 22 and 23 at the San Diego Convention Center, Hall A. A variety of indoor and outdoor exhibits will be featured, including the latest trend of edible landscapes. One of the key features of the show is an Urban Plantation, created by Karen Contreras' Urban Plantations. Eugene Marley of the French Garden Shoppe will offer design inspiration to San Diego's city dwellers. The 2010 Interior Design Vignettes will offer an intimate view of rooms, from classic to cutting edge. Attendees will be able to pick up a paint brush and find their inner Picasso at the Dunn-Edwards Interactive Greener by Design Display and Paint for Charity. At the end of Stylish Spaces, Dunn-Edwards will donate the finished paint-by-numbers mural to the YWCA of San Diego County.
The expo is produced by Seascape Productions, a company co-owned by Patrice Meluskey and Penny Domschot, who created and produced the San Diego Interior Design & Landscape Expo for six years, and Baby & Tween Celebration LA. Show hours are May 22 from 10 a.m. to 6 p.m. and May 23 from 10 a.m. to 5 p.m. Admission is $7 for adults. Children ages 12 and under are  free. For more information, call (888) 970-3976 or visit seascapeproductions.com.
Thousands of pieces of hand-made ceramics by many of San Diego's potters will be featured aht the San Diego Potters Guild's spring sale on June 12-13 in the Spanish Village patio area in Balboa Park. Works range from functional ware such as plates, bowls, and coffee cups to more decorative and sculptural forms such as ceramic shoes, garden lanterns, and conch shells. Prices range from a few dollars to a few hundred dollars. Most of the Guild members will be available to answer questions about ceramics in general or their own work in particular. There will also be demonstrations of throwing pots on the wheel. Hours for the sale are 10 a.m. to 4 p.m.
***
Meadows Home
Pacific Scene Homes and Legacy Building Services have been presented a San Diego Gas & Electric Award of Excellence for the Meadows affordable housing development in Poway. The award recognizes a commitment to quality, sustainability, durability and low cost of ownership for its homeowners. The Meadows has 33 homes. Each one showcases a 2.3- kilowatt solar electric roof system, tankless water heaters, fully landscaped drought-tolerant front and rear yards, efficient heat and air conditioning systems and energy star appliances. Each single-story home at the development was rated by the Environmental Protection Agency as an Energy Star new home. All of the homes at The Meadows are being sold to low and moderate- income first-time homebuyers through the Poway Redevelopment Agency's Supporting Home Ownership in Poway (S.H.O.P.) Program. To date, more than half of the buyers at the Meadows either previously lived or worked in the area.
A "Meet the Elected Officials" luncheon will be held May 7 in Carlsbad to give local feedback to local respresentatives, including Congressmen Brian Bilbray and Darrell Issa, Sen. Mark Wyland, Assemblyman Nathan Fletcher, county Supervisor Bill Horn and San Marcos Mayor Jim Desmond. The San Diego North Economic Development Council is the sponsor. The event will be from 11:30 a.m. to 1:30 p.m, at the Sheraton Carlsbad Resort & Spa, 5480 Grand Pacific Drive, Carlsbad. "What's unique about this event is that we'll be able to compare the officials' statements with the audience's responses," said Julie Wright, chairwoman of the council and president of (W)right On Communications. The event will feature a polling system that can track audience's responses against elected officials' statements in real-time. Tickets are $55 per person for members and $70 for nonmembers. For sponsorship opportunities or to sign up for the event, contact Stephanie Jungersen at (760) 598-9311.
***
HMS Surprise
The HMS Surprise, a 179-foot replica of the 18th century 24-gun British Royal Navy frigate and owned by the San Diego Maritime Museum, was docked at the Marine Group Boat Works in Chula Vista recently for routine maintenance in preparation for an inspection by the American Bureau of Shipping and the U.S. Coast Guard. "When you're putting a historic ship with masts extending greater than 170 feet high in the slings of a six-story modern crane, it commands attention," said George Sutherland, project manager at Marine Group Boat Works who has also been a volunteer, employee and captain for vessels at the Maritime Museum since 1993.  "We dedicated a full day to her haul-out to allow ample time for lift operators, riggers and other specialty tradesmen to get her safely drydocked."
With her vast hull, HMS Surprise tipped the scales at 1.1 million pounds,
which makes her the second largest single load to be hauled by Marine Group Boat Works' 665-ton travelift. During her stay in Chula Vista, the frigate received bottom and topside paint and repairs to hull fasteners, planks and rudder.Marine Group Boat Works repairs many of the vessels in the San Diego Maritime Museum fleet including the Californian and Medea. The HMS Surprise was featured in the Academy Award-winning film, "Master and Commander: The Far Side of the World" with Russell Crowe.
***
Six judges have been selected by the San Diego/Tijuana district council of the Urban Land Institute to decide this year's Smart Growth Award winners. The jury includes Tito Alegría, Michael LeBarre, Rob Wellington Quigley, Oscar Romo, Greg Shannon and Jonathan Segal. Smart Growth Award winners will be announced during a dinner and reception May 12 at the McMillin Event Center at Liberty Station in Point Loma. Sponsors for the 2010 event include: SCS Engineers, reproHAUS, Basile Studio, San Diego Architectural Foundation, San Diego Daily Transcript, San Diego News Network, Millimeter Productions and NTC Promenade. For ticket information,  visit ulisd.org.
The Smart Growth Awards is an annual competition recognizing projects, plans and people that emulate smart growth principals. Unlike past competitions, this year's event will encompass the "Best of the Decade," showcasing winners from projects that were entitled, built or significantly remodeled between 2000 and 2010.
• Tito Alegría is a professor of urban planning in the Department of Urban and Environmental Studies in El Colegio de la Frontera Norte, Tijuana, México.
• Michael LaBarre is an architect and urban planner with more than 30 years of experience.
• Rob Quigley is a nationally recognized architect whose work has garnered more than 60 design awards from the American Institute of Architects.
• Oscar Romo is watershed coordinator for the Tijuana River National Estuarine Research Reserve in Imperial Beach.
• Greg Shannon is president of Sedona Pacific Corp. and has been involved in real estate planning and development for nearly 30 years.
• Jonathan Segal is considered one of Downtown San Diego's most successful and pioneering residential architects.
***
Berth Lima
Barnhart Balfour Beatty and the Navy have completed a $28 million upgrade to Berth Lima at Naval Base Coronado — made necessary to accommodate planned industrial maintenance activities and cold-iron berthing for the three Nimitz-class nuclear aircraft carriers home-ported in San Diego. Construction on the upgrades began in May 2009. The project included the construction of a security building, pump house building, restroom/payphone building, two masonry and steel watch towers, two guard houses, security fencing, high-mast security lighting, upgrades to underground water and electric utilities, and surveillance infrastructure. The contract was awarded and managed by the Naval Facilities Engineering Command, Southwest, San Diego. The facilities were designed by Moffat & Nichol Blaylock of Long Beach.Barnhart staff working on the project were Senior Vice President Dave Roach; Vice President of Operations Shawn Fisher; Senior Project Manager Bill Dunning; Project Superintendents Frank Haslinger and Joe La Grange; and Field Engineer Connor Miller.
***
Scripps Mercy Emergency.
McCarthy Building Cos. Inc. has been awarded a contract by Scripps Health for preconstruction of the 13,796-square-foot expansion of the Scripps Mercy Hospital emergency department at 4077 Fifth Ave. in Hillcrest. The first phase of the project will involve the realignment of Fifth Ave. Kirk Collins, project manager with Scripps Health, is overseeing the project. National design firm HDR is the architect. The addition is planned for an 18,500-square-foot site on the east side of Fifth Avenue, immediately adjacent to Mercy Hospital's existing Emergency Department. Mike Tuohy, McCarthy's project director, said the construction project involves the relocation of utilities on Fifth Avenue and out of the planned building footprint. A portion of Fifth Avenue will be realigned to increase the site area and allow for a patient drop-off parking area. "Once the facility addition is complete, the hospital's emergency department will be moved into that new space before  construction remodeling of the existing facility begins," said Tuohy. Project team consultants include Degenkolb as structural engineer, Latitude 33 as civil engineer, Syska Hennessy as electrical and mechanical engineer and MW Peltz Associates as landscape architect.
***
The Wireless-Life Sciences Alliance (WLSA) is now accepting registrations for its fifth Annual WLSA Convergence Summit, a three-day conference sponsored by the nonprofit trade organization dedicated to improving health through wireless communications technologies. The conference is scheduled for May 11-13 at Estancia Hotel & Spa in La Jolla. Among the organizations and businesses presenting are senior management from WLSA members, including Ascension Health, AT&T, CareFusion, Johnson & Johnson, OptumHealth, Qualcomm Inc. and St. Jude Medical. For information or to register, visit wirelesslifesciences.org.
***
The three-year, multimillion-dollar restoration of Old Town San Diego's Cosmopolitan Hotel has been completed and the "crown jewel of the state park system" will be open for tours beginning this month. The Cosmopolitan includes an indoor and outdoor restaurant by the same name, boutique hotel with 10 rooms on the second level and private dining rooms for special occasions. Originally constructed as the home of San Diego pioneer and early settler Juan Bandini between 1827 and 1829, the Cosmo is one of the most significant buildings in California with a history spanning 175 years. It was used first has a home for Bandini's family and later adapted and converted into a hotel, apartment building, olive factory and restaurant. The Cosmopolitan was turned into a hotel in September 1869, when the second level was added by proprietor Albert L. Seeley. The original hotel offered a variety of services, including a bar, sitting and billiard rooms, a barber shop, and a post office equipped with telegraph. The main feature and central focal point is the balcony, which wraps around the second story, offering views to San Diego Bay and the state park's central plaza.
The renovation was funded by California State Parks, a California Cultural and Historical Endowment, Delaware North Cos. and Old Town Family Hospitality Corp. Major contractors on the job included Heritage Architecture and Planning, ASM Affiliates and IS Architecture.
***
Victoria and Michael McGeath.jpg
Trattoria Acqua on the Cove, nearly shuttered a few months back when the landlord chose not to renew its lease,  is back in business. Proprietors Michael and Victoria McGeath have a new lease — thanks to a change of heart by the landlord — and are celebrating the La Jolla restaurant's 16-year anniversary. The couple say community support saved the restaurant. Patrons came into dine, wrote letters to editors, called newspapers, posted blogs, offered to picket and more to save the beloved restaurant when they heard the news that it was forced to close. "When we opened Trattoria Acqua, we wanted a place for people to share memories and enjoy life," said Victoria McGeath. "We wanted to touch people with good food and wine in a setting like no other. We did not realize the impact that we had and we got to experience that back when so many came, unsolicited, to help us. Words can't express how much we were touched and are grateful."
Michael was one of the first restaurateurs to implement a wine-by-the-glass program 20 years ago at Papagayo. The McGeaths have revamped their wine program. Guests can have an interactive experience, ordering from the wine list or pulling their own bottles. Michael has priced the wines at retail price, plus $10. And if patrons decide to take bottles home, there is no $10 fee. The
restaurant is located at 1298 Prospect Ave.
***
Personal finance expert Suze Orman is the keynote speaker at the third annual "Your Best Year Ever" fundraiser to benefit The Jenna Druck Foundation's Young Women's Leadership Program. It will be held May 26 at the Hilton San Diego Bayfront Hotel. "Women and Money" is the theme. The benefit is designed to inspire women to become leaders in their own lives, starting with their finances, and to raise money to support young women in San Diego County to do the same. Following her address, Orman will lead a Q&A session with the audience, with Suze asking a select group of young women about how their awareness and attitudes about money have been influenced by the adults in their lives. To register, visit yourbestyearever.org or call (619) 294-8000.
***
As the new executive director of the U.S. Green Building Council's San Diego chapter, Doug Kot is charged with assisting communities with green building policy and implementation and developing a network of green technical resources and partnerships with other groups to advance the green building initiative in San Diego. Kot also plans to begin planning the groundwork for the Greenbuild International Conference and Expo in San Diego. Before joining the council, Kot was a senior sustainable planning and green building consultant for KEMA Services Inc. Earlier, he developed a service model for Green Roundtable, the Boston affiliate of the U.S. Green Building Council. Kot is a member of the American Institute of Certifed Planners, the American Institute of Architects and is a LEED-accredited professional of the Green Building Council. He obtained his bachelor's degree in architecture from Pennsylvania State University and completed international studies in Rome, Italy and Cergy-Pontoise, France. He earned two master's degrees from UC Berkeley.
Kot will report to the executive committee of the board, presided over by President Zach Pannier of DPR Construction. Other committee members are Paul Stapleton, vice president, of San Diego Gas & Electric; Lee Barken, treasurer, of Haskell & White; Kamala Kuresman, secretary, of Nolte Associates Inc.; and board members Keith Schneringer of WAXIE Sanitary Supply; Jay Bart of Barona Ranch & Casino; Jay Corrales of Turner Real Estate; Carolyn Keith of The EcoLogic Studio; Christian Dick of Swinerton Management & Consulting; and Lucia Stone of Hutchens PR.
***
The National Association of Women Business Owners San Diego will presents its BRAVO! Awards at a dinner event May 19 at the Marriott Courtyard Airport/Liberty Station, 2592 Laning Road, in San Diego. The event is from 5:30 to 8:30 p.m. Winners will be announced for Woman Business Owner of the Year, Women's Advocate of the Year, Trailblazer Award, Signature Award, the Green Community Award and the Rising Star Award. Registration is available at nawob-sd.org. The deadline is May 14.
For more information, call (877) 866-2926.
***
San Diego Coastkeeper will host its quarterly Signs of the Tide public forum on June 3 from 6 to 8 p.m. at the Encinitas Library Community Room, 540 Cornish Drive, in Encinitas. The event will feature a panel presentation followed by small group discussions on marine debris in San Diego, its impact on the ocean and what the city and community can do to lessen the problem. Presentations will be from a panel consisting of Scripps Institution of Oceanography scientist Miriam Goldstein, city of Santa Monica environmental analyst Josephine Miller and Regional Water Quality Control Board assistant executive officer Jimmy Smith. For more information, visit Coastkeeper's Website at sdcoastkeeper.org. To register for the forum, e-mail Sarah Blakeslee at sarah@sccoastkeeper.org.
***
Marine Corps BEQ
The U.S. Marine Corps and design-builder Barnhart Balfour Beatty have held a ribbon-cutting ceremony for the completion of the $9-million renovation of a Bachelor Enlisted Quarters (BEQ) at Marine Corps Base Camp Pendleton.The BEQ supports the Marine Corps' School of Infantry and includes sleeping rooms and supporting facilities for 308 enlisted personnel. Construction began in June 2009 on the 60,000-square-foot, four-story quarters, with work including repair and refurbishment of two-person sleeping rooms, offices, TV lounges, game rooms, a vending area, a reading/Internet room, laundry rooms and windows. The building exceeds energy reduction targets by 30 percent and water consumption is reduced by 50 percent, qualifying the project for the equivalent of a LEED Gold conservation rating. The contract was one of the first San Diego-area military projects and the first project at Camp Pendleton completed using American Recovery and Reinvestment Act (ARRA) funds. The architectural firm Delawie Wilkes Rodriguez and Barker was Barnhart Balfour Beatty's design-build partner on the project. Naval Facilities Engineering Command Southwest provided contracting activity for the project.
***
Work will start soon on a $140.2 million construction project to raise the city-owned San Vicente Dam by 117 feet, an effort that will increase the reservoir's capacity by 169 percent and provide the region with additional local water reserves. The project, awarded to a joint venture partnership between Shimmick Construction Co. and Obayashi Corp., is the largest dam-raising project in the country and the largest of its kind in the world, according to the San Diego County Water Authority. It will create 5,500-job years of employment to the San Diego region, said Maureen Stapleton, Water Authority general manager. The dam is currently 220 feet tall. By raising it to 337 feet, the expanded reservoir will provide 152,000 acre-feet of additional water storage. Of that amount, 100,000 acre-feet will be dedicated to carryover storage — water stored in wet years for use during subsequent dry years. An additional 52,000 acre-feet of the increased storage will be dedicated for emergency storage. (An acre-foot is 325,900 gallons, enough to meet the needs of two single-family homes of four people for a year.) The construction contract also includes construction of a new saddle dam, a new outlet tower, a new pipeline and control facility and new access roads. Construction is expected to be complete by early 2013.
The dam-raising project is funded through bond sale proceeds. The Water Authority in January completed a $627 million bond sale to provide funds for capital improvement projects for fiscal years 2011 and 2012. Shimmick Construction Co. is based in Oakland and Obayashi Corp. is based in Tokyo, Japan.
***
The Cohn Restaurant Group, owner of 12 restaurants, have added another eatery to its culinary mix — The Melting Pot, a fondue restaurant that supplants the former Dakota Grill & Spirits at 901 Fifth Ave. in Downtown San Diego. David Cohn is the operaor. The setting includes private fondue tables, customizable booths for larger parties and a grand staircase that leads to the second story. Two private banquet rooms are available for groups of six to 20 people. At 5,000 square feet, the restaurant can accommodate more than 175 guests. The restaurant is open 5 to 10 p.m. Sunday through Thursday and from 5 p.m. to 11 p.m. Friday and Saturday. Cohn Restaurant Group also owns The Prado, Corvette Diner, Kemo Sabe, Blue Point Coastal Cuisine, Indigo Grill, Thee Bungalow, 333 Pacific, Gaslamp Strip Club, La Jolla Strip Club, Island Prime & C Level, Tea Pavilion and Pineapple Grill in Kapalua, Maui.