The Padres' Hispanic Connection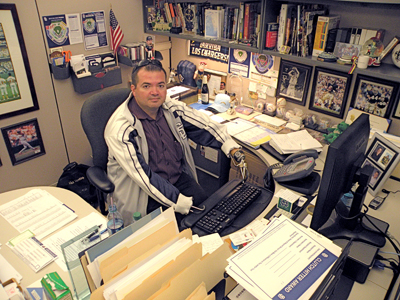 Former Colombian immigrant finds opportunity in adversity
By Cecilia Buckner
"If I say the word 'adversity,' what comes to mind?" asks Alex Montoya to a group of teenagers in the audience.
"Challenge!"  someone shouts from the left side of the room.
"Work!" another shouts from the right.
"What if I told you a good definition for the word adversity is opportunity?" Montoya asks.
Who better than Montoya to lecture young people about overcoming adversity? Born without arms and a leg, the San Diego Padres' manager of latino relations can point to his own life as an example of the accomplishments an individual can make with the proper attitude.
On this night, Montoya was speaking to a group of inner-city teens with problems of their own. They are involved in a North Park program called Reality Changers, which is designed to to help students headed in the wrong direction to get back on track, and provide them with the tools to become first-generation college students.
Michael Gaulden, who was homeless for nearly a decade, will graduate from the program this year. Both  Gaulden's father and grandfather are serving life terms in prison.
Many of the students at Reality Changers, like Gaulden, have faced extremely trying situations during their young lives. Montoya's presence alone provided assurance that they too can overcome their obstacles.
"If you are born missing both arms and one leg, how do you get through life? Montoya asks the students, holding out his hook-ended prosthetics.
"Whenever there is a challenge … you can't let it stop you. You have got to find a way around it."
Adversity — the loss of his limbs — Montoya says, helped him become the person he is today.
At age 2, Montoya, who lives in Paradise Hills, began traveling back and forth to the United States from Colombia to get medical care and fitted for prosthetics. He says this kind of care was not available in his country.
"If you were born with a disability, you couldn't go to school,"  he says.  "You can't get medical health … you weren't allowed to live a regular life."
Shriners Hospital in San Francisco and later, Los Angeles, paid for his prosthetics.
After a couple years traveling to and from Colombia, Montoya's family made a decision to keep him in the U.S. with his aunt and her three kids — a decision that would not be realized without a fight.
When Montoya was 18, a deportation order was issued. He would have been heading back to Colombia if the judge, in making his ruling, had not looked beyond Montoya's physical presence.
"He's an intelligent and courageous young man," said U.S. Immigration Judge John Williams in the court order that changed Montoya's citizenship.  "He has a strict work ethic and determination and  deserves to stay in the United States."
After the court's ruling, Montoya was accepted into the University of Notre Dame, where he earned a bachelor's degree in communications in 1996. He later earned a master's degree in sports management from the University of San Francisco.
Montoya has been interested in sports since he was a young boy. Although he says he felt he could not physically compete, he was determined to work in the field in some aspect. Nearly as far back as he can remember, he had his sights set on working for the San Diego Padres.
"When I was 10,  when the Padres went to their first World Series, I really fell in love with the team," says Montoya.  "I remember having it all plotted out in terms of, 'I don't know how it will happen, but that's who I want to work for.'"
Montoya spent seven years with the San Diego Hispanic Chamber of Commerce, working in membership and marketing. During that time he got a job with the Padres as an usher. After finishing a full day at the Hispanic Chamber, he would hop on the trolley  to usher Padres' games when they were being played in San Diego Stadium.
Seven years and several applications later, he landed the job as the manager of Latino relations, beating out several hundred other applicants.
In his role with the Padres, Montoya wears a few hats. His duties involve community and media relations, and some marketing, but mainly, his job is to help the Padres reach the Hispanic community — show them how great Padres' baseball is, he says.
Part of Montoya's interest in the Padres is attributed to the team's involvement in the community. That is something he feels a real connection with, he says  — the need to give back.
"Making a difference in the world … not just yourself … that's what it's all about," he says.
"My role is to oversee our marketing and charitable giving to the Hispanic community," adds Montoya. "That mainly entails attending Hispanic-focused events, ensuring we have a presence at Hispanic community street fairs and festivals, and overseeing our Spanish Website (padresbeisbol.com) and media coverage as well. It's a very important market for us and one in which we try to have an impact."
The Padres reach extends into Mexico through Spanish radio broadcasts of every game, advertising and the refurbishment of Little League parks in Tijuana. The club also was the first to open a retail space  — Tienda Padres — in the Tijuana Plaza Rio Mall. "We also extend into Latin America through our baseball academy in the Dominican Republic and shortstop Everth Cabrera's notable presence in his native Nicaragua," says Montoya. "It's really a very internationally-focused organization."
Laura Broderick, the Padres senior vice president of brand development and Montoya's supervisor, says his character is a good fit for the position. "The Padres' mission is to win, provide a fun experience and serve the community, and with his highly effective leadership, Alex helps with all three of these goals," she says.
Says Tim McClain, another Montoya admirer: "Alex was always having a good day when we would bump into each other at the old World Trade Center building in the mid-1990s. His positive outlook is infectious and has to be Alex' most endearing trait. He met and charmed my son, who, like me, will never forget that first time shaking Alex' hand, and how comfortable it felt."
A book that Montoya published in 2008, "Swinging for the Fences," sets out some of the principles that are evident in his everyday life.  The ideals, he says, carry him through difficult times.
Have faith in yourself, God and your country, says Montoya. Stay connected to the important things in life, such as your family, friends, your dreams and education — and focus on what you have and not what you are missing.
At every opportunity, Montoya speaks about his life experiences. By the time this story prints, he will have spoken at  the 12th annual Memorial Breakfast at the San Diego Convention Center, held in honor of the late César Chavez, the Mexican-American farm worker who became head of the United Farmworkers Union. Montoya says Chavez is one of the people who has inspired him most. But, his "two moms," he says — his aunt and biological mother — are his greatest inspirations.
"I love my job," says Montoya. "I always wanted to work here because, not only do I love baseball, but I knew the Padres were heavily involved in the community. So on an average day, I'll answer fan inquiries, advise our Padres Foundation on Hispanic-focused organizations and needs we can impact, visit with Spanish reporters and our broadcasters in the press box and listen to fan feedback during the games. There are long hours and it can be grueling, but to be here is a privilege and a blessing."
Montoya's book is available online at tatepublishing.com and can also be found on amazon.com.