Q&A with Teresa Halleck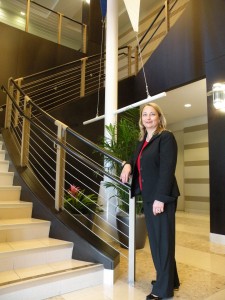 The president and CEO of San Diego County Credit Union talks issues and objectives
By Manny Cruz
When Irene Oberbauer unexpectedly retired as president and CEO of San Diego County Credit Union in February after less than three years on the job — she was diagnosed with breast cancer — the credit union launched a nationwide search for her replacement. The hunt ended last month when Teresa Halleck, 51, chief executive of the largest credit union in the state, Sacramento-based Golden 1 Credit Union, took the position.
With $4.9 billion in assets, 27 branch offices in San Diego, Riverside and Orange counties, and more than 210,000 members, San Diego County Credit Union isn't quite the behemoth that the $7 billion-asset Golden 1 Credit Union is, but it is by far the largest credit union in San Diego County.
Halleck spent nearly eight years at the Sacramento credit union, the sixth largest credit union in the U.S. During her tenure as president and CEO, its assets grew from $4.1 billion in 2002 to $7 billion today. It has nearly 700,000 members and has 84 offices, up from the 65 branches when she first took over. Before that, she was president and CEO of State Employees Credit Union of Maryland,
Halleck has a bachelor's degree in accounting from the University of Maryland at College Park and a master's degree in financial management from The Johns Hopkins University. She and her husband, Bob, have a son and one "mentee," an emancipated foster youth "we consider part of our family." They also have six dogs.
Halleck gives her opinions on credit union industry issues in this Q&A:
Q. Why did you take the position of president and CEO of San Diego County Credit Union?
A. San Diego County Credit Union is a wonderful organization with a proven track record of strong financial performance and a dedication to exceptional service and convenience. I look forward to contributing to SDCCU's continued success and becoming an integral part of the local community.
Q. In your opinion, what are the most pressing issues confronting the credit union industry today?
A. The most pressing issue currently confronting the financial services industry is that of identifying additional ways to help consumers meet their financial goals and dreams despite the lackluster economy. SDCCU is well respected in the community and continues to be a trusted financial partner for those seeking convenience and exceptional service. Federal-level regulatory changes are also changing the way financial institutions do business and the industry continues to remain keenly aware of pending regulations and how they will impact consumers.
Q. Generally, how are credit unions surviving under one of the most serious economic downturns of recent years?
A. SDCCU is doing very well despite the economic downturn. While all financial institutions have been affected to some degree by the economic conditions, SDCCU remains financially strong and sound and well-positioned to continue to meet the needs of our customers and the community.  The credit union continues to make auto, home and equity loans, as well as other types of loans, as a trusted financial partner in the community.
Q. Are there any kinds of new programs or services that credit unions must embrace to keep members and attract new ones? Which are the ones you favor the most?
A. As a trusted financial partner, the community looks to SDCCU to offer top-notch convenience. Customers expect to be able to do business with their financial institutions "anywhere … anyway… anytime" they elect to do so. As a result, online services remain a focal point in convenience with mobile banking being of tremendous benefit to the customer. A customer enrolled in SDCCU's "On The Go Branch Mobile Banking" is now able to immediately get their account balance through an inquiry via their iPhone, Blackberry or most mobile phones. This enables them to better manage their finances and validate their current account balance without having to make a phone call or login online.
Q. How will credit unions be affected by the new federal regulatory reforms? If you are affected, will compliance present any particular problems?
A. Management continues to monitor the new federal regulations for impacts to the financial services industry.
Q. What are the great differences between a person holding a   membership in a credit union and a person banking at a bank?
A. Many banks are stockholder-owned entities which, by their very business model, are driven to enrich shareholders instead of focusing solely on their customers' needs. These stockholders may not even be customers of the bank and may simply hold such stock as an investment. In addition, control of the bank is oftentimes non-local and frequently located out of state. In contrast, credit unions do not issue stock and are therefore able to focus solely on meeting the needs of their customers and the local communities they serve. From a consumer perspective, this is a huge difference that typically results in a better banking experience at a credit union. It is this difference, coupled with a local community focus, that has resulted in over 92 million consumers choosing to do their banking at a credit union.
Q. Are all credit unions members of the FDIC?
A. SDCCU's deposit accounts are federally insured. The federal insurance fund for credit unions is the National Credit Union Share Insurance Fund, which offers the same account coverage as that of the FDIC.
Q. Have you seen an appreciable increase in credit union membership as the result of recent bank failures and buyouts?
A. In the recent past when the mega-banks were making news headlines relating to earnings losses and the resulting mergers, the credit union industry did see an influx of consumers seeking  a better alternative that would offer a more consumer-friendly experience. At the national level, some well known consumer advocates (including Suzy Orman and Huffingtonpost.com) have highlighted the benefits of banking with a credit union and have even recommended that consumers take action and move their accounts if they are dissatisfied with their bank's actions. This positive press, at the national level, has helped educate some consumers that otherwise did not realize they have another option for their banking needs.
Q. Do you believe it is necessary for credit unions to aggressively market themselves as superior alternatives to banks in order to draw customers away from banks? Is that even necessary?
A. As with any industry, it is always beneficial to highlight the strengths that an organization offers when promoting its products and service.  Highlighting exceptional service as a hallmark of SDCCU is a natural fit and reflects our focus on an exceptional customer experience coupled with convenience.
Q. What are the most important things you can tell a  potential credit union member to attract them to the industry?
A. SDCCU's focus is on providing an exceptional customer service experience along with convenience to enable the consumer to conduct financial transactions "anywhere … anyway… anytime" they are needed as their trusted financial partner. And, as the largest locally-owned financial institution in the area, we are a trusted financial partner and an integral part of the local communities we serve. By choosing to bank with SDCCU, a customer is choosing to support his or her local community.
Breast cancer survivor Irene Oberbauer becomes a poster woman for women fighting for their lives
On Sunday, Nov. 7, Irene Oberbauer will join more than 13,000 other San Diegans for the 14th annual Susan G. Komen San Diego Race for the Cure in Balboa Park. Oberbauer, who retired as president and CEO of San Diego County Credit Union after being diagnosed with breast cancer, was named San Diego's 2010 "Honorary Breast Cancer Survivor."
"Irene Oberbauer is one of the strongest women I have ever met," said Laura Farmer Sherman, executive director of Susan G. Komen for the Cure San Diego. "She is in equal parts smart, savvy, passionate and tireless. She is an inspiration to women of all ages. Komen San Diego is so proud to have her represent our cause to end breast cancer forever."
Oberbauer was diagnosed with stage three breast cancer in October 2009. She found a pea size lump on her right breast in June of that year, and she didn't receive the correct diagnosis until five months after her initial exam, an ultrasound, a mammogram, numerous follow up appointments and a second opinion.
Feeling angry and extremely frustrated with the medical care she received up to this point, Oberbauer did her research and decided she needed to switch surgeons, even if that meant going out of her insurance network. Because she previously worked for the county of San Diego, she was able to retire to gain the coverage she needed. She found Dr. Ann M. Wallace, professor of clinical surgery and director of UCSD Moores Cancer Center Breast Team, and together they began plans for a mastectomy and chemotherapy immediately.
On Nov. 12, 2009 a 10-centimeter tumor was removed from Oberbauer's right breast. In total, she has had eight rounds of chemotherapy, and she completed 33 radiation treatments. She endured three chemotherapy treatments while still recovering from her mastectomy before retiring from the credit union in February.
Oberbauer credits Gerri-Lynn Fives, her "cancer buddy," with helping her cope.  Fives is a Coronado resident and real estate broker associate that Oberbauer met by recommendation of her oncologist. "Try to connect with someone who's also going through cancer treatment, preferably someone who is further along in treatments than you," said Oberbauer. "Even if you do nothing but sit and talk about the treatments and what to expect, the simple fact of knowing you're not alone in this is huge."
She is now cancer free, but she knows her journey isn't over. She looks towards the future and she is committed to encouraging women of all ages to be their own health advocates. "It's not over the day radiation is over," said Oberbauer. "Everyone says, 'Congrats, you're done!' But there's a journey starting at that point that is still very difficult. That's the beginning of survivorship and it starts with continuing to be your own advocate — and standing up for those who can't or don't know how. That's what this is all about. I want women of all cultures to understand this: You deserve a lifetime. You deserve competent medical attention. You know your body best. If something is wrong — get the answers you need. We're here to help you do that."
Oberbauer's sister, chief of staff to the San Diego County sheriff, was diagnosed with breast, lung and brain cancer a few months before she received her own diagnosis. She died on May 3, during the course of Oberbauer's treatment. Her father was also diagnosed with cancer in January 2009, but he is now cancer free.
Oberbauer promised her sister she'd fight for both of them. Just like the promise Nancy Brinker made to her sister, Susan G. Komen, who died from breast cancer in 1982. Susan G. Komen for the Cure was founded on that promise: to do something to help women suffering from breast cancer.
"Anyone can fill in the blank for what it is you owe to yourself, but as women we have to remember we truly do owe it to ourselves to be our own advocates and to all continue this fight to one day find a cure for this devastating disease," said Oberbauer.
A survivor ceremony will be held prior to the race to recognize Oberbauer as well as other San Diego breast cancer survivors.
The Susan G. Komen San Diego Race for the Cure will begin at 8 a.m. on Nov. 7. Information on the fundraiser is available by calling (760) 692-2900 or by visiting komensandiego.org. In 2008-2009, the Komen San Diego affiliate raised $650,000 toward education, screening and treatment services in San Diego County. The goal this year is to raise $1.3 million.