Most Admired Companies in San Diego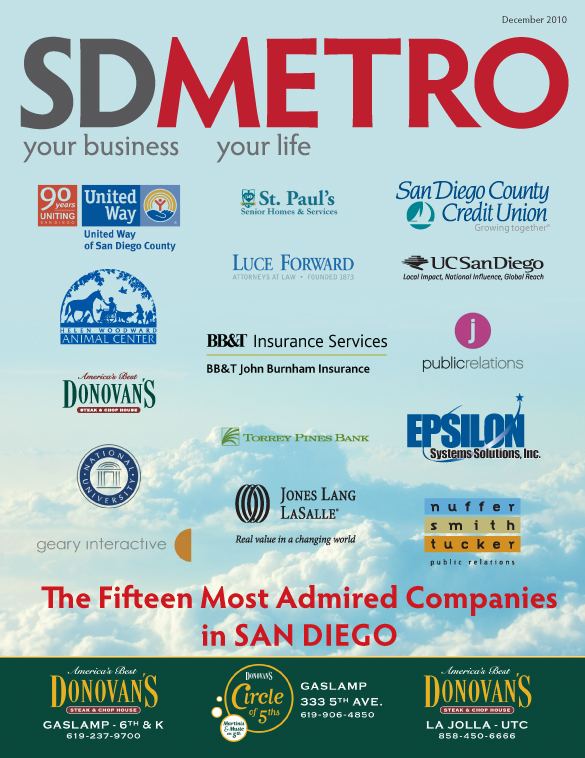 BB&T John Burnham
BB&T John Burnham has provided business risk and personal insurance solutions since its founding in San Diego in 1891. Acquired in 2008 by BB&T, John Burnham is part of a 100-agency strong corporation that is currently the nation's sixth largest insurance brokerage.
The San Diego chapter of National Association of Insurance Women (NAIW) selected BB&T John Burnham as its Employer of the Year recipient. The award honors local insurance employers based on their contributions to the community and involvement with the NAIW organization.
BB&T John Burnham serves the corporate, education, transportation, real estate and nonprofit industries through the provision of property and casualty services, employee benefit consulting, surety bonds, owned controlled insurance programs, risk management, workers compensation and key person insurance.  The company also offers complete personal lines' coverage.
BB&T was rated excellent  for customer satisfaction in three separate studies conducted by independent  research group Greenwich Associates.
BB&T was founded in 1922 and is one of the largest financial services holding companies in the U.S. with $155.1 billion in assets and market capitalization of $18.2 billion.
BB&T John Burnham is very active in the San Diego Community with involvement in several charitable organizations.
San Diego Credit Union
With the opening of a new branch in Kearny Mesa and a new Oceanside branch scheduled to open in early 2011, SDCCU continues to grow and prosper. The new branches will bring to 28 the number of SDCCU storefronts operating in San Diego, Orange and Riverside counties.
San Diego County Credit Union is the largest locally owned full-service financial institution in San Diego County.  It has a diverse membership of over 210,000.
SDCCU has been recognized as one of the top home loan lenders in San Diego County. It has been ranked as California No. 1 credit union lender for real estate loans, including first and second mortgages, refinances and equity lines of credit, in both 2008 and  2009, according to the National Credit Union Association (NCUA).
Based on the SDCCU philosophy of people helping people, the credit union employees have spent extra time this year creating special workout loan programs for many homeowners who have had trouble making their monthly payments.
San Diego County Credit Union embraces a go green initiative, which encompasses online banking through their  Internet Branch. Customers can view eStatements, eNotices and eTax forms online — which saves time and trees. On The Go Branch, Mobile Banking, SDCCUDirect, ZashPay and MoneyTracke are all recently added eServices that add to customer convenience. SDCCU strives to always use the latest technology to protect their customers' privacy.
Investment choices have been made easier with the addition of LPL Financial located at SDCCU, which is a full service brokerage firm headquartered in San Diego, offering a complete array of financial investment services, including stocks, bonds, mutual funds, annuities and insurance.
The credit union is the nation's only to serve as a title sponsor of a college football bowl game, the San Diego County Credit Union Poinsettia Bowl, where $1 of every ticket sold goes directly to the Make-A-Wish Foundation.   SDCCU is a valuable community leader with support  to over 75 non-profit groups each year.

Donovan's Steak and Chop House
Donovan's sets the standard of fine dining excellence. A classic steakhouse.   A stylish, lively atmosphere. Cordially friendly. A place where you can celebrate with friends, family and associates.
Owner Dan  Shea says, "Our best efforts are directed towards making our diners feel welcome, comfortable and involved with our staffs. We'll even Google some visitors before they arrive so we know a bit about them to relate to. We train our staffs to learn our guests preferences and then we keep notes in our computers so that we can meet their wishes. That's why our guests think of dining at Donovan's often as well as on special occasions."
Debbie Shepard, who  is the general manager of the La Jolla Donovan's, says, "The restaurants are  very much involved in the community, giving back often.We feature a food bank, where its customers drop off food to share with less fortunate families. It is a big event that is even seen on television and we also offer our famous sandwiches to military events, giving away as many as 500 of them."
Yet what best puts into perspective Donovan's caring philosophy is that whenever a military family or personnel arrives, their table is instantly set with a personalized plate which identifies them as "Our Hero" and a $50 gift certificate.
USDA Prime Steaks reign supreme. Delectable market seafood for those non-steak moments. A depth of wine variety that has earned the prestigious Best of Award of Excellence from Wine Spectator.
The newest Donovan's is the Circle of Fifths in Downtown San Diego. What's in a name: For hundreds of years Circle of Fifths has been a valuable tool that has helped musicians find the fundamental relationships music is based on. Circle of Fifths defined: the chart used in music theory to show relationships among the 12 tones of the Chromatic Scale, their corresponding key signatures and the associated major and minor keys.
Donovan's Circle of Fifths is the perfect destination for an upscale, business-casual good time.  An experience of nightly live music, dining excellence and quality above all; an experience unlike anything else you'll find in San Diego.
UC San Diego
Celebrating its 50th anniversary , the UC San Diego is one of the top higher education and research universities in the nation, renowned for its positive impact on the local region, nation and world.
UC San Diego was recently  ranked No. 1 by Washington Monthly for its positive impact on the country and the seventh best public university in the nation by U.S . News & World Report. The results of measurements  recently  provided by the National Research Council indicates that UC San Diego ranked 11th in the nation overall compared to all comprehensive institutions.
UC San Diego is an economic engine in San Diego County, generating $3.85 billion in spending and providing more than 34,200 jobs. Yet the university's impact spans far beyond economics.
As a key component of its 50th anniversary celebration, UC San Diego has launched Volunteer 50: Chancellor Marye Ann Fox's Call to Service to challenge students, faculty, staff, alumni and friends to perform at least 50 hours of volunteer service during the current academic year. Volunteer 50 is focused on making a difference in areas ranging from the arts and education to poverty and health care. Leading the charge, Fox will serve as honorary co-chair for the San Diego Food Bank's Holiday Food Drive to help address hunger.
In addition, UC San Diego's efforts to enhance the campus climate and diversity on campus have yielded significant results: the university welcomed a record number of under-represented new students, up a significant 23 percent for both freshmen and transfer students.
As the university celebrates its achievements over the last five decades, its sight is set firmly on the next half century, making UC San Diego's one of the most  admirable "companies" in the city.
Geary Interactive
The executive management makes every effort to maintain an innovative, caring and progressive corporate culture. The company holds weekly innovative sessions where pizza is served and team members present new ideas/trends in digital marketing. The company conducts quarterly employee surveys that are shared with managers to ensure employees are content and informed  about corporate updates.  Geary also hosts Town Hall meetings each quarter.
Geary Interactive also has several committees that support local charities and facilitate corporate events.
Leslie Hammann says in the three years which she has worked for Geary Interactive she has learned "exactly how rare a company it is" and how all who work there feel the same commitment to its success.
United Way of San Diego
Kai, a 17-year-old Myanmar refugee, came to the U.S. last year. She didn't know about banks, how to pay  taxes or balance a budget. But now, after taking financial education programs funded by United Way of San Diego County (UWSD), she teaches her parents and other refugees about the U.S. banking system. There are countless other San Diegans, like Kai, who now have a brighter future because of UWSD.
Teaching money skills. Stopping child abuse. Fighting homelessness. Helping children. Improving quality of life. For 90 years, UWSD has been known as an agent of change, mobilizing the community to solve the critical problems we face.
UWSD has founded/helped start such important community organizations as LEAD San Diego, Volunteer San Diego, Regional Task Force on the Homeless, the San Diego Foundation, 200 San Diego (formerly Info Line), and San Diego Grantmakers. Programs such as Community Housing Works and SAY (Social Advocates for Youth), San Diego  encourage adults and kids to learn how to manage their money better.
SafeCare and Better Dads, Better Kids tackle causes of child abuse and neglect. UWSD recently implemented a Community Impact business model — the latest step in ensuring positive transformations in the community.  The pay-for-performance model solves specific issues by strategically distributing  resources to organizations that demonstrate a need and can achieve quantifiable results – proving to donors and San Diegans that San Diego County's most important issues are being effectively addressed.
Torrey Pines Bank
With over $18 billion in assets, 150 employees and eight offices, Torrey Pines Bank has built a solid foundation based on conservative practices and the financial resources that allows San Diego companies to be opportunistic in starting and expanding businesses. In a time when many banks are contracting, TPB is profitable and has the liquidity to address customer loan demands.
Torrey Pines Bank's strength is also demonstrated in exceeding all federal regulatory capital level requirements and maintaining an admirably low level of non-performing assets.
The bank is also a positive corporate citizen, donating over $1 million to charitable causes since inception.
J Public Relations
J Public Relations is a truly admired company across all realms of the hospitality PR industry. The JPR team achieves a balance of professionalism, knowledge and not taking themselves too seriously that is greatly admired and appreciated by clients, writers and editors, media and industry leaders.
With each and every client event, pitch to a publication, or even just tweeting about happenings within the office, JPR  withholds  this unique and charming image.
With an expanding company and  growing roster of clients worldwide, JPR has proven that hard work, drive and a genuinely positive attitude is the formula to reach new demographics, and build and maintain strong relationships throughout the industry.
St. Paul's Senior Homes and Services
St. Paul's has been serving San Diego seniors for over 50 years and continues to open new businesses to meet the needs of the community. Just this year it opened a memory care program to serve those with Alzheimer's and dementia.  This was in direct result of a community need.
This innovative organization has done this through years being ahead of the curve with programs like its Intergenerational Day Care Program and PACE Program.  It is truly a  gift to San Diego to have an organization looking out for its citizens.
Luce, Forward, Hamilton & Scripps
Luce Forward, one of California's leading law firms, has been a part of San Diego and its legal landscape for more than 135 years. As San Diego and its surrounding communities continue to flourish, Luce Forward remains an integral part of the region's development.
Although Luce Forward has earned a reputable presence throughout California and nationally, its roots belong to America's Finest City and it is proud to be considered  one of the region's most iconic institutions.
Epsilon Systems Solutions Inc.
There  are few, if any, companies whose corporate goals center on accomplishing is mission through a practice similar to that of an amphibious invasion. But that's exactly what the focus is at Epsilon Systems Solutions: "Invade England!"
After viewing the movie, "Braveheart," Brian Min, founder, president and chief executive officer of Epsilon Systems, watched it yet again and again.  He considered the struggles and accomplishments depicted in the movie to closely mirror that of a company with is challenges to form, to grow and to succeed, regardless of the odds.
Epsilon's employees were asked to define the values that the company  could always point to as the guiding principles in dealing with its customers, their community and , most importantly, themselves. They chose people first, integrity, excellence in quality, generating customer success, having fun, being innovative, nimbleness and flexibility and give back to the community.

Helen Woodward Animal Center
Helen Woodward Animal Center is an organization where "people help animals and animals help people." Under one management, this unique nonprofit organization with varied services benefits the community by providing educational and therapeutic programs for people as well as humane care and adoption for homeless animals.
Helen Woodward believes life is most precious when trust, unconditional love and respect exist as the primary bond between animals and one another.
The Helen Woodward Animal Center was established in 1972 as the San Dieguito Animal Care and Education Center with is primary focus on animal adoption and education. After being renamed in 1987 for the founder, Helen Woodward, the center took on an additional goal to strengthen the bond between humans and animals and teach a humane philosophy  toward living creatures.
Its community services includes Pet Encounter Therapy, Therapeutic Riding and AniMeals.
Helen Woodward's Home 4 the Holidays program started in 1999 has  saved the lives of over 3 million orphaned animals in the United States and around the world.
National University
National University is committed to its core values and its employees. No staff have been laid off due to the economic recession.
Robin Jones, says the benefits of employment at National University are amazing. The tuition benefit allowed her to earn her degree and the sick donation policy allowed her to receive her normal salary for  six months after she was nearly killed by a drunk driver.

Nuffer, Smith, Tucker Inc.
Bill Holman of the San Diego Regional Chamber of Commerce says Nuffer, Smith, Tucker "has played a critical role in helping the chamber with public relations activities as well as to think strategically about every opportunity that comes our way and how we want our organization to be viewed by the business community."
As a full service public relations agency, Nuffer, Smith, Tucker has been helping companies throughout San Diego and across the country for more than 35 years.
From handling social media outreach and consensus building to cultivate relationships with key stakeholders and managing a crisis, Nuffer, Smith, Tucker has developed a well-deserved reputation of being that go-to-partner for organizations and businesses to turn to for support, whether they are experiencing a complex issue or looking for general communications insight.
On the client side,  Nuffer, Smith, Tucker represents a diverse mix of industries, including agri-food and consumer products. Some of its clients include WD-40, Chicken of the Sea, Sony Electronics, Dairy Council of California, the San Diego Union-Tribune and McDonald's of San Diego County.

Jones Lang La Salle
The San Diego office of Jones Lang LaSalle is one of the leading real estate services and investment management firms in the region.
JLL provides a collaborative environment for its employees.  The global outlook of the firm takes a strong position on sustainability and promotes a balanced work/personal life. The strong ethics found throughout the company permeate globally. There is strong support for diversity and women and the company consistently provides its employees with the tools and resources  they need to succeed
JLL's very swift aid to disaster victims in Pakistan in August was outstanding and the San Diego office personnel recently participated, monetarily and in person, of building a house for a family in need in Mexico. Everyone at JLL is willing to work together for the greater good.
Lynn LaChapelle says that in the 26 years she has been in finance and commercial real estate that "JLL is an incredible place to work" and that "its culture of collaboration separates JLL from any company I've worked for."