Daily Business Report — Dec. 22, 2010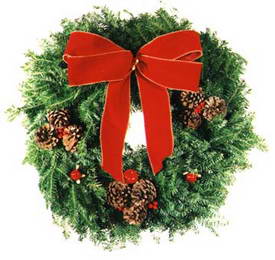 Merry Christmas!
From Bob and Rebeca Page and the staff of SD METRO, the North Park News
and Kensington News
Economic Index Rises
The USD Burnham-Moores Center for Real Estate's Index of Leading Economic Indicators for San Diego County rose 0.3 percent in November.  Leading the way to the upside were big gains in the outlook for the national economy and initial claims for unemployment insurance. There were smaller increases in local stock prices and consumer confidence. These outweighed another sharp drop in building permits and a small decrease in help wanted advertising to help break a string of three straight months where the USD Index was unchanged.
November's gain marked the 20th consecutive month where the USD Index has either increased or remained unchanged. The outlook then remains unchanged from that of recent months: Slow to moderate growth is expected in the local economy for at least most of 2011. A key development occurred in the local labor market in November, when nonfarm wage and salary employment increased by 100 jobs compared to the same month in 2009.  While the gain was tiny, it was the first time since the downturn began in April 2008 that the year-over-year employment comparison was positive.  The forecast for 2010 is for a gain of 10,000 to 15,000 jobs, with health care, business and professional services, leisure and hospitality and construction to be the biggest gainers (the latter from very depressed levels). Manufacturing and government are the sectors to remain under the most pressure.
November's increase puts the USD Index of Leading Economic Indicators for San Diego County at 110.3, up from October's reading of 110.0.
Kyocera Plant Manufactures 1 Millionth Solar Module
Kyocera's manufacturing facility in Tijuana has produced its 1 millionth solar module, an achievement celebrated Tuesday by more than 400 of its employees. Company officials said the millionth module testifies to Kyocera's early involvement in solar manufacturing. It was in December 2004 —nearly 30 years after manufacturing its first solar modules in Japan — that the company started module production in Tijuana. Kyocera expanded that facility with a second plant in 2009, increasing the capacity in Tijuana to 240 megawatts per year. In June 2010, the company began its first U.S. production of solar modules, with an initial capacity target of 30MW per year in San Diego.
Solar energy is now one of Kyocera's fastest-growing businesses globally, with the company targeting global production capacity of 1,000 megawatts annually (equal to one "gigawatt") by March 31, 2013. In addition to the operations in San Diego and Tijuana, Kyocera currently has solar module manufacturing facilities in Japan, China and the Czech Republic. The one-gigawatt capacity will allow the company to supply 3.5-kilowatt solar-electric systems for about 285,000 homes each year.
More than 20 Kyocera facilities worldwide already incorporate their own on-site solar electric generating systems, including a 214-kilowatt Solar Grove parking lot in San Diego and a 100-kilowatt rooftop system in Tijuana.
"Our Mexico facility's one-millionth module will go on display to symbolize how far we've come locally in just six years," said Steve Hill, president of Kyocera Solar Inc. Kyocera established U.S. operations in 1969. Kyocera Group companies currently employ about 4,000 people in the United States.
Symposium to Examine Social Media Trend
The second San Diego Social Media Symposium presented by Nuffer, Smith, Tucker and SDSU's Digital & Social Media Collaborative will be held Jan. 28 at SDSU's Parma Payne Goodall Alumni Center. The event will provide an opportunity to discuss where social media is today and its future. Peter Shankman, the founder of Help A Report Out, will deliver the symposium's keynote address. The symposium also will feature four panels and a working lunch at which attendees will be able to discuss a wide range of social media topics. Panelists include representatives from the San Diego Chargers, San Diego Zoo, Sharp HealthCare, Pechanga, Life Technologies, San Diego Symphony and the San Diego MOMfia. Panel topics include: How to Identify and Energize Your Most Loyal Fans Beyond Listening; Using Social Media to Make Real Changes to Your Business; Social Media Case Studies: What Worked, What Didn't; What's Next in Social Media — From New Technologies to New Trends.
Attendees who register by Dec. 31, 2010, will receive the early bird discount of $99 per person. Starting Jan. 1, ticket prices will be $129 per person. PR Newswire and WestGlen are sponsoring the event. For more, visit sdsocialmediasymposium.com.
Future of the e-Book to be Discussed
The future of the e-Book versus the traditional printed page, along with the many e-Reader products on the market, will be explored at the next SD/PEN meeting at Joyce Beers Community Center, 4065 Vermont St., in the Uptown Shopping Center in Hillcrest, on Jan. 20 at 6:30 p.m. Copy editor, publisher, and avid reader Stephanie Glidden, an SD/PEN member, will share her experience of transitioning from the hardcopy world of books and newspapers to her new passion for the Kindle, Amazon's wireless reading device. A representative from Barnes & Noble will join Glidden to discuss the features and benefits of their e-Book reader, Nook. A Borders representative will introduce the features of their flagship e-Reader, Kobo, and present other e-Reader products by Sony and Cruz that Borders carries. Meetings of the San Diego Professional Editors Network (SD/PEN) are free to members and $10 for nonmembers. For more, visit sdpen.com.
Padres Ownership Group Purchases Triple-A Affiliate
The Padres ownership group headed by Vice Chairman and CEO Jeff Moorad has completed the purchase of the Padres' Triple-A affiliate, the Tucson Padres, formerly called the Portland Beavers. The Tucson Padres will play in Tucson for at least the 2011 baseball season. "Our ownership group is happy to have finalized our purchase of the Padres' Triple-A affiliate, so we can move forward with planning for 2011 and beyond," said Moorad. "We would like to thank the Pacific Coast League and Minor League Baseball for working with us to ensure the purchase process went as smoothly as possible." The Tucson Padres have finalized a lease with the Pima County Sports & Tourism Authority to play its 2011 season at Kino Stadium, formerly Tucson Electric Park. The agreement could be renewed for 2012, depending on the construction progress of a new ballpark in Escondido, which aims to be the eventual long-term home of the Padres' Triple-A club.
Two Join Best Best & Kreiger's San Diego Office
Hannah Schartiger and Rebecca Andrews have joined the law firm Best Best & Kreiger in its San Diego office. Schartiger, a civil engineer-turned-attorney, graduated from the USD School of Law. Before joining the firm, she worked for the Naval Facilities Engineering Command in San Diego as a senior construction engineer. Andrews, who received a master's degree in theology, graduated from the USD School of Law last May.
Humane Society Leases New Space
The San Diego Humane Society and SPCA has signed entered a multi-year lease for an additional location less than a mile away from its existing North Campus location on San Luis Rey Road. Officials said the additional location will provide nearly 30,000 square feet of much needed space to house animals and expand the Society's animal services and community programs. The newly-signed lease begins on Jan. 1. The organization plans to eventually use the location as its primary animal campus in North County, while continuing to maintain the existing facility on San Luis Rey Road. The Society expects the new location to be open to the public sometime in the first quarter of 2011. The Humane Society's North Campus in Oceanside recently renewed a two-year contract with the city of Oceanside to provide animal field services, investigate animal cruelty and respond to citizen complaints.  It also provides the service to the city of Vista.
The Daily Business Report is produced by REP Publishing Inc., publisher of SD METRO, the North Park News, Kensington News and the West Coast Craftsman. (619) 906-4104.