Daily Business Report — Jan. 26, 2011
Foreclosure Activity Slows in San Diego County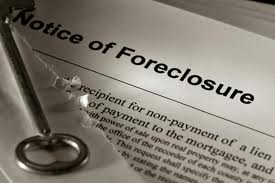 The number of San Diego County homes going into foreclosure dropped considerably in the fourth quarter of 2010 — a decline of 24.8 percent from the fourth quarter of 2009, according to San Diego-based DataQuick Information Systems. Notices of Default numbered 4,917 in last year's fourth quarter, or 1,619 fewer than the 6,536 recorded in the same period of 2009.
California Report:
Statewide, the number of Notices of Default (NoDs) dropped in the fourth quarter of last year to the lowest level in more than three years, DataQuick reported. The drop was the result of shifting market conditions as well as evolving lender and mortgage service policies. A total of 69,799 NoDs were recorded at county recorders offices during the October-to-December period. That was down 16.2 percent from 83,261 for the prior quarter, and down 17.5 percent from 84,568 in fourth quarter 2009.
Last quarter's activity was the lowest since 53,943 NoDs were recorded in the second quarter of 2007. It was just over half the record 135,431 default notices recorded in the first quarter of 2009.
"We don't know how much of the decline is due to less household financial distress, and how much is due to shifts in lender and servicer foreclosure policies. The level of default activity would certainly be higher if it weren't for alternative strategies such as short sales, or even lengthening grace periods," said John Walsh, DataQuick president. "The institutions that hold these loans in their portfolios will do whatever it takes to lessen their losses, including waiting. An additional factor is all the turbulence when it comes to the formalities of the foreclosure process."
On primary mortgages, California homeowners were a median six months behind on their payments when the lender filed the NoDs. The borrowers owed a median $16,368 on a median $325,775 mortgage. On home equity loans and lines of credit in default, borrowers owed a median $3,759 on a median $66,653 credit line. However the amount of the credit line that was actually in use cannot be determined from public records.
Second Phase Begins on County Operations Center
Lowe Enterprises has begun construction of the second phase of the multi-million-dollar County Operations Center and Annex redevelopment on Overland Avenue in Kearny Mesa — a project that includes two 150,000-square-foot, four-story office buildings, a 15,000-square-foot conference center and a cafeteria. The $188.5 million first phase was completed in October and consisted of two 150,000-square-foot office buildings and a seven-level, 1,800-space parking structure. About, 1,100 employees from nine county departments have relocated to the buildings. "We are proceeding ahead of schedule and under budget to deliver to the County expanded facilities that will allow it to further consolidate county operations from outdated facilities to this new campus," said Mike McNerney, senior vice president of Low Enterprises Real Estate Group.The final phase of the development is planned to include two additional 150,000-square-foot, four-story, office buildings, identical to the buildings in the prior phases, and another parking structure.
The project team includes RJC Architects, ROEL Construction, Howard Wright Construction and Arciero Brothers Construction with Project Management Advisors and the County of San Diego Department of General Services overseeing the project on behalf of the county Board of Supervisors.
Turner Construction Co. Employees Win Honors
Three employees of Turner Construction Co. have been selected to receive "Top 20 Under 40" Awards from Engineering News-Record California, which honors them for exemplary leadership and efforts to improve their communities.
• Victor Bullain, co-founder of the Five Dimensional BIM movement, teaches at the Turner School of Construction Management for small and minority-owned firms.
• Brendan Murphy, a project executive currently responsible for the construction of bachelor enlisted quarters projects at Camp Pendleton Marine Corps Base in Oceanside, is a veteran of 23 years in the construction industry.
• Carmen Vann, who has 14 years of construction experience, is the project executive for the new San Diego Central Library. She joined Turner in 2000.
ENR California, formerly California Construction News, a McGraw Hill Construction publication, has been distributing the award since 2004.  The recipients will be featured in the February 2011 inaugural edition of ENR California.
Real Estate News
• Davidson Communities Pouring Foundations: Del Mar-based Davidson Communities is pouring foundations for eight homes at The Sentinels at Del Sur. The phase of luxury residences will be released for sale at 9 a.m. on Jan. 29 in conjunction with a grand opening of the neighborhood. Homes at The Sentinels feature two- and three-story residences and are priced from the $700,000s. The first phase features west-facing home sites with canyon and sunset views. For more information, visit the sales office at 15682 Beltaire Lane, San Diego, or call (858) 756-4283.
• Office Condo Sale: CV Derm LLC has purchased a 2,400-square-foot office condo at Premier Crossing, 2395 S. Melrose Drive, in Vista, for $564,000. The condo will be used for a dermatology office. Larry Cambra of CB Richard Ellis represented the buyer. Claude Turon of Global Building LLC represented the seller, Premier Melrose I LLC.
• Industrial Condo Purchased: Dave Arce and Sandra Arce have purchased a 5,360-square-foot industrial condo at 215 Denny Way in El Cajon for $450,000. The condo is in a 27,696-square-foot industrial building. Other occupants include BMW Transmissions, Bose Inc. and PowerTrip Inc. Paul Lafrenz, Paul Komadina and Christina Roush of CB Richard Ellis represented the seller, Zions Bank. Mick Toller of Inland Pacific Commercial Properties represented the buyers.
• Shea Homes Purchases Encinitas Property: Homebuilder Shea Homes has purchased a 1.08-acre parcel of land on North Vulcan Avenue in Encinitas for $2.3 million and intends to build 20 flats of multi-family housing on the property, which is fully entitled. Matt Weaver, Patrick Miller and Trevor Jensen of Lee & Associates represented both the seller, Vulcan Townhomes LLC., and the buyer.
Panel Focuses on Integrated Marketing Strategies
Geary Interactive, a digital marketing agency, will lead a Jan. 28 San Diego Ad Club panel on building integrated marketing strategies. The panel will highlight digital marketing integration and discuss how marketers can bolster the effectiveness of their entire marketing program — online and offline. Case studies exploring how brands can create unified, cross-platform programs that drive results will be presented by Stephane Bardin, marketing director of Bumble Bee Foods and Paige Perdue, director of digital marketing for the WD-40 Co. Other speakers will be Sarah Kotlova, vice president of strategy and client services for Geary Interactive; and Vanessa Newkirk, vice president of media services for Geary Interactive. The program will be at 8 a.m. at the Courtyard by Marriott, 595 Hotel Circle South, in San Diego. The cost is $35 for Ad Club members, $45 for nonmembers and $20 for students. Register at http://bit.ly/Integrated_campaigns.
Jones Lang LaSalle Promotion
Joe Bernstein has been promoted to senior vice president of Jones Lang LaSalle in the firm's tenant representation group. Bernstein has been with the firm since 2007 and is based in the San Diego office. Bernstein has helped represent several companies, including The Hartford Insurance, Merrill Lynch Corp., Arrowhead General Insurance Agency and InnovaSystems International. Bernstein's expertise includes lease negotiations, renewals and tenant improvements. He holds a bachelor's degree from the University of Wisconsin.
Small Business Workshops
SCORE San Diego has scheduled January workshops to help small business owners and those interested in starting a small business. Fees range from $29 to $109. For more information, call (619) 557-7272. To register for a workshop online, visit scoresandiego.org.
• Jan. 27 – Internet Marketing 302: Develop a Winning E-mail Marketing Success Strategy – 9 a.m. to noon at National University – Kearny Mesa (9388 Lightwave Ave., San Diego 92123; pre-paid registration $49, $59 at the door).
• Jan. 27 – Financial Statements: What They Mean, How to Use Them – 9:30 to 11:30 a.m. at National University – Carlsbad (705 Palomar Airport Road, Carlsbad 92011; pre-paid registration $29, $39 at the door).
• Jan. 28 – Marketing and Contracting with State and Local Governments – 9 a.m. to 3 p.m. at National University – Kearny Mesa (9388 Lightwave Ave., San Diego 92123; pre-paid registration $69, $79 at the door).
• Jan. 31 – Intellectual Property: Promise and Practicalities – 9:30 to 11:30 a.m. at SCORE Entrepreneur Center (550 West C St., #550, San Diego 92101; pre-paid registration $29, $39 at the door).
North County
:
The Business & Entrepreneur Center and the Small Business Development Center at MiraCosta College will offer free upcoming workshops to help businesses succeed. The workshops will be held at Vista City Hall, 200 Civic Center Drive, from 11:30 a.m. to 1:30 p.m. on the following dates:
Feb. 1: Build a Basic Website for a Business in One Day: Participants will learn how to build a Website in one session including, how to insert videos, links, and pictures. Bring a laptop.
March 1: Increase Sales Using Social Media: Learn how to incorporate social networking into a business.
April 5:  Financing Options for Businesses: Direct lenders and the SBA will discuss financing options for a business.
May 3: Ways to Market A Business: Learn to identify the "right" customer for a business and easy ways to market your business to them.
June 7: Marketing A Business Using Google Tools: Learn how to use Google tools such as ad words, ad sense, Google trends and more.
Bring a lunch to the workshops. Drinks will be provided.
The Daily Business Report is produced by REP Publishing Inc., publisher of SD METRO, the North Park News, Kensington News and the West Coast Craftsman. (619) 906-4104.