Daily Business Report — Feb. 15, 2011
Sen. Kehoe Introduces All-Mail Election Legislation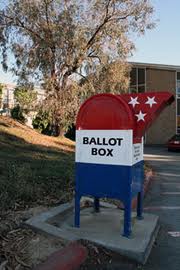 Sen. Christine Kehoe (D-San Diego) introduced legislation Monday that would allow all-mail elections in San Diego County, saying it would save local government millions of dollars and making it easier for voters to cast ballots. "This legislation will preserve citizens' right to vote and save money for local governments at the same time," said Kehoe. "Almost half of all voters in California now cast their ballots by mail and it's only natural that we move toward all-mail elections to increase voter turnout." The bill would apply to local, state and federal races on the ballot in San Diego County through 2016. Local jurisdictions would have the option of using such a voting system. Kehoe said the bill has the support of the San Diego County Board of Supervisors.
SB 304 creates a five-year pilot program, after which the county of San Diego must issue a report on costs and voter turnout demographics to the Legislature and Secretary of State. In last year's general election in California, 48 percent of statewide voters cast their ballots by mail, while 55 percent of San Diego County voters did. The bill would make San Diego the only county in California that allows all-mail elections. The counties of Alpine, Monterey and Stanislaus have tried similar pilot programs in the past. The city of San Diego used an all-mail election in May 1981 for a measure proposing to build a $224 million convention center, becoming the first all-mail election in the United States.
Kehoe said that when Stanislaus County used an all-mail election in the 1993 statewide special election, its normal voter turnout went from being six to eight percentage points below the state's average to 6.8 percent above the statewide average.
Contract to Upgrade Marine Corps Base Communications
General Dynamics Information Technology has been awarded a $9.3 million contract to perform network systems work at Camp Pendleton, Marine Corps Recruit Depot in San Diego and Camp Lejeune, N.C. The contract is from the U.S. Marine Corps Systems Command. "With this program, the Marine Corps bases will have access to the next generation of telecommunications and information technology networks, enabling seamless and more rapid dissemination of information," said Kenneth Slaght, vice president and general manager of the Naval IT Solutions sector at General Dynamics Information Technology. "General Dynamics will leverage its experience upgrading similar equipment, infrastructure and networks for U.S. Air Force bases and the Marine Corps, including the Marine Corps Enterprise Information Technology Center." General Dynamics Information Technology is a business unit of General Dymanics.
Jennifer Capitan Joins Integra Realty Resources Inc.
Jennifer A. Capitan has been appointed a senior analyst in the San Diego office of Integra Realty Resources Inc., an independent commercial real estate valuation and consulting firm based in New York. Capitan has completed valuations on a variety of properties, including automotive wrecking yards, asphalt and concrete recycling centers and historic and landmark buildings. She has been an independent appraiser since 1984. Before joining the company, Capitan founded her own appraisal firm, DJM & Associates, in 1993. She owns and manages her own real estate portfolio.
Leo O'Loughlin Named Senior V.P. for Jones Lang LaSalle
Leo  O'Loughlin has been named senior vice president of Jones Lang LaSalle's energy and sustainability Services group, based in the San Diego office. O'Loughlin has more than 20 years of energy industry experience. Most recently, he served as director of business development at Veolia Energy North America, where he was responsible for managing and expanding new business accounts and negotiating long-term energy services contracts. His prior experience included project management responsibilities for Trigen, Sempra Energy Solutions and PG&E Energy Services. O'Loughlin holds a bachelor of science degree in mechanical engineering from Purdue University and a master's degree in business administration from San Diego State University.
San Diego Magazine
Adds to Editorial and Sales Teams
San Diego Magazine has enlarged its editorial and sales teams. Erin Chambers Smith, formerly senior editor, has been promoted to editor and Erin Meanley has been added as associate editor. Chuck Scriven was hired as account executive, Salvatore Filippone was hired as digital media director and Megan Smith was promoted to junior advertising executive. Erin Chambers Smith previously managed a broad editorial strategy for Balboapark.org during a redesign phase and ran all editorial and community operations for Citysearch.com as its founding editor in San Diego. Meanley most recently was a freelance writer and blogger for Glamour.com . She was previously associate editor at Seventeen magazine and Scholastic. Scriven has extensive digital advertising experience and will be responsible for both print and digital sales. Filippone was most recently at MEA Digital and The Art Institute, is now responsible for all Web and mobile operations. Megan Smith, who had been sales and marketing assistant at the magazine, will be responsible for sales for both San Diego Magazine and Exquisite Weddings.
Bridgepoint Education Adds V.P. of Regulatory Affairs
Vickie Schray, a 13-year veteran of the U.S. Department of Education, has joined Bridgepoint Education as vice president of regulatory affairs. Schray's most recent duties were as senior policy analyst in the Office of Postsecondary Education, overseeing community college programs and initiatives. Before that, she was acting deputy assistant secretary for higher education programs. She also worked in support of the Secretary and Under Secretary of Education. Schray began her academic career in 1983, teaching in Portland, Ore.
BRAVO! Award Nominations Sought
Nominations are now being accepted for the annual BRAVO! Awards sponsored by the National Association of Women Business Owners San Diego. The awards will be held May 18 at the Marriott Courtyard Airport/Liberty Station, 2592 Laning Road, San Diego. Nominations are being sought for six awards: Woman Business Owner of the Year, Signature Award, Trailblazer Award, Green Community Award, Women's Advocate of the Year and Rising Star Award. Nominees don't have to be NAWBO members, self-nominations are permitted and the submission deadline is April 9. Winners will be announced at the event. For more, call (877) 866-2926.
Cedar Palms Apartments in Vista Sell for $1.7 Million
The Cedar Palms Apartments, a 14-unit multi-family property at 175 Cedar Road in Vista, has been sold to a private investor for $1.7 million. The property was marketed by Christopher Zorbas and Jeffrey Gabele of Marcus & Millichap's San Diego office. The apartments were built in 1986 and all are two-bedroom, two-bath units.
UCSD Celebrates Innovation Feb. 22-25
World renowned alumnus, slam poet and filmmaker Kip Fulbeck to perform as part of IDEaS
By Jade Griffin
Five decades ago, UCSD was founded with an idea — and a large dose of innovative spirit. As UCSD marks its 50th anniversary, the university welcomes the campus and local community to Innovation Day Expo and Symposia (IDEaS) Feb. 22-25 to celebrate and share the exciting discoveries, breakthroughs and innovation emerging from UC San Diego. The week of free events will feature dynamic leaders in the arts, sciences, technology, medicine and education who are making a positive impact in San Diego, the nation and the world. "Innovation is central to who we are and what we do at UCSD," said Chancellor Marye Anne Fox. "From the university's founders to our current freshmen class, the desire to explore, create and achieve is a common bond we all share." 

The Feb. 22-24 symposia, a series of dynamic talks by groundbreaking innovators, will lead up to the Innovation Day Expo on Friday, Feb. 25, featuring hands-on exhibits and the opportunity for students and community members to engage and network with industry leaders and innovators.  UCSD alumnus Kip Fulbeck, '88, M.F.A. '92, the world renowned spoken word artist, filmmaker and author exploring multiracial identity, will present the expo keynote address: "What Are You? The Changing Face of America." Featured on CNN, MTV, "The Today Show" and NPR, Fulbeck has written four books, directed 12 short films and performed and exhibited in more than 20 countries. Fulbeck will be available to sign books following his performance.

IDEaS's full agenda of free talks and events, which are open to the public, includes the following.  More information is available at 50th.ucsd.edu.
Tuesday, Feb. 22:
Noon – Beyond Identity Politics: UC San Diego's Innovative Approach to Diversity and Social Justice
UC San Diego's Campus Community Centers have forged an innovative partnership which has become a national model to enhance diversity, community building and social justice in higher education. Free lunch provided.
7 p.m. – A Future for the Past: Using Science to Safeguard Our Cultural Heritage
Uncover mysteries surrounding the works of Leonardo da Vinci, Michelangelo, Raphael, Botticelli and more with UC San Diego alumnus, National Geographic Fellow and "da Vinci detective" Maurizio Seracini, '73, of UC San Diego's California Institute for Telecommunications and Information Technology (Calit2).
Wednesday, Feb. 23:
Noon – Educating Future Innovators for Social Justice
From establishing new charter schools to fostering the next generation of leaders in the classroom, UC San Diego trains leading innovators in education, leveraging their talents and experiences to make educational change to better California. Free lunch provided.
7 p.m. – Half Century of Innovation and Intellect: Transforming Ideas into Nobel Breakthroughs
A distinguished panel of Nobel laureates share their unexpected paths to discovery and innovation—breakthroughs that have had a positive impact around the globe.
Thursday, Feb. 24:Y
Noon – Diversity is Our Future: UC San Diego in the Next 50 Years
As UC San Diego forges ahead into the next half century, a diverse campus community is essential for the university to stay at the forefront of innovation and find solutions to challenges facing the world. Free lunch provided.
7 p.m. – Creating a Healthier Future: Innovations to Defeat Disease
From powerful new treatments to cure cancer and reverse degenerative brain disease and spinal cord injury to revolutionary advances in robotics and minimally invasive surgery, discoveries in the UC San Diego Health Sciences are shaping the future of health care.
Friday, Feb. 25:
3 p.m. – What Are You? The Changing Face of America
Award-winning filmmaker, slam poet, author and UC San Diego alumnus Kip Fulbeck uses his own multiracial background as a springboard to inspire audiences to honestly consider, "Who Am I?"
4 p.m. – Innovation Day Expo
UC San Diego students and community members will meet face-to-face with world renowned leaders, scientists and researchers as part of the interactive, hands-on networking expo. All events are free and open to the public. Find more information and register for the symposia at 50th.ucsd.edu. Symposia held Feb. 22-24 will be held in the Price Center West Ballroom.  The Feb. 25 Innovation Day Expo, featuring keynote speaker Kip Fulbeck, will be held in RIMAC Arena. Register for the Innovation Day Expo at boxoffice.ucsd.edu.For questions, call (858) 534-6386.
The Daily Business Report is produced by REP Publishing Inc., publisher of SD METRO, the North Park News, Kensington News and the West Coast Craftsman. (619) 906-4104.