Daily Business Report — Feb. 17, 2011
Miramar College to Open New Campus Facilities
San Diego Miramar College will formally open the $34.4 million Humanities & Arts and Math & Business buildings on Feb. 22, two projects financed by the was funded as part of the San Diego Community College District's $1.555 billion Propositions S and N construction bond program. The 1 p.m. ceremony will feature speakers from the district and the college.
The Humanities & Arts Building has 45,000 square feet of new construction to house English, visual arts, music, speech and foreign language programs and includes "smart" classrooms, a lecture hall, recording studio and related space for faculty and support staff. The Math & Business Building has 45,899 square feet and includes smart classrooms with computers, audiovisual and multimedia equipment, a mathematics research center and space for faculty and support staff.
The ceremony will also include the formal opening of the new Compass Center, a large, circular azimuth compass feature in what will be
the new central gathering point on campus. The design recognizes and celebrates the important history of aviation at the Miramar campus, a former military airfield site known as the Hourglass Field. Flagstone runways are set within the compass shaped in the form of the original Hourglass Field, while the compass feature creates spacious pedestrian pathways that connect the surround buildings, both new and existing. The physical compass design evolved from a desire to integrate a practical learning tool for students on a number of educational levels – both aeronautical and mathematical.
NTC Architecture was the architect for the buildings. Sundt Construction was construction manager. Wimmer Yamada & Caughey was landscape architect. James Bray of Gafcon Inc. was campus project manager.
The Irving Group is Launched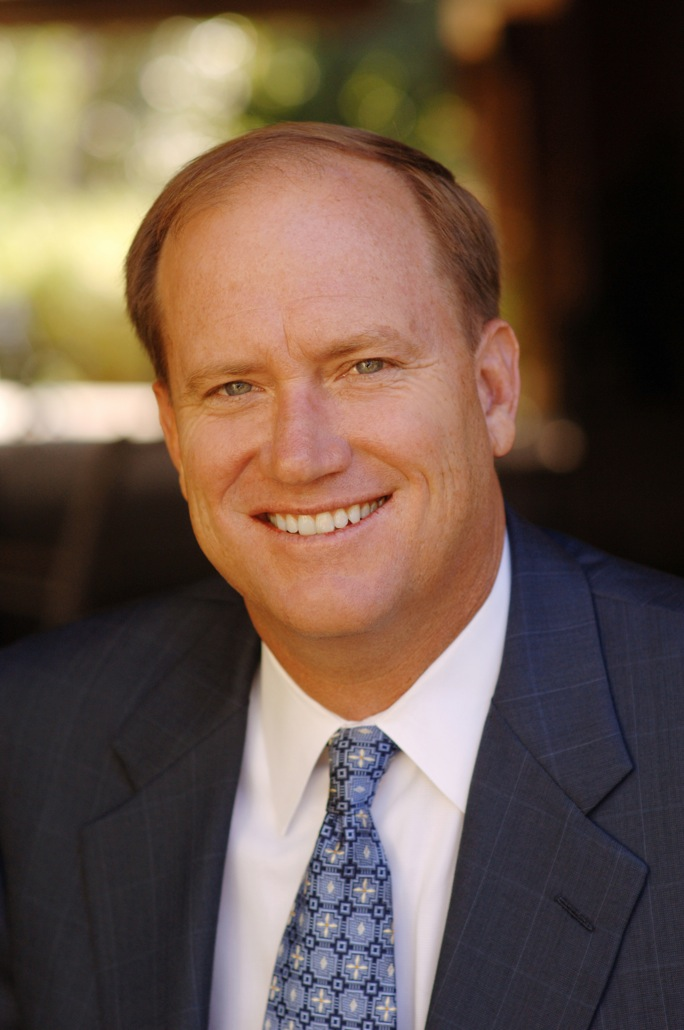 Craig Irving (left) on Wednesday formally announced the launch of his new business — The Irving Group — a day after the Irving Hughes real estate firm announced the split of its original partners. Irving's new business is located at 8910 University Center Lane, Suite 100, in San Diego. The company will provide representation exclusively to commercial tenants for their expansions, lease renewals, relocations and building purposes.
Irving is a third generation San Diegan. His father, retired federal Judge J. Lawrence Irving, started his legal career in Downtown San Diego in the mid- 1960s. After attending the judge's alma mater, USC, Craig Irving began his real estate career in 1985 at John Burnham & Co. In 1989, Irving left Burnham with John Donovan to start the Donovan Irving Group. Donovan left the business in 1993 and Irving changed the business model to exclusive tenant representation. Later that year he hired a competitor, Jason Hughes, to work for him and two years after that he made Hughes a partner and changed the name of the company to Irving Hughes.
Jason Hughes and David Marino have formed Hughes Marino, which is at 655 West Broadway, Suite 1650, in Downtown. That's where the former Irving Hughes office was located. Hughes Marino also will exclusively represent tenants.
Bryan Spevak Promoted at Nuffer, Smith, Tucker
Bryan Spevak has been promoted to vice president of Nuffer, Smith, Tucker, five years after he was hired as an account executive. Prior to joining the public relations agency, Spevak spent three years at the Museum of Contemporary Art San Diego, where he served as public relations/marketing manager, overseeing all institutional, exhibition and program-related communications. Spevak started his career as a publicist at Geffen Records and relocated from Los Angeles to San Diego in 1994 to manage the daily operations for local label Cargo/Headhunter Records.  He received his bachelor's degree from California State University-Fullerton. He is also a member of the San Diego Music Foundation's board of directors.
Procopio, Cory, Hargreaves & Savitch Adds Two Associates
Timothy Hsieh and Adrian Martinez have joined Procopio, Cory, Hargreaves & Savitch as associates in the San Diego office. Hsieh practices in the intellectual property section and Martinez in the litigation section. Hsieh was previously with the Irvine office of Greenberg Traurig. He holds a bachelor's degree from UC Berkeley and a master's degree from UCLA. His law degree is from the UC Hastings College of Law. Martinez was with Branton & Wilson. He is a legal consultant to the Mexican Consulate in San Diego and received his law degree from the Universidad Anahuac del Sur in Mexico City.
Joe Smith and Jorge Solis Join CB Richard Ellis
Commercial real estate veterans Joe Smith and Jorge Solis have joined CB Richard Ellis' San Diego central office. Both were previously with Cushman & Wakefield. Smith was named a senior vice president and has 30 years of experience in commercial real estate. He started his career with Coldwell Banker Commercial Downtown. Solis joins the company as an associate. He has specialized in the sales and leasing of industrial properties in the border area for the past three years.
Property Showcase Set for March 16
NAIOP San Diego, Newport National Corp. and the city of Oceanside will host a North County property showcase March 16 from 5 to 8 p.m. in The Campus, 5964 La Place Court in Carlsbad. Attendees will meet with property owners, developers, lenders, brokers and other real estate-related vendors. Cost is $30 for members paying in advance, $60 for nonmembers and $75 at the door. NAIOP San Diego is a chapter of NAIOP, the Commercial Real Estate Development Association.
Mark Silverman Named to NAI Global Elite
Mark Silverman of NAI San Diego has been named to the NAI Global Elite, a group of the organization's top performers and top producers. Silverman qualified as a top Producer at the Elite level based on production in 2010. The award was presented in a ceremony Feb. 9 at the NAI Global 2011 Convention in Las Vegas.
Kearny High Grad Awarded $50,000
Priscilla Elizalde, a graduate of Kearny High School's Construction Tech Academy, has won a $50,000 Rising Star Award from the U.S. division of Sun Life Financial Inc. to be used toward college tuition. Elizalde is currently a freshman at San Jose State University. the Sun Life Rising Star Awards program provides over $1 million in grants and scholarships — $5,000 each to 22 at-risk youth, who overcame the odds to further their education, and $50,000 each to 22 supporting nonprofits in Boston, Detroit, New York, Philadelphia, San Diego, Seattle, and South Florida.
Business Owner Success Conference
Feb. 26-27 – Fourth annual Business Owner Success Conference – 8:30 a.m. to 5 p.m. both days, at the Embassy Suites San Diego Bay Downtown. $69 per person. For more information, call (866) 214-6619. To register, visit businessownerssuccessconference.com.
Upcoming SCORE San Diego Workshops:
• Feb. 18 – Financing Your Business – 9:30 a.m. to noon at National University – Carlsbad (705 Palomar Airport Road, Carlsbad 92009; pre-paid registration $29, $39 at the door).
• Feb. 23 – Business Plan 201: How to Write a Winning Business Plan – 9 a.m. to 3:30 p.m. at National University – Carlsbad (705 Palomar Airport Road, Carlsbad 92009; pre-paid registration $99, $109 at the door).
• Feb. 25 – QuickBooks Advanced – 9 a.m. to 4 p.m. at National University – Kearny Mesa (9388 Lightwave Ave., San Diego 92123; pre-paid registration $69, $79 at the door).
• Feb. 25 – Business Basics 101 – 9:30 to 11:30 a.m. at SCORE Entrepreneur Center (550 West C St., #550, San Diego 92101; No charge – please pre-register).
• Feb. 28 – Restaurant 201 – 9 a.m. to noon at National University – Kearny Mesa (9388 Lightwave Ave., San Diego 92123; pre-paid registration $49, $59 at the door).
North County:
The Business & Entrepreneur Center and the Small Business Development Center at MiraCosta College will offer free upcoming workshops to help businesses succeed. The workshops will be held at Vista City Hall, 200 Civic Center Drive, from 11:30 a.m. to 1:30 p.m. on the following dates:
March 1: Increase Sales Using Social Media: Learn how to incorporate social networking into a business.
April 5:  Financing Options for Businesses: Direct lenders and the SBA will discuss financing options for a business.
May 3: Ways to Market A Business: Learn to identify the "right" customer for a business and easy ways to market your business to them.
June 7: Marketing A Business Using Google Tools: Learn how to use Google tools such as ad words, ad sense, Google trends and more.
Bring a lunch to the workshops. Drinks will be provided.
The Daily Business Report is produced by REP Publishing Inc., publisher of SD METRO, the North Park News, Kensington News and the West Coast Craftsman. (619) 906-4104.