Daily Business Report — Feb. 22, 2011
Hacienda-Style Homes on SOHO Display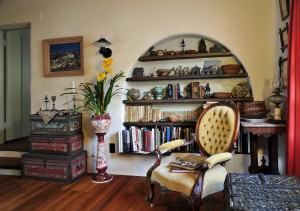 Designer Cliff May's earliest, hacienda-style homes from 1932 to1936 will be open together for the first time during Save Our Heritage Organisation's annual Home Tour Weekend March 26 and 27.  The day-long, self-guided home tour on March 27 will invite visitors inside five rustic, adobe-like homes with multiple beehive fireplaces and large, walled courtyards in the historic neighborhoods of Talmadge, Presidio Hills and Loma Portal. A classic home designed by May, a San Diego native who went on to be nationally known as "father of the ranch house," will be the site of a cocktail party on March 26. On both days, SOHO's Museum Shops at the Marston House and the Whaley House will feature select Spanish Revival and California Ranch House furnishings, period décor and books on architecture, preservation and do-it-yourself projects.
All proceeds from the Historic Home Tour Weekend benefit SOHO, San Diego's largest preservation organization, in its advocacy and educational work to protect San Diego County's historic architectural, archeological and cultural heritage, sites and landscapes. Founded in 1960, SOHO recently received a 2011 Governor's Award for the documentary it produced on its history and role in San Diego's preservation movement.
The colorful, little-changed haciendas on the SOHO tour demonstrate the impact of May's own rancho roots on his vision and designs for casual, indoor-outdoor living in Southern California that eventually spread across the nation.
Visitors can retrace the first creative steps of the entrepreneurial May (1909-1989), a sixth-generation native San Diegan and descendant of the Estudillo family. He spent his youth roaming or riding around authentic Spanish-Mexican adobe homes, including his Aunt Jane Magee's Rancho Santa Margarita y Flores, now part of Camp Pendleton, and La Casa de Estudillo, now in Old Town San Diego State Historic Park.
PHOTO: A room in the Loma Portal hacienda that Cliff May produced for Dr. John Beardsley in 1933.
Tech Coast Angels Announce Investments
Tech Coast Angels announced that it has funded 31 investments, including 12 new deals and 19 follow-on investments, in a wide range of start-up businesses. The investment network said it raised more than $40 million of total investment for its entrepreneurial companies, including more than $6 million through direct Tech Coast Angels investment and $33.9 million through other sources of venture and angel capital. The total number of investments is up significantly from 2009 when 24 deals were completed. "This past year was a dynamic time in our history," said  Mike Napoli, Tech Coast Angels  chairman. "Coming out of an economic recession, we turned the tide and invested in more innovative, game-changing entrepreneurial companies and experienced several profitable exits."
This year's investment portfolio represented companies in a wide number of growth industries including technology, biotech and pharmaceutical, social media, financial services, consumer products, and green technologies, among others, according to Napoli. The companies funded by Tech Coast Angels in 2010 included: Cyber-Rain; Benchmark Revenue; Allylix; Outside Labs; Vigilistics; H2Scan; Mobile XL; Continental Windpower; Amplyx Pharmaceuticals; OlFactor; Vokle; MicroPower Technologies; HitFix; Ranker; CardioCreate; MyShape; Bikestation; MasherMedia; Brand America; Intrastage; YouMail; Glassbeam; LaughStub; Ondax; Cosnet; Solulink; and Cognition Therapeutics.
Nexus Dx Inc. Names V.P. of Finance and CFO
Nexus Dx Inc., founded in 2009 to consolidate technologies focused on point-of-care blood diagnostic testing, has named Gordon Sangster as the company's new vice president of finance and chief financial officer. Sangster previously served as CFO of Micrus Endovascular Corp., a company that developed, manufactured and marketed devices for treatment of cerebral vascular diseases, and was recently acquired by Johnson and Johnson. Sangster also served as CFO of blood diagnostics company HemoSense prior to its acquisition by Alere.
Upcoming SCORE San Diego Workshops
:
• Feb. 23 – Business Plan 201: How to Write a Winning Business Plan – 9 a.m. to 3:30 p.m. at National University – Carlsbad (705 Palomar Airport Road, Carlsbad 92009; pre-paid registration $99, $109 at the door).
• Feb. 25 – QuickBooks Advanced – 9 a.m. to 4 p.m. at National University – Kearny Mesa (9388 Lightwave Ave., San Diego 92123; pre-paid registration $69, $79 at the door).
• Feb. 25 – Business Basics 101 – 9:30 to 11:30 a.m. at SCORE Entrepreneur Center (550 West C St., #550, San Diego 92101; No charge – please pre-register).
• Feb. 28 – Restaurant 201 – 9 a.m. to noon at National University – Kearny Mesa (9388 Lightwave Ave., San Diego 92123; pre-paid registration $49, $59 at the door).
North County:
The Business & Entrepreneur Center and the Small Business Development Center at MiraCosta College will offer free upcoming workshops to help businesses succeed. The workshops will be held at Vista City Hall, 200 Civic Center Drive, from 11:30 a.m. to 1:30 p.m. on the following dates:
March 1: Increase Sales Using Social Media: Learn how to incorporate social networking into a business.
April 5:  Financing Options for Businesses: Direct lenders and the SBA will discuss financing options for a business.
May 3: Ways to Market A Business: Learn to identify the "right" customer for a business and easy ways to market your business to them.
June 7: Marketing A Business Using Google Tools: Learn how to use Google tools such as ad words, ad sense, Google trends and more.
Bring a lunch to the workshops. Drinks will be provided.
The Daily Business Report is produced by REP Publishing Inc., publisher of SD METRO, the North Park News, Kensington News and the West Coast Craftsman. (619) 906-4104.