'From Ramen To Riches: Building Wealth in Your 20s
A useful financial guide for college graduates and young professionals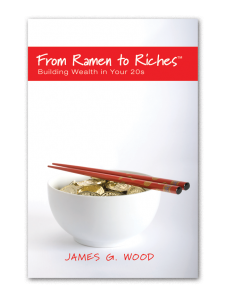 By Katelyn O'Riordan
As a young professional in my 20s, I'm no stranger to the difficult task of building a healthy relationship with money. For recent college graduates and young professionals embarking on the journey of building a financial future, the road ahead can seem daunting. A first-time salary, your own apartment, car payments, insurance premiums —  the list of bills can make you wonder how you will ever get ahead and feel financially sound. After 15 years filled with classes and education, how can there still be so much to learn?  Enter personal finance guide and lifesaver, "From Ramen To Riches: Building Wealth in Your 20s," a tremendously useful finance book that explains the essential tools necessary to get your personal finances in order.
In his book, author James G. Wood teaches young adults how to take control of their personal finances at a young age, and how to pave the road to financial security for the future. "Most young adults don't have any training on managing their money and are just 'dropped' into the working world and are expected to be financially independent. This is not a recipe for success. This book became a natural extension to my passion for helping promote financial literacy," said Wood.
Written in a conversational style to appeal to people who might not naturally gravitate towards the topic of personal finance, Wood wrote this book to inspire readers to make changes in how they manage their money to build a life where money serves them, not the other way around. With tips on where to stash your cash, purchasing your own home, and mapping out your life vision so that you can realize your dreams for your future, and be able to have the finances to make them real, Wood offers no-nonsense advice about the small steps you can take to achieve big results. He reminds you that even without a big income, you can take control and be successful in planning your financial future.
For Wood, it was his personal experiences with money as a young adult that drove him to write this finance guide. "I had a fine time those first years after college spending my money on things like travel, learning to fly, SCUBA dive, etc. I occasionally had an uneasy feeling when I opened my bank statements, realizing that I wasn't saving anything. Of course, I didn't do anything despite the queasy feeling. My financial epiphany came during the meeting with the mortgage banker that I describe in Chapter 1. To have a professional like him look at my mortgage loan application and say, 'You mean to tell me you've been employed as an engineer for five years and your net worth is $500?' was both embarrassing and a wake up call. I resolved to start paying attention to managing, spending and saving my money," said Wood.
As Wood shows in his book, making a few smart money management decisions at an early age is key to preparing individuals for a comfortable financial future. He aimed this book at young adults because of the importance of starting a healthy relationship with money at a young age. "Developing good habits with your money and learning to invest will make a powerful difference due to the 'time value of money.' The longer that money is allowed to grow, the bigger the cash pile becomes at the end. For someone age 20, it only takes $4.25 invested each day to become a millionaire at age 70. I used to spend more than that at the coffee shop every morning! By waiting until age 40, it takes $23/day or $690 a month to get the same result! Time is an advantage that young people have over those who are only slightly older. Most young adults in this country have a realistic potential to retire a millionaire if only they learn how to play the game," said Wood.
Whether its getting out of debt, building a budget, or putting money away for retirement, making positive changes to your current financial setup is crucial for financial success later in life. One simple step, said Wood, is "Pay attention! "You should consistently end each month with more money than when you started. If not, that's a problem. It's possible to get almost anything without paying full price. Figure out how. Read the fine print; avoid spending money on nuisance fees, comparison shop, and so on. Shaving a bit off on the dozens of items you spend money on every month adds up to serious money at the end of the game."
Wood gives a life's worth of smart financial advice that's entertaining, thorough and easy to understand. His advice is thoughtful and simple, with step-by-step explanations of the best ways to build wealth by making a fresh start with your financial habits. He gives everyday advice on how to invest wisely with little money, tips for staying free of debt and mapping out your personal and financial objectives. Creating a financial plan leads to freedom: freedom to use your money the way you want and to stay away from debt and bad credit, and freedom from the stress of living paycheck to paycheck.
"From Ramen To Riches, Building Wealth in Your 20s" provides the essential information that both young adults, as well as individuals in their 40s, can follow to get their personal finances in order. It teaches the reader about smart spending, saving and investing so that you can get rich slowly, but surely. Purchasing this book is probably the smartest, most affordable way to start your journey with investing, money management and building wealth.
EDITOR'S NOTE: Enter our Readers Contest: Write in with either (1) the smartest advice you ever got about money; or (2) the dumbest thing you ever did with your money. The best submissions will be published, the top three will get a free signed copy of "From Ramen To Riches," and the best submission will also receive a $100 gift card to Donovan's.