Daily Business Report — March 21, 2011
Harbor Drive Pedestrian Bridge Opens
The Harbor Drive pedestrian bridge at Park Boulevard and Harbor Drive in Downtown San Diego was officially opened to pedestrians on Friday. The bridge, a project of the city Redevelopment Agency, was built to provide safe passing over train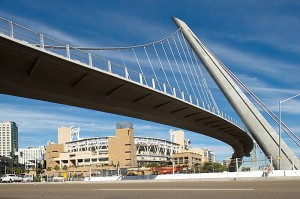 and trolley tracks for pedestrians between the waterfront and East Village. It enables work to begin on reconstructing the vehicular railroad crossing that connects Park Boulevard and Harbor Drive. To celebrate the bridge's opening and the increased access it provides, the San Diego Padres have special activities planned for Opening Day (Tuesday, April 5) including live music and special appearances by the Swinging Friar and the Pad Squad. The bridge, 550 feet in length, is one of the longest self-anchored pedestrian suspension bridges in the world. It was designed by TY Lin International and Safdie Rabines Architects and built by Reyes Construction Inc.
The bridge was built through a public/private collaboration involving the California Department of Transportation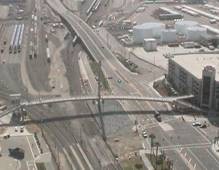 (CalTrans), California Transportation Commission ($6 million), State Transportation Improvement Program ($2 million), CCDC, working on behalf of the city of San Diego's Redevelopment Agency ($11.1 million), JMI Realty Inc. ($4.9 million), the Federal Highway Administration ($2.8 million), SANDAG and the Unified Port of San Diego.
Gloria Appointed to San Diego River Conservancy
Councilman Todd Gloria has been appointed to the San Diego River Conservancy by Assembly Speaker John Perez. The River Conservancy is an agency within the state Resources Agency established to preserve the San Diego River and surrounding area. Gloria joins Mayor Jerry Sanders and Councilwoman Lorie Zapf, among others, on the Conservancy's governing board. "The San Diego River is important to the environment, economy and history of our region, and I look forward to ensuring its ongoing viability as a member of the San Diego River Conservancy," said Gloria. His term runs through Jan. 1, 2015.
Higgs Fletcher & Mack Adds Two Partners
The law firm of Higgs Fletcher & Mack has named Christina Denning as partner and  promoted Sam Sherman to partner. Denning specializes in civil litigation with a focus on construction law, business litigation, personal injury, breach of contract, fraud and breach of professional duties. Her construction practice includes representation of general contractors and subcontractors over disputes involving both public and private works.  She also counsels businesses and individuals in drafting contracts with the goal of avoiding litigation. Sherman's practice focuses on defending corporations in civil suits with an emphasis in employment litigation. He has served as lead trial counsel in both jury trials and binding arbitrations. Sherman also specializes in education and public entity defense. A portion of his practice involves defending school districts and other public agencies. Sherman served as co-chair of the Employment and Labor Law Section of the San Diego County Bar Association for 2008-2010.
Mama's Kitchen Receives Grant for Breast Cancer Program
Mama's Kitchen has received a $65,000 grant from the San Diego affiliate of Susan G. Komen for the Cure to support its Breast Cancer Outreach Project. The nonprofit organization delivers free meals to men, women and children affected by HIV/AIDS or cancer. The Breast Cancer Outreach Project connects eligible San Diegans battling breast cancer with Mama's Kitchen's Critical Illness Nutrition Program, which delivers breakfast, lunch and dinner 365 days a year to San Diego County residents who are battling cancer and have become too ill to provide for themselves. This program also provides meals to the dependent children of adults who are fighting cancer.
Human Resources Pros Stage National Conference
The Society for Human Resource Management will hold is 2011 Talent & Staffing Management Conference & Exposition April 11-13 at the Manchester Grand Hyatt Hotel in Downtown San Diego. A variety of sessions will be held to aid the HR professionals in their work. Speakers will include Dan Pink, author of "Drive: The Surprising Truth About What Motivates Us"; Ryan Estis, chief experience officer of Ryan Estis & Associates; Susan Packard, co-founder and former COO of HGTV; Lois Backon, senior vice president of the Families and Work Institute; and Major Gen. Mari K. Eder, commanding general of the U.S. Army Reserve Joint and Special Troops Support Command.
The Evolution of Tenant Representation
In his March column in SD METRO, David Marino of Hughes Marino gives a comprehensive review of the evolution of tenant representation. "The objectives of the tenant in a commercial lease transaction are diametrically opposed to those
of the landlord," says Marino. "While the landlord will want the longest lease, at the highest rent with the least concessions, in virtually every transaction the tenant wants exactly the opposite. In response to deep conflicts of interest with brokerage firms representing tenants, industry pioneers left the landlord side of the business to become "tenant representatives," exclusively advocating for the interests of the corporate user of space. Read the full column at sandiegometro.com.
***
SCORE San Diego Small Business Workshops:
• March 22 – Marketing & Contracting with Federal Government – 9 a.m. to 3 p.m. at National University – Kearny Mesa (9388 Lightwave Ave., San Diego 92123; pre-paid registration $69, $79 at the door).
• March 24 – Internet Marketing 302: Develop a Winning E-mail Marketing Success Strategy – 9 a.m. to noon at National University – Kearny Mesa (9388 Lightwave Ave., San Diego 92123; pre-paid registration $49, $59 at the door).
• March 25 – Professional Selling: Increase Your Business Sales Now! – 9 a.m. to 4 p.m. at National University – Kearny Mesa (9388 Lightwave Ave., San Diego 92123; pre-paid registration $69, $79 at the door).
• March 30 – Business Basics 101 – 9:30 to 11:30 a.m. at SCORE Entrepreneur Center (550 West C St., #550, San Diego 92101; No charge, please preregister).
• March 30 – How to Start a Nonprofit – 9 to 11:30 a.m. at The San Diego Foundation – Liberty Station (2508 Historic Decatur Road, #200, San Diego 92106; pre-paid registration $39, $49 at the door).
For more information, call (619) 557-7272 or visit score-sandiego.org.
North County:
The Business & Entrepreneur Center and the Small Business Development Center at MiraCosta College will offer free upcoming workshops to help businesses succeed. The workshops will be held at Vista City Hall, 200 Civic Center Drive, from 11:30 a.m. to 1:30 p.m. on the following dates:
April 5:  Financing Options for Businesses: Direct lenders and the SBA will discuss financing options for a business.
May 3: Ways to Market A Business: Learn to identify the "right" customer for a business and easy ways to market your business to them.
June 7: Marketing A Business Using Google Tools: Learn how to use Google tools such as ad words, ad sense, Google trends and more.
Bring a lunch to the workshops. Drinks will be provided.
The Daily Business Report is produced by REP Publishing Inc., publisher of SD METRO, the North Park News, Kensington News and the West Coast Craftsman.