Daily Business Report — March 22, 2011
Apple Inc. Co-Founder to Keynote Conference
Apple Computer co-founder Steve Wozniak will keynote the 48th Design Automation Conference (DAC) taking place June 5-10 at the San Diego Convention Center. Wozniak will be interviewed on stage by San Jose Mercury News columnist Mike Cassidy on a variety of topics at 2 p.m. on June 6. The conference is devoted to design and design automation of electronic systems.  "DAC informs the electronics industry on the latest technology and automation tools that shape every electronic device or system," said Leon Stok, general chair of the conference. "The Woz was my childhood hero. He has profoundly influenced the electronics industry and our society."
A Silicon Valley icon and philanthropist for more than 30 years, Wozniak has helped shape the computing industry with his design of Apple's first line of products, the Apple I and II, and influenced the popular Macintosh. In 1976, Wozniak and Steve Jobs founded Apple Computer to market Wozniak's Apple I personal computer. Since the 1980s, Wozniak has been involved in various business and philanthropic ventures. He has spent time focusing on computer usage in schools by stressing hands-on learning and encouraging creativity for students. In 2000, he was inducted into the Inventors Hall of Fame and was awarded the prestigious Heinz Award for Technology, The Economy and Employment. Wozniak also co-founded the Electronic Frontier Foundation, and was the founding sponsor of the Tech Museum, Silicon Valley Ballet and Children's Discovery Museum of San Jose. He currently serves as chief scientist for Fusion-IO.
The Quiet Zone Work To Begin
As part of the San Diego Quiet Zone project, G Street between Pacific Highway and Union Street will begin to be converted to a one-way street on Wednesday. The Quiet Zone is designed to improve safety at 13 railroad crossings from Laurel Street to Park Boulevard through Downtown and eliminate the requirement for trains to blare their horns late at night — a big nuisance for Downtown residents, businesses and visitors. Additional gates, medians, traffic signals and railroad signaling to alert pedestrians and motorists about oncoming trains also will be added. The project is to be completed early next year. According to the Centre City Development Corp., the decision to convert this portion of G Street to a one-way street is because the trolley and railroad tracks cut diagonally through the intersection. Because of that unique geometry, pedestrians and vehicles can cross the intersection from multiple angles, so adding medians or installing additional gates would not provide enough safety measures. G Street is already a one-way street from Front Street to State Route 94, so the conversion is expected to have limited long-term negative impacts on traffic in the area. In addition, angled parking will be installed along that section of road, resulting in an increase of 10 additional public parking spaces.
The work on the six-block conversion will be completed in two-block intervals starting at Union Street and moving west. The work, which will be done March 23 to April 1, could result in temporary traffic delays in the area. For more, visit paradiseinprogress.org.
Whole Foods Market Improvements Under Way
Construction of tenant improvements for the new Whole Foods Market is under way at Pacific Station, the $40 million mixed-use development in the heart of downtown Encinitas. The 23,000-square-foot store will serve as the anchor tenant for the Pacific Station development, which combines office and retail space with upscale residential units. Completion and occupancy are scheduled for June. The Whole Foods Market is designed to be a community hub with a courtyard eating area and a wide variety of cooking, eating and educational events created to serve the neighborhood. Whole Foods will showcase locally grown and produced items from the greater San Diego area as well as nationally known brands.
Pacific Station was developed by John DeWald & Associates, in conjunction with Phase 3 Properties Inc. Its residential element is a mix of two-story townhomes, two-story lofts and single-story flats ranging from 600 to 2,300 square feet. Sale of the project's 47 residential units is now under way. With prices from the $300,000s to $700,000s all floor plans feature open, sunlit layouts and private decks or balconies. The development is located at 687 South Coast Highway.
Turner School Begins Session at New Library Site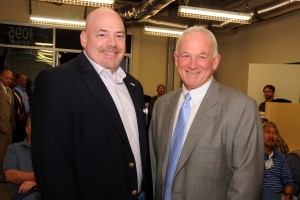 Turner Construction Co.'s Turner School of Construction Management began its first session of the year on Feb. 24 at the new Central Library jobsite in Downtown San Diego. The free classes are available to companies or individuals involved in any sector of the construction industry and are meant to educate subcontractors on the industry's newest technology and best practices. The newest series of classes Downtown will complement two existing sessions at the San Diego International Airport each year. "Completing this program places subcontractors in a much stronger position to compete for future city projects," said Mayor Jerry Sanders. "These classes truly are an asset to our minority business-owners, our communities, and our economy." Shawn Rosenberger, vice president and general manager of Turner Construction, said industry leaders share their expertise in the critical aspects of the construction industry during the classes. For more information, visit turnerconstruction.com/sandiego. (Photo: Shawn Rosenberger with Mayor Sanders.)
Ronne Froman Named 'Woman of the Year'
Assemblywoman Toni Atkins has named Ronne Froman, a retired two-star admiral and community leader, as the "Woman of the Year" for her central San Diego legislative district. Froman was  honored by the full Assembly at a special ceremony on the Assembly floor on Monday.  Froman was selected based upon her long military service to the nation as well as for her civic and community leadership since her retirement. Froman served in the Navy for 31 years, commanding naval installations around the world.  After retirement, she took on several civilian roles: serving as chief of business operations for the San Diego Unified School District and as CEO of the San Diego and Imperial Counties Chapter of the American Red Cross, where she is credited with restoring confidence in the organization. In 2005, Froman became the first chief operating officer for the city of San Diego. Froman recently co-founded a veterans program named REBOOT, which provides success training for those transitioning from military to civilian life.
California American Water Names Vice President
California American Water has appointed Anthony J. Cerasuolo as vice president, legal-operations. Cerasuolo, who will be based at the company's Coronado office, will oversee the company's legal concerns for environmental, contract and compliance matters, as well as provide counsel to senior management and resolve legal issues within the company. He spent more than six years at the company's non-regulated affiliate, American Water Enterprises. Before joining American Water in 2005, Cerasuolo spent seven years at Hawkins Delafield & Wood LLP in New York City.
Industrial Building Sold for $6.35 Million
A 67,718-square-foot industrial building at 1709 La Costa Meadows Drive in San Marcos has been purchased by NV Chartwell Investments LP for $6.35 million. The lessee is Jacques Gourmet LLC. The seller, DEI, LLC, was represented by Chuck McNary, Erik McNary and Greg Lewis of Colliers International and the buyer, was represented by Barry Hendler and Mike Erwin of Cassidy Turley BRE Commercial.
Sally Ride Science Festival Set for May 14
The Sally Ride Science Festival will be staged May 14 at UCSD and will feature a talk by astronaut Wendy Lawrence, discovery workshops for girls given by veterinarians, astronomers, microbiologists and others and workshops for parents and teachers on ways to support girls' interestes in science. There also will be a street fair with booths, hands-on activities, food and music. The festival will be from 11 a.m. to 4:15 p.m. Although the festival is primarily focused on encouraging girls in the fifth to eighth grades to pursue their interests in science, it is open to everyone. To register, visit sallyridefestivals.com. For more, call (800) 561-5161.
---
SCORE San Diego Small Business Workshops:
• March 24 – Internet Marketing 302: Develop a Winning E-mail Marketing Success Strategy – 9 a.m. to noon at National University – Kearny Mesa (9388 Lightwave Ave., San Diego 92123; pre-paid registration $49, $59 at the door).
• March 25 – Professional Selling: Increase Your Business Sales Now! – 9 a.m. to 4 p.m. at National University – Kearny Mesa (9388 Lightwave Ave., San Diego 92123; pre-paid registration $69, $79 at the door).
• March 30 – Business Basics 101 – 9:30 to 11:30 a.m. at SCORE Entrepreneur Center (550 West C St., #550, San Diego 92101; No charge, please preregister).
• March 30 – How to Start a Nonprofit – 9 to 11:30 a.m. at The San Diego Foundation – Liberty Station (2508 Historic Decatur Road, #200, San Diego 92106; pre-paid registration $39, $49 at the door).
For more information, call (619) 557-7272 or visit score-sandiego.org.
North County:
The Business & Entrepreneur Center and the Small Business Development Center at MiraCosta College will offer free upcoming workshops to help businesses succeed. The workshops will be held at Vista City Hall, 200 Civic Center Drive, from 11:30 a.m. to 1:30 p.m. on the following dates:
April 5:  Financing Options for Businesses: Direct lenders and the SBA will discuss financing options for a business.
May 3: Ways to Market A Business: Learn to identify the "right" customer for a business and easy ways to market your business to them.
June 7: Marketing A Business Using Google Tools: Learn how to use Google tools such as ad words, ad sense, Google trends and more.
Bring a lunch to the workshops. Drinks will be provided.
The Daily Business Report is produced by REP Publishing Inc., publisher of SD METRO, the North Park News, Kensington News and the West Coast Craftsman. (619) 906-4104.