Daily Business Report — March 23, 2011
CCDC Buys Property for Affordable Housing Downtown
The Centre City Development Corp. has purchased two office buildings on Fifth Avenue in Downtown San Diego for a combined total of $2.42 million and will combine them with a previous land purchase for the development of a 170-unit affordable housing project. The two projects are a 3,500-square-foot office building at 1434 Fifth Ave., purchased from the Busby Family Trust for $1,076,250, and a 5,000-square-foot building at 1492 Fifth Ave., purchased from Randall S. Hansen for $1,340,000. CCDC plans to ground lease the site — totalling 31,669 square feet — to Wakeland Housing for the affordable housing project. Victor Krebs and Rob Morgan of Colliers International were brokers involved in the purchases.
Design-Build Team Selected for Office Tower
KMA Architecture & Engineering and Swinerton Builders have been retained for design and construction of the Class A Sunroad Centrum II office tower for Sunroad Enterprises. Construction of the project at 8600 Spectrum Center Boulevard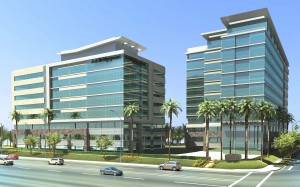 in Kearny Mesa is to begin late this year with completion in 2012. The eight-story, 200,000 square-foot office tower is the second building of a three-building phased complex, the first phase featuring the tallest office building in Kearny Mesa. The building will be used as a call center for Bridgepoint Education. It is being designed to achieve LEED certification from the U.S. Green Building Council. "Sustainable design is not just about using green materials but about integrating the design to achieve a higher level of efficiency," said B. Moon Hajjar, senior associate for KMA. "It is important to pursue design and construction elements that will save resources and lower life-cycle operating costs." The KMA team consists of Don Blair, principal in charge; B. Moon Hajjar, project manager; Rich Guerena, project architect; Jay Janda, project architect; Robb Walker, design coordinator; Ilia Voronchihin, project architect; and Heather Mertes, LEED associated professional. BPA Architects is the design architect for the master plan, as well as the individual buildings. The project manager for Swinerton Builders is Paul Vujica, chief estimator is Bob Wilson and the district manager is Don Adair. Other services are provided by: Hope Engineering, Michael Wall Engineering, McParlane Engineers, KTU&A, Stevens Cresto Engineering, BPA Architects and Orness Design Group. (Photo: In rendering, Sunroad Centrum II is building at left, yet to be built. Building on right has been built. Courtesy of Brian Paul & Associates.)
Cubic Gets Contract for Guided Weapons System
Cubic Defense Applications has received a $2.5 million contract to provide an optical data link system to the contractor team developing a new, small-caliber guided weapons system for the Defense Advanced Research Projects Agency. The goal of the system is to produce a guided, actively controlled, 50-caliber sniper rifle system with improved range and accuracy over current systems. Cubic is under contract to Teledyne Scientific & Imaging LLC, prime contractor for the program, to develop optical command link components for the fire control and guidance subsystems. The system is called EXACTO. It "will enable our ground troops to operate with greater precision at long range and under difficult environmental conditions," according to Steve Sampson, vice president of advanced programs for Cublic Defense Applications. "Our optical link will be a critical piece of this new guided system." Cubic Defense Applications is the defense systems business of Cubic Corp. in San Diego.
San Diego Business Showcase Set for April 7
The Oceanside Chamber of Commerce and Hispanic Chamber of E-Commerce will host the San Diego Business Showcase on April 7 — an effort to give the business community the tools to connect with other business owners to build relationships and partnerships. The event will be at 2 p.m. at the Del Mar Fairgrounds. The San Diego Business Showcase will give exhibitors and attendees the opportunity to socialize, network and make important business contacts vital for businesses in any economy. Admission t is $10 and parking is free.  Booth space is still available. For more information, visit sandiegobusinessshowcase.com.
Eric Vann Joins Cassidy Turley BRE Commercial
Cassidy Turley BRE Commercial has named Eric Vann as a leasing specialist for the company. Vann has more than a decade of experience in office leasing in central and northern San Diego County. Vann, working out of the UTC headquarters, will focus on the leasing of office properties. Previously, Vann was director of brokerage services for Cushman & Wakefield. He holds a bachelor's degree from the University of Arizona.
Stephanie Heliker Promoted at Chemistry
Stephanie Heliker has been promoted to account executive at Chemistry, a public relations firm in San Diego. She joined the company in 2009. A graduate of San Diego State University, Heliker earned a bachelor's degree in journalism and media studies, with an emphasis in public relations and an allied discipline in political science.
Phil Sambazis Receives Marcus & Millichap Promotion
Marcus & Millichap Real Estate Investment Services has promoted Phil Sambazis to associate vice president in investments. Sambazis previously was a senior associate in the firm. He began his career with the company in 2006 and was named an associate in 2007 and promoted to senior associate in 2009. Sambazis received a National Achievement Award in 2010.
---
SCORE San Diego Small Business Workshops:
• March 24 – Internet Marketing 302: Develop a Winning E-mail Marketing Success Strategy – 9 a.m. to noon at National University – Kearny Mesa (9388 Lightwave Ave., San Diego 92123; pre-paid registration $49, $59 at the door).
• March 25 – Professional Selling: Increase Your Business Sales Now! – 9 a.m. to 4 p.m. at National University – Kearny Mesa (9388 Lightwave Ave., San Diego 92123; pre-paid registration $69, $79 at the door).
• March 30 – Business Basics 101 – 9:30 to 11:30 a.m. at SCORE Entrepreneur Center (550 West C St., #550, San Diego 92101; No charge, please preregister).
• March 30 – How to Start a Nonprofit – 9 to 11:30 a.m. at The San Diego Foundation – Liberty Station (2508 Historic Decatur Road, #200, San Diego 92106; pre-paid registration $39, $49 at the door).
For more information, call (619) 557-7272 or visit score-sandiego.org.
North County:
The Business & Entrepreneur Center and the Small Business Development Center at MiraCosta College will offer free upcoming workshops to help businesses succeed. The workshops will be held at Vista City Hall, 200 Civic Center Drive, from 11:30 a.m. to 1:30 p.m. on the following dates:
April 5:  Financing Options for Businesses: Direct lenders and the SBA will discuss financing options for a business.
May 3: Ways to Market A Business: Learn to identify the "right" customer for a business and easy ways to market your business to them.
June 7: Marketing A Business Using Google Tools: Learn how to use Google tools such as ad words, ad sense, Google trends and more.
Bring a lunch to the workshops. Drinks will be provided.
The Daily Business Report is produced by REP Publishing Inc., publisher of SD METRO, the North Park News, Kensington News and the West Coast Craftsman.