Daily Business Report — March 24, 2011
Architecture School Swallows Wonder Bread Building

The historic Wonder Bread building Downtown is now part of the NewSchool of Architecture and Design. Built in 1924, the 50,000-square-foot structure has been restored for mixed retail and office use, which includes classrooms and labs for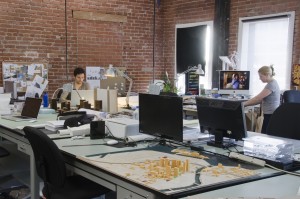 the school's Bachelor of Science in Construction Management and Master of Landscape Architecture programs.  The school (newschoolarch.edu) which opened in 1980, currently serves more than 630 students in four Downtown buildings.
2011 Maritime Week Events Scheduled
Leaders from the San Diego Regional Economic Development Corp., the Navy and public and private sector representatives will discuss the importance of the maritime industry at a May 17 Maritime Week breakfast at the San Diego Marriott Marquis & Marina, 333 West Harbor Drive, in Downtown San Diego. The event is from 8 to 9:30 a.m. Speakers will explain how the industry produces thousands of jobs and billions of dollars in economic impact to the region. The Port of San Diego also will hold a free public event from 10 a.m. to 2 p.m. on May 21 at the Port Pavilion on Broadway Pier, 1000 Harbor Drive, to celebrate Maritime Week. The port operates the Tenth Avenue Marine Terminal  in San Diego and the National City Marine Terminal in National City. They handle containers, dry and liquid bulk cargos, such as cement, fertilizer, jet fuel and diesel fuel, refrigerated products and automobiles. Other products include bagged cement, bagged fertilizer, bagged sand, fruit and other cargos that are transported throughout Southern California, northern Mexico and to other points in the United States. In fiscal year 2010, 2.8 million metric tons of cargo were imported through the two marine terminals and maritime revenue totaled $37.6 million. The port also operates a cruise ship terminal at the B Street Pier and recently an auxiliary cruise ship terminal/events center on Broadway Pier last December.
Luce Forward Attorney Authors Technology/IP Book
Eric L. Lane, an intellectual property attorney at Luce, Forward, Hamilton & Scripps in San Diego, has authored "Clean Tech Intellectual Property: Eco-Marks, Green Patents, and Green Innovation," a review of the interplay between clean technologies and intellectual property law, which was just published by Oxford University Press. "Technology is the answer to global warming, and I strongly believe that intellectual property is crucial to the development and deployment of clean technologies," said Lane. The book is intended for clean tech business owners, legal practitioners, academics, policymakers and other industry leaders.
Through discussion of industry trends and legal developments, "Clean Tech Intellectual Property" demonstrates how intellectual property is influencing the growth of clean technology and how green business models are shaping intellectual property practice. It also explains how clean technology innovators can leverage green patents to strategically create and expand their businesses, and includes illustrative case studies and valuable insights relating to prosecuting green patent applications, building green patent portfolios and licensing green technologies. The book is available for purchase through Oxford's Website (oup.com), Amazon.com and select retailers.
Monetary Expert to Speak at UCSD
International monetary expert Barry Eichengreen will speak on "The Rise and Fall of the Dollar and the Future of the International Monetary System" at the UCSD Economics Roundtable April 22 at the UCSD Faculty Club. The $50 person cost includes continential breakfast and parking. Featured speaker will be Barry Eichengreen, the George C. Pardee and Helen N. Pardee professor of economics and professor of political science at UC Berkeley, where he has taught for the past several years. He is a research associate of the National Bureau of Economic Research (Cambridge, Massachusetts) and Research Fellow of the Centre for Economic Policy Research (London, England). For more information, visit economic.ucsd.edu/roundtable.
Scripps Health Acquires a North County Medical Group
Scripps Health has purchased North County OB-GYN Medical Group in a deal to be completed by June 1. The acquisition will create the 11th Scripps Clinic location in San Diego County. North County OB-GYN's obstetrics and gynecology physicians will join Scripps Clinic Medical Group, which includes more than 400 physicians practicing in more than 50 areas of medicine and surgery. Scripps Health contracts for the exclusive services of the Scripps Clinic Medical Group physicians through the Scripps Medical Foundation. Scripps Health will acquire the assets of North County OB-GYN Medical Group, currently located in the XiMED building on the campus of Scripps Memorial Hospital La Jolla, and the practice's 26 employees will be employed by Scripps Health. The acquisition is Scripps' fifth medical group acquisition since 2008. Previous purchases include Sharp Mission Park Medical Group, Penn Elm Medical Group, Del Mar Medical Clinic and North Coast Women's Care.
Terra Restaurant & Bar Signs New Lease
The new Terra Restaurant & Bar has signed a 10-year lease valued at $464,170 for a 3,325-square-foot restaurant space at 7091 El Cajon Blvd. in the East College area. The space was acquired by Chef Jeff Rossman and his parents and followed the closure of the popular Hillcrest location, which Terra had operated for 13 years. Location Matters brokered the lease transaction.
Marine Corps Major Gets Meg Whitman Scholarship
Major Eric Burton, a U.S. Marine Corps officer currently serving in Afghanistan, has been awarded the 2011 Meg Whitman Scholarship for the University of San Diego's Master of Science in Executive Leadership (MSEL) program. The $2,000 scholarship was funded by MSEL alumni, following the former e-Bay CEO's speech at USD in 2007, and is awarded annually "to benefit students who have demonstrated a history of bold leadership balanced with the generosity to mentor and develop others consistent with the values and philosophy of Ms. Whitman," said Kurt May, director of the MSEL program. Burton, who will begin the MSEL program  in August, is currently serving in the Nimroz Province of Afghanistan, where he leads a team of 20 troops responsible for stabilization operations in uncharted territories. He has served in the Marine Corps for 18 years.
Linkage Fees Under Discussion
Linkage fees — fees charged to non-residential development to fund affordable housing projects — will be the subject of an April 12 program from 7:30 to 9 a.m. at The University Club, 750 B St., in Downtown San Diego. Panelists will be Craig Benedetto, representing the Building Owners and Managers Association and NAIOP, the Commercial Real Estate Development Association; Rick Gentry of the San Diego Housing Commission; and moderator Bob Nelson, a San Diego Port District commissioner. To register, call (800) 321-5011.
---
SCORE San Diego Small Business Workshops:
• March 25 – Professional Selling: Increase Your Business Sales Now! – 9 a.m. to 4 p.m. at National University – Kearny Mesa (9388 Lightwave Ave., San Diego 92123; pre-paid registration $69, $79 at the door).
• March 30 – Business Basics 101 – 9:30 to 11:30 a.m. at SCORE Entrepreneur Center (550 West C St., #550, San Diego 92101; No charge, please preregister).
• March 30 – How to Start a Nonprofit – 9 to 11:30 a.m. at The San Diego Foundation – Liberty Station (2508 Historic Decatur Road, #200, San Diego 92106; pre-paid registration $39, $49 at the door).
For more information, call (619) 557-7272 or visit score-sandiego.org.
North County:
The Business & Entrepreneur Center and the Small Business Development Center at MiraCosta College will offer free upcoming workshops to help businesses succeed. The workshops will be held at Vista City Hall, 200 Civic Center Drive, from 11:30 a.m. to 1:30 p.m. on the following dates:
April 5:  Financing Options for Businesses: Direct lenders and the SBA will discuss financing options for a business.
May 3: Ways to Market A Business: Learn to identify the "right" customer for a business and easy ways to market your business to them.
June 7: Marketing A Business Using Google Tools: Learn how to use Google tools such as ad words, ad sense, Google trends and more.
Bring a lunch to the workshops. Drinks will be provided.
The Daily Business Report is produced by REP Publishing Inc., publisher of SD METRO, the North Park News, Kensington News and the West Coast Craftsman.