Daily Business Report — April 19, 2011
Lindbergh Field's Terminal 2 Lot Closed for Construction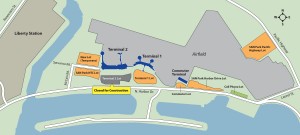 The parking lot in front of Terminal 2 at Lindbergh Field was closed Monday and motorists are advised to use a new, temporary lot off of McCain Road. The closure is to allow for construction of a dual-level roadway in front of the terminal that is designed to reduce curb front congestion by separating arriving and departing passengers. Officials said the new, temporary lot is a convenient choice for passengers traveling out of Terminal 2 — 1,350 parking spaces are available at $12 per day. To reach the lot, motorists should follow the green parking signs along Harbor Drive and turn on McCain Road, then turn right on Spruance. From the new lot, travelers can choose to take the convenient pedestrian walkway (a 5-10-minute walk to Terminal 2) or ride the free shuttle to the terminals.
The airport has committed to maintaining the same number of parking spaces throughout construction; no parking spaces will be lost. Current plans call for portions of the lot to reopen in late 2012; the full lot will reopen when construction is complete in 2013.
In addition to the temporary lot and the lots at Terminal 1 and the Commuter Terminal, there are three other parking options located close to the airport that offer free, frequently running shuttles to and from the terminals.
• Located just west of the airport, SAN Park NTC is a good choice for those traveling out of Terminal 2; a pedestrian walkway connects the lot to the terminal. A free shuttle is available to all the terminals. SAN Park NTC is located off McCain Road and has 1,000 spaces available at $16/day.
• With more than 2,800 spaces available at $11/day, SAN Park Pacific Highway is the airport's largest lot and a "best buy" when it comes to parking. It is located off Pacific Highway just north of Palm Street and offers a free shuttle to and from the terminals.
• SAN Park Harbor Drive offers 800 spaces at $17/day. The lot is located on Harbor Drive westbound, before you reach the airport terminals, and offers a free shuttle to/from the airport.
C-3 Program Focuses on Downtown Waterfront Projects
Principals involved in development projects along the Downtown waterfront will report on their progress at an April 21 Breakfast Dialogue sponsored by Citizens Coordinate for Century 3 (C-3). Speakers will include county Supervisor Ron Roberts; Scott Peters, Port Commission chairman; Jerry Trammer, project executive for Lane Field San Diego Developers. Phil Bona, an architect with Baucentrum Urban Studio, will moderate the panel. The event will be from 7:30 to 9:15 a.m. at the Holiday Inn at the Bay, 1355 North Harbor Drive, Downtown. The projects to be discussed include the North Embarcadero Visionary Plan, Ruocco Park, the County Administration Center Waterfront Park and the park on Navy Pier.
Peregrine Realty Partners Purchases Carlsbad Business Parks
Peregrine Realty Partners has purchased the El Fuerte Business Park and the Carlsbad Oaks Commerce Center in Carlsbad — seven buildings in total — for $11.9 million. The seller was COCC Associates LTD and EFBP Associates, represented in the transaction by Ron Jacobson of Madison Partners. Colliers International is handling the leasing of the projects. El Fuerte Business Park is at 2788-2796 Loker Ave. and has 78,326 square feet. Carlsbad Oaks is at 5931-5933 Sea Lion Place and has 48,638 square feet.
Chairmen's RoundTable Offers Free Newsletter
The Chairmen's RoundTable (CRT), a San Diego nonprofit organization that provide mentoring and strategic advice to San Diego businesses on a pro-bono basis, is offering a free subscription to the CRT newsletter. The electronic publication features articles, written by the experienced and diverse CRT membership, covering important business issues. "We are continuously looking for ways to extend our reach into the local business community," said Dave Cox, CRT chairman. "We are limited to the number of companies we can mentor each year, so this is one avenue for us to share our experience and expertise with a wider audience." The inaugural issue features a Client Case Study highlighting the work the CRT mentors did with Red Door Interactive. The company found out where the profits went and then developed processes to reclaim them. The issue also includes information on CRT's newest partner, Biocom, and tips on surviving a down economy from Hutchinson and Bloodgood LLP. To sign up for the newsletter, visit chairmensroundtable.com.
Scripps Health Execs and Managers Named Fellows
Five Scripps Health executives and managers were named Fellows of the American College of Healthcare Executives (ACHE) at the recent Congress on Healthcare Leadership, where world health care leaders convene to discuss industry innovations. Scripps Memorial Hospital La Jolla Chief Executive Gary Fybel, was elected the new regent for Southern California-San Diego/Imperial counties. His three-year term began March 19. As the elected representative for a geographic area, the regent is responsible for representing the interests of ACHE affiliates programs and operations of local chapters.
Scripps fellows are: Lisa Thakur, corporate vice president of operations (operating room, pharmacy and supply chain); Tracy Chu, senior administrative director of clinical operations, Scripps Clinic Carmel Valley; Johannes Otter, administrative director of ancillary and specialty services, Scripps Memorial Hospital La Jolla; Patricia Daly, director of operations improvement, Scripps Green Hospital; and Peter Mabrey, manager of physician relations, Scripps Health.
Ligand Pharmaceuticals Appoints Chief Operating Officer
Matthew W. Foehr has been appointed to the newly created position of executive vice president and chief operating officer of Ligand Pharmaceuticals. Foehr will chiefly be responsible for managing the operations and expansion of CyDex Pharmaceuticals, a company acquired by Ligand in January. Foehr has more than 17 years of experience managing research and development programs. He previously was vice president and head of consumer dermatology R&E, and acting chief scientific officer of dermatology in the Stiefel division of GlaxoSmithKline (GSK). Foehr held a variety of executive positions at Connetics Corp. He holds a bachelor's degree from Santa Clara University.
Matt Panebianco Joins Colliers International
Matt Panebianco has joined Colliers International as a director, having operation and fiscal responsibility for the property management division of the San Diego region. Panebianco previously was with Transwestern and before that was an assistant vice president with RREEF, an institutional real estate investment company where he managed a staff of real estate professionals overseeing institutional assets in the San Diego market. He also was a senior real estate manager for Qualcomm Inc. Panebianco holds a bachelor's degree from San Diego State University.
B-25 Bomber Featured at Gillespie Air Show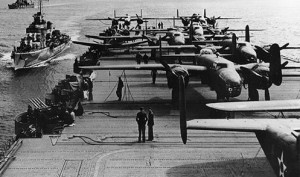 The June 3-5 Wings Over Gillespie Air Show in El Cajon will have one of the world's finest, flying restorations of the B-25 Mitchell bomber type as used in the historic Doolittle Raid. The story of the Raid was most popularly told in the book and 1944 film "Thirty Seconds Over Tokyo." The success of the "Raid" is considered the catalyst for Japan's 1942 World War II expansion plan for its defensive perimeter to include the Aleutian Islands in Alaska and Midway Island in the Pacific. The Battle of Midway, initiated by the Doolittle Raid, will be commemorated at the Wings Over Gillespie Air Show weekend, in keeping with the 2011 Centennial of Naval Aviation. Air Group One of the Commemorative Air Force (CAF) will host CAF's B-25 Mitchell medium bomber and a B-17 heavy bomber. These rare World War II aircraft will be available for rides and tours. (Photo: B-25 bombers onboard the USS Hornet in preparation for the Doolittle Raid of April 18, 1942.)
---
SCORE San Diego Small Business Workshops
• April 20 – Buying and Selling a Business – 9 a.m. to 3:30 p.m. at National University in Kearny Mesa (9388 Lightwave Ave., San Diego 92123; pre-paid registration $69, $79 at the door).
• April 26 – Introduction to Starting Your Own Business – 9 a.m. to 4:15 p.m. at National University in Kearny Mesa (9388 Lightwave Ave., San Diego 92123; pre-paid registration $69, $79 at the door).
• April 26 – Financial Statements – What They Mean, How to Use Them – 9 a.m. to 3:30 p.m. at SCORE Entrepreneur Center (550 West C St., #550, San Diego 92101; pre-paid registration $29, $39 at the door).
• April 27 – Financing Your Business – 9:30 a.m. to noon at National University in Carlsbad (705 Palomar Airport Road, Carlsbad 92009; pre-paid registration $29, $39 at the door).
• April 27 – Good Governance for Nonprofits: Effective Board Performance – 9 to 11:30 a.m. at The San Diego Foundation in Liberty Station (2508 Historic Decatur Road, #200, San Diego 92106; pre-paid registration $39, $49 at the door).
• April 29 – Business Basics 101 – 9:30 to 11:30 a.m. at SCORE Entrepreneur Center (550 West C St., #550, San Diego 92101; No Charge – Please Pre-Register).
• April 29 – Tax Considerations for Small Business – 9:30 to 11:30 a.m. at National University in Carlsbad (705 Palomar Airport Road, Carlsbad 92009; pre-paid registration $29, $39 at the door).
The Daily Business Report is produced by REP Publishing Inc., publisher of SD METRO, the North Park News, Kensington News and the West Coast Craftsman. Contact: Manny Cruz (619) 287-1865.