Daily Business Report — April 20, 2011

County Default Notices Decline

The number of financially distressed San Diego County homeowners who were dragged into the formal foreclosure process declined by 22.9 percent compared to the first quarter of last year, according to San Diego-based DataQuick, a real estate information service. A total of 4,758 Notices of Default were recorded during the January-to-March period, down from 6,170 in the first quarter of 2010.
Trustees Deeds recorded — or the actual loss of a home to foreclosure, totaled — 2,902 in San Diego County in the first quarter, down 6.3 percent from the 3,096 trust deeds recorded during the same period of last year.
Statewide Results: A total of 68,239 Notices of Default were recorded during the January-to-March period. That was down 2.2 percent from 69,799 for the prior quarter, and down 15.8 percent from 81,054 in first-quarter 2010. "Lenders and servicers have put various temporary holds on foreclosure filings while they work on procedural issues and respond to regulatory and legal challenges," said DataQuick President John Walsh. "It's unclear how much of last quarter's decline can be attributed to market factors and strategic decisions, and how much can be attributed to the formalities of the foreclosure process." Trustees Deeds recorded totaled 43,052 during the first quarter. That was up 21.5  percent from 35,431 for the prior quarter, and up 0.5 percent from 42,857 for first-quarter 2010. The all-time peak was 79,511 in third-quarter 2008.
Work Starts on the $33 Million Mercado del Barrio
Construction has started on a $33 million residential/retail development spread over two city blocks in the Barrio Logan neighborhood of San Diego. PCL Construction broke ground on its portion of the work at the Mercado del Barrio project, which totals $18.8 million. The west block of the development will include 13,862 square feet of retail space and a grocery store to be built and operated by Northgate. The east block will include 34,544 square feet of retail/restaurant space and a three-story, 209 stall parking structure. Ninety two affordable rental units will be built and managed by Chelsea Investment Corp. above the retail space. PCL's project manager is Michael Gallen and the project superintendent is Duane Siefers.  The architect is Safdie Rabines Architects.
Robert Osbrink Joins Voit Real Estate Services
Voit Real Estate Services has named Robert Osbrink as its executive managing director for San Diego and the agency's other regions. Previously, Osbrink was at Grubb & Ellis, including service as its co-CEO. Osbrink has 38 years of commercial real estate experience. He was principal of Osbrink Marketing & Management Group, vice president of sales and marketing for The Irvine Co. and senior vice president for Cushman & Wakefield. Osbrink is a graduate of the University of Southern California.
Hyatt Regency Mission Bay Hires Assistant Manager
Hyatt Regency Mission Bay Spa & Marina has hired Michael P. Connolly as exeutive assistant manager, handling Hyatt's day-to-day room operations. Connolly has 20 years of experience in the hotel industry and was most recently assistant general manager of hotel operations at the Carlsbad Inn Beach Resort and was executive assistant manager at the Hyatt Valencia. His experience includes serving in leadership roles at Hyatt properties across the country and in the Caribbean, including the Manchester Grand Hyatt, Hyatt Regency Grand Cypress, Hyatt Regency St. Lucia and Hyatt Regency Chicago, among others. Connolly holds a bachelor's degree from Colorado State University.
Senior Wellness Center Gets LEED Certification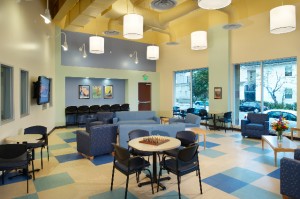 The Gary and Mary West Senior Wellness Center in Downtown San Diego has received  LEED Gold Certification from the U.S. Green Building Council. Smith Consulting  Architects performed design servies for the $2.4 remodeling of the center at Fourth Avenue  and Beech Street. The center was adapted from a former 17,460-square-foot auto  dealership that was built in 1927. Senior Community Centers, in partnership with  HomeAid San Diego, is the developer. Ledcor Construction Inc. was the general  contractor. The center replaced Senior Community Center's former Downtown facility at Ninth and Broadway. It provides a one-stop health and wellness hub for low-income seniors. The Gary and Mary West Foundation provided a $3 million gift for the remodeling. Overall, the building uses approximately 25 percent less energy than current California energy code requirements. With ultra-low-flow plumbing fixtures and faucets, the center also uses about 51 percent less water, compared to a typical building of this type." Built-in recycling bins enable the center to recycle paper, glass, metal, cardboard and plastics. (Photo: Mary & Gary West Senior Wellness Center Activity/Waiting Room.)
Trendspotting on Advertising Club Program
"Top trends that will shape the world in 2011 and beyond" is the theme for a San Diego Advertising Club seminar on April 29 that will feature Ann Mack, director of trendspotting for the JWT advertising agency. It will be held from 8 to 10 a.m. at the Crown Plaza Hotel's Hanalei Conference Center, 2270 Hotel Circle North in Mission Valley. The event is open to the public. Mack's role is to identify for JWT clients the future consumer trends related to everything from digital technologies, gaming and globalization to retail, philanthropy and the environment. Future trends she will discuss —small is the new big; distraction as entertainment; outsourcing self control; the non-committal culture; and retail as the third space. The seminar costs $35 for Ad Club members and $45 for nonmembers. For more, visit sandiegoadclub.com or call (619) 255-2281.
SDSU Team Wins Real Estate Competition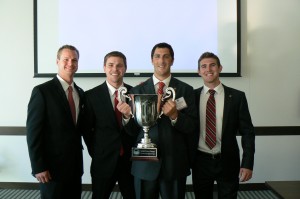 A student team from San Diego State's Corky McMillin Center for Real Estate has won the  2011 NAIOP San Diego University Challenge — a competition to propose the best use for a  Hillcrest property that is currently owned by Pacifica Companies. The SDSU students  competed with another team from the University of San Diego's Burnham Moores Center    for Real Estate. SDSU's recommendation was that the property is best suited for a long-  term ground lease to a single credit tenant.  The team was comprised of real estate majors  Michael Arduino, Bryan Clark and David Smith and financial services major Kyle Stiff. USD's proposal suggested a mixed-use development including a hotel, apartments, retail shops and parking. Amir Atefi, Brittany Harrison, Molly Jones, Christopher Lisle, Kyle Sullivan and Connor Witt made up the USD team. "In the end, the judges concluded that SDSU's analysis and recommendation was a more pragmatic and financially-sound development project," said Gary Katz of NetREIT, one of the judges. (Photo: SDSU's team members, from left: David Smith, Bryan Clark, Mike Arduin, Kyle Stiff.)
Good Friday Breakfast
The Downtown YMCA will hold the 50th annual Good Friday Breakfast April 22 at the Doubletree Hotel in Mission Valley. Guest speaker will be Pastor Miles McPherson, founder of the Rock Church and recent author of "Do Something! Make Your Life Count." All proceeds from the event will go to the Downtown YMCA's youth outreach programs. The cost is $20 for adults and $10 for children under 12. For more information, or to make a reservation, contact Karen Flitcraft at (619) 232-7451.
---
SCORE San Diego Small Business Workshops
• April 26 – Introduction to Starting Your Own Business – 9 a.m. to 4:15 p.m. at National University in Kearny Mesa (9388 Lightwave Ave., San Diego 92123; pre-paid registration $69, $79 at the door).
• April 26 – Financial Statements – What They Mean, How to Use Them – 9 a.m. to 3:30 p.m. at SCORE Entrepreneur Center (550 West C St., #550, San Diego 92101; pre-paid registration $29, $39 at the door).
• April 27 – Financing Your Business – 9:30 a.m. to noon at National University in Carlsbad (705 Palomar Airport Road, Carlsbad 92009; pre-paid registration $29, $39 at the door).
• April 27 – Good Governance for Nonprofits: Effective Board Performance – 9 to 11:30 a.m. at The San Diego Foundation in Liberty Station (2508 Historic Decatur Road, #200, San Diego 92106; pre-paid registration $39, $49 at the door).
• April 29 – Business Basics 101 – 9:30 to 11:30 a.m. at SCORE Entrepreneur Center (550 West C St., #550, San Diego 92101; No Charge – Please Pre-Register).
• April 29 – Tax Considerations for Small Business – 9:30 to 11:30 a.m. at National University in Carlsbad (705 Palomar Airport Road, Carlsbad 92009; pre-paid registration $29, $39 at the door).
The Daily Business Report is produced by REP Publishing Inc., publisher of SD METRO, the North Park News, Kensington News and the West Coast Craftsman. Contact: Manny Cruz (619) 287-1865.