Daily Business Report — May 18, 2011
Warning! 40 Under 40 Deadline Nears

The deadline for submitting nominations for SD METRO's 40 Under 40 Awards for 2011 is drawing near. You have until May 30 to nominate people you believe are making substantial contributions to their community, their companies, organizations or institutions. You will find a nomination form on the front page of our Website (sandiegometro.com). Fill it out and submit. Editor's Tip: Describe your nominee in depth. Give plenty of examples of major accomplishments.
Stephen Weber's Final Hurrah at SDSU
Stephen Weber has conferred more than 117,000 degrees to San Diego State graduates during his 15 years as university president, and will preside over his last commencement on Sunday at 1 p.m. in Viejas Arena for the College of Arts and Letters before retiring. That ceremony is one of four being held Thursday through Sunday for a total of 10,260 students approved to participate in commencement activities. Weber will relinquish his job to Elliot Hirshman, provost and senior vice president of the University of Maryland, who was selected last week by trustees of the Cal State University system.
Among the graduating students will be 7,484 bachelor's degree candidates, 2,776 master's degree candidates and 130 doctoral degree candidates. A total of 297 candidates will take part in commencement ceremonies at SDSU's Imperial Valley campus on Thursday. This year's only honorary degree was conferred upon Kazuo Inamori, founder of Kyocera and the Kyoto Prize Symposium, of which SDSU is a partner institution. The honorary doctorate of science was awarded to Inamori during the Kyoto Prize Symposium presentation at SDSU on April 5.
SDSU Commencement Details:
May 19 — Imperial Valley campus, Rollie Carrio Quad, 7 p.m.
May 20 — College of Health and Human Services, Viejas Arena, 11 a.m.; College of Sciences and College of Engineering, Viejas Arena, 4 p.m.
May 21 — College of Business Administration, Viejas Arena, 8 a.m.; College of Professional Studies and Fine Arts (1), Viejas Arena, 1 p.m.; College of Professional Studies and Fine Arts (2), Viejas Arena, 5:30 p.m.
May 22 — College of Education and Division of Undergraduate Studies, Viejas Arena, 8 a.m.; College of Arts and Letters, Viejas Arena, 1 p.m.
Philanthropist Honored For Afghanistan Work
Philanthropist and activist Stephen R. Brown, retired partner at Luce Forward, has been selected to receive the Global Citizen Diplomat Award from the San Diego Diplomacy Council "for his seemingly impossible accomplishments in Afghanistan in education, technology and medicine." Brown will be honored at the organization's annual meeting June 16, at El Vitral restaurant 815 J St. For the past nine years, Brown has devoted as much as 60 hours a week, amassed contributions in the millions of dollars, and made 11 trips to Afghanistan. "In the days after 9-11, I made a promise to myself to do something meaningful to help my country fight the war on terror and to make another attack less likely," he said.
Fellow Rotarian Fary Moini from the La Jolla Golden Triangle Rotary spurred his initial interest shortly after 9-11. By November 2002, they and Flouran Wali, a San Diego Afghan leader, traveled to Afghanistan to facilitate the building of a school in Jalalabad. ,The Jalalabad Rotary School, in operation since May 2004, now serves 5,500 students, including 1,500 girls. To enable girls to study at the school, Brown and his supporters initially subsidized the salaries for eight female teachers.
"The first 12th grade class of boys graduated last year and the first class of girls will graduate this year," said Brown.  "And today – thanks to our efforts — more than 1,000 students in 15 high schools in Jalalabad have access to computer labs and are connected with kids in San Diego and around the world."
While in Jalalabad on their first trip, the group also met with leaders of the Nangarhar University (NU), located just outside the city. "Although it served 4,000 students and had 250 faculty, it had no relationship with any other university, not a single computer, and no usable textbooks." said Brown. "The professors taught using 30-year-old lecture notes." Since then, Brown has spearheaded advances at the university, starting with the creation of a satellite-based computer lab, financed by Brown and John Moores, then owner of the San Diego Padres. Brown and friends have brought numerous professors to San Diego and other U.S. cities on exchanges and for graduate-level coursework. They have helped put together two World Bank-funded partnerships between NU and San Diego State University, valued at $2 million each, which support an English language program and a civil engineering program. They also have built and furnished a dormitory for female students on the NU campus.
Brown's largesse soon spread to other institutions throughout Jalalabad, including the Nangarhar Public Hospital and Nangarhar Medical School.  "We've introduced telemedicine enabling local medical professionals to collaborate with their peers around the world," he said.  "For example, Dr. Stephen Dorros, director of UCSD Radiology, has reviewed 200 CAT scans from Jalalabad." To encourage additional involvement and exchanges, Brown helped establish a Sister Cities relationship between San Diego and Jalalabad in 2004.
"The time I have spent working with my friends in Jalalabad has been the most rewarding experience in my life," Brown said. "Our efforts have directly affected thousands of people  and thousands more are aware of our efforts. It can't help but counter anti-American propaganda advanced by extremists. We're providing hard evidence of how Americas are and what we stand for."
Ticket information for the June 16 event, which will include a presentation by Brown, is available at sandiegodiplomacy.org.
Wounded Warrior Barracks Gets Platinum
The Wounded Warrior Barracks at Marine Corps Base Camp Pendleton, a housing complex built by Barnhart Balfour Beatty, has received the first-evern LEED Platinum certification for a Navy/Marine Corps project issued by the U.S. Green Building Council. The Wounded Warrior Barracks received near-perfect scores for interiors that used recycled and environmentally safe materials and energy-saving equipment for bedrooms, hallways, showers and recreational areas. The barracks include 100 semi-private suites for men and women of all ranks and currently has more than 160 residents. The project was designed by Cass, Sowatsky, Chapman & Associates and managed under the direction of Naval Facilities Engineering Command Southwest. Wounded Warrior Battalion West provides assistance to wounded, injured and ill Marines and sailors and their family members throughout the phases of their recovery.
St. Joseph's Cathedral Beautified
The 70-year-old St. Joseph's Catholic Cathedral in Downtown San Diego has gone through $770,000 in restorative work and upgrades performed by general contractor T.B. Penick and Sons Inc. The work completes the second phase of a three-phase renovation plan for the 13,415-square-foot building, which is located at 1535 Third Ave., between Beech and Cedar streets. Second phase improvements will include interior lighting, exterior wood and concree restorations to the building and bell tower, painting and repairs to upper clerestory windows. "There was scaffolding in place all around the cathedral for seven months while the work was under way," said the Rev. Peter Escalante, pastor. "Now that the work is complete we are receiving all kinds of positive comments and letters from the Downtown community.
Phase one restorations, completed last year, included upgrades and improvements to the sanctuary's restrooms and ADA accessibility including ramp installation and automatic door operating system. Additional phase three improvements for the cathedral are planned in the coming years once fundraising is in place. Project architects included Baucentrum Urban Studio and Domusstudio Architecture. T.B. Penick & Sons team members included Luis Gaytan, construction manager; Zach Wheeler, superintendent; Lindsay Thaxton and Susanna Bingham, project administrators. Major subs included Mark Sauer Construction, Helfers Electric and New Image Painting.
HIV Testing Center Opens in Hillcrest
UCSD School of Medicine's Lead the Way Campaign for HIV prevention has opened the doors to an official testing center at 3830 Park Blvd. in Hillcrest. The storefront location is a supplement to the door-to-door mobile testing campaign that will take place beginning June 8 in the 92103 and 92104 ZIP codes. The campaign also has tapped 16 people from those areas who have agreed to take the test and take part in promotional activities to encourage others to become involved in the project. Photos of the role models wearing the signature blue Band-Aids provided after the rapid HIV finger prick test will be featured on billboards and bus shelters throughout the two ZIP code. The Lead the Way role models include Father Joe Carroll, David Cohn, Isabel Cruz, Matt Gordon, Aaron Heier, Kinsee Morlan, Nate Benedetto, Jonathan Hale, among others. The ultimate goal of the Lead the Way project is show that the spread of HIV can be reduced, even without a vaccine. "Testing the entire 92103 and 92104 communities is the first step in a multiple-year project to demonstrate that, with appropriate testing and treatment for those found to be HIV+, HIV can be controlled within a community," campaign officials said.
Cumming to Provide Management Services for Renovation
Cumming has been selected to provide project management services for the renovation of 294 guest rooms at the DoubleTree by Hilton San Diego-Mission Valley. The renovation includes fully updating hotel guest rooms and new lighting arrangements, bathroom remodels and new exterior doors and windows. Completion of the work is scheduled for the fall.
Women Build Program to Help National City Family
San Diego Habitat for Humanity will launch its Women Build Season on June 15 where volunteers will work to build a home in National City in partnership with a family in need. "We anticipate hundreds of volunteers participating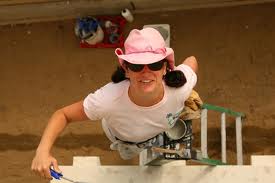 throughout the Women Build season, working alongside a wonderful Habitat partner family," said Chris Marek, chief officer of development and strategy for Habitat for Humanity.  "This home will be very special in that passionate women have come together with heart to build it." The program does not exclude men from volunteer efforts, but includes women in the build process. Since the program's launch in 1998, Women Build volunteers have constructed more than 1,750 homes around the world, including three homes in San Diego County. For information on volunteering or sponsorships, visit sdhfh.org/womenbuild.
Mesa College to Dedicate New Design Center
San Diego Mesa College will host a dedication ceremony for the new Mesa College Design Center, home of the college's Department of Architecture and Environmental Design, on Thursday at 10 a.m. The project was originally a 24,000-square-foot, six-building elementary school.  The renovation involved interior alterations, repairs, technology upgrades and accessibility enhancements, along with exterior building and site improvements. The $5.4 million renovation was funded by the San Diego Community College District's $1.555 Propositions S and N construction bond program. The center was designed by Delawie Wilkes Rodrigues Barker Architects. It provides training facilities for nine degree and 14 certificate programs for the architecture, building construction technology, interior design and landscape architecture programs.
---
Small Business Workshops

SCORE San Diego continues its series of low-cost workshops. Fees range from $29 to $109, depending on the program. To register online, visit score-sandiego.org. For more information, call (619) 557-7272.
May 18 – Internet Marketing 301: Increase Sales Through Pay-Per-Click – 9 a.m. to noon at National University in Kearny Mesa (9388 Lightwave Ave., San Diego 92123; pre-paid registration $49, $59 at the door).
May 21 – Introduction to Starting Your Own Business – 9 a.m. to 4:15 p.m. at National University in Kearny Mesa (9388 Lightwave Ave., San Diego 92123; pre-paid registration $69, $79 at the door).
May 21 – Internet Marketing 101: Use the Internet to Successfully Market Your Business – 9 a.m. to 3 p.m. at National University in Kearny Mesa (9388 Lightwave Ave., San Diego 92123; pre-paid registration $69, $79 at the door).
May 23 – Restaurant 201 – 9 a.m. to noon at National University in Carlsbad (705 Palomar Airport Road, San Diego 92011; pre-paid registration $49, $59 at the door).
May 24 – Marketing & Contracting with State & Local Governments – 9 a.m. to 3 p.m. at National University in Kearny Mesa (9388 Lightwave Ave., San Diego 92123; pre-paid registration $69, $79 at the door).
May 25 – QuickBooks Advanced – 9 a.m. to 4 p.m. at National University in Kearny Mesa (9388 Lightwave Ave., San Diego 92123; pre-paid registration $69, $79 at the door).
May 25 – How to Start a Nonprofit – 9 to 11:30 a.m. at The San Diego Foundation in Point Loma (2508 Historic Decatur Road, #200, San Diego 92106; pre-paid registration $39, $49 at the door).
May 26 – Internet Marketing 302: Develop a Winning Email Marketing Success Strategy – 9 a.m. to noon at National University in National University in Carlsbad (705 Palomar Airport Road, San Diego 92011; pre-paid registration $49, $59 at the door).
May 31 – Business Basics 101 – 9:30 to 11:30 a.m. at National University in Kearny Mesa (9388 Lightwave Ave., San Diego 92123; No charge – please pre-register).
---
The Daily Business Report is produced by REP Publishing Inc., publisher of SD METRO, the North Park News, Kensington News and the West Coast Craftsman. Contact: Manny Cruz (619) 287-1865.