Daily Business Report — May 6, 2011
40 Under 40 Awards Deadline: May 30

The 2011 40 Under 40 Awards nomination period is in full swing. May 30 is the deadline for submitting nominations of people you believe are making substantial contributions to their community, their companies, organizations or institutions. You will find a nomination form on the front page of our Website (sandiegometro.com). Fill it out and submit. Editor's Tip: Describe your nominee in depth. Give plenty of examples of major accomplishments.
Groups Seek Revitalization of El Cajon Boulevard Corridor
NewSchool of Architecture and Design's Department of Architecture is partnering with the Rolando Community Council and the City Heights Business Association on design proposals for the revitalization of the El Cajon Boulevard corridor in downtown San Diego.  Final designs will be presented as an option for revitalization efforts to the city of San Diego's Redevelopment Agency. "Fourth-year undergraduate students select a neighborhood partner to work with on a yearlong project," said Michael Stepner, faculty coordinator. "The neighborhood selection is based on requests from public agencies, nonprofit neighborhood organizations and community organizations." The end result is an urban design master plan. This year students will work on four distinct projects. For one project, the Rolando Community Council requested the architectural school to look at the El Cajon Boulevard corridor and focus on several stalled redevelopment projects. The corridor links the University Heights, North Park, Normal Heights, Kensington, Talmadge and City Heights communities and features more than 900 businesses. The City Heights Business Association also asked the students to make a site visit. Students will propose a design for a "Little Saigon" district along the boulevard. The project will help build community support for the revitalization of the neighborhood, while helping to enhance the students' design skills. All of the architectural students worked with the Citizens Coordinate for Century 3 waterfront committee, a collaboration of representatives from various design and advocacy organizations that works to show city officials how to improve the planning and design of the waterfront through examples of advocacy.
Cuyamaca College Names New President
Mark J. Zacovic, executive vice president of instruction and student services at Victor Valley Community College, has been named president of Cuyamaca College, effective July 1. Zacovic was selected from four finalists after a nationwide search was conducted and after a search team visited the Victor Valley campus. "I'm looking forward to working with all the faculty and staff at Cuyamaca College," Zacovic said. "It's an innovative college with many dedicated people and exciting programs." A 26-year veteran of the California Community College system, Zacovic first served as the director of administrative services at Santa Barbara City College, where he also taught part-time in business administration for five years beginning in 1985. Zacovic has also served as the vice president of business services at Lake Tahoe Community College, interim president of Santiago Canyon College, vice chancellor of business operations and fiscal services at Rancho Santiago Community College District, and superintendent/president at Mt. San Jacinto Community College District.
Former Redevelopment Officials Plead Not Guilty
Carolyn Y. Smith and Dante Dayacap, the former city of San Diego redevelopment officials charged with five criminal felonies, both pleaded not guilty in a joint arraignment Wednesday in San Diego Superior Court, reports voiceofsandiego.org. Smith, flanked by her lawyer Jerry Coughlan, was led from the courtroom in handcuffs at the end of the hearing. She and Dayacap addressed Judge David Szumowski only once, both saying "yes" when asked if they understood that they had a right to a hearing within 60 days. Szumowski granted the defendants bail at $25,000 apiece, far lower than the initial $130,000 that the state Attorney General's Office, which is prosecuting the case, had requested for Dayacap.
Former Newspaper Executive Joins Insight Edge Inc.
Veteran newspaper executive Scott T. Whitley has been named a principal of Insight Edge Inc., a media consultant and executive recruiting firm. Whitley's focus will be on the recruitment of print, digital and broadcast media executives such as publishers, advertising vice presidents, editors, digital sales directors, general sales managers, local sales managers and c-level management. He will also expand Insight Edge's temporary executive placement service. Prior to joining Insight Edge, Whitley was vice president, chief revenue officer at the San Diego Union-Tribune. He has also served as associate publisher of the San Diego Business Journal; director of classified advertising at Philadelphia Newspapers LLC, publisher of The Philadelphia Inquirer, Philadelphia Daily News and Philly.com; and advertising manager at the Sacramento Bee. His community newspaper experience includes the San Angelo Standard-Times, Corsicana Daily Sun and Caller-Times Publishing Co.
Real Estate
Beach Area Acquisition —Marc Brutten, chairman and founder of Westcore Properties, has acquired a 16,500-square-foot parcel at the corner of Garnet Avenue and Mission Bay Drive in the Pacific Beach area of San Diego for $860,000. The property, sold to Brutten by the Hildebrand Trust, previously was the site of a Mobil gas station.  Brutten said he plans to hold the property for a long-term investment.  "We are looking at a number of potential uses for the site and plan to immediately redevelop it or re-lease it to another service station," said Brutten.
Retail Center — Michael Pashaie/Arcadia Hub Holdings 1 LLC purchased a 56,006-square-foot retail shopping center at the southwest corner of Rosecrans and Sports Arena Boulevard from Sports Arena Shopping Center LLC for $7.3 million. Chuck Klein and Kevin Held of Cassidy Turley BRE Commercial represented the seller in the transaction. Scot Eisendrath of Cassidy Turley BRE Commercial provided financial advisory services. The buyer's representation was undisclosed.
Industrial Property — Faith Buyuksonmez purchased a 6,783-square-foot industrial suite at 6259 Progressive Drive, Suite 300, from Ascent-Biltmore Otay Mesa LLC for $488,376. Phil Linton and Regan Tully of Cassidy Turley BRE Commercial represented the seller in the transaction. Ted Sanchez of Realty Executives represented the buyer.
Leases
Retail — The retail space of 2063 square feet located in Plaza Sorrento, Suite 148, has been leased for a term of six years at a starting rate of $2.45 per-square-foot, NNN. The property is located at 6755 Mira Mesa Blvd. in San Diego. The Tenant, Integrated Health and Fitness Inc. DBA Tru Health and Wellness, was represented by Rob Kerr of NAI San Diego. Plaza Sorrento Partners LLC, the landlord, was represented by Reg Kobzi of CBRE. Integrated Health and Fitness, which was founded in 2003, is relocating to Plaza Sorrento from their previous San Diego location.
Workshop Explores Downtown I.D.E.A. District

Developers David Malmuth and Pete Garcia are taking the lead in driving an initiative to develop a 35-block area of Downtown San Diego into a hub for the arts, education, commercial and residential developments. They claim their proposal — called the I.D.E.A. District — could potentially generate up to 10,000 high-paying jobs and moe than 6 million square feet of commercial and residental development. (I.D.E.A. means Innovation + Design +Education +Art.)
The developers laid out their proposal at a Wednesday workshop at the NewSchool of Architecture and Design that was co-sponsored by arts leader Danah Fayman, the Downtown San Diego Partnership and The San Diego Foundation. Malmuth and Garcia have engaged the city of San Diego, the East Village Association, major property owners, San Diego City College and the Centre City Development Corp. in their pursuit of the district, which would be bounded by City College on the north, Market Street on the south, Interstate 5 on the east and 11th Avenue on the west.
"The I.D.E.A. District is a transformational project that has the potential to become a major new business and clean, high-paying jobs engine for San Diego, focusing on designers and design firms," said Malmuth. "Major trends in the global economy, coupled with San Diego's strategic location, business climate, and entrepreneurial spirit, all point toward the opportunity for this clustering concept to be the 'next big thing.'"
Garcia said the Torrey Pines area is a good example of how "co-location" and clustering can reap rewards. "Over the past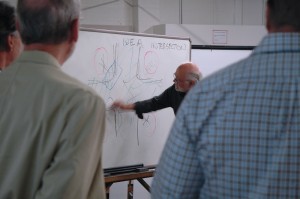 two decades, there has been an explosion in the number of successful biotechnology and telecommunication industries in the Torrey Pines and Sorrento Valley areas.  UCSD was a catalyst for this transformation by attracting world-class scientists and engineers and creating a network of entrepreneurs, students, scientists, venture capitalists, and business leaders who all benefited from each other," said Garcia.
Malmuth said that there is a huge amount of research and case studies that demonstrate the benefits of this clustering effect.  "Clusters lower the cost of entry, enhance opportunities for innovation, and allow firms to leverage local resources to expand operations more effectively and economically," he said.
"Jobs in the 21st century will be driven by the marriage of design and technology," said Garcia, a builder, developer and artist who is the past-chairman of the San Diego Regional Economic Development Foundation.
Malmuth, who has led the development of art-inspired urban projects in New York and Los Angeles, said that East Village is the perfect place for a world-class design and creative cluster, based on its character, host of educational institutions, transportation options and strategic location. "This is not an opportunity that will last indefinitely," he said.  "Development pressures are already building to turn one of the district's best assets — available land — into four-story apartments over parking podiums.  If this occurs, East Village will miss its chance to achieve something truly special and transformative.  Imagine if – as some suggested at the time – we had decided to pass on establishing UCSD and just built more housing instead.  Today, we need to create clean, high-paying jobs Downtown."
Malmuth and Garcia pointed to the need for several catalytic projects to jumpstart the I.D.E.A. District.  "Nothing is more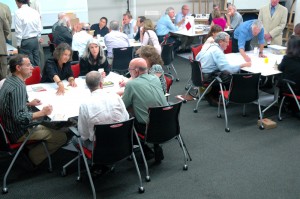 important than the proposed new urban campus for the NewSchool of Architecture and Design," said Garcia.  "It is critical to our planning that the NewSchool decide to remain in East Village and build a landmark campus commensurate with its commitment to be a center for design excellence worldwide. Building an architecturally significant new building to house NSAD's projected 1,000+ students and faculty will ignite the district by bringing world-class design thinkers to San Diego."
Other key components that would help ignite the concept is an incubator space that would give San Diego-based design firms an opportunity to co-locate and an "ArtBlok," a block that could contain galleries, studios, art supplies, and affordable housing for artists. David Hazan of the East Village Association announced that the association will partner with Malmuth and Garcia to "liberate" the block bounded by F and G streets and 13th and 14th avenues and turn it into a temporary "outdoor laboratory" — an innovative community space for exhibitions, idea exchanges, performances, events and casual interaction. The block is eventually slated to become part of the major open space in the district, the East Village Green.
Architect Rob Wellington Quigley, who was involved in the transformation of Little Italy, said, "The grass roots group involved in the early planning of Little Italy did not try to make something different — it built on the existing qualities of the area.  That's why there is a certain authenticity to the place."  He went on to say, "If anything new and original does happen in San Diego, it will happen here."
The next step toward realizing the I.D.E.A. District is the development of a visioning document that will incorporate ideas from the workshop. That document is expected to be completed this summer, according to Garcia and Malmuth. (Photos by Timothy McCarthy)
---
Small Business Workshops

SCORE San Diego continues its series of low-cost workshops. Fees range from $29 to $109, depending on the program. To register online, visit score-sandiego.org. For more information, call (619) 557-7272.
May 7 – Business Plan 101: How to Develop Your Best Competitive Advantage – 9 a.m. to 3 p.m. at National University in Carlsbad (705 Palomar Airport Road, San Diego 92011; pre-paid registration $79, $89 at the door).
May 10 – Legal Issues for Small Business: Organizational Structure – 9 a.m. to noon at National University in Kearny Mesa (9388 Lightwave Ave., San Diego 92123; pre-paid registration $49, $59 at the door).
May 10 – Marketing for Nonprofits – 9 to 11:30 a.m. at The San Diego Foundation in Point Loma (2508 Historic Decatur Road, #200, San Diego 92106; pre-paid registration $39, $49 at the door).
May 12 – Financing Your Business – 9:30 a.m. to noon at National University in Kearny Mesa (9388 Lightwave Ave., San Diego 92123; pre-paid registration $29, $39 at the door).
May 13 – Women's Networking Breakfast & Exhibits – 8 to 11 a.m. at Morgan Run Resort & Club (5690 Cancha de Golf, Rancho Santa Fe 92091; Attendees: $30 pre-paid registration by May 10, $40 thereafter; Exhibitors: $80 pre-paid registration by May 10, $90 thereafter).
May 14 – Business Plan 201: How to Write a Winning Business Plan – 9 a.m. to 3:30 p.m. at National University in Carlsbad (705 Palomar Airport Road, San Diego 92011; pre-paid registration $99, $109 at the door).
May 14 – Professional Selling: Increase Your Business Sales Now! – 9 a.m. to 4 p.m. at National University in Kearny Mesa (9388 Lightwave Ave., San Diego 92123; pre-paid registration $69, $79 at the door).
May 16 – Business Basics 101 – 9:30 to 11:30 a.m. at National University in Kearny Mesa (9388 Lightwave Ave., San Diego 92123; No charge – please pre-register).
---
The Daily Business Report is produced by REP Publishing Inc., publisher of SD METRO, the North Park News, Kensington News and the West Coast Craftsman. Contact: Manny Cruz (619) 287-1865.