Daily Business Report — June 22, 2011
USD to Offer Degrees in Paperless Health Records
The University of San Diego is tuning in to the paperless office trend. Beginning next fall, the Hahn School of Nursing and Health Science will offer a master's degree in health care informatics and a master's degree in nursing with a specialty in informatics — or the practice of digitizing paper records. "We are excited to offer these programs on the cutting-edge of health care that will provide high-paying jobs in such a tight economy," said Sally Brosz Hardin, dean of USD's School of Nursing.
According to Hardin, the records of doctors' offices will be digitized at every step, from records and decision-support to patient education and billing. She expects that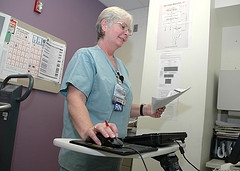 thousands of new jobs will be created by this "intersection" of computer science and health care. The university says the masters' in nursing will be the only program of its kind in California. Both will include a 200-hour residency and a capstone project for students to apply what they've learned in a clinical setting. The Hahn School also will offer a graduate certificate program in informatics that can be completed in one calendar year.
The stimulus for the digitization of health care records are new federal laws included in the 2009 economic stimulus package that will provide a bonus payment for Medicaid and Medicare to hospitals and health care providers that implement the new systems, beginning next year. And health care providers who don't implement them will face reduced reimbursements by 2015.
"By automating, organizing and improving the transmission of information to support the delivery of health care, informatics will enable doctors and nurses to computerize and centralize their patients' records, lab technicians to send electronic test results immediately, pharmacists to view a patient's entire prescription catalog, and much more," says Jonathan Mack, coordinator for the program. "The end goal is to improve medical care by increasing speed and accuracy while reducing errors and costs." Applications are now being accepted. For more information go to sandiego.edu/academics/nursing or call (619) 260-4548.
King & Ballow to Offer Social Media Policy Tips
King & Ballow will brief employers on the world of tweets and blogs and why they should adopt social media policies at a July 22 program at its offices at 6450 Lusk Blvd., Suite E-100, in San Diego. Registration and a continental breakfast is from 7:30 to 8:30 a.m. and the briefing will run from 8:30 to 10:40 a.m. The briefing, which costs $25 to attend, will discuss why employers should have a social media policy, what should be included in the policy, what should not be included and offer suggestions on how to customize the policy to meet the needs of employers and their employees. For more information and to register for the briefing, contact Sherie Johnson at sjohnson@kingballow.com. To register online, visit kingballow.com.
Mortgage Consultants Hired by Union Bank
Mark Lovec and Eric Lovett have joined Union Bank's consumer lending group as mortgage consultants, newly created positions. They are responsible for assisting customers with their personal mortgage needs and loan originations in the greater San Diego area. With eight years of experience in the mortgage industry, Lovec joined Union Bank from Wells Fargo, where he served as a sales manager. Prior to that, Lovec served as a mortgage consultant at Downey Savings and Loan. He is a native of San Diego. Lovec studied communications at San Francisco State University. Lovett joins Union Bank with 17 years of experience in the banking industry. Most recently, he was a residential mortgage consultant at Wells Fargo. Prior to that, he served as managing director at First Continental Bank, previously Allegiance Financial.  Lovett also served as the regional manager for America's Moneyline. He holds a bachelor's degree from San Diego State University.
SDSU Open House for Meeting and Event Planning Program
SDSU's College of Extended Studies will host an open house for its Professional Certificate in Meeting and Event Planning program on July 14 from 6-7:30 p.m. in the SDSU Extended Studies/Gateway Centers, 5250 Campanile Drive. Attendees will get to hear program instructors describe their courses, visit with industry associations, and network with professionals in the meeting and event planning field. For more information on the open house and the meeting and event planning certificate program, call (619) 594-1138 or visit neverstoplearning.net/meeting.
City Council Confirms CCDC Appointments
The San Diego City Council has confirmed Mayor Jerry Sanders' appointment of Cynthia Morgan and Kim John Kilkenny's reappointment to the Centre City Development Corp. (CCDC) board of directors.  Morgan, a partner at Higgs, Fletcher & Mack law firm, is experienced in areas of land use, real estate, business and public agency law. Prior to joining Higgs, Fletcher & Mack, she served as a deputy city attorney in the Oceanside City Attorney's Office and in the San Diego City Attorney's Office. She was a Municipal Legal Fellow for the League of California Cities and a Georgetown Law Women's Law and Public Policy Fellow. She graduated from Michigan State University with a bachelor's degree and received her law degree from the University of Notre Dame. Morgan replaces Fredric Maas, former board chair, who finished his board service in December. Kilkenny currently chairs CCDC's board. He is a retired executive from The Otay Ranch Co. Kilkenny served as the legislative counsel for the San Diego Construction Industry Federation for nine years. From 1974 to 1980, he worked as the legislative analyst and chief of staff for members of the county Board of Supervisors. He holds a bachelor's degree from San Diego State and a law degree from Thomas Jefferson College of Law.
Garden Fresh Names Chief Information Officer
Garden Fresh Restaurant Corp., which operates 120 Souplantation and Sweet Tomatoes buffet restaurants, has appointed Eric Rosenzweig as chief information officer. Rosenzweig has more than 25 years of experience managing technology at corporations. Most recently, he was vice president of information technology at Petco Animal Supplies Inc., where he worked for 16 years.
Anaphore Appoints New President and CEO
Anaphore Inc. announced the appointment of Paul A. Grayson as president and CEO. He replaces Katherine S. Bowdish, a co-founder of Anaphore, who will continue to serve the company as a consultant. Grayson previously served as CEO of Fate Therapeutics, a San Diego-based, privately held biopharmaceutical company focused on the development of therapies that act through stem cell modulation. Before this, he was managing director of Sanderling Ventures where he was a founding board member of multiple portfolio companies including: Calcimedica, Taligen Therapeutics (acquired by Alexion Pharmaceuticals), and Naviscan.  Prior to Sanderling, Grayson served as the founding Chairman and CEO of Senomyx Inc.
Small Business Workshops

SCORE San Diego continues its series of low-cost workshops. Fees range from $29 to $109, depending on the program. To register online, visit score-sandiego.org. For more information, call (619) 557-7272.
• June 28 – Introduction to Starting Your Own Business – 9 a.m. to 4:15 p.m. at National University in Carlsbad (705 Palomar Airport Road, Carlsbad 92011; pre-paid registration $69, $79 at the door).
• June 29 – Tax Considerations for Small Business – 9:30 to 11:30 a.m. at National University in Kearny Mesa (9388 Lightwave Ave., San Diego 92123; pre-paid registration $29, $39 at the door).
• June 30 – Business Basics 101 – 9 a.m. to 3:30 p.m. at National University in Kearny Mesa (9388 Lightwave Ave., San Diego 92123; no charge – please pre-register).
---
The Daily Business Report is produced by REP Publishing Inc., publisher of SD METRO, the North Park News, Kensington News and the West Coast Craftsman. Contact: Manny Cruz (619) 287-1865.