Daily Business Report — Sept. 27, 2011
Men Who Impact San Diego

SD METRO identified 20 "Women Who Rock" in our June publication. Now it's the men's turn. Send us your nomination for a man — no age requirement — who you believe has made San Diego a better place to live or to do business, or who has made significant contributions to his industry or community. Nominees can be in the private or public sector, own or work for a for-profit firm or a nonprofit. Of course you can nominate more than one person, but each one must be submitted individually. You'll find a nomination form on our Website (sandiegometro.com). Deadline is Oct. 3. You'll see the results in mid-October.
NAIOP Dedicates Memorial to Marines
NAIOP San Diego, the Commercial Real Estate Development Association, and the 1st Marine Special Operations Battalion have dedicated a memorial at Camp Pendleton to honor fallen Marines. The memorial, located in front of the special operations battalion's headquarters, is  inscribed with  the names of the Marines of 1st Marine Special Operations Battalion who have died in the line of duty, including Corp. Travis Woods, Sgt. Michael Roy, Capt. Joshua Meadows, Staff Sgt. Charlie Cartwright and Staff Sgt. Chris Antonik.
"The monument is a reminder to all those Marines, sailors, family members and visitors to 1st Marine Special Operations Battalion's headquarters building of the ultimate sacrifice made by these warriors," said John Garrigan, a former Marine aviator and current NAIOP board member and community involvement chairman. "It is a permanent fixture that will withstand the test of time and be a great reminder for generations of future Marines of their legacy and the sacrifices made by those who went before them."
The pinnacle monument was designed by John Turpit, an architect, NAIOP member and former Marine aviator. NAIOP member Jack Burger was the general contractor. "Our industry is in the business of creating the places where San Diegans work, shop and thrive, and the Marines of 1st MSOB are in the business of protecting that way of life," said Paul Twardowski, president of NAIOP San Diego. "All of our members are grateful for and humbled by the personal sacrifices made by these Marines."
Northrop Grumman and IT Professionals Upgrade USO Systems
Northrop Grumman Corp. and a team of information technology professionals have donated software and technical expertise to upgrade the computer and phone services at USO San Diego locations in Downtown and at San Diego International Airport. The industry team is from Allicom, Chula Vista Electric, Cox Communications, KnowledgeCentrix, KST Data and Microsoft. USO San Diego leaders and public officials acknowledged the donations during a "Connecting USO" ceremony today. "This project is just one example of Northrop Grumman's support for the USO and its invaluable service to the men and women in our armed services," said Jim Zortman, sector vice president and site manager for Northrop Grumman's Unmanned Systems Center in Rancho Bernardo. "Here in San Diego, our employees have pitched in to refurbish the Downtown USO center and stuffed thousands of care packages for troops overseas."
Said John Dooley, president and CEO of USO San Diego, "Thanks to their generous contributions, the USO will soon have a state-of-the-art system allowing us to more efficiently provide a 'home away from home' for U.S. military personnel and their families."
The USO information technology project started about a year ago when the organization realized its existing infrastructure was hampering, rather than helping, the ability to serve its clients. Neither its phone system nor its computer network was centralized. Outside callers had only one phone number for each location that rang on every phone in the office, and important records resided on separate computers that weren't connected to each other. Northrop Grumman created a plan for what the USO's infrastructure should look like, then assembled its team to perform the work. The USO received contributions from SAIC and Soldiers Angels. The Rancho Santa Fe Foundation provided financial support.
The entire system will be operational when the USO moves into new quarters at the airport in less than two years.
La Valencia Hotel to Get $10 Million Renovation
Pacifica Companies has completed the acquisition of the La Valencia Hotel in La Jolla and will start a $10 million renovation of the property later this year. The renovation will include the hotel guest rooms, food and beverage outlets, meeting space and spa. Structural and exterior repairs were made in 2010. "We are delighted to become the stewards of La Valencia Hotel, a true landmark in Southern California," said Ash Israni, chairman of Pacifica Companies. The San Diego-based company acquired the hotel through its hotel ownership division, Prospect Hospitality LP. Pacifica has managed the hotel since September 2010, when it assumed operation as well as the option to purchase the property. The hotel has 112 guest rooms, suites and villas with views of the Pacific. It was built in 1926.
Westwood Firm Purchases Oceanside Apartments
Villa Pacific, a 64-unit apartment building in Oceanside, has been purchased by California Landmark Group for $8.19 million. It was the Westwood-based firm's second acquisition in the San Diego area. Last September, it purchased the Serenata Townhomes in the College Grove area. Macbeth Apartment Systems provides management services to both properties.
---
Market Street Plaza Arts & Culture Fest
Festival to sparkle Oct. 15
A San Diego multicultural event — the sixth annual Market Creek Plaza Arts & Culture Fest — will be presented Oct. 15 from noon to 6 p.m. with music, dance and artistic expression. Market Street Plaza is at 310 Euclid Ave. Live entertainment will be on three stages with performers including the Taiko Drummers of San Diego, the PASACAT Philippine Performing Arts Company, Teye sa Thiosanne African Drum & Dance Company and Taupou Samoa. Ramon "Chunky" Sanchez, Atomic Groove and Remembrance will perform on the Celebration Hall Stage inside the Joe & Vi Jacobs Center.  The Youth Movement Stage will host performances by a variety of groups that include the Morse High School Dance Team, spoken word with Delawrence McClure, and hip hop with Jehsyn Lavelle. A skateboarding demo will be held during the event.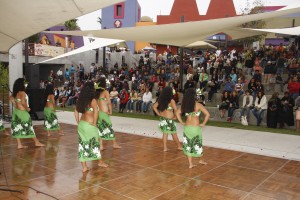 The San Diego Museum of Art and Mingei International Museum will host hands-on workshops, including yarn weaving and African American-style quilting. Through a partnership with the Center for Community & Cultural Arts, 20 pieces from a current Mingei exhibit, "Bold Expressions: African American Quilts from the Collection of Corrine Riley,"are on display in the Joe & Vi Jacobs Center and can be viewed during the Arts & Culture Fest.  Local residents of southeastern San Diego will display culturally diverse handmade and heirloom quilts, including an African American storytelling quilt, a Hawaiian quilt, and many others.
Other hands-on workshops include drum making with RhythmWorx, West African dance lessons, and learning how to grow your own food with The People's Produce Project. Roaming through the event will be the Fern Street Circus and San Diego Lucky Lion Dancers. The International Market will offer items, cultural wares,and international cuisine.
The event is sponsored by the Jacobs Center for Neighborhood Innovation. Other sponsors include the city of San Diego Commission for Arts and Culture, San Diego Gas & Electric, Rodriguez Associates Architects & Planners, Rick Engineering, the Samuel L. & John Henry Fox Foundation through Union Bank, and Market Creek Events & Venues.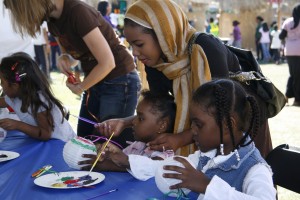 ---
The Daily Business Report is produced by REP Publishing Inc., publisher of SD METRO, the North Park News and the West Coast Craftsman. Contact: Manny Cruz (619) 287-1865.
---