Daily Business Report — Sept. 28, 2011
County Economy Falters
Consumer confidence, local stock prices collapse in August
The USD Burnham-Moores Center for Real Estate's Index of Leading Economic Indicators for San Diego County fell 1.0 percent in August. The downward move was led by sharp declines in local stock prices, consumer confidence and building permits. These overwhelmed moderate increases in help wanted advertising and the outlook for the national economy and a smaller gain in initial claims for unemployment insurance to push the USD Index to its largest decline since March 2009, said economics professor Alan Gin, author of the Index.
"With the USD Index now having fallen for two of the last three months, there are serious questions about the near-term outlook for the local economy," said Gin. "Economists usually look for three consecutive changes in a leading index in one direction to signal a turning point in an economy.  While that threshold has not yet been met, the magnitude of the decrease is troubling."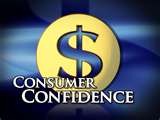 Gin said the two measures of sentiment in the Index — local stock prices and consumer confidence — collapsed in August, indicating that both investors and consumers have serious concerns about the economy. "The economic and political situations have gotten people in an ugly and pessimistic mood that has not been observed for a long time," he said. "Whether that translates into trouble for the economy remains to be seen.  For now, the outlook remains for positive but slow growth in the local economy through the first part of 2012. What happens after that is up in the air, and more data will be needed in the coming months to clarify the situation."
August's decrease puts the USD Index of Leading Economic Indicators for San Diego County at 116.0, down from July's revised reading of 117.2.
Expert on Terrorist Networks to Headline Trigild Conference
Juval Aviv, a retired major in the Israel Defense Force and president of an international security firm, will be among speakers at the Oct. 19-21 Trigild Lender Conference at the Hilton San Diego Bayfront in Downtown San Diego.
Juval, an expert on white collar crime and an authority on terrorist networks, will speak on "Uncovering Fraud and Searching for Perpetrators" at a 2:30 p.m. program. Aviv, the president of Interfor, also will discuss his role — as a counter terrorism intelligence officer — in tracking down the terrorists who murdered 11 Israeli athletes at the 1972 Munich Olympics. Also headlining the conference will be Sam Chandan, president and chief economist at Chandan Economics, and Norm Miller, professor at the Burnham-Moores Center for Real Estate at the University of San Diego.
Presenters and panelists will discuss the state of the economy and commercial loan recovery, including: Jan Sternin, Situs Companies; Curtis Ambrose, Archon; Gregory Meis, City National Bank; John Maute, Helios, AMC; David Nass, UBS; David Bornheimer, Midland Loan Services; Clark Rogers, KeyBank Real Estate Capital; Mark Weibel, Thompson & Knight, LLP; Peter Ziblatt, Wells Fargo Bank; Keith Honing, AIG Asset Management; and Jeffrey Reder, Urdang Capital Management.
For information or to register, visit trigildlenderconference.com.
Turner Construction Helps Train Young Apprentices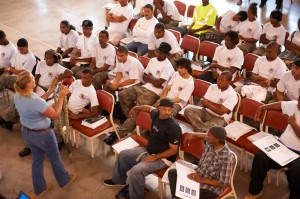 Turner Construction Co. has partnered with the Black Contractors Association to provide safe work environment training to the association's YouthBuild group. The Occupational Health and Safety Administration (OSHA) training consisted of 10 hours of instruction over two days in late August. Many subcontractors are required to have this training — called an OSHA 10 certificate — to work on a job site.
Thirty-two members of the Black Contractors Association's YouthBuild program took the instruction taught by Leary Jones, Turner's safety director, and Kristine Wunder-Myers, Turner's safety manager.
The YouthBuild program is an alternative school in which participants study for their high school diplomas or GEDs and simultaneously learn a construction trade through apprenticeship programs. The OSHA 10 training helps ensure that they have the knowledge they need to promote a safe work environment.
Abdur-Rahim Hameed, president and founder of the San Diego Black Contractors Association, said Turner has become a valuable partner to the association. "Everyone at Turner has been supportive of our initiatives, helping us train and prepare youth to have bright futures in the construction industry," said Hameed.
(Photo: Kristine Wunder-Myers, Turner's safety manager, instructs BCA's YouthBuild class.)
Kimpton Renames the Se Hotel to Hotel Palomar
Kimpton Hotels & Restaurants officially launched its newest acquistion — the former Se Hotel in Downtown — on Tuesday, christening it the new Hotel Palomar San Diego. Kimpton officials said the hotel will partner with local arts and cultural organization on events and promotions, including the Museum of Contemporary Art, San Diego Opera, San Diego Symphony, San Diego Youth Symphony, House of Blues and many independent galleries. One of the first programs in the works is collaboration with the Museum of Contemporary Art San Diego. The hotel will offer custom-tailored room packages featuring tickets to the museum. The Hotel Palomar has 183 guest rooms, including 17 skyline suites and 20 luxury flats at 1047 Fifth Ave.
Crisis Expert to Address Economic Roundtable
Carmen Reinhart, an expert on financial crises around the globe, will speak on "After the Fall" at the Oct. 20 Economic Roundtable at the UCSD Faculty Club. Her talk is at 7:30 a.m.
Reinhart is the Dennis Weatherstone Senior Fellow at the Peterson Institute for International Economics. She held positions as chief economist and vice president at the investment bank Bear Stearns in the 1980s, where she became interested in financial crisis, international contagion and commodity price cycles. This year, Reinhart and Kenneth Rogoff published a new book, "A Decade of Debt," which presents evidence that public debts in the advanced economies have surged in recent years to levels not recorded since the end of World War II, surpassing the heights reached during World War I and the Great Depression.
The breakfast program costs $50 per person. For information and registration, call (858) 822-0510.
Heavy Joins Business Owner Executive Council
Jerry Heavey, a vice president with Morgan Stanley Smith Barney office in San Diego, has been invited into the company's Business Owner Executive Council, a program reserved for the top 2 percent of financial advisers who focus on helping small- and middle-market business owners. Heavey has worked at Smith Barney since 1999 and been in the financial services industry since 1993.
Creagan Joins Cassidy Turley as Investment Specialist
Will Creagan III has joined Cassidy Turley BRE Commercial as an investment specialist in the multi-family section. Creagan has more than 25 years of experience in multi-family real estate including property acquisitions, dispositions, brokerage and management. He will work out of Cassidy Turley's Carlsbad office. Prior to joining the company, Creagan was founder and president of Southwest Equity Partners. Before that he was a principal with Melroy Investment Co. and with Cassidy Turley BRE Commercial (formerly Grubb & Ellis|BRE Commercial). he holds a bachelor's degree from University of San Diego.
Qualcomm Names Head of Latin America Operations
Qualcomm Inc. has appointed Rafael Steinhauser as senior vice president and president of Qualcomm Latin America. Steinhauser will be based in Sao Paulo, Brazil and will report to Jing Wang, executive vice president and president of Global Business Operations.  Flavio Mansi, who joined Qualcomm in 2001 and has been senior vice president and president of Qualcomm Latin America for the past two years, will be transitioning to other opportunities within the company. Steinhauser has more than 25 years of sales and executive leadership experience in the high-tech and telecommunications industries. He holds a master's degree in aerospace engineering from Technische Universitat Berlin in Germany.
---
---
Small Business Workshops
SCORE San Diego continues its series of small business workshops. For more information, call (619) 557-7272 or visit score-sandiego.org.
• Oct. 1 ­ Business Plan 101: How to Develop Your Best Competitive Advantage ­ 9 a.m. to 3 p.m. at National University in Carlsbad (705 Palomar Airport Road, Carlsbad 92011; pre-paid registration $79, $89 at the door).
• Oct. 1 ­ QuickBooks Basic ­ 9 a.m. to 4 p.m. at National University in Kearny Mesa (9388 Lightwave Avenue, San Diego 92123; pre-paid registration $69, $79 at the door).
• Oct. 4 ­ Financing Your Business ­ 9:30 a.m. to 12:30 p.m. at SCORE Entrepreneur Center (550 West C St., #550, San Diego 92101; pre-paid registration $29, $39 at the door).
• Oct. 5 ­ Financial Statements: What They Mean, How to Use Them ­ 9:30 a.m. to noon at SCORE Entrepreneur Center (550 West C St., #550, San Diego 92101; pre-paid registration $29, $39 at the door).
---
The Daily Business Report is produced by REP Publishing Inc., publisher of SD METRO, the North Park News and the West Coast Craftsman. Contact: Manny Cruz (619) 287-1865.
---