Daily Business Report — Sept. 29, 2011
San Diego's Cruise Season Opens
Holland America lines arrive today
San Diego's suffering cruise business will get a boost today with the arrival of three Holland America ships carrying about 6,300 passengers. A ship that visits for a day has an economic impact of about $1 million, according to port officials. "That economic impact is worth celebrating," said Board of Port Commissioners Chairman Scott Peters. Although officials are hailing the arrival of Holland America's Westerdam, Stantendam and Sapphire Princess, they were disappointed earlier this year when Carnival Cruise Lines announced that will be taking the last of its ships out of San Diego after April of next year. Port District officials estimated that the departure will result in the loss of about $54 million to the local economy.
The Port District scheduled a 10 a.m. welcoming ceremony for the Holland America ships, complete with music provided by The Jackstraws band in the 900 block of North Harbor Drive, between the Broadway Pier and Navy Pier.
When a ship begins and ends a cruise in San Diego, it brings in an estimated $2 million for the region's economy, according to port officials.
More than 80 cruise ships are scheduled to call on the Port of San Diego this cruise season, although it could top 100 when new ship calls are added early next year. The cruise season began on Sept. 19 with the arrival of the Celebrity Millennium. The season ends in mid June. In 2010, there were 209 cruise ship calls with nearly 780,000 passengers.
Ship calls this season are expected to generate about $150 million for the region's economy. The industry is responsible for about 2,000 jobs regionally, ranging from truck drivers bringing provisions to the ships to shuttle and taxi drivers. The economic downturn and concern about crime in Mexico are the major reasons for the drop in the number of cruise calls.
An assessment of the cruise industry presented to the Board of Port Commissioners forecast a recovery in 2015-2016. The economic analysis was commissioned by the port's Business Development & Marketing Department to help develop a strategy for the cruise business recovery.
Port representatives are in discussions with Mexican government and tourism officials, along with the cruise lines and others. One solution is for Mexico to offer a greater variety of shoreside activities for cruise passengers.
San Diego Wins Major Design Award
Landmark Award recognizes river improvement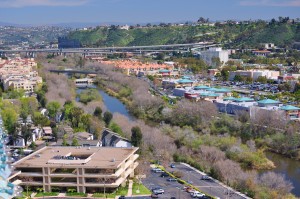 The first phase of the San Diego River Improvement Project has earned the Landmark Award from the American Society of Landscape Architects and the National Trust for Historic Preservation.
The award recognizes a work completed between 15 and 50 years ago that not only retains design excellence over time, but significantly contributes to the public realm. The award ceremony will take place at the San Diego Convention Center on Nov. 2 during the annual meeting and expo of the American Society of Landscape Architects. Designed by San Diego's Wimmer Yamada and Caughey, the project features created wetland habitats, wildlife preserves, picnic areas, bikeways and pedestrian paths. The project reduced and controlled the seasonal flooding that previously plagued the Mission Valley area each year.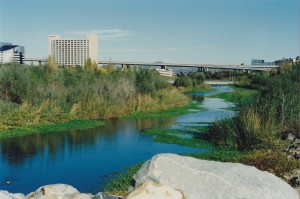 The Landmark Award is part of the 2011 ASLA Professional Awards. Overall, the awards jury of leading design experts considered 567 entries and selected 37 winners in the categories of General Design, Residential Design, Analysis and Planning, Communications, Research and the Landmark Award. Besides the quality of the design, the jury also weighed the environmental sensitivity and sustainability of each project. The awards honor the top public places, residential designs, campuses, parks and urban planning projects from across the U.S. and around the world. The October issue of Landscape Architecture Magazine features the winning projects.
(Photos: Aerial view of Mission Valley today. Native vegetation and wildlife returning to the river.)
Local Researchers to Help Study Earthquake Faults
Researchers from San Diego State's Department of Geology and the San Diego Supercomputer Center at UCSD will assist researchers from six other universities and the U.S. Geological Survey to develop detailed, large-scale computer simulations of earthquake faults under a new $4.6 million National Science Foundation grant. Using scientific advancements for earthquake prediction, the computer simulations will use "Gordon," the center's innovative new supercomputer and the first high-performance supercomputer to use large amounts of flash-based SSD — or solid state drive — memory. Flash memory is more common in smaller devices such as mobile phones and laptop computers, but unique for supercomputers, which generally use slower spinning-disk technology.
"Simulations on this scale have been made possible by concurrent advances on two fronts: in our scientific understanding of the geometry, physical properties and dynamic interactions of fault systems across a wide range of spatial and temporal scales; and in the scale of available computational resources and the methodologies to use them efficiently," said Steve Day, SDSU professor of geology who specializes in dynamic rupture simulation.
The simulations will help us better understand the interactions that give rise to observable effects.
The five-year earthquake simulation project is led by UC Riverside and includes researchers from the University of Southern California, Brown University and Columbia University. Day is joined by SDSU colleague and geology professor Kim Olsen.
Scientists will develop and apply the most capable earthquake simulators to investigate these fault systems, focusing first on the North American plate boundary and the San Andreas system of Northern and Southern California. Such systems occur where the world's tectonic plates meet, and control the occurrence and characteristics of the earthquakes they generate. The simulations can also be performed for other earthquake-prone areas where there is sufficient empirical knowledge of the fault system geology, geometry and tectonic loading.
"Observations of earthquakes go back to only about 100 years, resulting in a relatively short record," said James Dieterich, professor of geophysics in UC Riverside's Department of Earth Sciences, and the project's principal investigator. "If we get the physics right, our simulations of plate boundary fault systems — at a one-kilometer resolution for California — will span more than 10,000 years of plate motion and consist of up to a million discrete earthquake events, giving us abundant data to analyze." According to Dieterich, the simulations will provide the means to integrate a wide range of observations from seismology and earthquake geology into a common framework.
( Photo: San Andreas fault in the Carrizo Plain in central California. Courtesy of the U.S. Geological Survey.)
San Diego Private Bank Adds to Staff
San Diego Private Bank has appointed Marie Bruning as vice president and private banker and has added Liz Martin as client services specialist. Bruning, who has more than 10 years of banking experience, most recently served as assistant vice president of U.S. Bank as a client manager in the business banking department, where she managed a portfolio of clients focusing on commercial real estate loans for owner/user or investment purpose and operating lines of credit. She also was with San Diego National Bank for six years. Bruning is a graduate of Cal Poly, San Luis Obispo, receiving her bachelor's degree, and a graduate of University of San Diego, receiving her master's degree. Martin most recently was customer service supervisor at California Bank & Trust in downtown La Jolla. San Diego Private Bank has offices in La Jolla and Rancho Santa Fe.
Charlene Zettel Named CEO of State Organ Donor Registry
Charlene Zettel of Encinitas, a former Assemblywoman and currently a member of the University of California Board of Regents, has been appointed chief executive officer of Donate Life California, which oversees the state's organ and tissue donor registry. Zettel, who served in the Assembly from 1998 to 2002, is the organization's first CEO. The registry was established in April 2005. More than 8.5 million Californians are registered as organ and tissue donors. "Although California has more registered donors than any other state, when offered the opportunity to register as donors a relatively low percentage of Californians choose to do so," said Zettel. "Encouraging Californians to sign up as organ and tissue donors is a critical issue for me, given that more than 20 percent of those on national transplant waiting lists are in California."
International Stem Cell Corp. Appoints CFO
International Stem Cell Corp. in Carlsbad has named Linh Nguyen as chief financial officer, effective Oct. 3. She replaces Ray Wood, whose employment with the company will be terminated as of Sept. 30. Nguyen has more than 17 years of experience in financial management and accounting. Previously she served as chief financial officer and corporate secretary for International Lottery & Totalizator Systems Inc. She also held accounting and financial management positions with Phamatech Inc., Osmonics, Academic Communication Associates Inc., and AMN Healthcare Services Inc. She holds a bachelor's degree from Cal State San Marcos and is a second year graduate student in the Master of Science in Executive Leadership program at the University of San Diego.
County Assessor Appoints Chief Deputy
County Assessor/Recorder/County Clerk Ernie Dronenburg has appointed Val Wood as chief deputy in his office. Wood had more than 25 years of experience in government records management, recording and information technology in Washington State. She held positions as the King County deputy director of records and licensing services in Seattle, Wash., deputy state srchivist and director of corporations and charities under Washington's Secretary of State and as recording manager in two Washington countiesShe also has held information technology positions in both the public and private sector. Wood earned a master's degree from the University of Washington and is a director for the National Association of Government Archives and Records Administrators.
Terramar Acquires Encinitas Village Retail Center
Terramar Retail Centers LLC has acquired Encinitas Village, a 183,675-square-foot neighborhood retail center in Encinitas.  The center, located at El Camino Real and Encinitas Boulevard, is anchored by a 43,400-square-foot Ralphs Grocery, a 25,473-square-foot CVS Drug and an 11,000-square-foot Trader Joe's. The seller was a private investment company that owned the center for more than 20 years.  The center was upgraded in 2008 with new landscaping, improved circulation and patio seating areas.  The seller was represented by Pete Bethea of Cushman & Wakefield in San Diego.
---
---
Small Business Workshops

SCORE San Diego continues its series of small business workshops. For more information, call (619) 557-7272 or visit score-sandiego.org.
• Oct. 1 ­ Business Plan 101: How to Develop Your Best Competitive Advantage ­ 9 a.m. to 3 p.m. at National University in Carlsbad (705 Palomar Airport Road, Carlsbad 92011; pre-paid registration $79, $89 at the door).
• Oct. 1 ­ QuickBooks Basic ­ 9 a.m. to 4 p.m. at National University in Kearny Mesa (9388 Lightwave Avenue, San Diego 92123; pre-paid registration $69, $79 at the door).
• Oct. 4 ­ Financing Your Business ­ 9:30 a.m. to 12:30 p.m. at SCORE Entrepreneur Center (550 West C St., #550, San Diego 92101; pre-paid registration $29, $39 at the door).
• Oct. 5 ­ Financial Statements: What They Mean, How to Use Them ­ 9:30 a.m. to noon at SCORE Entrepreneur Center (550 West C St., #550, San Diego 92101; pre-paid registration $29, $39 at the door).
---
The Daily Business Report is produced by REP Publishing Inc., publisher of SD METRO, the North Park News and the West Coast Craftsman. Contact: Manny Cruz (619) 287-1865.
---