Daily Business Report — Sept. 30, 2011
San Diego Financial Planning Day
Get free financial planning advice from professionals
San Diegans will be able to receive free financial planning advice from professionals at the San Diego Financial Planning Day on Oct. 8 sponsored by Mayor Jerry Sanders, Council President Tony Young and the Financial Planning Association of San Diego. "You'll have an opportunity to receive free, personalized and confidential advice from professional financial planners about your financial goals and concerns," said Sanders. The event will be held from 10 a.m. to 3 p.m. at the Joe & Vi Jacobs Center in San Diego.
Financial Planning Days was created by four national nonprofit organizations: the Certified Financial Planner Board of Standards, the Financial Planning Association, the Foundation for Financial Planning, and the U.S. Conference of Mayors.
At the event, experts from the Financial Planning Association, Certified Financial Planners, HUD Certified Housing Counselors and Credit Counselors will be stationed at tables and will meet with attendees one-on-one to offer free personalized advice on a variety of financial topics, including getting out of debt; retirement planning; investment strategies; tax issues; insurance and estate planning; housing issues; and credit management among. There also will be 20 free classroom-style workshop presentations addressing key financial topics.
Walk-ins are welcome, but admission will be granted first to those who have pre-registered online, by calling toll free at (877) 861-7826 or by emailing info@financialplanningdays.org. To register online, visit
financialplanningdays.org/sandiego.
Museum of Art Appoints Deputy Directors
The San Diego Museum of Art has named Reed Vickerman as its new deputy director of operations and finance and Sandra Benito as the new deputy director of education. Vickerman has 28 years of experience managing high-tech and life science companies, most recently as vice president of corporate operations at Amylin Pharmaceuticals in San Diego. He holds a bachelor's degree from Carnegie Mellon University and professional certificates from Harvard, UCLA and UCSD. Vickerman will serve as the chief administrative officer for the museum. Benito has more than 20 years of experience working with museums and managing teams of educators, docents, artists, scholars and professors. She previously was general deputy director at Palacio Bellas Artes in Mexico City. Benitor holds a degree in art history from the Universidad Iberoamericana, and a master's degree and doctorate from the Universidad Nacional Autonoma de Mexico, where she specialized in Mexican and European art of the 19th and 20th centuries.
Pacific Trust Bank Names New Corporate Secretary
Richard Herrin has been appointed corporate secretary of Pacific Trust Bank in Chula Vista, succeeding James Sheedy, who is retiring. The appointment is effective Oct. 6. Herrin, who was executive vice president and chief administrative officer of the bank, also was named executive vice president of strategic initiatives. Sheedy was a key participant in the conversion of Pacific Trust Bank from a credit union to a mutual thrift and ultimately to a public company, according to Gregory Mitchell, president and CEO.
SBA Solicits Small Business Awards Nominations
The San Diego district office of the Small Business Administration is soliciting nominations for several small business awards that will be presented nationally next year, including the 2012 Small Business Person of the Year. The president has declared May 20 -26, 2012, as National Small Business Week. The San Diego SBA district office services San Diego and Imperial counties.  Trade associations, chambers of commerce, lenders and business organizations frequently sponsor candidates. Business owners may also nominate themselves or other candidates. Award categories are: Small Business Person of the Year; Small Business Exporter of the Year; SBA Young Entrepreneur of the Year; Entrepreneurial Success Award; Jeffrey Butland Family-Owned Business of the Year; Financial Services Champion of the Year; Home-based Business Champion of the Year; Minority Small Business Champion of the Year; Veteran Small Business Champion of the Year; Women in Business Champion of the Year; Women-Owned Small Business (San Diego District Only); Minority-Owned Small Business (San Diego District Only); Veteran-Owned Small Business (San Diego District Only). For more information about nomination criteria, contact Cynthia Harris at (619) 727-4884 or e-mail cynthia.harris@sba.gov. The deadline for submitting nominations to the San Diego office is Nov. 10.
Salute to Teachers Scheduled for Saturday
San Diego County Credit Union and Ashford University are among the sponsors of "Cox Presents: A Salute to Teachers," an awards ceremony starting at 7 p.m. on Saturday at the Balboa Theatre, 868 Fourth Ave. in Downtown San Diego. This year marks the 38th annual Teacher of the Year recognition program, coordinated by the San Diego County Office of Education, and the 21st year that the black-tie awards ceremony will be aired live by Cox Communications. The Academy Awards-style television special will honor the county's 26,000 public school teachers, culminating with the announcement of five San Diego County Teachers of the Year. This year's 45 nominees were selected by their respective districts based on student achievement, professional development and community involvement, teaching philosophy and personal style, knowledge of educational issues and trends, promotion and development of the teaching profession, accountability and ability to serve as ambassadors of education. The five winners will represent the county of San Diego in the California Teacher of the Year program. For more event information, visit sdcoe.net/salute.
Sempra Energy's Debra Reed Makes Fortune's List
Debra L. Reed, who was elected chief executive officer and a director of Sempra Energy in June, has been named to Fortune magazine's 2011 list of the "50 Most Powerful Women in Business," published online. This year marks the first time Reed has been recognized on the annual list. Reed has worked for the Sempra Energy family of companies for 33 years.  Prior to her election as chief executive officer, she was executive vice president of Sempra Energy. Previously, she was president and chief executive officer of San Diego Gas & Electric and Southern California Gas Co., Sempra Energy's regulated California utilities. Reed first joined Southern California Gas Co. in 1978 as an energy systems engineer. In 1988, she became the first female officer appointed at the company.
---
South Park Art Opening
'Cotton Candy Cowgirl' coincides with Walkabout
South Park's Monkey C Media will feature "Cotton Candy Cowgirl," an art opening featuring the work of local artist Lindy Ivey, on Saturday at its gallery at 3011 Beech St. The show will be in conjunction with the South Park Walkabout and will run from 6 to 10 p.m. There will be live music — Marie Haddad from 6 to 7 p.m. and The Trunks from 7:30 to 9 p.m. — Fat Molly's brownies and, of course, cotton candy.
The South Park Walkabout — dubbed the "Art/Oberfest" — lasts from 6 to 10 p.m. on local streets and will feature live musical entertainment, shops opening late and a free guided walking tour by Urban Safaris. Restaurants, coffee shops and taverns will have special offerings. Free trolley service stops at main shopping areas at Juniper, Grape and Beech streets.
Among the art happenings:
• The Next Door Gallery — Opening of "Night Lights and Drawings" by Darcy Abrahams.
• Bad Madge & Co. — "The Painted Ladies" by Lady Jeanne.
• The Grove at Juniper and 30th — New paintings by Kathleen Cline.
• South Park Fitness — Paintings by local artist Courtney Klo of rock and roll legends.
• So Childish — Silhouette cutout artist Judith Housel, and art prints from Butcherpress.com.
• Junc Boutique — Opening of "Blood Moon" group art show.
• Plum Pottery — New work by pottery students.
• Make Good — Always hand-made art, plus the "What is True?" community-created art piece.
• Alchemy — Featuring the art of Amy Baca Lopez.
• HomeEc Studio — Mask-making for kids. (Parents can drop kids off by 6:30 p.m., roam the Walkabout, pick them up at 7:45p.m.)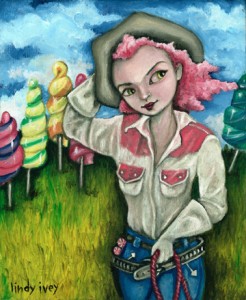 • Baby Garten Studio — Photo op for kids at the giant cutout.
• Studio Maureen — Dia de Los Muertos altar-building workshop and folk art.
• Clarity Soap & Candles — Featuring collage art by Amanda Slater, jewelry by Judy Green.
• Disclosed unLocation — Opening reception for "Partial Knowledge of Things" by Joshua Miller.
• Some Like it Shot Photography — Vintage photos at holiday backdrop.
• The Vissudha Creatives — Gallery show.
• Pumpkin decorating at South Park Doctor, at Lulu's by Travis Parker and Thomas Bike Shop. Specialty Produce is donating pumpkins.
---
---
Small Business Workshops
SCORE San Diego continues its series of small business workshops. For more information, call (619) 557-7272 or visit score-sandiego.org.
• Oct. 1 ­ Business Plan 101: How to Develop Your Best Competitive Advantage ­ 9 a.m. to 3 p.m. at National University in Carlsbad (705 Palomar Airport Road, Carlsbad 92011; pre-paid registration $79, $89 at the door).
• Oct. 1 ­ QuickBooks Basic ­ 9 a.m. to 4 p.m. at National University in Kearny Mesa (9388 Lightwave Avenue, San Diego 92123; pre-paid registration $69, $79 at the door).
• Oct. 4 ­ Financing Your Business ­ 9:30 a.m. to 12:30 p.m. at SCORE Entrepreneur Center (550 West C St., #550, San Diego 92101; pre-paid registration $29, $39 at the door).
• Oct. 5 ­ Financial Statements: What They Mean, How to Use Them ­ 9:30 a.m. to noon at SCORE Entrepreneur Center (550 West C St., #550, San Diego 92101; pre-paid registration $29, $39 at the door).
---
The Daily Business Report is produced by REP Publishing Inc., publisher of SD METRO, the North Park News and the West Coast Craftsman. Contact: Manny Cruz (619) 287-1865.
---