Daily Business Report — Oct. 13, 2011
Council Committee Moves on Balboa Park Centennial Celebration
City News Service
The City Council's Rules Committee unanimously approved an agreement Wednesday with a group planning celebrations for Balboa Park's 100th anniversary in 2015. The nonprofit Balboa Park Celebration Inc., also known as the 2015 Committee, sought the memorandum of understanding to help it move forward with fundraising, event schedules and volunteer opportunities.The proposed deal, pending full City Council approval, sets the various responsibilities for the committee, including that it accept the venture's financial risks.
Balboa Park came into being as part of San Diego hosting the Panama-California Exposition in 1915. In the years since, it has grown up with museums, the San Diego Zoo and a golf course, among other public amenities.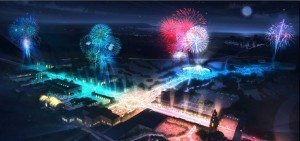 City and tourism officials hope that events will be scheduled through the year to locals and tourists, and to tout the region's economic benefits.
A study by the Convention and Visitors Bureau found that a major promotion could help add as many as 600,000 hotel room nights to park-related centennial events — an economic impact of $661 million. The city would gain $9.4 million in hotel room tax revenues, according to the estimate.
Any funds held by the committee at the end of the celebration would toward Balboa Park capital improvement programs, according to the proposed deal.
Under the agreement, the city will not be allowed to schedule events in Balboa Park during 2015 without consulting the committee.
"We need certainty that areas of the park will be available at certain times so events can be planned,'" said Mike McDowell, a committee board member.
The committee plans to use the same model used by the city to host Super Bowls and the America"s Cup yacht races.
(Illustration is from the Balboa Park 2015 Centennial Celebration Report.)
SD Sports Innovators Appoints Executive Director
Lisa Freedman, a veteran in the sports event and event management field, has been named executive director of SD Sports Innovators (SDSI), the nonprofit organization managed by CONNECT to grow the sports industry. "Lisa brings nearly 20 years of management experience, and the guidance and foresight SDSI needs to continue to grow into the organization we all envision; one that is the frontrunner for sports innovation, entrepreneurship, business creation and collaboration," said Bill Walton executive chairman of the organization. Freedman has been involved in several well-known events, including Super Bowls, Olympic Games, Rose Bowls and Major League Baseball All-Star Games. She also served as director of events for the San Diego International Sports Council from 2004-05. Freedman said the lessons learned in the sports event industry have prepared her for her new role. "It's about seeing how everything fits together and making it work, meeting everyone's needs," she said. "With 600-plus sports companies in Southern California from start-ups to mature companies, I think everyone can benefit from the relationships, services and opportunities SDSI provides."
Darden Restaurants to Acquire Eddie V's Restaurants Group
Guy Villavaso and Larry Foles, co-founders of Eddie V's Restaurants Inc. have agreed to sell their Eddie V's Prime Seafood and Wildfish Seafood Grille restaurants to Darden Restaurants Inc.  The sale will include all eight Eddie V's and all three Wildfish restaurants. The two brands will join Darden's Specialty Restaurant Group with the transaction expected to close by the end of the year. Eddie V's President Jim VanDercook and Executive Chef/Partner John Carver will lead day-to-day operations under the new agreement along with individual restaurant managers and chefs from the Eddie V's and Wildfish restaurants. Foles and Villavaso will serve as consultants over the next two years. Eddie V's will join Darden's Specialty Restaurant Group headed by Gene Lee, which includes The Capital Grille, Bahama Breeze and Seasons 52. Villavaso and Foles will move most of their focus to growing four Roaring Fork restaurants, which were not part of the sale.
Port's Urban Trees 7 Exhibit Coming to a Close
The seventh and final season of the Port of San Diego's Urban Trees 7 public art exhibition will come to an end on Oct. 31. Sculptures in the exhibit, which stretch along the waterfront of North Harbor Drive, are to be dismantled. The final one is expected to be removed by mid-November. Many artworks from the current exhibition, as well as from previous Urban Trees exhibitions, are available for purchase from the participating artists. Artist contact information is available from the Port's Public Art Office at (619) 686-7246.
As the Urban Trees depart, the Port of San Diego is preparing for construction of the North Embarcadero Visionary Plan Phase I  project. The project, which breaks ground Jan. 5, 2012, will include widened esplanades, landscaping, street improvements and public artwork. Artwork by internationally-known artist Pae White will be integrated into the esplanade architecture. The Port's Public Art Office will bring in new art installations and exhibits to the North Embarcadero and other parts of the port district.
C.W. Driver Forms Specialty Firm for Smaller Projects
General contractor C.W. Driver has formed a new independent company — SPG (Special Project Group) — that will focus on smaller-scale projects under $10 million in San Diego County and other regions of Southern California. Karl Kreutziger, executive vice president of the new company, said other general contracting firms create divisions within their companies to handle these smaller projects. SPG will operate independently, he said, an advantage to the client "We can mobilize to a project on a moment's notice and adjust to changing circumstances, which is inherent in the scale of work we will be doing," he said. "A developer of these smaller projects needs a contractor who can turn on a dime."
Security Business Bank Executive Re-Elected to Lenders Board
Gary Youmans, senior vice president of Security Business Bank, has been re-elected to the National Association of Government Guaranteed Lenders board of directors where he will serve an additional three-year term. Youmans is a founding director of the association and has participated on the organization's executive committee for more than 12 years. The association represents the interests of the small business lending community.
Reno Contracting Announces Promotions
Reno Contracting announced the promotion of Chris Heim to vice president of construction and Erik Kissner to vice president of operations. Heim had been serving as project director, and Kissner as the firm's director of field operations. Heim's construction career spans more than 30 years. He joined Reno in 1993. Kissner joined Reno in 1998, and has worked with the preconstruction, project management and field teams.
New Manager Chosen for County Public Safety Group
Ron Lane, who has served as director of San Diego County's Office of Emergency Services for the last five years, has been appointed as the new general manager/deputy chief administrative officer of the county's Public Safety Group. Lane succeeds Ray Fernandez, who is retiring after 12 years with the county, the last three as PSG general manager. Lane, 51, has worked for the county for 22 years, spending time with the Department of Planning and Land Use, the North County Municipal Court, PSG, the Department of Child Support Services and the Office of Emergency Services (OES). As OES director, Lane helped lead the County's response to the 2007 firestorms. The Public Safety Group includes two agencies with their own elected leaders, the San Diego County Sheriff's Department and the San Diego County District Attorney's Office. The group also includes seven county departments.
Father Joe Carroll to Receive La Mancha Award
Homeless advocate Father Joe Carroll will receive a La Mancha Award for humanitarianism by Casa Cornelia Law Center on Oct. 20 in a benefit to support the center's pro bono legal services to indigent immigrant victims of human and civil rights violations. Casa Cornelia's annual La Mancha Awards event will be held from 6-8 p.m. at the Joan B. Kroc Institute for Peace and Justice at the University of San Diego. Tickets for the reception and ceremony are $75; the public is welcome to attend. For details, visit CasaCornelia.org or phone Anna Leyrer at (619) 231-7788, Ext. 310. Carroll, who retired in April as CEO of Father Joe's Villages and its partner agencies (St. Vincent de Paul Village, Toussaint Youth Villages and Martha's Village & Kitchen), now serves as president emeritus. Under his 29 years of leadership, the organization grew from a single thrift store into a multi-agency partnership that provides comprehensive services for more than 15,000 homeless adults and children annually. During the ceremony, Casa Cornelia also will honor Wendy Hannan of Solar Turbines as Distinguished Pro Bono Attorney of the Year.
Attorneys who donated in excess of 300 hours of their time or coordinated multiple dockets for unaccompanied children during 2010 will receive Inn of Court Pro Bono Publico Awards. Recipients include Ary Chang of Foley & Lardner LLP; Teodora Purcell of Fragomon, Del Rey, Bernsen & Loewy; Robert Chang of Jones Day; Jennifer P. Casler-Goncalves and Scott W. Morris of Latham & Watkins; James Cekola and Steve Keane of Morrison & Foerster, LLP; Florence Weinberg of the Law Office of Andrew Nietor; and solo practitioners J. Scott Cramer, Ana Sarai Del Castillo, Neha Desai and Rita C. Rodriguez.
Other honorees will include Artemisa Valle, who coordinates the volunteer interpreters and translators, and the following student interns: California Western School of Law: Ashley  Arcidiacono, Anastasia  Martin, Yunuen  Mora and Agustin  Peña; Thomas Jefferson School of Law Elizabeth  Davey and Raemi Neils; University of San Diego: Ehren Duisberg, Anna Leyrer and Nicole Weil; and Villanova School of Law: Jesse Imbriano.
---
---
Small Business Workshops
SCORE San Diego continues its series of small business workshops. For more information, call (619) 557-7272 or visit score-sandiego.org.
• Oct. 15 ­ Business Plan 201: How to Write a Winning Business Plan ­ 9 a.m. to 3:30 p.m. at National University in Carlsbad (705 Palomar Airport Road, Carlsbad 92011; pre-paid registration $99, $109 at the door).
• Oct. 15 ­ Effective Marketing: Identify and Target Your Customers ­ 9 a.m. to 4 p.m. at National University in Kearny Mesa (9388 Lightwave Avenue, San Diego 92123; pre-paid registration $69, $79 at the door).
• Oct. 17 ­ Business Basics 101 ­ 9 a.m. to noon at National University in Kearny Mesa (9388 Lightwave Avenue, San Diego 92123; no charge ­ please pre-register).
• Oct. 18 ­ Restaurant 101 ­ 9 a.m. to 1 p.m. at National University in Carlsbad (705 Palomar Airport Road, Carlsbad 92011; pre-paid registration $49, $59 at the door).
---
The Daily Business Report is produced by REP Publishing Inc., publisher of SD METRO, the North Park News and the West Coast Craftsman. Contact: Manny Cruz (619) 287-1865.
---