Daily Business Report — Oct. 14, 2011
Home Sales Decline
September sales in county drop from August and last year
San Diego County home sales in September totaled 3,084 — a 0.5 percent drop from sales of 3,069 in September of last year and a decline from sales of 3,249 in August, according to DataQuick, a San Diego-based real estate information service. The median home price also fell — from $330,500 in September of last year to $315,000 last month and $320,000 in August.
Southern California Totals: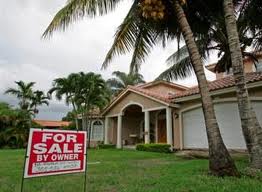 Home sales dropped last month from August, as they normally do, and eked out a tiny gain from a year earlier as bargain hunting below $300,000 remained relatively strong. Home prices continued their sideways-to-downward slide, with the region's median sale price falling below the year-ago level for the seventh consecutive month.
A total of 18,149 new and resale houses and condos sold in Los Angeles, Riverside, San Diego, Ventura, San Bernardino and Orange counties in September. That was down 7.7 percent from 19,654 in August and up 0.3 percent from 18,091 in September 2010.
It's normal for home sales to drop between August and September, partly because many home buyers try to close their deals before school starts in late summer. On average, sales have fallen 8.3 percent between August and September since 1988, when DataQuick's statistics begin.
"Last month's Southland sales weren't great but, like some other economic indicators of late, they came in a bit higher than some might have expected," said John Walsh, DataQuick president. "Holding steady with a year ago isn't so bad when you consider the hits the housing market has taken in recent months, including a big psychological blow from a tanking stock market in early August."
The median price paid for all new and resale Southland houses and condos purchased last month was $280,000. That was up 0.4 percent from $279,000 in August but down 5.2 percent from $295,500 in September 2010.
Cubic Gets $11 Million Order for Small Arms Training System
Cubic Corp. has received an order worth $11 million for its Engagement Skills Trainer 2000 virtual small arms training system. The order is the result of a modification to an existing contract requested by the U.S. Army's Program Executive Office for Simulation, Training and Instrumentation. The modification covers a mix of additional EST equipment, including simulated weapons and EST training subsystems, primarily for use by the Army National Guard. It also includes a research and development project to create a design mock-up for 77 Loader's Armored Gun Shields — devices made with ballistic glass designed to help protect gun loaders in their fighting position in one of the turret hatches of M-1 Abrams battle tanks. EST 2000, built by the Cubic Simulation Systems division based in Orlando, Fla., uses digital video projectors, high-definition screens, game-based computer graphics and ballistically accurate weapons for marksmanship, collective and shoot/don't-shoot judgmental use of force training.
Construction Starts on Sunroad's Unum Office Building
Construction has started on the Sunroad Enterprises Unum office building at 4445 Eastgate Mall in University Towne Center. KMA Architecture & Engineering designed the project. The work involves remodeling the fourth floor of the four-story office building. The remodeling plan for the 11,531 square feet of space includes open office designs with private offices, conference rooms and typical office building facilities and amenities.\ The KMA team includes Rich Guerena, B. Moon Hajjar and Janda. Subcontractors are Burkett & Wong, Hughes Design Services, LAB Drafting & Design and National Air & Energy.
Melissa Hall Joins First Foundation Bank
Melissa Hall has joined First Foundation Bank as a vice president of trust administration. Hall previously held positions at San Diego Trust & Savings Bank and most recently with U.S. Bank. She has more than 25 years of experience in the industry. Hall is responsible for the administration of personal and charitable trusts for individuals and families serving the greater San Diego area from the company's recently opened San Diego office. First Foundation also offers business escrow accounts for entrepreneurs who are buying and selling businesses.
Taxpayers Group Adds Economic Policy Analyst
Sean Karafin has been named economic policy analyst for the San Diego County Taxpayers Association. A native San Diegan, Karafin received a master's degree from UC Santa Barbara and a bachelor's degree from San Diego State. Upon graduation, Karafin joined Applied Development Economics in the San Francisco Bay Area as an associate economist. He was most recently a research analyst with BW Research Partnership in North County.
Homebuilder Receives Hall of Fame Honor
San Diego homebuilder Bill Davidson has been  inducted into the national Builder Magazine's Hall of Fame for design excellence. Davidson's induction in the Wm. S. Marvin Hall of Fame for Design Excellence took place during the 31st annual Builder's Choice Awards Gala in Washington DC. The honor recognizes Builder's Choice-winning architects and builders who have a legacy of award-winning designs. "Since he began building new homes in California more than 30 years ago, Bill Davidson has displayed a deep reverence for design, exceptional attention to detail, and a knack for understanding home buyers that time and again has elevated his neighborhoods to award-winning status," said Denise Dersin, editor-in-chief of Builder magazine.
St. Paul's Hosts Comfort Care Drive for Homeless Veterans
St. Paul's Senior Homes & Services is hosting a comfort care drive for homeless veterans to benefit Veterans Village of San Diego (VVSD). Starting Oct. 24 and running through Veterans Day, Nov. 11, seniors at St. Paul's are encouraging San Diegans to collect items, such as toiletries, and drop them off at one of their senior home locations (addresses below). On Veterans Day, seniors at St. Paul's will be conducting a "packing party" to create the care packages. The comfort packs will be given to 150 homeless veterans over the holidays. An estimated 30 to 40 percent of San Diego County's homeless are veterans. The VVSD has a large need for items that would be included in comfort packs at their seasonal homeless shelter, which the VVSD manages for the city of San Diego each winter; open the first week of December through March. The temporary shelter houses up to 150 displaced veterans during San Diego's coldest months.
Items of need include: Toothbrushes/toothpaste, deodorant, shampoo, socks, underwear of all sizes, soap, hand sanitizer, hair combs, books and other toiletries.
Drop off locations are located at:
• St. Paul's Manor- Independent Living, 2635 Second Ave., San Diego 92103.
• St. Paul's John A. McColl Family Health Center – Skilled Nursing, 235 Nutmeg St., San Diego 92103.
• St. Paul's Villa – Assisted Living/Memory Care, 2340 Fourth Ave., San Diego 92101.
• St. Paul's Community Care Center – Intergenerational Day Care/Administration, 328 Maple St., San Diego 92103.
• St. Paul's PACE – Program of All-inclusive Care for the Elderly, 111 Elm St., San Diego 92101.
Cushman & Wakefield Appoints Senior Director
Cushman & Wakefield has named Steven M. Center as a senior director to advise institutional owners of office and corporate headquarters properties in the central markets of San Diego County. A real estate executive with 21 years of experience, Center has completed the leasing, marketing and tenant improvement construction of more than 15.5 million square feet of office, R&D and industrial space.  Prior to joining Cushman & Wakefield, Center was a partner and senior executive with Bixby Land Co. He was regional vice president of leasing in San Diego for the Irvine Company from 2003 through 2006 where he managed the leasing of the Irvine Company's 4.6 million SF San Diego office and R&D portfolio.  Center holds a master's degree from UC Irvine and a bachelor's degree from UCLA. He was president of the San Diego chapter of the National Association of Industrial and Office Properties in 2008.
---
MUSIC SCENE
By Bart Mendoza
Songs for Two-Stepping
No doubt about it, San Diego's country music scene has been picking up steam of late. Seemingly all of a sudden, numerous bands have sprung up, developing a twang and a following at the same time. Way ahead of the trend is fiery singer Sara Petite, who performs at Lestat's on Oct. 28 at 9 p.m. With three albums to her credit, Petite has made a splash not only locally, but internationally, particularly in England, where her songs, such as "Bootleggers," have endeared her to music fans. If you like your tunes custom made for two-stepping and with a bit of fire, Petite and her band never fail to deliver the goods.
Sara Petite: Friday, Oct. 28, at Lestats, 3343 Adams Ave. 9 p.m. All ages. Cover TBD. sarapetite.com.
Texas Country Music Troubador
Tom Russell, who appears at AMSD Concerts on Oct. 21 at 7:30 p.m., is a triple threat — as an acclaimed performer in his own right as well as a renowned songwriter and author. Currently touring behind a new album, "Mesabi," Russell's music is steeped in the Texas country music tradition, incorporating folk and cowboy elements. He's released 28 discs since his beginnings as a troubadour in 1976, but his best-known work is by other artists. Among the performers to record his material are Johnny Cash, K.D. Lang, Nancy Griffith and Suzy Boguss. Anyone who enjoys the roots of modern country music or superb story-telling in song will find much to enjoy from Russell's concerts.
Tom Russell: Friday, Oct. 21, at AMSD Concerts, 4650 Mansfield Street. 7: 30 p.m. All ages. $27-$52. amsdconcerts.com.
Tall Ships' Special Release Concert
Indie rock trio Tall Ships' album, "On Tariffs and Discovery," was released digitally back in March, but will finally have a physical presence when it's issued Oct. 22 as a special white vinyl LP. The band will host a special release concert that evening at the Soda Bar at 9 p.m. Destined to be a true collector's item, only 300 copies have been pressed.The band's intense moody sound, sounds fantastic on the disc, but live is where they excel, with songs gaining in both energy and atmosphere.
Tall Ships: Saturday, Oct. 22, at The Soda Bar, 3615 El Cajon Blvd. 9 p.m. 21 and up. $5. myspace.com/thetallships.
---
---
Small Business Workshops
SCORE San Diego continues its series of small business workshops. For more information, call (619) 557-7272 or visit score-sandiego.org.
• Oct. 15 ­ Business Plan 201: How to Write a Winning Business Plan ­ 9 a.m. to 3:30 p.m. at National University in Carlsbad (705 Palomar Airport Road, Carlsbad 92011; pre-paid registration $99, $109 at the door).
• Oct. 15 ­ Effective Marketing: Identify and Target Your Customers ­ 9 a.m. to 4 p.m. at National University in Kearny Mesa (9388 Lightwave Avenue, San Diego 92123; pre-paid registration $69, $79 at the door).
• Oct. 17 ­ Business Basics 101 ­ 9 a.m. to noon at National University in Kearny Mesa (9388 Lightwave Avenue, San Diego 92123; no charge ­ please pre-register).
• Oct. 18 ­ Restaurant 101 ­ 9 a.m. to 1 p.m. at National University in Carlsbad (705 Palomar Airport Road, Carlsbad 92011; pre-paid registration $49, $59 at the door).
---
The Daily Business Report is produced by REP Publishing Inc., publisher of SD METRO, the North Park News and the West Coast Craftsman. Contact: Manny Cruz (619) 287-1865.
---