Daily Business Report — Nov. 10, 2011
Port Panel Awards $18.3 Million Contract for Embarcadero Project
USS Cal Builders Inc. of Stanton, Calif. has been awarded an $18.3 million construction contract by the Board of Port Commissioners for the first phase of the North Embarcadero Visionary Plan in Downtown. Construction on the first phase is to begin on Jan. 5. It will be done in two parts, one that includes the area of West Broadway from North Harbor Drive to the railroad tracks, and the other covering the area of North Harbor Drive along the waterfront from the B Street Pier to the Navy Pier.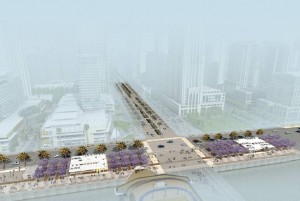 The Embarcadero project is to include a 105-foot wide esplanade with formal gardens, plazas, shade pavilions and a waterfront promenade. Public artwork by internationally-acclaimed artist Pae White will be integrated into the esplanade architecture. Other features are a new restroom, two pavilions, a café building and an information center. The project is a joint effort between the Port District, the city and Centre City Development Corp.
USS Cal Builders has built several public facilities, including the city of Costa Mesa's police station, the city of Vernon's fire station and several educational facilities.
Utah Firm Purchases 6 Carlsbad Office Properties for $62 Million
Utah-based Wasatch Commercial Management has purchased six Class A office buildings in Carlsbad — a total of 320,000 square feet — for $62 million. The sales were announced by Cassidy Turley BRE Commercial in San Diego.
• 1000 Aviara, located at 1000 Aviara Parkway at the corner of Aviara Parkway and Palomar Airport Road, is a three-story, Class A office project with 2,083 to 10,537 square feet of available space. The project is the new home of Wasatch's San Diego commercial and residential property management divisions. The property features a two-story lobby that opens into an atrium, men's and women's shower and locker facilities, energy-saving features and an outdoor common area barbeque and patio. The property was sold by The Allen Group for $13.7 million.
• Cornerstone Corporate Centre, located at 1900, 1902, 1903 Wright Place and 1917 Palomar Oaks Way, is a four-building, 180,052-square-foot, Class A and B office project with 626 to 5,185 square feet of available space. The property features an on-site volleyball court, lap pool, spa, men's and women's shower and locker facilities and patio and barbeque areas among landscaped grounds and courtyard areas. TA Associates Realty sold Cornerstone Corporate Centre for $33.8 million.
• Palomar Heights Corporate Center, located at 5857 Owens Ave., is a 67,860-square-foot, Class A office project with 2,459 to 2,768 square feet of available space. The project features a travertine and deep gray glass exterior with an open-air courtyard with seating areas surrounded by landscaping. The building was sold by Pacific Office Properties for $14.6 million.
Wasatch's Carlsbad portfolio also includes 1000 Aviara Parkway, Cornerstone Corporate Centre and Palomar Heights Corporate Center. Rick Reeder, Brian Driscoll and Brad Tecca of Cassidy Turley BRE Commercial represented Wasatch and the sellers. Property leasing is handled by Justin Halenza, Matty Sundberg, Joe Anderson and Josh Bernstein, also with Cassidy Turley BRE Commercial.
Imperial Beach Summer Spectacle Drowns in the Sand
The U.S. Open Sandcastle Competition, a popular summer event that has drawn thousands of spectators to Imperial Beach for the past 31 years, has seen its last summer. The board of the event committee announced that the competition has been cancelled, the victim of increasing costs and lack of sponsors and volunteers. "The decision to not move forward was not one that was taken lightly and weighed heavily upon us," said chairperson Debbie Longley. "The board would like to express our deepest gratitude and thanks to everyone's hard work and support over the years. As one of the longest running events in San Diego County, Sandcastle touched the lives of many people and created fond memories for all of us." The first U.S. Open Sandcastle Competition was held in 1980 by group of Imperial Beach residents. The first year, about 30,000 people attended. In recent years, the number swelled to more than 400,000. The sponsors never charged admission. "Sandcastle has had a long, successful history and has put Imperial Beach on the map," said Imperial Beach Mayor Jim Janney. "It's been a tremendous amount of work for a group of volunteers and I wish to thank them all – recent volunteers and volunteers over the 31 year s— for a job well done."
Cypress Office Properties Acquires Escondido Building
San Diego-based Cypress Office Properties LLC has acquired a 78,367-square-foot, Class A, office building at 500 La Terraza Blvd. in Escondido. The three-story building was constructed in 2008 and was 38 percent leased at the time of sale. Financial terms were not disclosed. "The original developer signed two very high-quality leases with Wells Fargo Bank and RBC Capital when the building was completed in 2008," said Ron Lack, a principal of Cypress Office Properties. "Subsequently, the economy slowed and the building ultimately went back to the lender. We were able to acquire this Class A asset well below replacement cost, creating tremendous upside potential." It was the third office property acquired by Cypress Office Properties in the last 12 months. Gary Stache, Louay Alsadek, Pat Scruggs, Evan August and Anthony Delorenzo of CBRE handled the sale for the buyer and seller.  Cypress retained CBRE's Larry Cambra and Dan Yielding to handle leasing for the property, and CBRE's property management group to manage the property.
James Kuhlken Elected President of Landscape Architects Chapter
The San Diego chapter of the American Society of Landscape Architects has elected James (Jim) Kuhlken as its new president for a 2012. Kuhlken is the principal-in-charge of the landscape architecture division of seven of Rick Engineering Company branch offices. Kuhlken's said one of his main goals is to increase employment opportunities for members and nonmembers of the local chapter., focusing on an aggressive marketing campaign promoting the profession of landscape architecture and the role landscape architects play in improving the quality of life in San Diego and around the world. A native San Diegan, Kuhlken has more than 30 years of experience as a landscape architect, park planner and urban designer for a range of project types for both private and public sectors. A few of his works include open-space designs, parks and streetscapes for the communities of Carmel Valley, Sabre Springs and Otay Ranch. Kuhlken holds a bachelor's degree from California State Polytechnic University, San Luis Obispo. He suceeds David Reed of Reed Landscape Architects. Timothy F. Jachlewski Jr. of In-Site Landscape Architecture Inc. is president-elect.
Junior Achievement Honors Business Leaders
More than 400 community members attended Junior Achievement of San Diego and Imperial Counties' 23rd annual Business Hall of Fame. Attendees spent the evening at the historic Hotel Del Coronado celebrating the careers and community contributions of Michael and Barbara Morton, David F. Hale and Patrick Hyndman. More than $250,000 was raised at the event. Proceeds will support Junior Achievement's mission to educate students in economics and finances in order to inspire and prepare them for success in a global economy.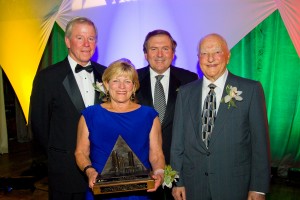 "It is encouraging to see so many community members coming together to support Junior Achievement. Each person here is bringing business into the classroom, helping to educate and empower our future leaders," said Junior Achievement President Joanne Pastula. Michael and Barbara Morton, Hale and Hyndman were selected for their vision, exceptional leadership and excellence in business. (Photo: From left, Michael and Barbara Morton, David Hale, Patrick Hyndman.)
Trigild Inc. to Manage Genesee Executive Plaza
San Diego-based Trigild Inc. will assume day-to-day management of the 159,000-square foot Genesee Executive Plaza, an office complex containing two three-story, Class A office/medical buildings located at 9333 and 9339 Genesee Ave. in the University Towne Center area. Constructed in 1983, the 3.6-acre property went through foreclosure in May of this year, and recently sold for $46.8 million to Divco West Properties, an investment firm with offices in San Francisco and Boston. The property is now 68 percent leased, with major tenants Fed Ex, IGO Medical Group, Genesis Healthcare and the Regents of the University of California. Trigild been tapped by Divco to spearhead day-to-day activities, such as responding to tenant inquiries, overseeing vendors, reporting and maintenance. "The new owner has plans to upgrade and improve all common areas, including restrooms, lobbies and the courtyard, as well as expand office space," Hoffman said.
Rancho Valencia Resort and Spa Names New General Manager
Rancho Valencia Resort and Spa, which will undergo a $20 million renovation beginning in January, has hired Simon Chen as general manager. Chen previously was general manager of several resort hotels, including The Peaks Resort and Spa in Telluride, Colo., Beaver Creek Lodge in Beaver Creek, Colo. and El Monte Sagrado in Taos, N.M. Chen began his career at the Ritz-Carlton in Sydney and then held managing positions at several Ritz-Carlton properties throughout the U.S. and in Puerto Rico. He has spent 20 years in the industry. Chen is a graduate of The Hotel School Sydney in Sydney, Australia. The Rancho Valencia property's renovation is expected to be completed by summer 2012.
Westcore Properties Selects General Counsel
Romy Selati Loseke has joined Westcore Properties as general counsel and will provide legal oversight for its U.S. portfolio which currently totals 12 million square feet. Loseke has 15 years of corporate and real estate legal experience with specialization in complex commercial real estate, investment and finance transactions. Loseke previously was associate general counsel for Md7, LLC, a wireless telecommunications real estate management company. Before that,  she was a principal of Crown RV Group, a real estate investment company specializing in the acquisition and management of RV campgrounds in the southwestern U.S. Her previous experience also includes San Diego-based law firms Hillyer & Irwin and Seltzer Caplan McMahon Vitek. She also served as special counsel for Solomon Ward Seidenwurm & Smith, where she was sole outside real estate counsel for Barbeques Galore Inc.  Loseke is a graduate of Emory University with a bachelor's degree. She received her law degree from Boston College Law School.
---
---
Small Business Workshops
SCORE San Diego continues its series of small business workshops. For more information, call (619) 557-7272 or visit score-sandiego.org.
·  Nov. 12 – Internet Marketing 101: Use the Internet to Successfully Market Your Business – 9 a.m. to 3 p.m. at National University in Kearny Mesa (9388 Lightwave Avenue, San Diego 92123; pre-paid registration $69, $79 at the door).
·  Nov. 12 – Introduction to Starting Your Own Business – 9 a.m. to 4:15 p.m. at National University in Kearny Mesa (9388 Lightwave Avenue, San Diego 92123; pre-paid registration $69, $79 at the door).
• Nov. 15 – Internet Marketing 301: Increase Sales through Pay-Per-Click – 9 a.m. to noon at National University in Kearny Mesa (9388 Lightwave Avenue, San Diego 92123; pre-paid registration $49, $59 at the door).
• Nov. 15 – Financing Your Business – 9:30 a.m. to 12:30 p.m. at SCORE Entrepreneur Center (550 West C St., #550, San Diego 92101; pre-paid registration $29, $39 at the door).
• Nov. 16 – Managing Grants and Contracts (for Nonprofits) – 9 to 11:30 a.m. at The San Diego Foundation in Point Loma (2508 Historic Decatur Rd., #200, San Diego 92106; pre-paid registration $39, $49 at the door).
• Nov. 16 – Business Plan 201: How to Write a Winning Business Plan – 9 a.m. to 3:30 p.m. at National University in Kearny Mesa (9388 Lightwave Avenue, San Diego 92123; pre-paid registration $99, $109 at the door).
• Nov. 18 – Internet Marketing 302: Develop a Winning Email Marketing Success Strategy – 9 a.m. to noon at National University in Kearny Mesa (9388 Lightwave Avenue, San Diego 92123; pre-paid registration $49, $59 at the door).
---
The Daily Business Report is produced by REP Publishing Inc., publisher of SD METRO, the North Park News and the West Coast Craftsman. Contact: Manny Cruz (619) 287-1865.
---