Daily Business Report — Nov. 16, 2011
Most Admired Companies
We're now gathering nominations for the Most Admired Companies in San  Diego County and you can participate. Visit www.sandiegometro.com and fill out the nomination form. The results will be published in the December issue of SD METRO. For more information, contact Rebeca Page at rebecapage@sandiegometro.com.
October Home Sales Decline from September but Show Slight Increase Over Last Year
The number of homes sold in San Diego County in October totaled 2,759 — a drop from the 3,084 sales in September and slightly above the 2,750 homes sold in October of last year, according to San Diego-based DataQuick, a real estate information service. The median home price in October was $315,000, unchanged from September and a drop from the $334,500 median in October 2010.
Southland Figures:
Home sales in in Los Angeles, Riverside, San Diego, Ventura, San Bernardino and Orange counties rose slightly in October compared with a year earlier but were still nearly 30 percent below the long-term average. The region's median sale price dipped to its lowest level since January as activity above $500,000 fell sharply, distressed property sales rose slightly and mortgage availability worsened. A total of 16,829 new and resale houses and condos sold in in October. That was down 7.3 percent from 18,149 in September and up 0.5 percent from 16,744 in October 2010. "For a few months now, lower prices and amazingly low mortgage rates have kept resale activity slightly ahead of last year. Of course, that's not saying a lot when you consider sales were 25 to 30 percent below average," said John Walsh, DataQuick president. "The market continues to struggle with a difficult lending environment, uncertainty among potential buyers, underwater homeowners who can't move up, and a weak job market."
The median price paid for all new and resale Southland houses and condos purchased last month was $270,000 — the lowest for any month since January this year. Last month's median fell 3.6 percent from $280,000 in September and dropped 4.6 percent from $283,000 in October 2010.   Distressed property sales accounted for 52.5 percent of the Southland resale market last month, up from 50.8 percent in September but down from 53.7 percent a year earlier.
Gen-Probe Chairman to Retire
Hank Nordhoff, longtime chairman of Gen-Probe Inc., will retire at the end of the year and will be replaced by Carl Hull, the company's president and chief executive officer. The company makes molecular diagnostic products and services that are used primarily to diagnose human diseases, screen donated human blood and ensure transplant compatibility. Nordhoff was president and CEO of Gen-Probe from 1994 through 2009 and since then has been non-executive chairman. He will serve as a consultant through 2012.  Hull joined the company in 2007 as executive vice president and chief operating officer, was promoted to president in 2008 and was appointed CEO in 2009.
Language Program for Marines Receives $1.8 Million
By Gina Jacobs, SDSU
A $1.8 million Department of Defense grant will help a San Diego State program train nearly 200 additional U.S. Marines in critical languages spoken throughout the Middle East. The one-year grant is one of five awarded nationwide and will assure the availability of high-quality, pre-deployment language and culture training courses for Marines in critical languages such as Pashto, Farsi and Arabic that are spoken in Afghanistan, Pakistan, Iran and other Middle East countries where there is current military activity.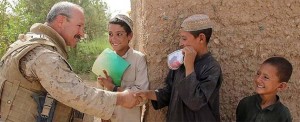 San Diego Congresswoman Susan Davis, ranking member of the Military Personnel Subcommittee, was the primary author of the grant authorization language.  "SDSU's program offers a substantial opportunity to advance DOD's critical language and cultural training objectives," Davis said. "In San Diego, this means providing men and women in uniform with the language skills to succeed when they are deployed, especially in Afghanistan. This training is a critical component of our overall readiness and I applaud SDSU's efforts in preparing our service members for their mission."
The courses will be offered through SDSU's Language Acquisition Resource Center, under the leadership of professor Mary Ann Lyman-Hager. The center has provided training to more than 2,000 active-duty and reserve Marines since 2006. The new funding will train nearly 200 additional Marines over the next year.
Students enrolled in the eight-week course attend SDSU full-time and become proficient in speaking, listening and reading in Pashto to American Council on the Teaching for Foreign Language proficiency level of 0+ to 1.  Marines in the program also have the option of earning up to six units of undergraduate college credit, often inspiring them to seek additional higher education opportunities either during or after their service, said Chris Brown, associate director of the center.
"For many of our students who complete these courses as part of their military training, this is an eye-opening experience into the world of a college student," Brown said.
(Photo: Petty Officer 2nd Class William Lowry, corpsman and civil affairs specialist with Regimental Combat Team 3, shakes hands with a local boy during a patrol in Helmand Province, Afghanistan, Aug. 2009.)
---
---
Small Business Workshops
SCORE San Diego continues its series of small business workshops. For more information, call (619) 557-7272 or visit score-sandiego.org.
• Nov. 18 – Internet Marketing 302: Develop a Winning Email Marketing Success Strategy – 9 a.m. to noon at National University in Kearny Mesa (9388 Lightwave Avenue, San Diego 92123; pre-paid registration $49, $59 at the door).
·  Nov. 18 – Financial Statements: What They Mean, How to Use Them – 9:30 a.m. to noon at SCORE Entrepreneur Center (550 West C St., #550, San Diego 92101; pre-paid registration $29, $39 at the door).
·  Nov. 21 – Marketing and Contracting with the Federal Government – 9 a.m. to 3 p.m. at National University in Kearny Mesa (9388 Lightwave Avenue, San Diego 92123; pre-paid registration $69, $79 at the door).
·  Nov. 21 – Tax Considerations for Small Business – 9:30 to 11:30 a.m. at National University in Carlsbad (705 Palomar Airport Road, Carlsbad 92011; pre-paid registration $29, $39 at the door).
·  Nov. 22 – Business Basics 101 – 9 a.m. to noon at National University in Kearny Mesa (9388 Lightwave Avenue, San Diego 92123 no charge – please pre-register).
·  Nov. 30 – QuickBooks Basic – 9 a.m. to 4 p.m. at National University in Kearny Mesa (9388 Lightwave Avenue, San Diego 92123; pre-paid registration $69, $79 at the door)
---
The Daily Business Report is produced by REP Publishing Inc., publisher of SD METRO, the North Park News and the West Coast Craftsman. Contact: Manny Cruz (619) 287-1865.
---