Daily Business Report — Nov. 17, 2011
SD METRO Daily Business Report — Nov. 17, 2011


Most Admired Companies
We're now gathering nominations for the Most Admired Companies in San  Diego County and you can participate. Visit www.sandiegometro.com and fill out the nomination form. The results will be published in the December issue of SD METRO. For more information, contact Rebeca Page at rebecapage@sandiegometro.com.
Scientists Identify New Class of Antimalarial Compounds
Scientists from the Genomics Institute of the Novartis Research Foundation and the Scripps Research Institute have reported discovering a family of chemical compounds that could lead to a new generation of antimalarial drugs capable of not only alleviating symptons but also preventing the deadly disease. Scripps Research associate professor Elizabeth Winzeler and colleagues demonstrated that the class of compounds was more effective against malaria than some commercially available drugs. Their findings are reported in Science Express, the advance online publication of the journal Science. (Photo: Drs. Elizabeth Winzeler and Stephan Meister.)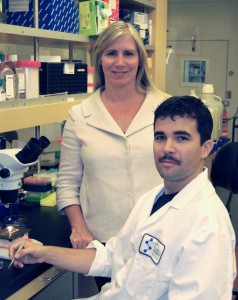 Most antimalarial drugs are only effective during the blood stage, and those that do work in the liver have notable side effects. However, the new class of compounds identified by the team is highly effective against the parasite in both the blood and the liver, according to the report. "Because the parasite blood stages are more amenable to high-throughput screening, much research has focused on that area," said Stephan Meister, a research associate in the Winzeler lab and first author of the new paper. "We're excited to have found a class of compounds that appears to target a novel gene and is highly active against the liver stage parasites in mice. This compound class provided us with a lead for the development of novel anti-malaria drugs."
Malaria is endemic in many parts of the world. According to the World Health Organization, malaria affected about 225 million people in 2009, and killed nearly 800,000. The disease, which tends to strike the poorest and most vulnerable populations in Asia, Africa, and the Americas, is caused by Plasmodium parasites transmitted through the bites of infected mosquitoes. (For information on obtaining the full report, contact Mika Ono, communications director at Research Institute, at (858) 784-2052.)
Ocean Discovery Institute to Get Presidential Award
San Diego's Ocean Discovery Institute has been awarded the Presidential Award for Excellence in Science, Mathematics and Engineering Mentoring,  the highest honor bestowed by the government for efforts that advance those fields of education. Ocean Discovery Institute, which serves City Heights, is one of only three organizations of eight total recipients to receive the 2010 award and the only organization on the West Coast. The Presidential Award is presented by the White House to individuals and organizations,  particularly those who belong to groups that are under-represented in the three fields. Ocean Discovery Institute's programs, which are tuition-free, enable young people to work toward protecting oceans and natural environments, improve the health of communities and strengthen quality of life.  The organization said this has resulted in increased science test scores, increased college attendance and more than 70 percent of participating students pursuing degrees in science and conservation. More than 5,000 low-income, diverse students participate each year, and Ocean Discovery Institute is expanding to serve 20,000 annually.
Each year the Ocean Discovery Institute takes a select group of students from its Ocean Leaders program to a field station in the village of Bahìa de Los Angeles – population 590 – on the Sea of Cortez to perform scientific research and discover their own hidden potential. (Photo: Hoover students show their amazement on the Sea of Cortez.)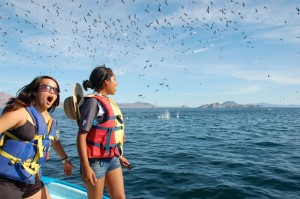 Ocean Discovery Institute will be presented with the award at a White House ceremony Dec. 12 and participate in a series of activities with the Office of Science and Technology Policy. The organization will receive a $25,000 award from the National Science Foundation to advance its mentoring efforts.
"From the moment I became part of Ocean Discovery Institute, mentoring was a critical part of my development as a person and a scientist," said student Anai Novoa, who will represent the organization at the White House awards ceremony. "Thanks to my mentor, Ocean Discovery Institute's Science Director and University of San Diego Professor, Dr. Drew Talley, I am now pursuing my dream to further my research in biology. Along with my research, I will continue serving as a minority, female scientific mentor for inner-city students."
Mayoral Forum on Friday
The National Latina Business Women Association will host a mayoral forum Friday with candidates Carl DeMaio, Bonnie Dumanis, Bob Filner and Nathan Fletcher. It begins with registration at 7:30 a.m. in Cucina Urbana Restaurant, 505 Laurel St., in Bankers Hill. Linda Caballero Sotelo, president of the association, is the host.
Parade of Lights to Celebrate 40th Anniversary
The San Diego Bay Parade of Lights celebrates its 40th anniversary with processions scheduled for the evenings of Dec. 11 and 18. The Parade of Lights will kick off with a fireworks display at 5:30 p.m. followed by more than 80 vessels decorated according to this year's theme, "Back to the Future," commemorating 40 years of the boating community. Larry Baumann, owner of Bali Hai Restaurant, is parade chairman. "It is amazing to see how this cherished tradition has grown over the years into a major holiday event, drawing more than 100,000 viewers each night," said Baumann. Spectators will line the shore as the parade proceeds from Shelter Island past Harbor Island, the Embarcadero, Seaport Village and Ferry Landing in Coronado. The parade will last about two hours. The parade is free to attend, and can be viewed from the waterfront at all points of the parade route. Viewers also can make reservations at privately owned businesses such as restaurants, hotels and other venues along the bayfront to watch the parade. A variety of prizes and awards are given out to the boats that are most spectacularly decorated and that best display the parade's theme. Committee members who organized the first parade in 1971 will serve as judges. An awards presentation will be held Jan. 10. Boat owners interested in participating can download the entry form from sdparadeoflights.org. There is a $40 entry fee. For more information, call (619) 224-2240.
---
---
Small Business Workshops
SCORE San Diego continues its series of small business workshops. For more information, call (619) 557-7272 or visit score-sandiego.org.
• Nov. 18 – Internet Marketing 302: Develop a Winning Email Marketing Success Strategy – 9 a.m. to noon at National University in Kearny Mesa (9388 Lightwave Avenue, San Diego 92123; pre-paid registration $49, $59 at the door).
·  Nov. 18 – Financial Statements: What They Mean, How to Use Them – 9:30 a.m. to noon at SCORE Entrepreneur Center (550 West C St., #550, San Diego 92101; pre-paid registration $29, $39 at the door).
·  Nov. 21 – Marketing and Contracting with the Federal Government – 9 a.m. to 3 p.m. at National University in Kearny Mesa (9388 Lightwave Avenue, San Diego 92123; pre-paid registration $69, $79 at the door).
·  Nov. 21 – Tax Considerations for Small Business – 9:30 to 11:30 a.m. at National University in Carlsbad (705 Palomar Airport Road, Carlsbad 92011; pre-paid registration $29, $39 at the door).
·  Nov. 22 – Business Basics 101 – 9 a.m. to noon at National University in Kearny Mesa (9388 Lightwave Avenue, San Diego 92123 no charge – please pre-register).
·  Nov. 30 – QuickBooks Basic – 9 a.m. to 4 p.m. at National University in Kearny Mesa (9388 Lightwave Avenue, San Diego 92123; pre-paid registration $69, $79 at the door)
---
The Daily Business Report is produced by REP Publishing Inc., publisher of SD METRO, the North Park News and the West Coast Craftsman. Contact: Manny Cruz (619) 287-1865.
---