Daily Business Report — Nov. 21, 2011
SD Metro Daily Business Report — Nov. 21, 2011
METRO Movers to Watch
SD Metro is soliciting nominations for our annual Metro Movers to Watch awards, which will be published in January. Send your nominations to Rebeca Page at rebecapage@sandiegometro.com. Nominate a man or woman you believe will make outstanding contributions in San Diego County during the new year. Nominations will close on Dec. 22.
UCSD Chancellor Appointed to Bridgepoint Education Board
UCSD Chancellor Marye Anne Fox, who plans to leave her post next June, has been appointed to the board of directors of Bridgepoint Education. She also holds a board position at Dartmouth College and has previously served on the board of trustees for the University of Notre Dame. Fox has been chancellor at UCSD for the past seven years. She has said she wants to return to teaching. Last year, Fox was one of 10 researchers to receive the National Medal of Science from President Obama. The award is the highest honor that the U.S. government bestows upon scientists, engineers and inventors. Fox holds a Ph.D. in chemistry from Dartmouth College. She also earned her master's in organic chemistry from Cleveland State University and her bachelor's in chemistry from Notre Dame College.
County Bar Association Elects Marvin Mizell as President
Marvin Mizell has been elected president of the San Diego County Bar Association for 2012 and will be sworn in on Dec. 2. Mizell served as president of the Earl B. Gilliam Bar Association and chairs the association's ethnic relations and diversity committee. He succeeds 2010 President Dan Link, who will continue on the board as immediate past presidentMarcella McLaughlin, a deputy district attorney, has been elected to the position of president-elect, and will serve as president in 2013. San Diego attorneys Lawrence Campitiello, Bob Gaglione, Richard Huver, Laura Miller and Stacie Patterson have been elected to serve three-year terms on the board beginning in 2012. Leticia Waddell, incoming president of the New Lawyer Division, also will serve a one-year term on board next year. Christopher Alexander, Nadia Bermudez, Sheryl Graf, Alexander Gruft, Jeffrey Joseph, Patrick Ojeil, Nory Pascua, Thomas Penfield, Victor Torres, and Jon Williams will continue their service on the board in 2012.
Scripps-Army Team Isolate Sudan Virus Antibody
Scientists from The Scripps Research Institute and the U.S. Army's Medical Research Institute of Infectious Diseases have isolated and analyzed an antibody that neutralizes Sudan virus, a major species of ebolavirus and one of the most dangerous human pathogens. "We suspect that we've found a key spot for neutralizing ebolaviruses," said Scripps Research Associate Professor Erica Ollmann Saphire, who led the study with U.S. Army virologist John M. Dye.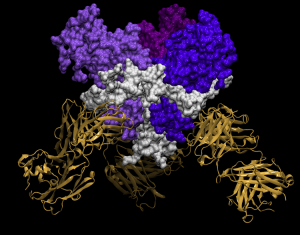 The new findings, which were reported today in an advance online edition of Nature Structural & Molecular Biology, show the antibody attaches to Sudan virus in a way that links two segments of its coat protein, reducing their freedom of movement and severely hindering the virus's ability to infect cells. The protein-linking strategy appears to be the same as that used by a previously discovered neutralizing antibody against the best-known ebolavirus species, Ebola-Zaire. The new study suggests that this may be the best way for vaccines and antibody-based therapies to stop ebolaviruses. Ebolaviruses first drew the attention of the medical world with simultaneous deadly outbreaks in 1976 in the nations of Sudan and Zaire (currently known as the Democratic Republic of the Congo).
Two San Diego Contractors Receive Top ABC Honors
Associated Builders and Contractors of San Diego (ABC)  has presented its top Excellence in Construction awards to Straub Construction Inc. for the design–build Human Resources Service Center at MCAS Miramar and Gould Electric Inc. for its role in the construction of the Thomas Jefferson School of Law Downtown. The companies were among 15 that were honored by the organization in an awards program last week. According to ABC, Straub Construction used innovative design to create the Human Resources Service Center's unique architectural style and aerodynamic characteristics on a military base. Gould Electric was cited for playing a pivotal role in the construction of a technologically advanced, distinctive building located in San Diego's East Village. The project used the design-assist model, and Gould Electric worked closely with the design team, general contractor, and others involved with project construction.
SD County Credit Union Head Elected to State Post
Teresa Halleck, president and CEO of San Diego County Credit Union, has been elected 2012 chairman of the board of the California Credit Union League (CCUL), the nation's largest statewide credit union trade association. Halleck succeeds Eileen Rivera, president and CEO of SkyOne Federal Credit Union in Hawthorne, Calif. "It will be an honor to serve as 2012 board chair," Halleck said. "My goal is to support Diana Dykstra in her role as league president and to ensure the sustained health of our member credit unions through advocacy, information, education, leadership and business solutions…"  CCUL, based in Ontario, Calif., represents 330 credit unions in California, with more than nine million members and more than $115 billion in assets. Larry Palochik, president and CEO of Alta Vista Credit Union in Redlands, and Teresa Freeborn, president and CEO of Xceed Financial Credit Union in El Segundo, were elected as 2012 first vice chairman and second vice chairman, respectively. Also serving on CCUL's executive committee in 2012 will be Jon Hernandez, president and CEO of CalCom FCU in Torrance, and Hank Barrett, president and CEO of Valley First Credit Union in Modesto.
The Chairmen's RoundTable Adds a Mentor
Bill Parker, president and CEO of Tara Jayde Capital Partners LLC, has agreed to serve as a mentor for The Chairmen's RoundTable, a nonprofit organization that provides free mentoring and advice to San Diego County businesses. Parker has more than 30 years of experience in merchandising, product development, international manufacturing and financial management and has served as a corporate executive for a variety of business enterprises.
---
---
Small Business Workshops
SCORE San Diego continues its series of small business workshops. For more information, call (619) 557-7272 or visit score-sandiego.org.
·  Nov. 22 – Business Basics 101 – 9 a.m. to noon at National University in Kearny Mesa (9388 Lightwave Avenue, San Diego 92123 no charge – please pre-register).
·  Nov. 30 – QuickBooks Basic – 9 a.m. to 4 p.m. at National University in Kearny Mesa (9388 Lightwave Avenue, San Diego 92123; pre-paid registration $69, $79 at the door)
---
The Daily Business Report is produced by REP Publishing Inc., publisher of SD METRO, the North Park News and the West Coast Craftsman. Contact: Manny Cruz (619) 287-1865.
---