Daily Business Report — Nov. 23, 2011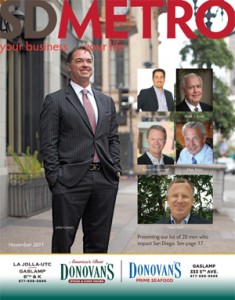 METRO Movers to Watch
SD Metro is soliciting nominations for our annual Metro Movers to Watch awards, which will be published in January. Send your nominations to Rebeca Page at rebecapage@sandiegometro.com. Nominate a man or woman you believe will make outstanding contributions in San Diego County during the new year. Nominations will close on Dec. 22.
San Vicente Reservoir Project Enters Largest Phase
San Diego County Water Authority's project to raise the main dam at San Vicente Reservoir by 117 feet is now in its biggest phase — the placement of concrete. The project requires about 650,000 cubic yards of roller-compacted concrete, which is enough to fill a football field more than 28 stories high. The concrete travels half a mile on a conveyor belt from the concrete batch plant in the reservoir's former marina area to the main dam.  It then drops through a chute — currently almost 200 feet high — where it is roller-compacted into place. The roller-compacted concrete process, which was also used to construct the Water Authority's Olivenhain Dam, is as strong as conventional concrete and can be placed in significantly less time. The method requires minimal formwork and less curing time, allowing workers to place about a one-foot layer of new concrete, called a "lift," per day.
When completed, the raised dam will create room for an additional 52,100 acre-feet of water for potential emergency use, and an additional 100,000 acre-feet of capacity to store water during wet years, for use in subsequent dry years.  (An acre-foot is about 326,000 gallons, or enough to supply two average single-family households of four people for a year.) Once the dam raise is complete and the reservoir is refilled, it will reopen to recreation with a number of enhancements, including an improved access road, an expanded boat ramp and parking area and new shade trees and picnic areas.  Refilling the reservoir is anticipated between late 2014 and 2017, depending on rainfall and supply and demand for water. Major construction of the San Vicente Dam Raise project will be completed in 2013.
Opening Set for Miramar College Police Station
The San Diego Community College District will stage a grand opening and open house on Monday for the new police station and parking structure at Miramar College, a project funded by Propositions S and N. The event will be held at 10 a.m. at 10440 Black Mountain Road, San Diego. The $17.8 million project was designed to obtain a Leadership in Energy and Environmental Design (LEED) Platinum Certification by the United States Green Building Council. Monday's speakers include Charlie Hogquist, police chief of the Community College District; Patricia Hsieh, president of Miramar College; and Rich Grosch, president of the district board of trustees. Harley Ellis Devereaux was the architect for the project. Landscape architect was Schmidt Design Group Charlotte Zolezzi of Gafcon Inc. was the project manager.
First 'Green' Taxis Put to Use at Lindbergh Field
The first "green" taxis have arrived at San Diego International Airport. The addition of the hybrid vehicles is a joint effort of the San Diego County Regional Airport Authority, the California Center for Sustainable Energy (CCSE), Mossy Toyota and the San Diego Metropolitan Transit System. More than 30 hybrid vehicles are included at the launch of the program, including the first commercial use of the new Prius v in the nation. Officials estimate that taxi operators switching to hybrid cabs will save $1,000 to $1,500 per month depending on miles driven. CCSE and the Airport Authority secured funding from the state's Reformulated Gasoline Settlement Fund to set up the rebate program to offset the higher purchase costs of alternative-fueled vehicles. CCSE received $750,000 for rebates to ground transportation providers at the airport, including more than $200,000 earmarked for green cabs. Rebates are dependent on vehicle type, model year and fuel technology and range from $1,000 to $7,500. Eligible vehicles range from plug-in electric vehicles to vehicles running on compressed natural gas. CCSE partnered with Mossy Toyota and the airport to develop a taxi package including low-cost financing, special discounted maintenance with service offered during off hours and front of the line privileges from the airport hold lot.
Proopio Law Firm Adds Two Lawyers to Office
Scott H. Davison and Aubrey A. Haddach has joined the intellectual property team at Procopio, Cory, Hargreaves & Savitch. Davison joined the firm as an associate and Haddach as senior counsel. Davison focuses his practice on intellectual property and patent prosecution. Before joining the firm, he was an associate in the San Diego office of Sughrue Mion PLLC. Davison graduated from Texas A&M University with a bachelor's degree and obtained his law degree from Pepperdine University School of Law. Haddach practices in the area of intellectual property law. She previously worked as an associate in the San Diego office of Wilson Sonsini Goodrich & Rosati. Before that, she worked as a research assistant in the medicinal chemistry department at Neurocrine Biosciences. Haddach received a bachelor's degree from UCSD and her law degree from the University of San Diego School of Law.
San Diego Pottery Tour

The fourth annual San Diego Pottery Tour of ceramics studios will take place on the weekend of Dec. 3 and 4, from 9 a.m. to 4 p.m.  The free, self-guided tour celebrating the ceramic arts has expanded to 11 stops at ceramics studios featuring over 20 of San Diego's best ceramic artists, spread throughout the neighborhoods of the San Diego metropolitan area.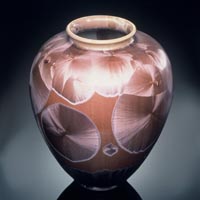 ---
The Daily Business Report is produced by REP Publishing Inc., publisher of SD METRO, the North Park News and the West Coast Craftsman. Contact: Manny Cruz (619) 287-1865.
---